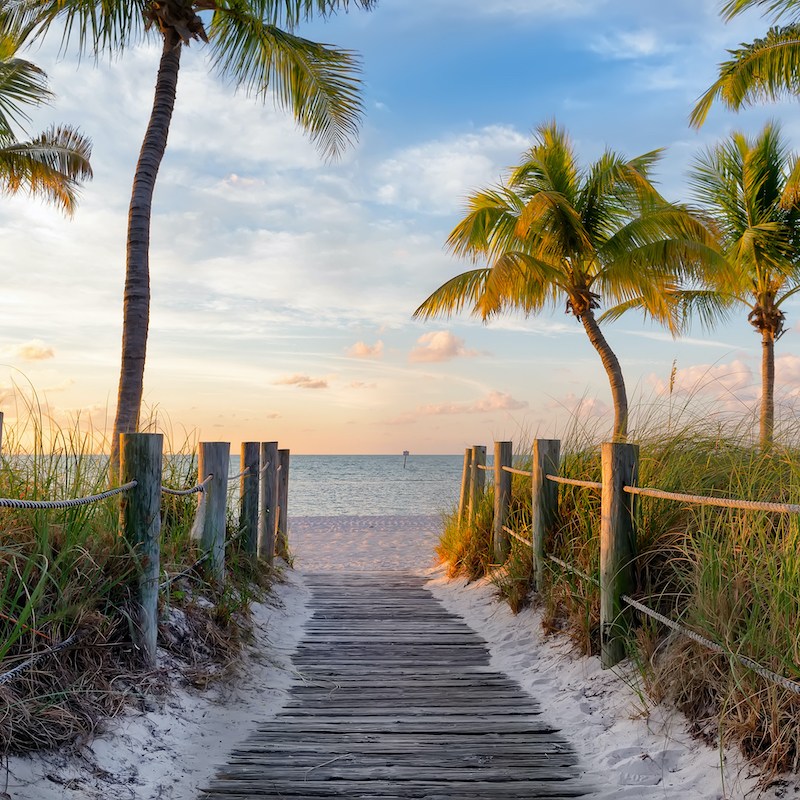 TravelAwaits recently polled our readers about their 2023 travel plans in our annual State of Travel survey. A whopping 93 percent of you plan to travel somewhere in the U.S. at least once this year. Looking at the domestic destinations below, we've gotta say, you've got great taste! Here are the top states our readers plan to visit in 2023.
1. Florida
The Sunshine State took home the gold in 2021 and 2022, so it's no surprise that Florida tops our readers' 2023 travel lists as well. With sun, sand, and destinations like Orlando, Miami, Key West, Tampa, and Fort Lauderdale, who can resist?
Going to Walt Disney World this year? Let our Disney experts be your guide! They've got the scoop on where to find the best snacks in the park, the best quick-service and table-service restaurants, and what essentials to pack for your visit to The Most Magical Place on Earth.
2. California
Runner up on our list of top 10 states that TravelAwaits readers intend to visit in 2023 is California. It's easy to see why — the Golden State offers everything from mountains and beaches to wine country and iconic national parks. Sunny SoCal locales such as Los Angeles, San Diego, and Palm Springs top our readers' travel lists this year alongside popular Northern California destinations including the Bay Area and Yosemite. Although it has a lot to offer, the middle of the state often gets overlooked. Here's how to take a leisurely road trip up the central California coast.
3. New York
New York takes third place this year, thanks to the respondents who listed NYC as one of the places they plan to travel domestically in 2023. Biting into The Big Apple this year? We suggest taking your tastebuds on a food tour. It seems like it costs $50 just to walk out the door in New York City. Cut costs by checking out our list of incredible free things to do in the City That Never Sleeps.
Scenic spots in the state, including Niagara Falls and the Finger Lakes region in the heart of Upstate New York, also topped travelers' lists.
4. Arizona
Phoenix secured Arizona a number-four spot this year. In addition to stunning Sonoran Desert scenery, the Valley of the Sun features unique museums, the Desert Botanical Garden, amazing outdoor restaurants and rooftop bars, and outdoor activities like hiking Camelback Mountain.
However, the Grand Canyon State has much more to offer, not least of which is the Grand Canyon itself. Other top spots our readers will be visiting in Arizona this year are Tucson, Scottsdale, and Sedona. Scottsdale is known for its world-class spas and golf courses, while Sedona is known for its vortexes and 400-plus miles of trails. Interestingly, Tucson's Sonoran-style Mexican food has earned it the UNESCO designation of Creative City of Gastronomy, the first in the U.S.
5. Texas
The great state of Texas rounds out the top five. Our readers have their sights set on the four major metropolitan areas that make up the Texas Triangle: San Antonio, Austin, Dallas, and Houston. The River Walk is the big draw in San Antonio, but the area offers plenty more to do in the way of outdoor activities as well as shopping and dining. In fact, San Antonio has an incredible food scene you can sample on a Tex-Mex food tour.
The capital of The Lone Star State, Austin, is also the Live Music Capital of the World. If you visit, be sure to spend some time exploring the surrounding Texas Hill Country. You may think you know Dallas, but with a metropolitan area as big as Dallas-Fort Worth, there's always something new to discover. Check out these glamping spots, free things to do, and nearby wineries!
Houston has no problem keeping tourists entertained either, even on a budget. Checking The Sixth Floor Museum in Dallas and Space Center Houston off your bucket list is great, but here are five gorgeous places to visit in Texas that you probably don't know about.
6. Colorado
Denver brings Colorado to our number-six spot. Nestled in the foothills of the majestic Rocky Mountains, the Mile High City offers endless things to do alongside incredible restaurants and breweries.
The mountains are calling and our readers are answering by planning travel to popular ski resort towns such as Telluride and Breckenridge. Hitting the slopes? Check out these Telluride and Breckenridge vacation rentals.
7. Tennesee
A newcomer to the list this year is Tennessee. Often overlooked as a flyover state, Tennessee is a centrally located domestic destination that offers everything from live music and hot chicken to marvelous mountains and Dollywood. Music City is at the top of the list for our readers, followed by the Smoky Mountain towns of Gatlinburg, Pigeon Forge, Chattanooga, and Knoxville. Graceland graces the list as well, with Memphis bringing up the rear.
8. Nevada
America's Playground keeps Nevada in the top 10 year after year. From a new resort to unique dining experiences, there's always something new to do in Sin City. But there's more to Nevada than the bright lights of the Vegas strip. It's also home to beautiful state parks, like the Valley of Fire.
9. North Carolina
Another new addition to this edition is North Carolina. With lovely locales like the Outer Banks and the Blue Ridge Mountains, it's easy to see why our readers plan on traveling there in 2023. Nestled in the mountains of North Carolina, Asheville boasts an incredible food scene and arts district, quirky museums, the Biltmore Estate, breweries, and the opportunity to immerse yourself in nature.
10. Michigan
The Mitten State making an appearance at number 10 may surprise some, but Michigan has actually slipped a spot or two compared to past years. A popular multi-generation destination, Michigan's Great Lakes boast miles of lakefront beaches. Michigan's Upper Peninsula tops our readers' 2023 travel bucket lists, with the UP's largest city, Marquette, leading the pack. Located on Lake Superior, Marquette is home to natural wonders from waterfalls to northern lights.
11. Ohio
The dark horse in this race, Ohio flies under the radar as a flyover state. TravelAwaits readers, however, are excited to visit its major cities: Cleveland, Columbus, and Cincinnati. Each makes for an excellent weekend getaway. Cleveland has great places to eat, and Columbus offers outdoor activities. Heading to Cinci? Be sure to taste your way through the 13 mom-and-pop donut shops on Butler County's Donut Trail!
Related Reading: