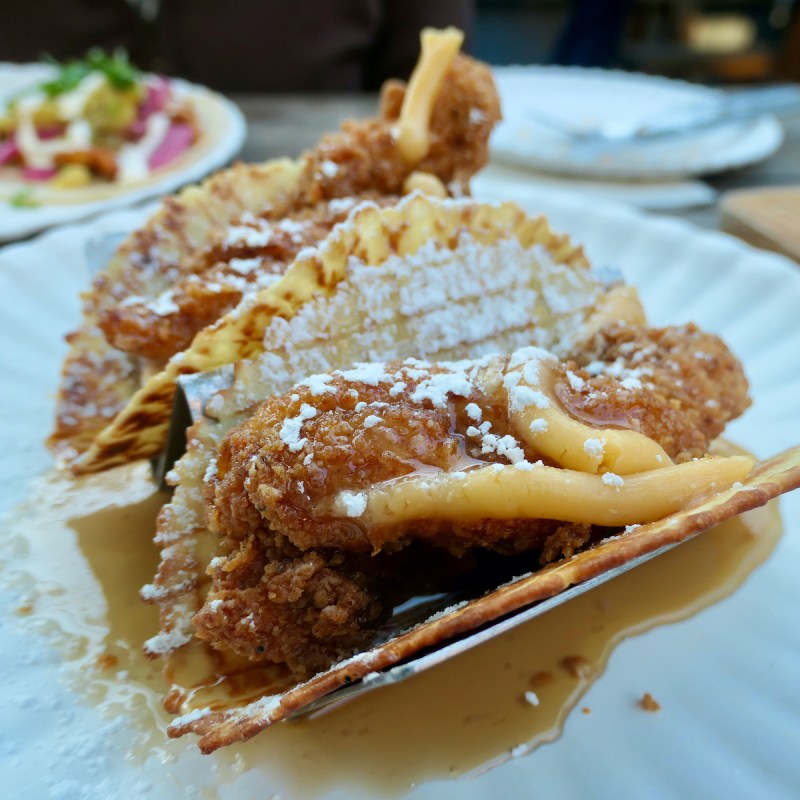 The New York City area is a key destination for foodies. With thousands of restaurants, there are unique food experiences at every price point and from every cuisine. Exploring on your own is fun and we have had dozens of culinary adventures in the New York area.
We've done food tours all over the world but never in our home cities — New York and Jersey City. This year, we decided to try out some of the local food tours. Not only did we learn about new restaurants and places we'd never been to before, but we also discovered the joy of food tours and progressive meals. After sampling local food tours, we selected our top five.
We were sponsored on some of the tours below. However, our opinions are our own.
1. Fat Dave's Five Borough Food Tour
Manhattan, Brooklyn, Queens, And More
Famous Fat Dave's food tour is at the top of our list. It's not so much a food tour as it is a New York City experience. Famous Fat Dave is in love with New York City and his tour will make you fall in love with it as well. You'll have all kinds of food experiences and meet the family behind the deli counter, the owner of the bar, and even the guys from the neighborhood hanging out on the corner. You'll meet New York City and its characters while eating amazing food.
For a special treat, book a tour with Famous Fat Dave in his 1982 white checkered cab. It's a flash from the past. While we drove around with Famous Fat Dave, people in the streets took photos everywhere we went. As Famous Fat Dave explained, it flips the tourist experience, so people were looking at us while we were looking at them.
Our favorite stop was for egg creams at Ray's Candy Store on the Lower East Side. Run by Ray Alvarez (his real name is Asghar Ghahraman) and open since 1974, Ray's is a candy store and more. His egg cream was the best we've ever had, and we've had many. We also stopped by a neighboring butcher and a local deli.
Pro Tip: Famous Fat Dave does a variety of tours from 2 to 5 hours long. He doesn't usually take the checkered cab out in Manhattan, but mainly uses it for tours of the boroughs. You can do a group or private tour.
2. Avital Tours
East Village, Michelin Progressive Meal, And Others
Avital offers a progressive meal that is as much about the food as it is about making friends with people who you just met over a meal. You go to four different restaurants — two for appetizers, one for the main course, and one for dessert. Come hungry because there's a lot of food. At each stop, our tour guide Sophie created conversation among the guests. In between stops she told us about the history of the area and about the chefs and owners of the restaurants we were visiting.
Our first stop was Matthew Kenney's Double Zero on the Lower East Side. We love pizza and consider ourselves New York City pizza experts. However, Double Zero was a whole other experience. Who would think vegan pizza with plant-based cheese is just as good as a traditional Sicilian or Neapolitan slice? The pizza made with cashew cheese and truffles was to die for.
The next stop was Frank's Restaurant on 2nd Avenue for the famous Uncle Tony's gnocchi. After that, we visited the MáLà Project, a Michelin Bib Gourmand-recommended Chinese restaurant specializing in dry pot — a wok-fried dish using over 24 types of Chinese spices and herbs. Fun, hip, and cool, it is a wonderful place to expand your taste buds and hang out with friends. We ended the day at Veniero's Pasticceria which has been serving New Yorkers and tourists in the East Village since the late 1800s. Originally founded as a social club, the bakery is known for its quintessential New York-style cheesecake, cookies, cannoli, and cakes.
Pro Tip: Avital also offers tours in New York City, San Francisco, and Los Angeles. We recommend the wine pairing option.
3. Ahoy NY Tours
Mulberry Street, Little Italy, Chinatown
We did the Taste Mulberry Street food tour with Ahoy Food Tours. Starting in Nolita, we wandered down Mulberry Street, and through Little Italy and Chinatown during this three-hour tour. We lived a few blocks from this neighborhood for a decade and thought we knew it well. We were soon to discover how much more there was to learn.
Our first stop was at La Churreria — a Churros shop on Mulberry Street. The freshly made piping hot churros were served with hot dark chocolate sauce. Yum, they were wonderful — soft, yet crunchy and better than any churros we'd ever tasted. What an excellent start to the tour!
Then we were off to Taim Kitchen for falafel — the traditional green and harissa seasoned. We regularly eat at Taim, so this stop wasn't new to us. At the French Cheese Board, we learned about French cheese and tasted seasonal cheeses like Comté.
Next was Little Italy and the famous Lunella Restaurant, for pasta alla Norma made with eggplant and sautéed with lots of olive oil, garlic, and tomato sauce. This Sicilian dish is a house favorite.
Our food journey continued at Thai Son, a few blocks away in Chinatown. We munched on Vietnamese summer rolls while Liz, our tour guide, told us about the history of Columbus Park.
Baz Bagels was our last stop on our tour. Baz is famous for making rainbow bagels. We came for their famous black and white cookies. We don't like black and white cookies, but Baz's are worth the trip — soft and perfectly sweet.
Pro Tip: This tour was 3 hours of walking. Lunella's was the only place that we sat down to eat at. Good walking shoes, water, and sunscreen are essential.
4. The Underground Donut Tour
Manhattan And Williamsburg
If you love donuts, especially artisanal donuts, this is the tour for you. On this tour, we walked from the Flatiron District to the West Village eating donuts all along the way. Our first stop, Dough Doughnuts, specializes in handmade artisanal donuts. We tried the hibiscus glazed donut, a sweet and tangy glaze made with dried Mexican hibiscus and dried candied hibiscus flowers. Freshly made on-site in small batches, these oversize donuts are luscious.
Next up: The Donut Pub in Chelsea. We lived two blocks away from the Donut Pub for 10 years and never stepped inside. What a mistake! For the past 50 years, this donut shop has been serving dozens of types of donuts. Our favorite was the maple bacon cronut.
Mah-Ze-Dahr Bakery is owned by Umbed Ahmad and is located on Greenwich Avenue. It is a James Beard Foundation award nominee. The brioche donut was filled with a delightful vanilla pastry cream. Let's not forget the donut hole that was perfectly soft and delectable.
We have all heard about the "everything bagel," but have you ever had an "everything donut?" You can try one at The Doughnut Project, a small shop in the West Village. The "everything donut" is a surreal combination of savory goodness on a much lighter dough. There's also the popular Bronx donut — olive oil and cracked pepper! We especially loved Those Beetz Are Doped — a house favorite with a beets glaze filled with ricotta whip cream.
Pro Tip: While there were only four stops on this tour, trying lots of different donuts can fill you up quickly. Our tour guide carried extra to-go bags for everyone. You are encouraged to take whatever you can't finish home.
5. Beyond The Plate Food Tours
Downtown Jersey City And Jersey City Heights
Our final food tour is from the Beyond The Plate Food Tours in Jersey City, a short subway ride from Manhattan. Jersey City is the second largest city in New Jersey and one of the most diverse cities in the country with incredible restaurants. The New York Times named Razza (one of the stops in this tour), the best pizza in New York several years ago. Yes, Razza is in New Jersey, not New York. Since we live in Jersey City (part of the year), we know Razza very well and highly recommend it.
Beyond the Plate begins at Luna, a restaurant in a refurbished bank building that serves excellent pasta. The tour also includes Gringo's, a very inventive Mexican place for the chicken and waffle taco. We go there often and recommend the buffalo soldier, Gandhi's tuna tar-taco, and almost everything else on the menu. Ghost Truck Kitchen and either ice cream from Torico or a cookie from Bang Cookies round out the tour.We highly recommend going on food tours when you travel and in your home city. Some of the tours we took were in neighborhoods we have known for decades. We learned something new every time.
For more information on visiting New York City, check out these articles: