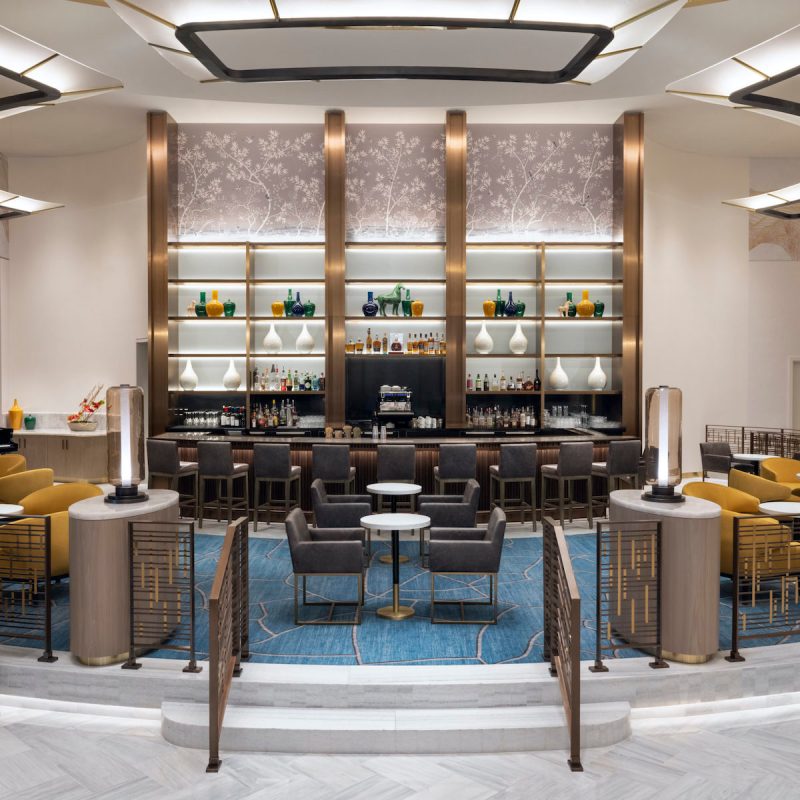 My husband, Jason, and I have always loved Vegas, especially the Strip. So when we heard a new hotel called Resorts World had opened, we had to go. It lives up to the hype in many ways, but it's the food scene that really shines here. So if, like us, one of the main reasons you visit Vegas is for the food, then you'll definitely want to make your way to Resorts World.
Opened in June of last year, Resorts World was the first new hotel built on the Strip in more than a decade. Located at the north end of the Strip next to Circus Circus, it's a long walk to many of the other popular sights along Vegas's main drag, but there's enough to do here that you never need to leave.
1. It's Three Hotels In One
Resorts World is home to three hotels, all part of the Hilton Brand; Las Vegas Hilton, Conrad Las Vegas, and Crockfords Las Vegas. I spent quite a bit of time comparing our options, but in the end, decided to stay at the Hilton which offers the most affordable rooms. However, if you're looking for more luxury, that's available through the other two properties.
The rooms in the Hilton were spacious and featured floor to ceiling windows, many with views of the Strip. We liked the stylish decor and found the room met all our expectations. For the price, we felt like this stay was a really good deal.
2. The Best Food Court Ever
Let's talk about the single best feature of Resorts World, Famous Foods Street Eats. In fact, we liked it so much, we ate here three times in 2 days. Jason would have eaten here for every meal. It looks like a food court, but instead of corn dogs and cinnamon rolls, you'll find outposts of some of the world's best eateries. There's dumplings from Taiwan, roast pig from the Philippines, clay pot rice from Singapore, and much, much more. Currently, there are 18 food stalls and plans are in the works for more.
If you're choosing just one food stall, then head there and place an order. But what we did was place orders at several stalls at one time by using the kiosks found in the seating area. We entered our phone number at checkout and received a text as each item was ready.
I'd definitely recommend the Singapore chicken rice at Boon Tong Kee, the sushi rolls from Nori Bar, and Thai beef noodles from Ten Suns. Then, top it off with dessert at Sweet Eats, serving delicacies from around the world.
In the middle of the food court is Center Bar serving all of your favorite adult beverages. They offer a selection of self-serve beers and cocktails, but we found that many of the machines were out of use, so it was easier to order from the bartender.
3. Great Fine Dining
The only downside of Famous Foods is the seating. Like any food court, there are loads of uncomfortable tables and chairs and it's first come first served. Fortunately, there are several fine dining restaurants as well when you're ready for a white table cloth, attentive server, and beautifully plated food.
Our favorite fine dining restaurant was Brezza, serving coastal Italian fare. The interior decor is a lovely mix of blues and burnt orange accented with gold and silver. However, the weather was a comfortable 80 degrees Fahrenheit so we opted to sit outside on their large patio. We started with the abalone and chopped salad and then shared the autumn squash ravioli. All the food was delicious and service impeccable.
Other upscale dining options include Viva by Ray Garcia, Carversteak, Kusa Nori, and Fuhu. In typical Vegas fashion, all of these options are pricey, but that's to be expected on the Strip.
4. A Fun Pool Scene
When it's 100 degrees outside, there's no better place to be in Vegas than poolside. And the pool complex at Resorts World is seriously fun. According to their website, it's the largest pool complex on the Strip.
While there are seven pools to choose from, not all are open every day of the week. We visited on a weekday, so the main pool was open. It wasn't very crowded, so we had no problem finding lounge chairs. After grabbing a frozen drink from the bar, we sat in the pool for a while and then headed over to the game area. Here, you'll find corn hole, giant Jenga, and giant Connect Four. I've seen game areas elsewhere in Vegas, but this was definitely the largest, making it easy to play without waiting.
For a more upscale pool experience, rent a cabana that comes with a dedicated pool. Daybeds are also available to rent. But honestly, the whole pool area is so nice, and it was easy to order drinks, so using the free lounge chairs is perfectly acceptable.
5. The Nightlife And Entertainment
Resorts World definitely delivers when it comes to nightlife and entertainment. And what I appreciated were the range of options, from uber stylish nightclubs to low-key gaming bars and everything in between.
Jason and I aren't really nightclub patrons, but we did like RedTail, a karaoke bar offering games like foosball and cornhole along with typical bar food and beverages. There's also a sports bar, Dawg Haus, featuring live music and plenty of big screen televisions for watching your favorite sport. Inside Dawg Haus is a "food truck" called Mouse House making tasty and creative grilled cheese sandwiches.
For amazing views, head upstairs to the 66th floor for ALLĒ Lounge. This place is pricier, but you're paying for the views and fancy cocktails.
While we didn't take in a show or concert, there's a fantastic line-up of entertainment. Currently, Katy Perry is performing and will soon be followed by Luke Bryan, Carrie Underwood, and Michael Bublé.
6. Shopping Galore
A high end mall, called The District, is part of the Resorts World complex. Here, you'll find luxury brands like Judith Lieber, Fred Segal, Twila True, and Sneaker Garden. Mixed in are some casual dining restaurants, a Starbucks, and even a vegan ice cream shop. Upper levels of the mall are mostly empty, so I imagine there will be many more shops to come.
But there's also some entertainment to be had here. The Globe, a 50-foot-diameter ball made of 8,640 triangular panels projects a variety of imagery and music throughout the day. When we visited, there was a short "show" every 30 minutes. It was a big hit with families, but I'll admit I enjoyed it as well.
What You Need To Know About Resorts World
Our first stay at Resorts World was so enjoyable we went back a second time a few weeks later. But there are a few things I wish I knew in advance.
Getting from the parking structures to the correct hotel lobby and back was confusing, and in high heat, also very frustrating. I recommend finding the entryway for your corresponding lobby, checking in, and asking the staff for directions to the appropriate parking structure.
We are used to everything in Vegas being open all the time. But that wasn't the case at Resorts World, probably a combination of a new hotel, labor shortages, and the current pandemic. Restaurants and shops had varying hours and were closed on certain days of the week. So if you have your heart set on a particular place, check the hours of operation in advance.
Coffee lovers like me will want to know that there's a 24-hour Starbucks on the first floor of Resorts World across from Dawg Haus. Since the resort is so large, it took me until our second day to find this place.
If you enjoy gambling, Resorts World has state of the art gaming including cashless betting. However, we don't usually gamble in Vegas.
We look forward to returning to Resorts World, trying one of the other hotels, checking out a concert, and waiting for new additions to Famous Foods. It's an excellent addition to the Strip.
Check out some of our recent Las Vegas travel news: