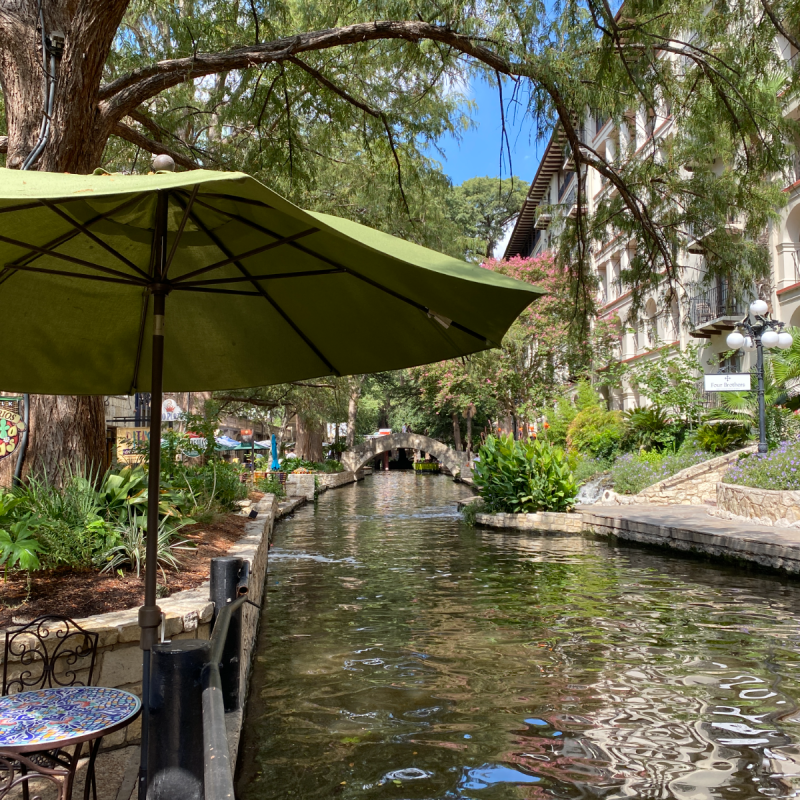 We enjoyed simply amazing food on our recent visit to San Antonio. If you're a foodie of any sort, I highly recommend you put San Antonio on your bucket list. The food scene here is on another level, with fabulous restaurants around every corner. Here are some of my favorites for Mexican food specifically.
I was hosted at some of these restaurants. All opinions are my own.
1. Mi Tierra Cafe
Started as a three-table diner back in the 1940s by the Cortez family, Mi Tierra Cafe has evolved into a restaurant that seats 500, as well as an onsite traditional Mexican bakery and market. Still locally owned and operated, Mi Tierra serves pure Tex-Mex food at its finest. With so many tempting dishes on the menu, it's hard to know where to begin.
What To Order At Mi Tierra
The Enchiladas Verdes de Pollo received a resounding thumbs up from my dinner companions. The vibrant green tomatillo sauce covering the warm enchiladas is especially delectable. For starters, try the roasted salsa served with fresh, crunchy tortilla chips. The roasted flavor offers a unique spin on the traditional salsas that I'm accustomed to and proves that different is good.
I recommend the chicken mole enchiladas, one of the most popular dishes on the menu. A house specialty, this dish features two enchiladas stuffed with chicken and covered in a rich dark brown mole sauce, along with the traditional rice and beans. I've read often about the wonders of a well-done mole, but never found a mole that got me excited. That is until now. The sweet chocolate undertones of the mole at Mi Tierra will wow you. This mole is a winner.
Pro Tip: On your way out, don't let the lines at the Panaderia deter you from selecting your favorite Mexican baked goods. The line moves fast.
2. La Gloria
Everyone from our Uber driver to the bellman at our hotel told us to go to La Gloria if we wanted to taste some of the best Mexican food San Antonio has to offer. Chef-owner Johnny Hernandez runs this and multiple other restaurants in his beloved Alamo city. La Gloria, one of the two original restaurants at Pearl, specializes in Mexican street food. These are the dishes that inspired Johnny as he traveled through Mexico, exploring different regions and cultures.
Lunch inside the brightly colored La Gloria dining room is a mixture of dishes, all showcasing what makes Mexican street food so good. We especially enjoyed the ceviches and the sopes. We tried both the marinated pork and chicken mole sopes. The mole sauce on the sope pollo con mole is divine.
As a Culinary Institute of America-trained chef, Johnny is very involved in the San Antonio culinary scene and the community at large. His support was instrumental in the city being recognized as a City of Gastronomy by UNESCO. And his annual Dia de Los Muertos Festival held throughout San Antonio is the largest Day of The Dead Festival in the entire United States.
What To Order At La Gloria
Owner Johnny Hernandez has a particular fondness for the coastal Veracruz region of Mexico, and over the course of many visits has perfected the art of preparing ceviche. Try one of his fresh ceviche creations. The Ceviche Veracruzano, consisting of delicate white fish, onion, jalapeno, tomato, cilantro, and olive oil, won rave reviews from everyone in our party.
3. Clementine
Chef John Russ has figured out how to turn a gourmet meal into a truly fun and memorable dining experience. Lots of places offer great food, but few have such a cool concept as the Feed Me menu you'll find at Clementine. Our awesome waiter, Edward, refers to the concept as a "controlled surprise". Our dinner here was a blast!
While the menu isn't focused on Mexican foods, we loved the Latin-influenced flavors in our favorite dishes. Chef Russ, a 2022 James Beard award semi-finalist, adds compressed cherries, peaches, basil, chile, and cilantro micro-greens to his seafood for a totally fresh twist on ceviche.
Clementine leaves no detail untouched. The fresh chimichurri that accompanies many entrees is made in-house every hour. The delicious okra is sliced down the middle and seared, taking care of the usual sliminess that one can sometimes encounter. And the octopus, from Spain, is something I never thought I'd like, but I loved it.
Pastry chef Elise, who is a partner in the business and married to Chef John, creates an amazing array of desserts. The clementine crunch bar, with chocolate mousse, toasted hazelnuts, and Clementine sherbet is simply a work of art.
What To Order At Clementine
Order the Feed Me, without a doubt. You'll get chef-selected, seasonal favorites including savory items, dessert options, plus expert wine pairings. The fun part is you don't know exactly what you'll be eating, but whatever it is will be delicious. Chef John and his kitchen will accommodate your food preferences and manage any dietary restrictions.
4. La Panaderia
With vanilla latte in hand, I stood in line at La Panaderia waiting to choose from the beautiful and intricate Mexican pastries before me. According to manager Ray the line this weekday morning at the flagship location on Houston Street was short by their standards. On weekends it usually snakes down the block.
As a scratch bakery, owners Jose and David Caceres are doing things the old-fashioned way here, which means making dough every day for their handmade bread and pastries. La Panaderia is known for its Mexican roots. Jose and David, originally from Mexico City, have carefully incorporated those roots and other international flavors from their travels into exquisite pastries and breads at La Panaderia since 2014.
With David's background as a graduate of the Culinary Institute of America and a James Beard Award finalist, and Jose's CEO skills, the team of two brothers has all bases covered.
What To Order At La Panaderia
Try the Rosca de Reyes, a stunning pastry that symbolizes a crown and the journey of the three Kings to find Jesus. Or try one of the delicious bear claws or monkey bread.
5. Four Brothers
Baked in a pan the shape of Texas, who could resist the Bexar cornbread? As I slathered on the butter and honey served alongside the gigantic pan of bread, my mouth watered in anticipation of good things to come. The brand-new Four Brothers Restaurant, located in the Omni La Mansion del Rio, has an interesting history. The Four Brothers name comes from its prior life as a Catholic school run by four brothers of the clergy. The restaurant, under the direction of chef Andres Farias, specializes in Southern favorites with Texas flair.
Pro Tip: Enjoy either at a table outside along the river for a gorgeous dining experience.
What To Order At Four Brothers
I highly recommend the jalapeno cornbread and honey. We also enjoyed the complex flavors of the chicken adovada, a roasted half chicken in a rich red chile sauce served alongside roasted potatoes, charred leeks, and crema sauce, is excellent.
6. Boudro's Texas Bistro
Located on the San Antonio Riverwalk, Boudros has been a local institution since the 1980s. The dining room features limestone walls adorned with mirrors along with dark polished wood dining tables that create a perfect ambiance for a special occasion dinner or a night out with friends. The Gulf Coast crab cakes feature fresh lump blue crab, roasted corn sauce, jicama slaw, and serrano aioli, highlighting seafood prepared with a Tex-Mex twist. Next time you're in San Antonio, grab a table at Boudro's (they take reservations online) and enjoy upscale dining inspired by the bold flavors of Mexico.
What To Order At Boudro's
My favorite margarita, the colorful prickly pear, is served with ancho chili lining the rim of the glass, which is a magical addition to this spectacular cocktail. You must also order the Boudro's guacamole, freshly prepared and served tableside. It's legendary.
7. Cured At Pearl
Six-time James Beard award finalist Steve McHugh is the master behind the hand-crafted cured masterpieces you'll find at Cured At Pearl. The focus here is on regional ingredients. In fact, on our visit, we were told they refer to their sourcing philosophy as the 60-mile plate. Almost all the ingredients here can be traced back to a 60-mile radius. While not a Mexican restaurant, Cured offers menu items influenced by the local Texan culture.
What To Order At Cured At Pearl
The housemade Frito pie is a decadent mix of dry-aged beef chili, beer cheese, cilantro, sour cream, pickled jalapeno, and black beans. We liked the kicky jalapeno cheddar sausage served with napa cabbage slaw. For dessert, try the prickly pear sorbet with mesquite cake crumbles, blackberries, and squash blossoms.
We also liked the reserve charcuterie plate. An absolutely gorgeous presentation, this charcuterie board tastes as good as it looks. You'll enjoy an array of artisanal cured meats and cheeses along with a selection of fruits and spreads. Start by digging into the duck ham and chicken liver mouse and let your mouth come alive.
8. La Fonda On Main
La Fonda On Main was recommended by several locals as one of the best spots in San Antonio. As the oldest restaurant in San Antonio, it's been around since the 1930s and serves traditional Mexican specialties.
What To Order At La Fonda On Main
At brunch, try the steak and egg rellenos. The poblano pepper stuffed with prime ribeye, scrambled eggs, and cheese is a satisfying, hearty Tex-Mex meal.
Headed to San Antonio? Don't miss