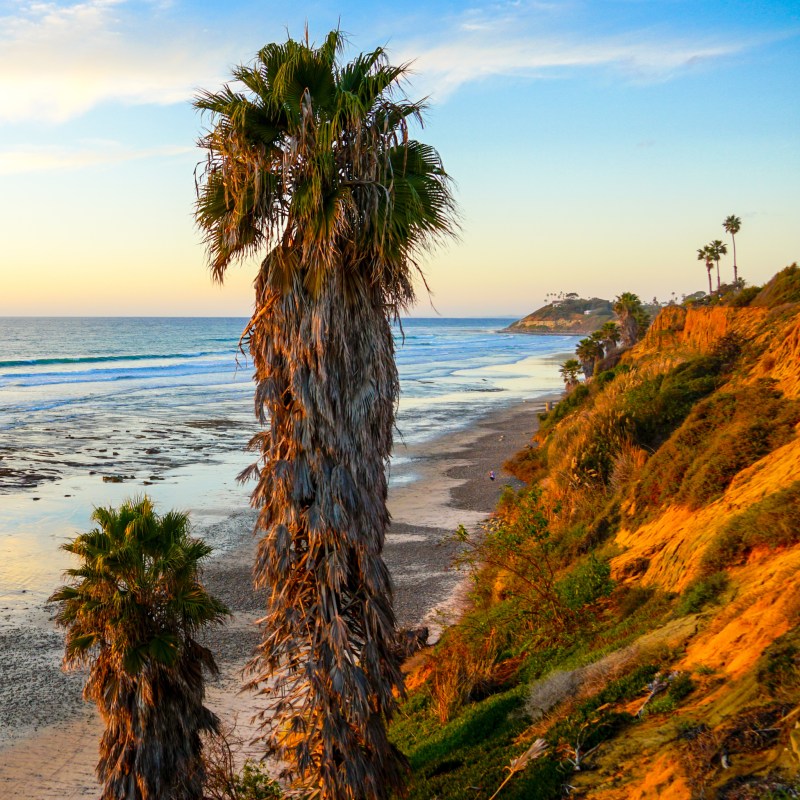 Along the 823 miles of California beaches, you'll find dozens of small, quaint hideaways with friendly people, beautiful views, cozy lodging, and the chance to live like a local instead of a tourist. Here are nine such charming small towns for your consideration.
1. Encinitas, California
Let's start in southern California and work our way north. Encinitas is first and foremost a surf town, having been named one of the 20 best by National Geographic in 2017. The charm here is that the town remains a throwback to what is known as Highway 101 beach culture, which made it a mecca for surfers and hippies in the late 1950s and '60s. Also known as the Flower Capital of the World, Encinitas is the world's leader in growing the popular Christmastime flower, the poinsettia.
Here, the shops and restaurants are still local as opposed to being dominated by national chains. The beach scene is wide open, with four public beaches to choose from. You can relax and watch the surfers or learn to surf yourself.
2. San Clemente, California
About 45 miles north of Encinitas and halfway between San Diego and Los Angeles along Interstate 5 is our second charming beach town. With a variety of things to do, ranging from fun on the beach to shopping downtown, San Clemente is a throwback beach town with a laid back attitude.
T-Street and Trestles beaches are famous surfing venues, while nearby San Onofre State Beach is popular for sunbathers, swimmers, campers, hikers, and kayakers. A little way north, you find Capistrano Beach Park and Doheny State Beach in Dana Point, and another short drive north is world-famous Laguna Beach.
3. Capitola, California
Santa Cruz's town website says a visit to Capitola, and wandering the village and its bayfront promenade, "is a quintessential part of a Santa Cruz experience." The sandy beaches here are at the north end of Monterey Bay and frame picture postcard-like view of homes built into the sand, called the Venetian Hotel. These multi-colored and charming homes are for rent and are just a short walk from local art galleries, boutiques, shops, and restaurants.
The beach itself is anchored with a colorfully decorated beach wall, where beachgoers are invited to hang out. Many an evening a bandstand is filled with live music, or a movie screen with shows beginning at sundown.
4. Avalon, California
The only charming beach town on our list that is not on the California mainland, Avalon majestically wraps itself around Avalon Bay, which is on the southeast side of Catalina Island. And while this small town has a big reputation among the Hollywood set, it has successfully kept its "charm and allure."
Crescent Avenue is where you will find many of the beaches of Avalon, along with countless locally owned restaurants and shops, such as Lloyd's of Avalon, a throwback candy store where you'll find homemade saltwater taffy, peanut brittle, and fudge!
Additionally, don't miss out on finding the Serpentine Wall. Described as a "white-washed divider between Crescent Avenue and the beach," it's a great place to sit and relax and watch the waves.
5. Carpinteria, California
Known for having the world's safest beach, Carpinteria is west of Los Angeles, and about 10 miles east of Santa Barbara. There are basically three beaches to choose from. The one that runs along the town is actually two, Carpinteria City Beach and Carpinteria State Beach. For better surfing, head southeast to Rincon Beach.
The town is highlighted by Linden Avenue, which is where you'll find a host of small beach shops, lots of antique shops, cafes, and restaurants.
But, one of the coolest things to do in this little town is visit a rare and unique beach, of which only five exist on earth. According to Atlas Obscura, at this beach a thick sludge can be found oozing from the earth, dribbling down the bluffs before eventually hardening into asphalt. Welcome to Tar Pit Park, where this earthly oddity has been going strong for millions of years.
6. Arcata, California
Known affectionately as "Hippie Haven," Arcata, originally settled as a logging town in the late 1800s, grew to become a commune community, where today the "hippie vibe" is alive and well along with a strong sense of environmental awareness.
And, this little charmer is home to Mad River Beach County Park, where the unique confluence of river and ocean create a truly unique experience. With great ocean access coupled with a protected river mouth, this beach is popular for kayaking, canoeing, and boating.
Within Arcata, you'll find Jacoby's Storehouse. Built in 1857, it was the first solid brick building in town, and the only one to survive a town fire in 1872. Today it is home to several quaint shops and restaurants.
7. Oxnard, California
This little town calls itself "California cool, panorama perfect, culturally authentic and vibrant beyond measure." Well, enough said.
Oxnard is nestled midway between downtown Los Angeles and Santa Barbara and uses its location to create a unique blend of big city entertainment with small town flavor. Big stars come to Oxnard to perform in small clubs, providing the town with vibrance without threatening its charm.
White sand beaches anchor a gorgeous harbor that is your closest access to Channel Islands National Park, one of the most unique national parks. Five islands off the coast of California are preserved and protected. For more than a thousand years, it has been home to unique animals, plants, and archeological marvels found nowhere else on Earth.
8. Cayucos, California
Driving between Los Angeles and San Francisco along the Pacific Coast Highway is thrilling on its own. At the halfway point is where you'll find Cayucos, and the beautiful Estero Bay. This resort town feels worlds away from the cities, almost like a small Midwestern town, with Old West flare, except on a beach.
Here you'll find antique and beach shops, plenty of local cafes and bars, and American flags mounted down Main Street. Small town Americana for sure, but also the anchor to one of the most impressive displays of capitalism and American wealth, Hearst Castle.
Just north of Cayucos on the PCH is San Simeon, the home of Hearst Castle. The castle, built by newspaper mogul William Randolph Hearst, was an early 20th-century mecca for the elite. There are several touring options, and Hearst Castle makes a great day-trip from Cayucos.
9. Davenport, California
The locals in Davenport won't be offended if you accidentally blink while cruising California's Highway 1, and miss their sleepy little town. Here, they call it the Slowcoast, and for good reason, life here in this charming little beach town goes at its own speed.
There are three area beaches, all popular with photographers for their natural beauty. Along Davenport Beach, one of our picks for the 10 best sea glass beaches in the world, the hills and rock formations above are filled with wildflowers in spring. Davenport Cove Beach and Boony Doon Beach are also slow-moving, and you can find peace and relaxation in the sand.
It's not Napa, but Davenport has become a bit of a wine town on its own. Make time to plan an afternoon or evening visiting a few of the local wineries or restaurants that serve some of the state's best wine.