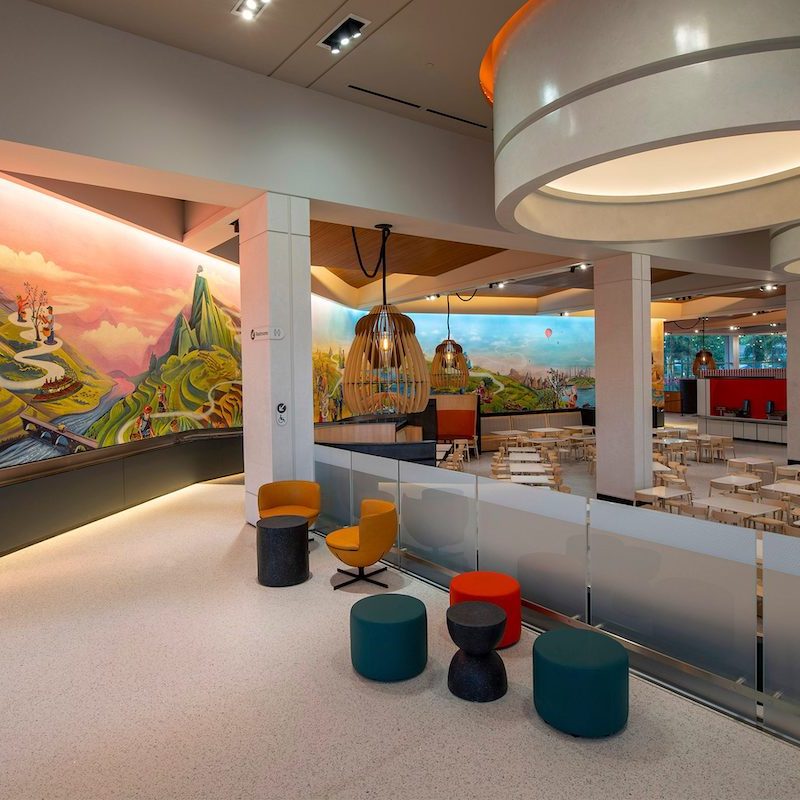 Quick-service restaurants are plentiful at Walt Disney World Resort. Some spots are very basic, while others are a bit more eccentric.
We reached out to Disney experts Seana Beard from Wish Upon a Star with Us Travel, Laura Liden from Pixie and Pirate Destinations® – Travel Agency, Chris Cook-Leitz, owner of On The Road Travel, LLC, and Magical Vacation Planner Sarah Armbruster to get the inside scoop on their favorite spots to grab a quick bite at Disney World.
"To be totally honest, before the pandemic hit in 2020 and wiped out the beloved Disney Dining Plans, my family didn't take time to enjoy these locations. In the last two-and-a-half years, though, we have come to appreciate and actually enjoy some of Disney's quick-service restaurants," says Armbruster.
"When asked to name my top choices, I couldn't wrap my head around how to narrow it down. This was still not an easy task as there are actually a lot of good quick service locations in the parks as well as in the resort areas and at Disney Springs," Armbruster tells us.
First thing's first: The most important meal of the day. "Mickey waffles are a must on every trip," according to Liden. "Nearly every quick service location offers them as a breakfast option. They will come with a choice of side (I'm partial to bacon) and you'll find them in both child and adult-size portions," she says.
"As you may know, there are four theme parks at Walt Disney World, all with their own personalities and also with their own restaurant vibes," according to Armbruster. Keep in mind that dining at locations inside parks requires a Park Pass Reservation and/or the Park Hopper feature on your ticket.
In no particular order, here are the best quick-service restaurants at Disney World according to TravelAwaits' Disney experts.
1. Satu'li Canteen
Disney's Animal Kingdom Theme Park
"I will start off with Disney's Animal Kingdom Park. This one was probably the easiest one for me to pick. I would hands down send you to Satu'li Canteen in Pandora – The World of Avatar. The menu is inspired by the movie and for some may be a little outside their comfort zone, but trust me when I say it is well worth the stop. They have a really nice variety of bowls with different protein sources, veggies, and sauces.
"My favorite meal here though is the Cheeseburger Steamed Pods — Bao Buns with chips. If you try this, you will notice a familiar taste that resembles a flavor similar to something you would find at a restaurant in your hometown that has two golden arches. This is a fun take on a burger and fries that is a little more adventurous. I highly recommend giving this one a try." — Armbruster
2. Connections Eatery
EPCOT
"EPCOT is another park with no disappointments in food choices — especially during festival times — which is pretty much all of the time now. If I have to pick a quick service spot here to grab a bite, it would probably have to be Connections Eatery. This may seem too obvious as it is the biggest dining spot in the front of the park, and let's be honest the whole park. There is also a Starbucks in the same building, which allows for even more variety.
What I like about this location is there is a light and airy feel here and it is always bustling with people either coming in for a quick bite or walking through just to catch a little bit of air conditioning to cool off from the middle-of-Florida heat. To grab a bite here, you can find anything from burgers and fries to pizzas to salads. You can even find a plant-based curry-spiced pizza." — Armbruster
3. Woody's Lunch Box
Disney's Hollywood Studios
"Moving on to Disney's Hollywood Studios now. My favorite here is going to be in Toy Story Land at Woody's Lunch Box. This is an outdoor location, so it may not appeal to everyone (especially if it is a typical hot, humid Florida day), but it is a fun whimsical spot to grab a quick meal. This spot is open daily from 8:30 a.m. to 9 p.m., so not only can you grab a bite for lunch or dinner, but you can also grab a breakfast bowl here earlier in the day.
My favorite here is their totchos. How can you go wrong with a pile of tater tots covered in beef and bean chili, shredded cheese, and queso with tomatoes and corn chips, finished with sour cream and a sprinkle of green onions? Okay, so you also might want to grab something for indigestion, too, but they are truly both fun and delicious. Now finish off with a Lunch Box Tart. They usually have a few flavors to choose from that may change with seasons or holidays. My favorite is raspberry." — Armbruster
4. Gaston's Tavern
Magic Kingdom Park
"The iconic Magic Kingdom Park has several quick service spots to choose from, and I may be going for one a little off the beaten path here, but it is a really great choice for any time during the day. Gaston's Tavern is located in Fantasyland and is generally open from 8 a.m. until 3 p.m. In comparison to the other locations I mentioned, this one is not as diverse in its menu choices and in fact only offers a few items on its menu.
First of all, you should not miss a chance to try the warm cinnamon roll — you can even get it with extra icing! If that is not for you, they have one of the best ham and cheese sandwiches you can get. It comes with ham, provolone, and swiss cheese and is served with chips. While you are here, you also should try LeFou's Brew. It is frozen apple juice with a slight taste of toasted marshmallow, then topped off with passion fruit-mango foam — sure to delight your tastebuds every time!" — Armbruster
5. Capt. Cook's
Disney's Polynesian Village Resort
"One of my favorite options on property: the Thai coconut meatballs from Capt. Cook's in Disney's Polynesian Village Resort. They're not only delicious, but they are quite filling and a great break from the stereotypical theme park food." — Liden
"Capt. Cook's at Disney's Polynesian Village Resort is a great spot to grab breakfast, lunch, or dinner on your Magic Kingdom park day. It's easy to use the Monorail or a boat to get between the park and the resort.
Breakfast features the Poly's famous Tonga Toast for a fraction of the price that is charged at Kona Café. My favorite item on the menu, pulled pork nachos, is offered for both lunch and dinner. The chips are unique in that they are a combination of tortilla chips and wonton skins, and the sweetness of the pineapple salsa is a nice contrast to the saltiness of the pulled pork.
Capt. Cook's offers mobile ordering, which is a great tool to save time waiting in line at the restaurant. Inside seating is very limited, but there is ample seating located just outside." — Cook-Leitz
6. Everything POP Shopping & Dining
Disney's Pop Century Resort
"Available at several of the value and moderate resort food courts, including Pop Century's Everything POP food court, the family pizza meal is a fantastic and inexpensive dinner. Get a full-size pizza, caesar salad, and six breadsticks to share at the food court or back at your room for about $30." — Liden
7. Sunshine Seasons
EPCOT
"Located in The Land Pavilion at EPCOT, Sunshine Seasons offers a variety of selections for lunch and dinner. Because this dining location is in a park, you will need a Park Pass Reservation and/or the Park Hopper feature on your ticket to dine here. Sunshine Seasons offers four counters: Asian, Soups and Salads, Sandwiches, and The Grill. These counters offer grab-and-go selections as well as fresh entrees that are served for each guest.
The wood-grilled selections at The Grill are quite good and are served with side dishes. Paninis at the sandwich counter are big enough to share so you can save room for dessert. Speaking of desserts — the bakery case is pretty amazing and has some mouth-watering desserts — strawberry shortcake is my favorite. There is plenty of indoor seating at Sunshine Seasons, which can be a really nice break, especially in the summer months." — Cook-Leitz
"This food court-style eatery certainly has something for everyone: salads, noodle bowls, tacos, veggies and hummus, burgers, and pizza. Whether it is a snack or a heartier lunch, this place can please everybody (including vegetarians and folks with food allergies). We also love the location, and we often stop here before popping on Soarin' and Living with the Land." — Beard
8. Yorkshire County Fish Shop
EPCOT
"Yorkshire County Fish Shop is a very popular quick service location at EPCOT. Located in the United Kingdom area of World Showcase, be sure to plan for a stop here on your next visit to EPCOT. The menu is small: fish and chips and drinks. The shop provides vinegar, tartar sauce, and ketchup on either side of the counter so that you can enjoy your fish and chips in your favorite way.
Though the fish and chips are so yummy you'll want to eat them all, we often share an order so we can enjoy other snacks throughout World Showcase. There is seating located behind the shop, along World Showcase Lagoon. If you can snag a spot here before the nighttime show, consider yourself very lucky! " — Cook-Leitz
9. Earl Of Sandwich
Disney Springs
"Yes, Earl of Sandwich is a chain franchise. Yes, it's sandwiches. But, it is one sandwich that brings me back time after time: The Holiday Turkey. This sandwich is packed with turkey, cornbread stuffing, gravy, and cranberry sauce. It is so good that even if I'm not hungry, I will stop and get it to take back to my resort for later." — Beard
10. Les Halles Boulangerie-Patisserie
EPCOT
"Les Halles Boulangerie-Patisserie in EPCOT's France Pavillion is easily a new favorite stop on our trips. My son loves simply grabbing a baguette to munch on throughout the day. This is a great place for a light meal like a quiche or a croissant sandwich, or a chef's specialty like the Croque Monsieur. It is a great place to tuck in for a break and a bite." — Beard
11. Pecos Bill Tall Tale Inn and Cafe
Magic Kingdom Park
"Pecos Bill Tall Tale Inn and Cafe is a quick service option at Magic Kingdom that can really help you stretch your dollar. My family loves the fajita platter, carnitas bowl, and nachos. After you get your order, don't forget to make a stop at the Fixin's Bar to load up on the fresh toppings!" — Beard
12. Casey's Corner
Magic Kingdom Park
"When I'm in a theme park, I need theme park food, and Casey's is the place to be. You have your pick of hot dogs, chili dogs, corn dogs, and fries (don't forget the cheese sauce on the side). For the more adventurous, Casey's rolls out specials that include hot dog toppings like mac 'n' cheese, bacon jam, fried pickles, and even funnel cake bits!" — Beard
Related Reading: