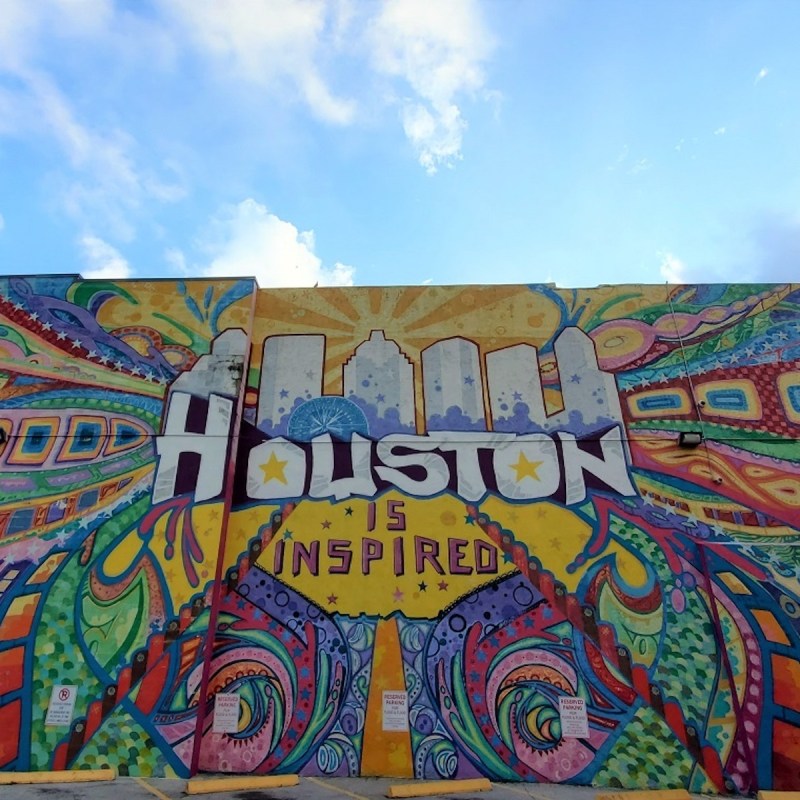 Just how many free or nearly free fun things are there to do in Houston? Quite a few. I set my limit at $5 — not including tips or donations — and this is what I found, beginning with the free admission attractions.
Note: CityPASS gave me a free pass to use, sold for around $65. All opinions are my own.
Free Things to Do in Houston Texas (Or Nearly Free)
1. The Menil Collection
Located in Houston's upscale Montrose neighborhood, visitors are welcome to view the Menil Collection, a collection amassed by John and Dominique de Menil.
The 17,000-piece art collection includes paleolithic, Middle Eastern, African, contemporary, and religious art. Paintings by Miró, Max Ernst, and Picasso are some of the more familiar works.
Pro Tip: The ADA-accessible museum is always free, but reservations are required. It is closed Mondays and Tuesdays.
2. Rothko Chapel
Another of de Menil's contributions to Houston, the Rothko Chapel is located near the Menil Collection. The nondenominational chapel is named for the Russian-born artist Mark Rothko, who painted the 14 massive canvases that at first glance appear nearly black.
Have a seat on one of the chapel's benches. As you adjust to the ambient light, you see colors, depth, and movement in his paintings.
In keeping with John and Dominique de Menil's passion to elevate all people and obliterate social injustice, they dedicated the Barnett Newman sculpture in the courtyard, entitled Broken Obelisk, to Martin Luther King, Jr.
While you're in the neighborhood, pay a visit to the Houston Center of Photography. Admission to the exhibit hall is always free but requires a reservation.
Pro Tip: The ADA-accessible chapel is closed Mondays.
3. Sunrise Or Sunset At James Turrell's Twilight Epiphany Skyspace
James Turrell's Twilight Epiphany Skyspace is an outdoor art installation on the Rice University campus. The futuristic structure has seating on the ground and second floors.
Twilight Epiphany is a 118-foot-square earthwork with grassy bermed walls enclosing a near-cubical atrium. Those berms form a truncated pyramid that slopes up at 19 degrees towards a 72-foot-square white canopy. The canopy is punctured at its center by a 14-foot-square skylight— Turrell's signature element.
The light sequence begins about 40 minutes before sunrise and about 10 minutes before sunset. Quietly watch the sky, and Skyspace that frames it, subtly change color. The evening show is more dramatic.
Pro Tip: The show lasts 40 minutes. A daytime visit does not have the same impact. The show is free, but I paid $5 for parking.
4. Gerald D. Hines Waterwall Park
The Gerald D. Hines Waterwall Park is an oasis in Uptown Houston. Truly, pictures don't do justice to this iconic fountain that pumps 11,000 gallons of water over its inner and outer semicircular walls every 3.5 hours.
Once you pass through the Scaenae Frons, a limestone and brick portal, you'll only hear water, no street noise. The cool mist is especially welcome.
There are benches shaded by live oak trees along the pathways leading to the fountain.
Pro Tip: Gerald D. Hines Waterwall Park is free to enter. Street parking is limited, but there is a parking garage half a block away.
5. Window Shopping At The Galleria
Strolling the air-conditioned mall and window shopping is free. So is watching ice skaters during the public skating at Ice at the Galleria. Good luck, though, getting out of there without handing over your credit card to buy a little something at one of the 400 shops, or renting a pair of skates to take a twirl around the ice.
6. Art Car Museum
The Art Car Museum is a privately owned museum that displays art cars year round and rotating exhibits by local artists.
Affectionately called the "Garage Mahal," the Art Car Museum displays three or four cars, including one outside. The demon-themed car was driven to California once and I'm sure caused more than a few heads to turn.
In addition to the cars, the museum has temporary art exhibits that have included photography, fine art, and ceramics.
Pro Tip: The museum is open Wednesday through Sunday and is always free. Reservations are required.
7. Public Art
Houston's mural artists have painted on hundreds of walls throughout the city and suburbs. A website makes it easy to find a mural nearest to where you are.
One of the many things you can do in Houston is to check out the retro-looking space/UFO-themed mural by Sergio Aguilar and José Kontos on the Heights House Hotel. If you stand in the beam of light, it will look like you're being abducted. And if you're into space, you can visit the Space Center Houston also. In Midtown, Preservons la Creation, Sebastien "Mr. D" Boileau, painted God holding a can of spray paint in the style of Michaelangelo at 2800 San Jacinto Street.
In downtown Houston, the Houston Is Inspired mural by GONZO247 is across from Market Square Park. Incidentally, Market Square Park hosts free events, such as live music and movie nights, and is home to sculptures, a 9/11 memorial garden, dog parks, and Niko Niko's, a Greek takeout restaurant.
Also downtown, Discovery Green's murals and sculptures provide the perfect backdrop for live entertainment and enhance its gardens and green spaces.
8. Sam Houston Park
Learn About Early Settlers
The oldest in Houston, this park dates back to 1900. A museum and restored homes highlight Houston's history. The museum includes a replica of a general store that originally stood in Egypt, Texas. The oldest house, built in 1823 and moved here in 1973, stands near the museum to be better protected from hurricanes.
A walking tour around the park passes homes and St. John Church. Some were destined for demolition but relocated and restored here in the park.
The only home that is original to this location is the stately Kellum-Noble House, built in 1847. It became the parkkeeper's home, and the grounds were the site of the original zoo.
A placard stands in front of each home and gives instructions on how to listen to the description of who built and lived in the house. Owners came from all walks of life — from German immigrants to a freedman who became a minister and founded Bethel Baptist Church.
Pro Tip: The self-guided tour of the park is free, but there is a fee for museum entrance. A tour to enter three of the seven buildings can be arranged with the Heritage Society.
9. Houston Museum District
Thursday means free admission to the Museum of Fine Arts, Museum of Natural Sciences, Health Museum, Buffalo Soldiers National Museum, and the Holocaust Museum Houston. You do need to make reservations.
The Houston Zoo, located in Hermann Park, is free the first Tuesday afternoon of the month from September through May, but you'll need to request tickets the Wednesday before. The tickets are limited in number.
Pro Tip: Take a look at the Visit Houston website for specific hours and for a list of free museums, including the Houston Center for Contemporary Craft and the Contemporary Arts Museum Houston
10. Sam Houston Boat Tour
This popular boat tour leaves from Port Houston's Sam Houston Landing for a 90-minute guided tour of the Houston Ship Channel. You may pass in the shadow of gigantic international freighters and see dock workers unloading cargo. The tour is narrated and everything is free — the parking near the terminal, the tour, and the refreshments.
Pro Tip: Visit the Sam Houston Boat Tour website to make reservations. You'll need to show a photo ID to gain access to Port Houston. The boat is ADA-accessible.
11. Bat-Watching At Waugh Drive Bridge
The Waugh Drive bat colony includes 250,000 Mexican free-tailed bats. They hang upside down in the Waugh Drive Bridge's crevices by day and emerge at dusk, with a vortex flight pattern. The Waugh Drive Bridge crosses Buffalo Bayou Park in the middle of Houston, and as the bats head out for a night of feeding on insects, you can watch from a viewing platform.
Buffalo Bayou Partnership also organizes tours with a bat expert to give a better understanding of these flying mammals and their importance in the ecosystem. I was very happy to learn they eat corn- and cotton-eating moths and reducing the need for pesticides. These tours occur in July and August. Keep an eye onBuffalo Bayou's event calendar for bat-themed events, including Bat Boat Tours.
Pro Tip: Bats emerge at dusk. If it's too cold (50 degrees is their cutoff) or rainy, they're not likely to fly.
12. Parks in Houston
Houstonians enjoy hundreds of parks, greens spaces, and gardens, as well as 125 miles of hiking and biking trails.
Hermann Park
Hermann Park, a large urban park in the Museum District, is not only home to the zoo and the Miller Outdoor Theatre (a beautiful amphitheater) but also a Japanese Garden and the McGovern Centennial Gardens.
Memorial Park With Houston Arboretum & Nature Center
Head to Memorial Park, a 1,500-acre park, for sports and recreation. It's home to running, hiking, and mountain bike trails, tennis and volleyball courts, a golf course, and the Houston Arboretum & Nature Center.
Completed in 1985 in an arrangement with the city of Houston and with a donation of $50,000 by Will, Mike, and Ima Hogg, Memorial Park is meant to honor the soldiers who fought in World War I. Its size makes it one of the largest urban parks in the nation.
Pro Tip: If you work up an appetite, check out the food trucks within Memorial Park's Eastern Glade.
Consider A CityPASS
As I mentioned, I received a CityPASS. It gives you prepaid entrance to Space Center Houston plus any four of the following: Downtown Aquarium, Houston Museum of Natural Science, Houston Museum of Fine Arts, Houston Zoo, Kemah Boardwalk, or Children's Museum Houston. Once activated at the first attraction (whichever you choose), it's good for 9 days.
If you are spending several days on a Houston getaway, want to save some money, and don't want to be restricted to visiting museums on Thursday or the zoo on Tuesday, I recommend buying the pass.
With the CityPASS, you pay around $65 for entry into five attractions. Paying separately, entrance fees are around $100 dollars for adults and seniors.
Pro Tip: You may still need to make reservations in advance for some attractions. CityPASS sends a QR code via email. You can present the code electronically or by printed copy at the ticket counter.
FAQs
Can I Watch a Free Show While in Houston?
Yes, this is exactly what you'll get at the Miller Outdoor Theatre, Houston's premier outdoor theater for the performing arts – free admission from March through October. Located in the heart of the Houston Museum District, you can enjoy concerts, films, and cultural performances throughout the year. To top it off, Miller Outdoor Theatre allows guests to bring their own beverages and food to performances.
Are There Any Beaches Near Houston?
Yes, even though beaches may not be the first thing that comes to mind when planning your trip to Houston. Along the coastline, close to the city, there are beaches full of natural beauty: gorgeous sands, gentle waves, and beautiful views. The top choice for a day trip would probably be a visit to Galveston Island. Soft sandy beaches, vibrant sunrises, gorgeous architecture, and a chilled-out coastal culture are just a few of the reasons to pay it a visit.
Are There Any Waterparks In or Near Houston?
Yes! The Big Rivers Waterpark & Adventures and Six Flags Hurricane Harbor Splashtown, are Houston's two largest water parks. The latter has a new Caribbean theme and a brand new six-story water slide, new lounge areas, and Wi-Fi. Big Rivers Waterpark stretches out over 80 acres and provides hours of excitement with more than 50 water and dry adventures. Whichever you choose to go to, there is something for every member of the family.
Can I Go on the Brewery Tour In Houston?
Yes, Houston's craft brewing scene has expanded a lot recently so there's something for everyone whether you have a taste for something light and crisp, rich and velvety, or fruity and sour. And with Houston Brew Passes you can sip your way through Houston and taste new flavors and discounted beer from your favorite breweries! With warm weather being the norm for most of the year, it's a great way to get a taste of the city.
Is There a Wine Pass Tour in Houston As Well?
Sure, if you love tasting new wines or simply exploring Houston, the Houston Wine Pass is just the thing for you. Wine lovers will have a unique wine experience in each of Houston's amazing wine rooms. Wine tasting experience is unique throughout the year, but the optimal periods are generally the spring season when you'll witness the vineyards springing back to life after winter dormancy.