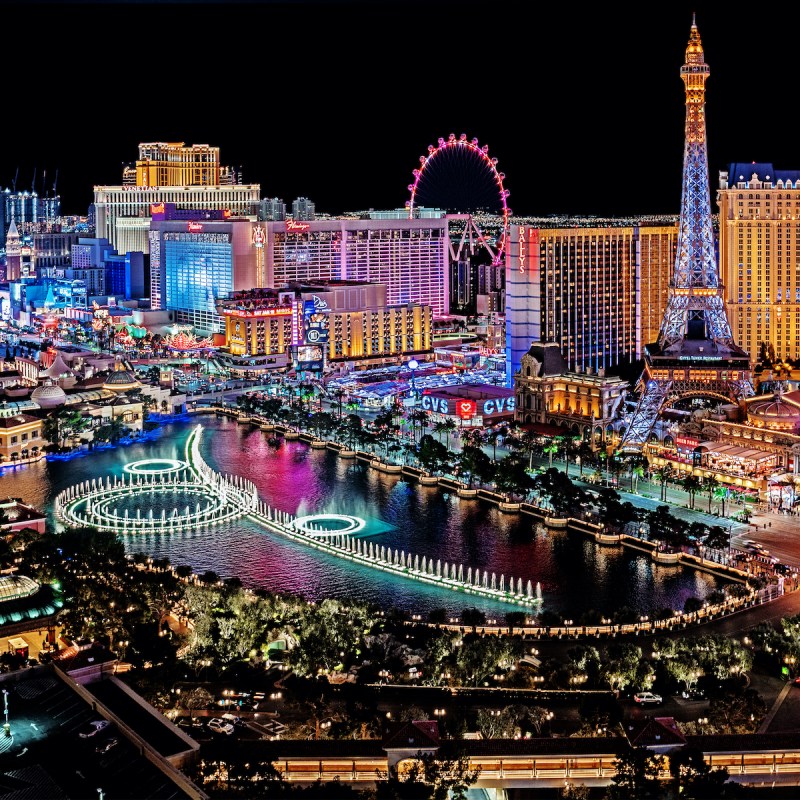 Vegas is always reinventing itself, and this year has been especially exciting with a variety of new shows, attractions, musical offerings, and restaurants. Whether you're interested in digital museums, virtual reality shows, or something unique from the legendary Cirque du Soleil, you will not be disappointed.
My husband, Jason, and I have made three trips to Vegas this year and each time we've explored the newest offerings in town. And in true Vegas style, they are always big, flashy, and fun.
Portions of this trip were hosted by the MGM Corporation, but all opinions are my own.
1. Mad Apple By Cirque Du Soleil
We've been patronizing Cirque du Soleil shows for over 10 years, most of them in Vegas, and they are always exciting. Their newest show, Mad Apple at New York New York, is no exception. However, this time the classic acrobatic and death-defying acts are complemented with live music and dancing, sometimes as individual acts and other times as transitions.
Walking into the Mad Apple is not your typical theater experience. Instead of people quietly looking for their seats, many head to the stage (doubling as a bar before the show starts) to order a drink. Along the way, several cast members are engaging the audience in games. It's noisy and boisterous, something akin to a New York nightclub.
The show lasts for 90 minutes and it's non-stop entertainment. Music, comedy, acrobatics, and dancing take place on the stage and in the aisles. There are even VIP seats slightly behind the stage giving guests a feeling of being in on the action.
Pro Tip: The doors open 30 minutes before show time and it is definitely worth arriving early to enjoy the pre-show antics.
2. FlyOver Las Vegas
Soarin' at Disney's California Adventure has long been my favorite ride of all time. This virtual experience takes guests on a ride over some of the world's top sights like the pyramids in Egypt, the Great Wall of China, and the Eiffel Tower in Paris. A similar attraction has recently opened in Vegas called FlyOver.
Instead of a world tour, FlyOver has two options: an epic overview of the American West or Iceland. Since we were returning from a trip to Bryce Canyon National Park, Jason and I opted for the West. After buckling in, the rows of seats lift up and move towards an enormous, curved screen. Spectacular scenes appear of some of the most iconic sights in the Western States, including the Grand Canyon, Zion National Park, and the Mojave Desert. All five senses are engaged through occasional mists of water and whiffs of pine.
Pro Tip: If you're traveling with kids — especially teengagers — this would be a great way to spend a few hours. In the summer, it's also a nice way to escape the heat for a while.
3. Perception Las Vegas
Digital art exhibits have become all the rage around the world. Never a city to be left out, Vegas now has its very own digital art museum called Perception. This 17,000-square-foot space is currently home to Leonardo: The Universal Man.
Guests start in a small gallery hung with six digital representations of Mona Lisa, each with their own audio and video, some funny and others creepy. Next is a larger gallery with images cast on four walls ultimately ending with an oversized projection of The Last Supper.
The final gallery is the largest, and it's here that Leonardo's vast amount of work and talent is recounted in five chapters — philosopher, painter, architect, scientist, and inventor. This final gallery was intriguing; I had no idea how multi-talented da Vinci was and how many fields of study he impacted.
4. Meow Wolf – Omega Mart
After experiencing Meow Wolf in Santa Fe, I knew I had to go to the Vegas location. This immersive, interactive art experience is unlike anything else I've ever seen.
Meow Wolf – Omega Mart begins in a large "grocery store." But quickly, visitors realize that freezer doors and cabinets lead to other rooms. Each room is designed by different artists and everything can be touched. There are lights, sounds, stairs, slides, benches, chairs, tunnels, video games, and much more. Spend as long as you like exploring.
Each Meow Wolf has a story to accompany it. Visitors can choose to follow the story — sort of a mystery — or just take the art at face value. Jason and I chose to just roam through the experience at our own pace.
Pro Tip: This is also a great place to take kids in Vegas. We saw toddlers through teenagers having a great time here.
5. Eataly Las Vegas
I've now been to four Eataly locations around the U.S. and the Las Vegas location is my favorite. In my mind, this is the Disneyland of Italian food. The 40,000-square-foot building houses dozens of restaurants and food stalls along with imported groceries, wine, and liquor. They even offer cooking classes and tours. If you can't get to Italy, you can certainly come here.
The newest restaurant in Eataly is Toscana Ristorante & Bar. Set apart from the rest of the shops, Toscana is set in a warm, cozy, and quiet space serving cuisine inspired by Tuscany. We were treated to their four-course tasting menu paired with Italian wines. We began with a burrata and tomato salad and a selection of prosciutto and mozzarella. Next was the pasta course — lasagna rustica and spinach and ricotta ravioli. But the star of the evening was the 42-ounce porterhouse steak served rare — just like they do in Florence. It brought back great memories of our week in Florence a few years ago. And in true Italian style, the evening was concluded with gelato.
Pro Tip: Eataly opens early at 7 a.m. and serves a nice selection of breakfast pastries and sandwiches along with great Italian coffee. It's a nice alternative to Starbucks and is far less crowded.
6. Bellagio Gallery Of Fine Art
For many years, I laughed at the idea of going to a museum while in Vegas. I came here to eat, drink, and be merry, not to be educated. But after visiting the Bellagio Gallery of Fine Art, that has all changed.
I was first attracted to the gallery while they were hosting an infinity room by Yayoi Kusama a few years ago. Earlier this year, I returned for the exhibit, Ase: Afro Frequencies Immersive Art Exhibit. The gallery is the perfect place to spend a quiet hour away from the lights and noise of the casino while being exposed to new artists.
7. Nellie's Southern Kitchen
It's not easy to find live music in Vegas outside of a large concert by a big name artist. So I was excited to hear about the combination of live music and comfort food at Nellie's Southern Kitchen. Started by Kevin Jonas Sr. — father of the famous Jonas Brothers — this restaurant is a tribute to his grandmother's cooking.
We enjoyed a full dinner including biscuits, fried chicken, shrimp and grits, and banana pudding for dessert. All of it was delicious. But if you just want to grab a drink and listen to music, that's possible too. A full bar is available including a large selection of whiskeys and bourbons. There was a terrific guitar duo playing while we ate and I understand there is music most nights of the week from approximately 6–10 p.m.
Where To Stay In Vegas
There is an extensive selection of accommodations in Vegas and something for everyone's budget and preferences. Here are a few of the places we've recently stayed and highly recommend.
Aria Sky Suites
When you want to feel like a high roller, head to the Aria Sky Suites. These recently remodeled suites atop the Aria Hotel feature luxury airport transportation, a personal concierge, private pool, a private entrance, and a lounge stocked with drinks and snacks. The floor-to-ceiling windows provide incredible views of the city, especially at night. I was in love with the bathroom that included a soaking tub, two sinks, and a steam shower.
We've stayed at the Aria several times and love it for its central location on the Strip, the great selection of restaurants on-site, and their spa.
Bellagio Las Vegas
I don't think I've ever been to Vegas without a stop at the Bellagio. It has long been one of our favorite places for sightseeing, dining, and sleeping. They've recently remodeled their rooms and I really liked the new decor with a neutral color palette. But I'd be remiss if I didn't mention how much we love the Bellagio fountains and their nightly show.
NoMad Hotel
At the top of Park MGM is the boutique NoMad Hotel. With its own entrance, lobby, and elevators, this feels like a very exclusive experience. While many modern hotels have opted for a lighter, neutral color scheme, the NoMad features darker colors with jewel-toned accents in the rooms and public spaces. My favorite room feature is the large bathtub in the bedroom. There's also a dedicated pool for this hotel which is a bit quieter than the one in Park MGM. And I really love the fact that Eataly is located in the same building.
Related Reading: