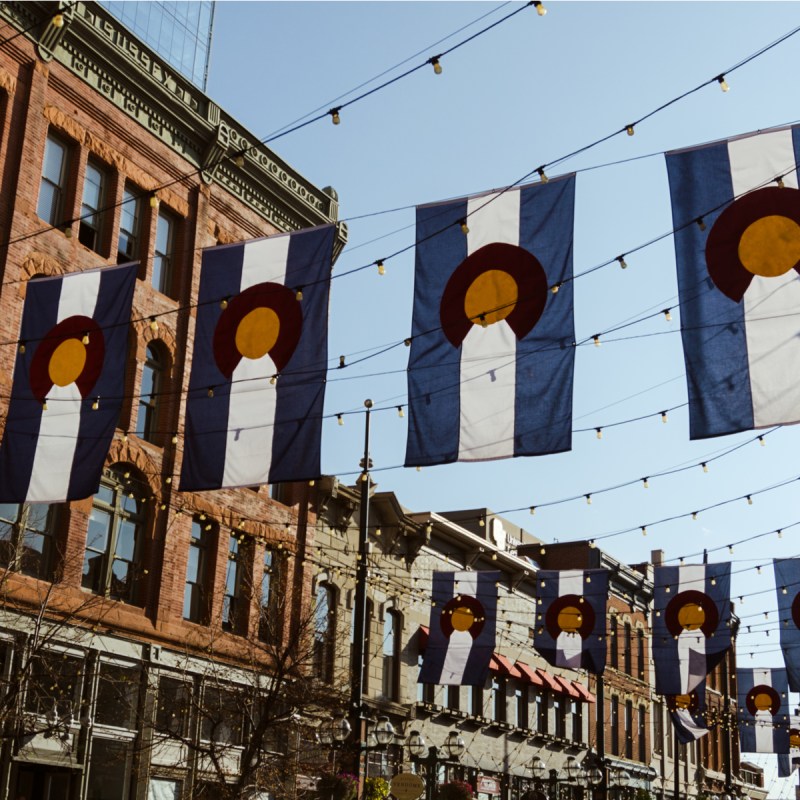 Counting all the incredible restaurants in Denver, Colorado, would be like trying to count grains of sand on the beach. A quintessential foodie town, the Denver restaurant scene attracts some of the best chefs in the country.
With so many excellent options, you will find it difficult to choose where to dine; of course, having this many options is a good problem to endure. We have listed some of our favorites, spread across the neighborhoods in this sprawling city. They are listed in no particular order.
Denver dining has come a long way since the early chuckwagon days during the Gold Rush. Offering everything from fine, high-end dining to fun, hip venues, there are dining spots spread across the city that will satisfy your brunch, lunch, dinner, and late-night gastronomical desires.
1. Rioja
The historic Larimer Square in downtown Denver is home to amazing culinary delights. Rioja, a Mediterranean-inspired restaurant, is led by James Beard Foundation Best Chef Southwest winner Jennifer Jasinski.
"We also love the Fresh Bacon appetizer. We like it so much that we bought her cookbook and now make it at home," recounts a raving diner. After you have devoured the gorgeous pork belly, move on to the Rohan Duck Breast served with an applewood smoked orange sauce and five-spice red wine reduction. Oh my.
If you are visiting downtown on the weekend and in need of an amazing brunch, go for the Hangover Cure that pairs the braised pork belly with fingerling potatoes, scrambled eggs, cipollini onions, mushrooms, avocado, and a wonderful green sauce. Add a Tequila Spritz for a little hair-of-the-dog to get your day off to a fabulous start.
Pro Tip: For a wonderful vegetarian option, try the house-made pasta; it is delicious.
2. Recess Beer Garden
Visiting Denver's hip Lower Highlands, or LoHi, district, you will find fun, quirky little boutiques and restaurants. While you are out exploring, stop by Recess Beer Garden.
Recess Beer Garden offers a wide selection of Colorado Drafts, including the classics like Coors Original and fun brews like the Telluride Brewing Company's Face Down Brown Ale. Grab a pint, some great pub grub like the Recess Cuban with house-smoked mojo pork pressed with swiss cheese, pickles, beer mustard, and garlic aioli on Ciabatta. On a sunny afternoon, it is a perfect spot for a little day drinking.
Saturday and Sunday brunch is a great way to kick off a weekend and start the day with a chillin' vibe and sunshine. Tuck into Recess' House Smoked Salmon joined by scrambled eggs, pickled onions, and cream cheese on a bagel. It will start your day off on the right foot. Pair that with a Breakfast Shot — Jameson, orange juice, butterscotch, and bacon. Yes, please!
Pro Tip: This is the spot to sample lots of great Denver craft brews.
3. The Happy Camper
Pizza is always a good idea, and Happy Camper has some of the best mile-high offerings. The outdoor picnic table seating evokes a fun and camping-casual atmosphere. There are lots of great items on the menu, and they have a great list of pizza options. Combinations like the Peter with pepperoni, blackened chicken, bacon, onions, cheddar cheese, and bbq sauce will open your eyes to a new pizza sensation. They have a good selection of veggie pizzas, too, like the Lance, which has artichoke hearts, olives, spinach, sun-dried tomatoes, roasted garlic, and feta cheese. Eating Happy Camper pizzas without a fork can be a challenge with all the goodies loaded on top. Yum!
Pro Tip: Reservations are encouraged — don't wait until the last minute, you could be out of luck.
4. Dio Mio, River North Art District
At Dio Mio, it is always all about the pasta. With a regularly updated menu, the dishes are driven by seasonal ingredients complementing the delicious house-made pasta.
The Radiatori pasta is drenched in basil pistachio pesto, mozzarella, and seasoned with furikake. Alternatively, you can dine on Sopressini with duck confit, yuzu kosho, black lime, and spring onions. As you can see, these are not your mama's spaghetti and meatballs, although they do carry an excellent spaghetti plate on the menu.
This hidden gem of a restaurant is a local favorite for vegetarian and meat-eating couples, offering great choices for both dining options.
Pro Tip: They offer some house-made and gluten-free pasta substitutes.
5. Los Chingones
With five locations in the Denver area, including their first restaurant in the RiNo (River North) neighborhood, Los Chingones is known for its authentic Mexican cuisine. Tacos, enchiladas, burritos, and quesadillas grace the menu to satisfy your pico, crema, lime, cilantro, and green chili sauce cravings. Go veggie, go carne, go and experience all the flavors of classic Mexican bar fare. With an extensive selection of tequilas, you will be sure to find your favorite and enjoy sampling them along the journey.
Give the T and T a taste test. It's made with Tequila Blanco, fresh orange juice, Tang, and orange soda. I'll bet the astronauts never had their Tang mixed up quite like this.
Pro Tip: The RiNo location is a fun gathering place for happy hour munchies and a relaxing beverage after a day of touring the city.
6. City, O' City
City, O' City is the vegetarian restaurant even meat-eaters love to frequent. They serve breakfast, lunch, dinner, and late-night with a variety of tasty treats that will make you feel good about your meatless lifestyle.
The Chicken and Waffles is amazing, sporting bourbon-brined and chicken-fried cauliflower with bourbon maple syrup on a waffle with carrot bacon. Or, indulge in the Buffalo Chicken Pizza with vegan chicken, buffalo sauce, ranch, garlic confit, shiitake bacon, and mozzarella. This is vegetarian dining raised to a sumptuous level.
Pro Tip: City, O' City offers a nice selection of Denver area craft beers.
7. Bistro Vendome
Classic French bistro fare is perfect for date night, celebratory dinners, or a special getaway dining experience, and Bistro Vendome is happy to oblige. Another Jasinski-led restaurant, this one with a decidedly French flair. Begin with a pate, charcuterie, or escargots and finish with creme brulee, chocolate souffle, or a frangipane tart. In between, pair a selection from their cellar of French wines with an amazing entree. The Confit de Canard is a crispy duck confit served with house-made choucroute, roasted pears, and bourbon pear butter. It is sublime. Alternatively, tuck in to the Moules et Frites, Mussels bathing in garlic and white wine with Frites along for the ride, a unique find in a mid-western city.
There is something wonderful about enjoying a slow dining weekend brunch. You will thoroughly enjoy the Bistro Vendome's weekend brunch menu. Dine on Bacon Pecan Pain Perdu, beignets, and assorted savory options before you head out for a day of exploring the city.
Pro Tip: Reservations are strongly recommended because Bistro Vendome is very popular.
8. Pig N Sprout
Urban chic and comfy casual, the Pig And Sprout in the Union Station neighborhood is all about the pork and the Brussel sprouts and also offers lots of other yummy options. The Brisket Poutine might make a Canadian cry — crispy french fries loaded with brisket gravy and cheese curds is a perfect snack. You can even add eggs to send it over the top. Try their BBQ Mac N' Cheese featuring cheddar mac with house pulled pork, bbq sauce, and crispy jalapenos — which just put this mac and cheese into a league of its own.
Brunch at the Pig and Sprout runs the gamut from Bacon Candy to donut holes and fun, meaty eggs Benedict to tofu scramble. Wash it all down with a Bacon Bourbon Bloody Mary or something sweeter like the Peppermint Patty with schnapps, kahlua, and creme de cacao. You might just need a nap before lunch.
Pro Tip: This is a fun place to meet for happy hour. Enjoy a signature drink, some yummy small plates, and you will probably end up staying for dinner.
9. Union Station
While not a restaurant per se, Union Station is a gathering place chock full of an eclectic mix of restaurants and food purveyors. Enjoy traditional quick bites like pizza, deli, and ice cream. The 1881 depot also houses tapas bars, cocktail lounges, and seafood restaurants.
The beautifully renovated Great Hall is stunning, showcasing high ceilings and enormous windows that offer a panoramic view of the neighborhood.
Pro Tip: Wander around and survey all your options before deciding on what you want to eat. With general, centrally located seating, everyone can have their own tasty treat. Maybe even share a bite or two.
For more information about Denver restaurants, visit The Mile High City restaurants page, where you can explore your options grouped by neighborhoods. If you are fortunate to visit during Restaurant Week, you will be faced with a wealth of glorious options. It will be a challenge to visit all the wonderful establishments in just 10 days, but it might be fun to try!
Related Reading: