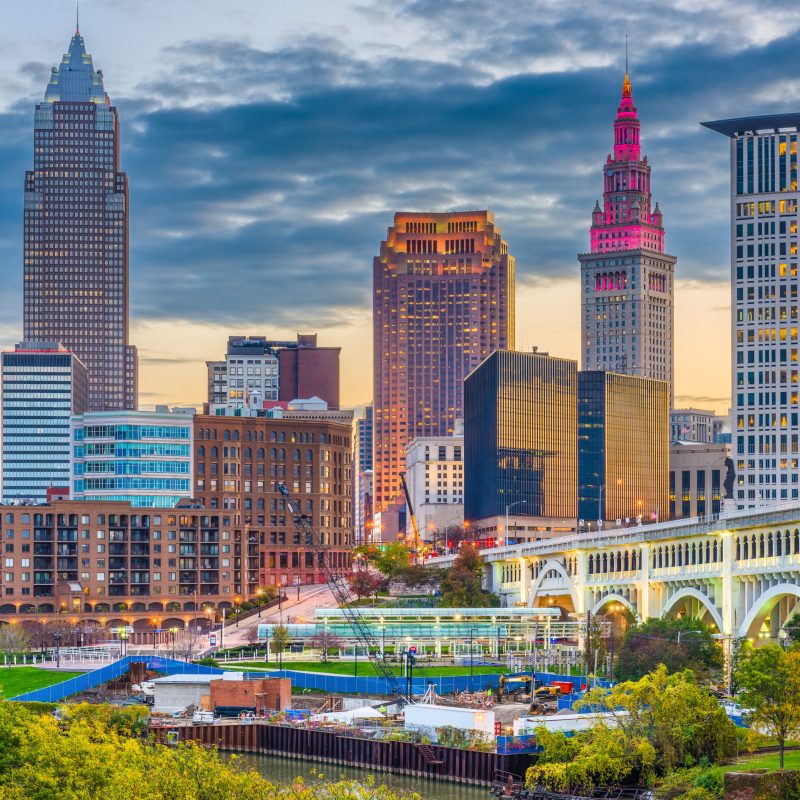 Cleveland is an amazing weekend getaway destination for all kinds of travelers, from seniors to children and solo backpackers to larger groups. It's home to some world-class museums — including a few that can't be found anywhere else in the world — and is a great place to stroll, shop, eat, and explore. Whether your personal style is a little rock and roll or a tad more sedate, you'll find plenty of things to do and places to go.
Here are some of the best things to see and do on a weekend getaway in Cleveland.
Get Ready To Rock And Roll
Cleveland might just be home to the coolest museum in the world. The Rock and Roll Hall of Fame is an incredible institution to visit. Its collection of rock-and-roll memorabilia is second to none. It also features fantastic special exhibits — 2019's program focused on the 50th anniversary of Woodstock. From Elvis to the Beatles, and from Janet Jackson to the Lovin' Spoonful, it's an incredible trip down memory lane to the soundtrack of your life. The Rock and Roll Hall of Fame is also home to a "garage," where you can pretend that you're in your own garage band. The museum boasts a comprehensive schedule of events, including live music events and even trivia nights. You'll never look at pop culture quite the same way again!
Check Out The Cleveland Museum Of Art
At the Cleveland Museum of Art, the collection is priceless, but admission is free. The phenomenal permanent collection includes Egyptian sculptures from the third century; pieces from ancient Greece and Rome; sketches by Raphael, Michelangelo, and Titian; and paintings by Rubens, Caravaggio, Manet, Degas, van Gogh, and Picasso. Not only is admission free, but daily tours of the collection are free as well. It's a wonderful place to spend a rainy afternoon.
See The Dinos At The Cleveland Museum Of Natural History
While the Cleveland Museum of Natural History covers all aspects of the natural world, the real stars are the dinosaurs. The museum's renowned Department of Vertebrate Paleontology contains some 15,000 specimens, including fish, amphibians, reptiles, dinosaurs, marine reptiles, and pterosaurs. The oldest "member" of the collection is Coelophysis bauri, approximately 225 million years young and the world's most complete mounted skeleton of its kind. Kids will go crazy for it! A planetarium, observatory, and full list of children's activities round out the offerings.
Indulge Your Inner Child At The A Christmas Story House
Surely one of the most unique museums in the United States, the A Christmas Story House & Museum is indeed the house from the 1983 holiday movie A Christmas Story. It was restored in 2007 (thanks to a few superfans), and it now looks exactly like it did at the time of filming. It's an interactive museum, and you can even stay overnight! A second part of the museum located in the house across the street is filled with costumes and movie props. Even if you've never seen the movie or if you're visiting in the middle of summer, you should absolutely pop in for a visit. It's part museum, part cinematic history, and entirely a labor of love.
Be Inspired At The International Women's Air & Space Museum
There's nothing like an air and space museum, and Cleveland's International Women's Air & Space Museum is one of the best. It tells the story of women in aviation and aeronautics, from Katharine Wright (whose famous brothers seriously stole her thunder) to Amelia Earhart to female participants in the National Air Races. The museum also includes artifacts from Cape Canaveral. Admission is free, and there is a neat gift shop. Be sure to allow plenty of extra time to enjoy a visit.
Eating In Cleveland
Cleveland has a fantastic food scene, with everything from epic brunches and homemade pasta to affordable, huge sandwiches. Some of the dishes you should put on your must-try list include the "Polish Boy" loaded sausages, corned beef sandwiches, and pierogi.
Taste Cleveland Food Tours runs a number of food tours in different neighborhoods; a tour is a great way to become better acquainted with the city's culinary history and flavors.
Here are some of the best spots to grab a bite in Cleveland.
Lucky's Café
One of the most popular brunch spots in Cleveland, Lucky's Café has gotten lots of publicity thanks to being showcased on the hit television show Diners, Drive-Ins and Dives. Its menu features traditional breakfast sandwiches, baked goods like zucchini bread, the Canoe Wreck (curried tofu, hash browns, seasonal veggies, and nutritional yeast), vanilla bean waffles (topped with warm strawberry rhubarb compote, honey-infused whipped cream, and house-made caramel sauce), and brûléed steel-cut oatmeal (topped with winter fruit compote and served with eggs en croute baked in cream, spinach, and Parmesan). Most of the fruits and vegetables are sourced from local farmers.
Spice Kitchen & Bar
Another Cleveland farm-to-table restaurant, Spice Kitchen & Bar, is run by Chef Ben Bebenroth, who is so passionate about the food he sources that he actually runs a farm himself. The menu changes with the seasons, but at any given time, it might include smoked tomato and basil beignets with gouda and black pepper aioli, oak-grilled shishito peppers with white peach barbecue sauce, and mole-braised beef short ribs. Overall, it's a can't-miss dining experience.
Marotta's
Italian food is hugely popular in Cleveland, and Marotta's is one of the best Italian spots in town. Specializing in rustic Italian cuisine including gnocchi with sausage and roasted red peppers and linguine with smoked salmon, plum tomatoes, and spinach, Marotta's also boasts one of the best wine lists in town, featuring only Italian offerings. It's the perfect restaurant for a romantic evening.
Il Rione Pizzeria
Another popular Italian restaurant, Il Rione Pizzeria, serves up New York-style pizza, delicious charcuterie starter platters laden with meat and cheese, and a few salads (including a blood orange, goat cheese, pistachio, and mint combination). Grab your pizza traditional-style with just marinara and garlic or maybe a Margherita with fresh mozzarella and basil. Funkier options feature fried sage, arugula pesto, clams, and Calabrian chilis.
Cosmic Dave's Rock Club
Music is the heart and soul of Cleveland, and when The Barking Spider, a live music venue, closed in 2016, it left a gaping hole in the community. But a beloved local sandwich shop, Dave's Cosmic Subs, took over to bring the space back to life as Dave's Rock Club, combining sandwiches and salads with plenty of rock and roll. Dave's sandwiches are really something else, and popular options include the ultra-cheesy meatball sub, Dave's world-famous roast beef sub, and the sub with smoked ham and cosmic sauce. There are vegetarian and gluten-free options as well.
The Cleveland Bagel Company
Offering a nice selection of classic bagels and spreads alongside some funkier options like brie honey walnut spread, The Cleveland Bagel Company is a local favorite for quick breakfasts and lunches.
Shopping In Cleveland
Cleveland is home to a great shopping scene with a variety of small, independent businesses as well as large shopping malls and chain stores. Cool Cleveland lists community events like Small-Business Saturday celebrations.
Here are some of the best places to shop in the city.
The Bookshop In Lakewood
Cleveland is home to eight independent bookstores. One of them, The Bookshop in Lakewood, located just outside of Cleveland, offers a great selection of used books. Browse for your favorites under the watchful eye of the shop's resident cat, Hobbes. This is a fun, cute, and friendly place.
Appletree Books
Another one of Cleveland's great bookstores, Appletree Books specializes in travel books, illustrated books, children's books, and books by local authors. Appletree's gift selection includes whimsical cards, notebooks, and other knick-knacks. This is a great spot to pick up gifts for hard-to-shop-for people.
Flower Child
Specializing in vintage goods dating from the 1930s to the 1980s, Flower Child sells funky used clothing, accessories, home goods, art, and furniture. A visit is a little bit like a time-travel experience and a little bit like a treasure hunt. No matter what you buy, you can be certain that no one will have seen anything like it.
Océanne
Océanne specializes in affordable, minimalist jewelry with a focus on geometric designs. The pieces are conceived and designed by an all-female team of artisans, and each item is beautiful, affordable, and unique.
Small Studio
Small Studio is an independent arts and crafts store specializing in beautiful stationery, yarn, knitting supplies, scrapbooking materials, and more. It's located on the outskirts of town in North Olmsted, Ohio. This is the perfect spot to pick up materials to make a memory box to commemorate your travels.
FOUNT
FOUNT began as a small family business in 2014, specializing in high-end leather handbags, wallets, and totes. Today, the company employs a team of several dozen people; it is dedicated to ethical pay, and its products are designed to last. This is definitely a spot to spoil yourself!
Lovely Paperie & Gifts
This beautiful little shop specializes in elegant stationery and offers a great selection of gifts and decor items, wrapping materials, accessories, jewelry, bags, cards, and toiletries. This is the perfect place to shop if you're traveling with just a carry-on and can only bring home a few tiny treats.
Planning a trip to Ohio? Check out these things to see and do in Cincinnati.