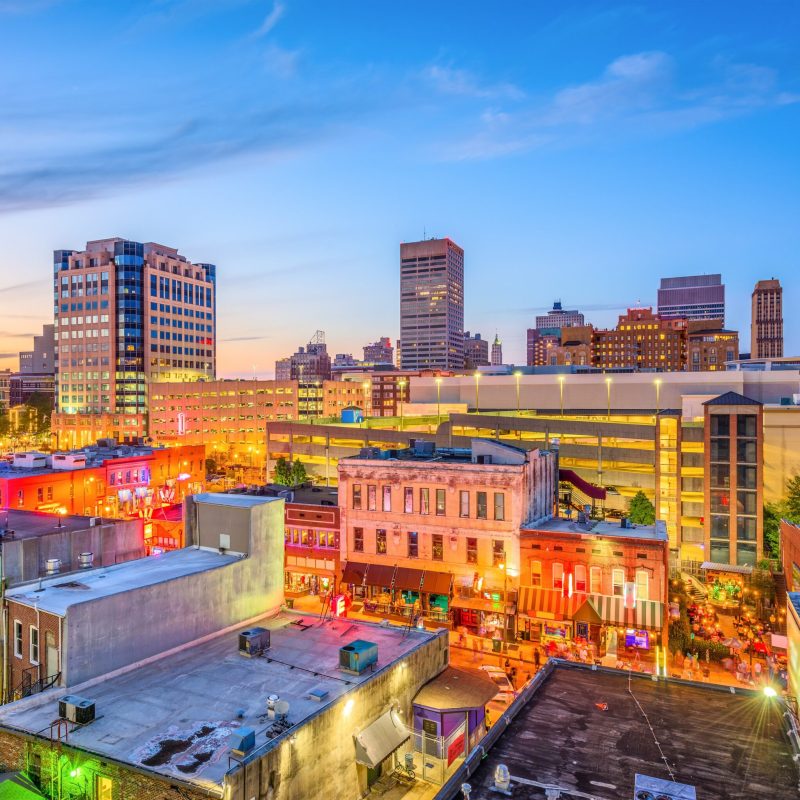 When you make your way to the birthplace of rock 'n' roll — also known as Memphis — you'll find yourself surrounded by a quirky array of Southern activities, shopping experiences, and, of course, amazing music.
While here, you'll get to experience important history of the nation and music, meet some trippy goats (that's right — read on), and dine on some of the finest Southern fare you'd ever hope to touch your taste buds to.
Tour The Birthplace Of Rock 'N' Roll
Sun Studio in Memphis is an absolute must for any Elvis, Johnny Cash, or heck, general rock 'n' roll fans and music aficionados. Sun Studio is nicknamed the birthplace of rock 'n' roll thanks to Elvis Presley getting his first break here, along with that historic recording session. Ever heard of the Million Dollar Quartet? Johnny Cash, Elvis Presley, Jerry Lee Lewis, and Carl Perkins recorded here on that famous night.
You can take a guided tour of Sun Studios, listening to snippets and songs recorded by rock 'n' roll's greats over the years. You can have a personal recording session, even — go into the sound booth in the control room of the studio. Put on the headphones, sing the lyrics from the screen, and come away with a personalized CD with your song and name imprinted on the cover.
Sun Studio tour tickets are $14 and come with a voucher for shopping in the gift store.
Remember The Past At The National Civil Rights Museum
While in Memphis, you'll want to plan a stop at the National Civil Rights Museum. Here you'll not only read through copies of documents and the many placards on the history of some of our nation's most sobering topics, but you'll have the opportunity to delve into a multi-sensory experience.
The museum offers over 40 films, a variety of oral histories, interactive media, external listening posts, and over 260 artifacts on the topic. You'll learn about slavery, the Civil War, Jim Crow laws, the Civil Rights Movement, and more through the exhibits on these topics. The museum was built on the site of the assassination of Dr. Martin Luther King Jr., just outside the Lorraine Motel.
Shop And Play At Bass Pro Pyramid
For a unique combination of shopping, lodging, and activities that you probably wouldn't expect in a spot like the birthplace of rock 'n' roll, the Bass Pro Shops Pyramid is a unique experience the whole family can enjoy. The Pyramid rises out of the middle of downtown Memphis and is home to the Big Cypress Lodge. It also houses what's arguably the most unique bowling alley in the country and gives visitors direct access to one of the largest shopping spaces in the world.
Inside the pyramid, you'll be able to get in some bowling at the underwater-themed Fish Bowl, which features 13 lanes and bowling balls that bear the likenesses of sea creatures. Peruse Bass Pro Shop, then ride to the top of Sky High, the tallest free-standing elevator in the country. You'll see views of Memphis from 300 feet in the air via the 28-story elevator that has floor-to-ceiling glass on all four sides. At the top, you can step out onto the glass observation deck for fantastic views of the city.
Eating In Memphis
Memphis is known for its Southern-style comfort food and barbecue. You'll find amazing fried chicken, finger-licking good ribs, and unique twists on fan favorites like the BLT that you won't soon forget.
Felicia Suzanne's
Who doesn't love a good BLT sandwich? Well, Felicia Suzanne's has taken this awesome dish and elevated it with Southern touches you won't find elsewhere. Here, you can get BLFGT, which stands for bacon, lettuce, and fried green tomatoes. The sandwich is loaded with thick, crispy bacon, two lightly fried green tomatoes, a layer of pimento cheese, and baby mixed greens. Then it's topped with a tasty remoulade dressing you won't soon forget.
You'll also find other delicious fare, straight out of Chef Felicia Suzanne Willet's childhood, featured on the menu. Dig into fresh Gulf Coast seafood, creole favorites, Charleston Low-Country dishes, and more. And don't forget to try the chef's famous pepper jelly.
Central BBQ
You haven't eaten in the South until you've had some truly delicious pulled pork. The best way to do that is in a sandwich served from a shop like Central BBQ in Midtown. And in Memphis, you'll find that they put coleslaw on the sandwich with all that smoky meat.
Central BBQ has been around since 2002 and has been ranked the number one best spot in Memphis for barbecue. They focus their menu on fall-off-the-bone meat, service with that famous Southern hospitality, and a seriously good time.
The food itself is amazing. The region is the hardwood capital of the world and the locally grown pecan and hickory woods used in the pits leave the meat mouthwatering. The atmosphere is fun and casual. In fact, they encourage patrons to "get messy" with their meals and savor everything to the last finger-licking good drizzle.
Gus's Fried Chicken
What Southern adventure is complete without some amazing fried chicken? Gus's Fried Chicken offers some of the absolute best in town. They're specifically known for chicken that has a bit of a spicy kick. And since it's homemade, the recipe varies slightly from day to day. You'll never have the same Gus's chicken twice.
The crispy, golden-brown outside of the fried chicken perfectly complements the tender, juicy meat within. It's seasoned with salt and just a little bit of cayenne pepper. Most days, it's a tiny kick, but sometimes you'll get a bite that's a little spicier.
Gus's chicken has won multiple awards, including mentions by GQ and MSN for serving up some of the best chicken you'll find in the country.
Silky O'Sullivan's
Beale Street is one of the most famous streets in the country. On the surface, it's a tourist destination lined with nightclubs, music shops, and food you'll dream about for years to come. But if you dig a little deeper, you can see beyond the standards found on all the "visit Memphis" lists and get a taste for what makes Memphis the unique city it is.
One of those places along this street is Silky O'Sullivan's, a pub where you'll find resident Irish Jumping Goats. Really, they're goats that live in a tower, drink beer, and hop around happily entertaining folks who come by to watch them. The goats line up along the beer troughs, chugging the brew, and greedily nosh on whatever you offer to feed them, year-round.
The bar is also good for other things, like the dueling pianos and specialty drinks served in giant plastic buckets. Generally, if you love a good time and want to see some happy goats, you'll enjoy stopping by for some Irish Coffee or a pub classic, the Irish Car Bomb.
While you're here chuckling over the antics of the goats, you'll want to order up some of their fantastic barbecue — like the ribs or beef brisket plate — or the fantastic seafood. And the barbecue shrimp, catfish po' boy sandwiches, and cajun burgers are always a hit.
Shopping In Memphis
You'll find a range of unique, fun, and quirky boutiques in Memphis filled with treasures you'll want to bring home for friends, family, and the mantlepiece.
A. Schwab
The A. Schwab dry goods store has been around since 1876 when Jewish immigrant Abraham Schwab opened it to the public. It's the only original business still operating on Beale Street and it remains a treasure to the community and tourists alike.
A. Schwab's current owners dedicate themselves to preserving the century-and-a-half-long heritage of the store while telling the history of the street and region through the artifacts and merchandise they keep on site. The store offers old-fashioned treats that kids will love, while the rest of the family can enjoy the collection of regional arts and crafts, candles, magazines, books, and products made by local Memphis and Tennessee brands.
Burke's Book Store
Another long-time Memphis business, Burke's Book Store has been around since 1875 when the original owner, Walter Burke Sr., conceived of the shop that sold books, newspapers, tin toys, and slates for school children.
When you visit today, you'll find an expanded store on a new site — Burke's Book's fourth location — filled with the best of old, new, and hard-to-find collectible books. Their used-book section has become known as one of the best in the city. They offer new titles, as well, along with local titles, Southern literature, and a fantastic selection of Memphis history reads.
The Lucky Duck
Lansky's Lucky Duck offers beautiful clothing. Their motto is "Clothier to the King" in honor of their connection to Memphis musician Elvis Presley, who many consider the King of Rock 'n' Roll. Their glitzy stage clothing line was also worn by Johnny Cash, Carl Perkins, and Jerry Lee Lewis during their time in Memphis.
The Lucky Duck's clothing remains some of the most gorgeous you'll find in the region, so shopping here is a delight. But something else that makes this place unique is the namesake of the shop. One of Lucky Duck's storefronts is in the historic Peabody Hotel, where twice a day — at 11 a.m. and 5 p.m. — the ducks who live on the roof are marched down the red carpet to the fountain lobby.
If you're up for a parade of darling ducks in addition to your shopping, you'll want to arrive to the lobby about 15 minutes early for a viewing spot. Afterward, pop into the Lucky Duck, find some clothing you love, and grab a duck-themed souvenir like a stuffed animal, t-shirt, or book.