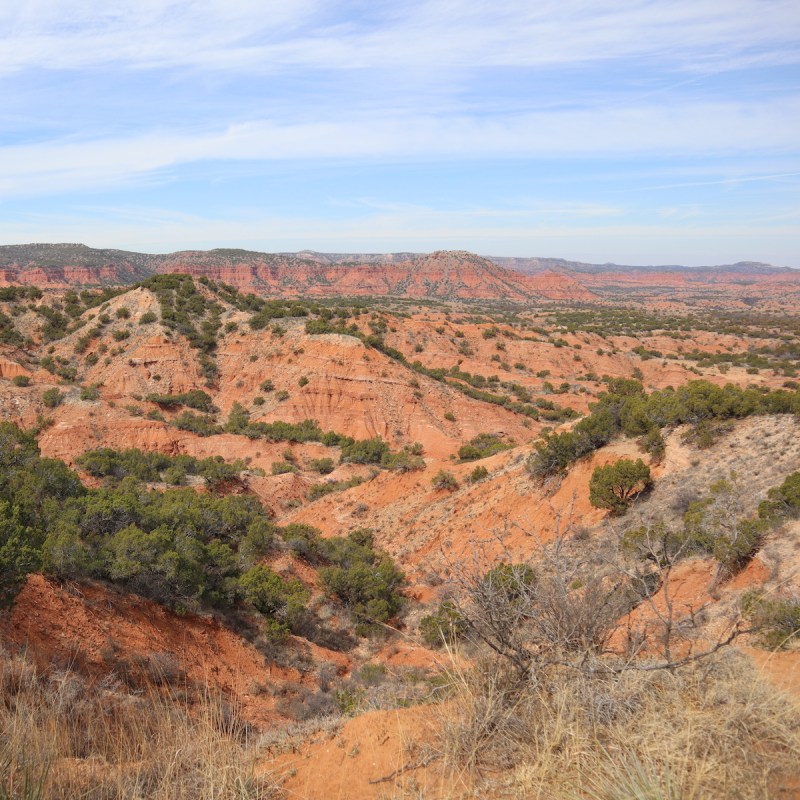 There are a lot of well-known places and events that people's minds go to when someone mentions Texas: The San Antonio Riverwalk, The Sixth Floor Museum in Dallas, and Space Center Houston, just to name a few.
If you want to get outside, enjoy the natural beauty of the state, and add a pin to your map that the average Texas visitor won't have, check out these five gorgeous outdoor hidden gems in Texas. While these hidden gems don't make the big, famous attractions less spectacular, they give you a taste of Texas's wide open spaces that beg to be appreciated.
Note: There's no particular order to this list, although Palo Duro and Caprock can be done as part of a single trip, as can Enchanted Rock and Lost Maples.
1. Palo Duro Canyon
Palo Duro Canyon, located just outside Amarillo, is the second-largest canyon in the United States. Everyone has heard of the Grand Canyon, and while Palo Duro is smaller and not as popular, I think it's just as spectacular.
Palo Duro Canyon is 120 miles long, 20 miles wide, and 800 feet deep. Roughly half the canyon is managed by Texas Parks and Wildlife, and the other half is private land. Palo Duro Canyon State Park offers hiking trails and horse trails with views of majestic hoodoos that rise from the ground. The park has RV campsites with hookups and a variety of more austere, hike-in campsites for those who truly want to rough it. The park also has a limited number of cabins available, but those cabins are very rustic, and it would be a stretch to call it glamping.
If glamping is what you want to do, Vrbo and Airbnb have lots of options for luxury cabins near and overlooking the canyon. If you want to explore the private side of the canyon, you can take a jeep tour through Palo Duro Creek Ranch, also known amongst the locals as Elkins Ranch. The tours aren't exactly cheap — the 3-hour tour we took is currently priced at $92 per person — but you'll get a more personalized experience and fewer crowds.
The nearby College town of Canyon (home to West Texas A&M University) has several options for lodging, dining, and entertainment. And if you want to extend your trip or branch out, Amarillo has plenty of things to do.
2. Caprock Canyon State Park & Trailway
Caprock Canyon State Park is 90 miles southeast of Palo Duro Canyon. This area marks where the plains end and the vibrant red bluffs of the Caprock Escarpment begin, treating visitors to stunning sunrises and sunsets that light up the wide-open spaces of the canyon.
We stumbled upon the park on our drive home from Palo Duro and spent a day exploring what I think is a true under-the-radar destination. Caprock Canyon State Park is located in the small city of Quitaque, which doesn't have a lot as far as amenities go. The park is spectacular, though, and worth a side trip from Palo Duro or Amarillo, if not a dedicated trip.
The park is home to the state's bison herd, which roams free in the park. These bison are the descendants of the last free-roaming bison on the Texas Panhandle. Other wildlife in the park includes coyotes, foxes, and over 150 species of birds.
There's a long list of things outdoor enthusiasts can do inside Caprock Canyons State Park. There are several hiking and equestrian trails to explore, ranger-led programming, and swimming, fishing, and no-wake boating in Lake Theo. The park has campsites with RV hookups as well as primitive and equestrian campsites.
3. Lost Maples State Natural Area
While Texas is far from being a top-rated destination for leaf peeping, you can still soak in fall foliage in the state. Los Maples State Natural Area, located in the Texas Hill Country, is where Texans flock to get their fall fix.
Located on the banks of the Sabinal River, this 2,100-acre area, managed by Texas Parks and Wildlife, puts on a show of vibrant color in the fall. You'll see Uvalde bigtooth maples, sycamores, bald cypress, and several varieties of oak trees. What makes the view really spectacular is the backdrop of limestone outcroppings and the trees' reflection in the river.
Want to see the boldest autumn colors? The natural area has a handy fall foliage tracker.
Lost Maples State Natural Area has 10 miles of hiking trails of varying difficulty, RV campsites with electricity and water, hike-in primitive sites, and stargazing opportunities. There are not many amenities in the general area, but Lost Maples is within day-tripping distance from San Antonio and only 44 miles from Bandera, known as the "cowboy capital" of Texas. Bandera has various options for lodging, dining, and other entertainment.
4. Enchanted Rock State Natural Area
Enchanted Rock is a 452-foot high pink granite dome that looms over the Texas Hill Country outside Fredericksburg.
Hiking is the most popular activity here, with the Summit Trail being the most popular. The climb is strenuous, but if you're up for it, the views from the top are worth it. If you want an easier trail, there are trails around the perimeter that still offer a chance to enjoy some beautiful scenery.
Enchanted Rock State Natural Area has 55 tent camping sites, all of them fairly primitive. None of them have electricity, and about three-quarters of them have water. Check the park calendar for stargazing parties and other ranger-led activities.
Enchanted Rock reaches capacity very quickly, and the rangers will limit admission when the parking lot is full. I recommend visiting on a weekday. If you set out on a weekend or holiday, aim to arrive very early. It isn't uncommon to see cars lined up on the highway waiting to enter the parking area.
The lovely German town of Fredericksburg is located 18 miles away. Visiting Enchanted Rock for the day is a doable add-on activity on a visit to Fredericksburg. If you want to explore the great outdoors but primitive camping is not your thing, there are lots of lodging options in the Fredericksburg/Hye/Johnson City area.
5. Fort Davis
Fort Davis is a small West Texas community that is often overshadowed by her more popular, artsy neighbor Marfa. The town itself can be explored in less than a day — a milkshake at the Fort Davis Drugstore Hotel is an absolute don't miss — but there's rugged West Texas beauty all around for anyone seeking outdoor adventure with a dose of education thrown in.
Small as it is (less than 2,000 people live in Fort Davis), it has several choices for lodging, including hotels and glamping. You can also use Marfa or nearby Alpine as a hub to explore Fort Davis and the surrounding area.
Explore Fort Davis National Historic Site, a historic military fort on the road from San Antonio to El Paso, active between 1861 and 1894. The buildings are incredibly well-preserved, and a self-guided tour will give you a glimpse into what life was like for officers and their families, enlisted soldiers, and African American troops known as Buffalo Soldiers. There's also a network of hiking trails on the bluff that overlooks the fort. Hiking and taking a complete tour of the historic buildings and interpretive center will take about four hours.
Nearby Davis Mountains State Park offers the same rugged scenery and also allows overnight camping, and also a lodge if you prefer to be out of the elements. The park has a vast network of trails and structures built by the Civilian Conservation Corps in the 1930s that are fun to explore and photograph.
There's also a trail system that connects Fort Davis National Historic Site to Davis Mountains State Park. The hike is about 4.5 miles each way, but the terrain is rugged and there's zero shade, so talk to a ranger before attempting this. If you want to take in the scenery but don't want to hike, you can see a lot from your car. There are also several scenic overlook spots to get out and take in the views.