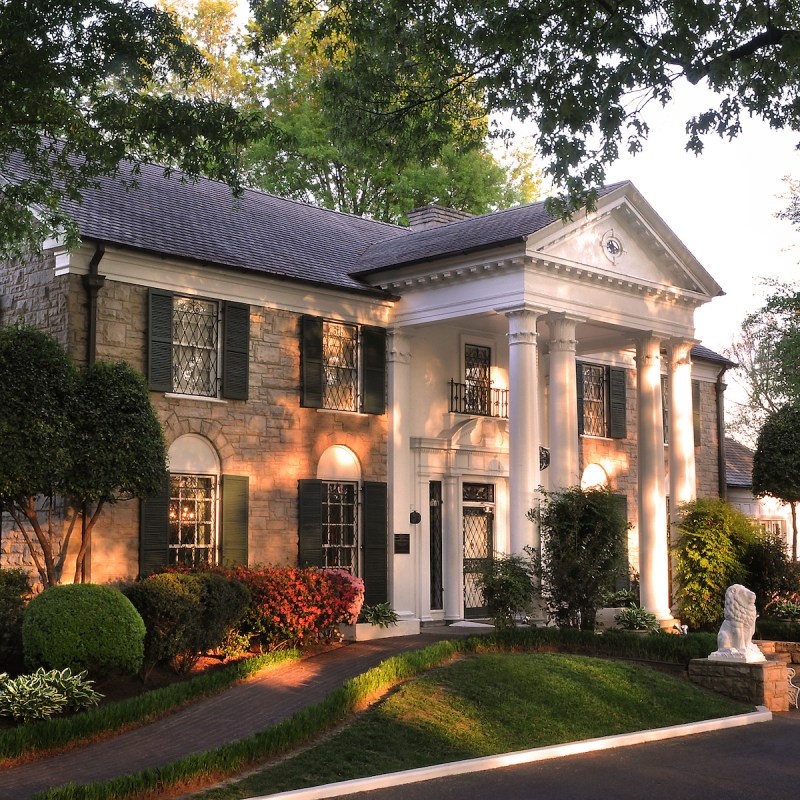 Elvis Presley's Graceland Mansion is a bucket list destination for Elvis fans around the world. I was delighted to have the chance to visit and put a virtual checkmark on my to-visit list.
Elvis purchased Graceland in 1957 when he was only 22 years old. The elegant home is surrounded by lush, green fields where horses leisurely graze, unfazed by the lines of fan girls (and guys) queuing up to get a look at the home of the King of Rock 'n Roll. You can feel the electricity generated by fans, like myself, eager to get a glimpse into Elvis's storied life.
As you wander through Graceland Mansion, you are treated to a private tour — via headphones and a tablet — narrated by John Stamos. The tour winds through the first floor, basement rooms, the office, outdoor space, and a family history archive with photos, home videos, artifacts, Elvis's desk, and other memorabilia. Gazing at the photos brought me back to a place in time where Elvis changed the music scene. After returning your headset and tablet, you can wander through several exhibits like his collection of cars, and a tribute to his time in the military.
I hope you enjoy reading about Graceland as much as I did visiting. With any luck, you will be able to experience the adventure in person in the not-too-distant future.
Note: Some information in this piece was obtained during a sponsored press trip, but all recommendations are my own.
That Charming Curled Lip
That charming curled lip always seems to be a little bit of a celebrity affectation; something that was put on to impress the camera. In the family history archives, there is a prominent family portrait of Vernon, Gladys, and Elvis Presley taken when he was a young child. His lip is slightly curled and there is the same twinkle in his eye. It brought me a sense of his genuineness. The lip curl is synonymous with Elvis's iconic smile. Over the years, it may have taken on a celebrity exaggeration; but I was delighted to know it was part of his young, non-celeb personality.
The Living Room
My favorite room at Graceland is the living room. The bright and stylish room in white, creams, and blue is the first room you see as you enter the front door.
As you turn to face the room, the vibrant, colorful hues are unexpected. They are hip and chic, and the best surprise is the beautiful peacocks designed in stained glass. These gorgeous art pieces perfectly frame the piano room entrance. I can imagine elegant parties with guests dressed to the max sipping flutes of champagne and making elaborate record deals.
The Dining Room
The dining room, as with many homes with a central staircase, is opposite the living room. Carrying the peacock blues across the space imparts a feeling of grandeur in the front of the home.
The dining room sparkles with light from the giant chandelier hovering over the gleaming table. The built-in corner niches are reminiscent of ones I had in my first home. With the tablescape set and ready for guests, you can almost see a gracious southern dinner being served.
The Infamous Jungle Room
The avocado green shag carpet on the floor and ceiling set the stage for this cozy room. Decked out with popular wooden wall paneling and a brick water feature play softly against the leather, natural wood, and animal-themed accessories filling the space.
Known to the Presleys as "The Den," it was also used as Elvis's recording studio during his last recording sessions.
The Busy Kitchen
When I walked by the kitchen, my first thought was "I grew up with a kitchen just like this!" Unlike Presley's kitchen, mine was not open 24/7 to accommodate his hungry family and guests at all hours of the day and night.
The kitchen stands ready to serve up meatloaf and mashed potatoes or a peanut butter and banana sandwich at a moment's notice.
The TV Room
Decked out in high-contrast navy, white, and yellow deco design with three circa-1970 TVs lining one wall, the TV room is so inviting I wanted to sit down and have a casual conversation with Elvis.
It's easy to picture a gang of happy friends and family lounging on the wrap-around sofa enjoying simulcast football. The adjacent mirrored bar would provide any number of cocktail concoctions while cheering on your favorite team.
The Pool Room
My favorite room in the house was the upholstered Pool Room. The colorful fabric is pleated along the walls and ceiling creating a soft, quiet effect. The room is dark and lit by twin billiard lamps designed by Laukhuff Stained Glass, which still designs beautiful glass pieces today. Additional lamps cast a soft glow against the fabric-lined walls, creating a warm, cocoon effect.
The Meditation Garden
The beautiful Mediation Garden, built for quiet contemplation, is now the final resting place for Elvis, his parents Vernon and Gladys, his grandmother Minnie Mae, and his grandson Benjamin.
Guests pass the family graves surrounded by statues and beautiful plans in a quietly somber procession. It is a spot to reflect on what might have been if Elvis didn't die so young.
The Cars
I'm not much of an automotive aficionado, but even I can appreciate the shiny collection of classic cars in Graceland's Automobile Museum. Of course, there is his infamous pink 1955 Cadillac Fleetwood Sixty Special, along with many others like his Harley-Davidson Electra-Glide 1200: Liberty Edition, a fun dune buggy, a prized 1960 Rolls Royce Phantom V, and so many more.
More than once I found my mind wandering back to a time when I rode in a vehicle similar to the ones on display. How has it been so many years?
Elvis Presley And The U.S. Army
In 1958, Elvis entered the United States Army, much of that time he served in Germany. The exhibit chronicling his military service brought back many memories of friends and family who served during those years.
The fanfare surrounding his military service did not seem to create an issue with his fellow soldiers. Perhaps it was his charming personality and sense of duty that resonated with those around him that allowed Elvis to serve his country and maintain his notoriety.
Graceland Accommodations
There is a beautiful hotel, The Guest House At Graceland, on the property. The hotel offers over-the-top suites where you can relax in quintessential rock 'n roll style. The Vernon & Gladys suites exude expensive, mid-century modern elements that will make you feel like Elvis is still in the building.
If you are road-tripping, The Graceland RV Park & Campground is located close the Graceland. The 19-acre property is beautifully maintained and within walking distance of Graceland.
"It's Now Or Never"
I am fortunate to have visited Graceland and immerse myself in the home of the King of Rock 'n Roll. I loved that I could take a peek into the Presley family life, it brought me closer to the man himself and imparted a personal connection with his life and music. As an avid fan of his movies and music, the experience allowed me to appreciate him as a regular guy, more than just a celebrity personna.
Elvis's musical playbook scrolls through my thoughts as I relive my visit to Graceland. "It's Now Or Never." I was delighted to experience Graceland now, I hope you will too. Never is too long to wait.
Pro Tips: Experience More Memphis
Elvis Presley died on August 16, 1977, in Memphis, making 2022 the 45th anniversary of his death. Graceland is hosting a year-long ELVIS 45 celebration with an array of special events.
While you are visiting Memphis, check out these amazing restaurants, I'm definitely a fan of Gus's World Famous Fried Chicken. If you are in search of classic Memphis barbeque, go to Charles Vergos Rendezvous. The food is amazing and the atmosphere is chock full of legendary Memphis memorabilia.
If you're planning a trip to Memphis, check out these fun-filled road trips: