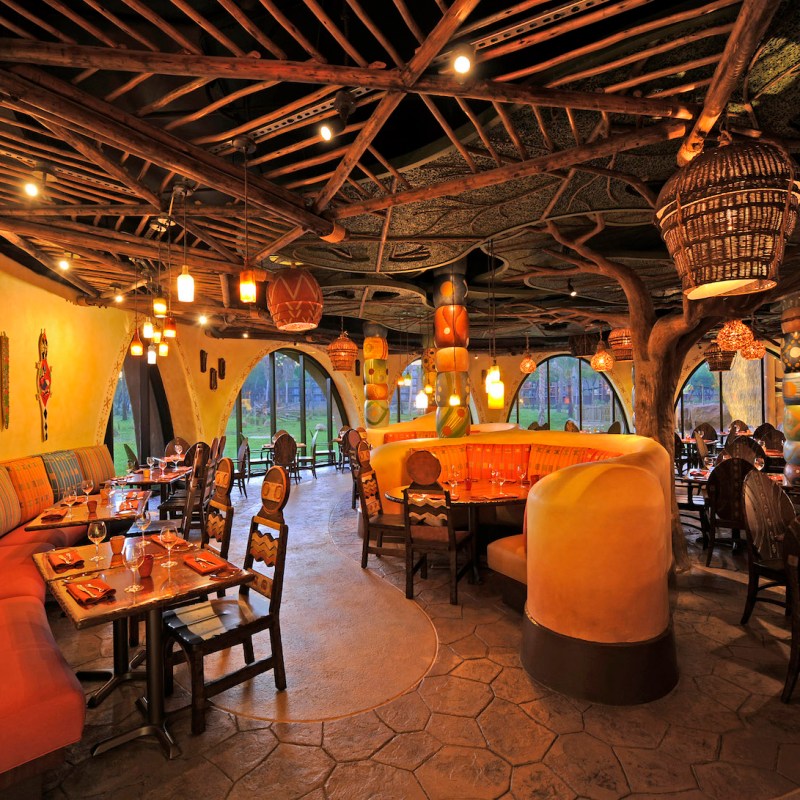 Dreaming of dining at Disney? Our Disney travel experts weigh in on what's worth your time and money on your next visit to The Happiest Place On Earth.
When it comes to Disney restaurants, there is something for everyone. Kiddos love character dining, while Mom and Dad prefer fine/signature dining. There are also counter-service and casual dining spots. We'll cover the counter-service spots in an upcoming article, but for now, we're focusing on Walt Disney Restaurants that provide table service. Heads up: If they take reservations, make them ASAP. Reservation booking windows generally open up within a 60-day window.
Below, Magical Vacation Planner Sarah Armbruster, Laura Liden of Pixie and Pirate Destinations, Chris Cook-Leitz, owner of On The Road Travel, LLC, and Seana Beard from Wish Upon a Star with Us Travel tell us about their favorite places to dine at Walt Disney World. In no particular order, here are top dine-in restaurants Disney travel experts say to try.
1. Wine Bar George
Disney Springs
"Don't let the words 'wine' and 'bar' discourage you from enjoying a family meal here. Located at Disney Springs, Wine Bar George offers an extensive menu, including several options for kids. Wine enthusiasts can enjoy over 140 wines by the glass, bottle, and ounce. It's easy to make a full meal from the small plates and boards — the housemade meatballs and Saganaki on Fire (flaming cheese) are favorites. The skirt steak with roasted potatoes, chimichurri, and vegetables serves two to four and is a fantastic option. Reservations are recommended and can be made at winebargeorge.com." — Chris Cook-Leitz
2. Chef Art Smith's Homecomin'
Disney Springs
"Chef Art Smith's Homecomin' is a great farm-to-fork restaurant in Disney Springs. Nothing compares to chef Art's fried chicken. I often joke he has ruined fried chicken for me. My favorite is the fried chicken and donuts. And I always start with the Church Lady deviled eggs. If you're looking for adult beverage options, you can't beat the moonshine flight." — Laura Liden
3. Jiko – The Cooking Place
Disney's Animal Kingdom Lodge
"Really narrowing it down to my favorite Walt Disney World restaurants is tough. Jiko – The Cooking Place is an amazing signature restaurant at Disney's Animal Kingdom Lodge. If you are staying on Disney property somewhere other than at Animal Kingdom Lodge and have access to a car, that is your best option to get to Jiko. If you don't have a vehicle, I would actually suggest a Disney Minnie Van or other rideshare option as the easiest and least stressful way to get to this one.
"My favorite meal here is the seared scallops with nhopi and groundnuts for the appetizer and oak-grilled filet mignon with four-cheese macaroni, rainbow cauliflower, and chocolate-red wine demi-glace for my entrée. They also offer a variety of beers, after-dinner drinks, and coffees with an African flare. Fantastic!
"Reservations for this restaurant fill up pretty quickly so getting on right at the 7 a.m. EST 60 days from your reservation is the best option. This is a restaurant that has some last-minute cancellations so being diligent — the last few days before you want to dine here is a good time to secure a last-minute reservation. You won't be sorry! Since this is a Fine/Signature Dining table service restaurant, you will want to make sure you leave yourself at least an hour to an hour and a half so you don't rush this wonderful experience." — Sarah Armbruster
4. Three Bridges Bar And Grill At Villa Del Lago
Disney's Coronado Springs Resort
"Three Bridges Bar and Grill at Villa del Lago is an amazing casual open-air dining choice at Disney's Coronado Springs Resort. This hidden gem is located in the center of the resort's lake and is accessible via three bridges that meet as this delectable dining treat. This is a perfect spot to unwind after a long day in the parks or after a conference if you are lucky enough to have this be the spot where your business chooses to hold your event. I have been fortunate to be able to do both.
"This restaurant offers plenty of comfortable seating where groups can huddle together and unwind. If not dining in a group, there are also booths and tables to relax with your significant other or family.
"From small shareable bites to great upscale casual entrees, there are so many great choices on the menu at Three Bridges. My favorite meal here would begin with a La Fresa Limonada to sip on while waiting for my roasted corn dip with tortilla chips to arrive. I would then choose the braised pork tacos with crispy slaw, salsa verde, cotija cheese, and marinated fruit for my entrée. No visit here is complete in my opinion without the warm churros with chocolate sauce — absolutely childish and delicious all at the same time!
"Some may argue that this is not something to go out of your way to try, but I would beg to differ. I would tell you that if you have the time to give this restaurant a try I don't believe that you will be disappointed. To get a seat here you will want to arrive early and place your name on the wait list as they do not take reservations. This is a popular location, especially while there are conferences are in session at Coronado Springs. If the wait is long, do not despair. Grab a cocktail from one of the nearby lounges and enjoy one of the many seats around the lake or perhaps take a leisurely walk around this stunning resort." — Sarah Armbruster
5. California Grill
Disney's Contemporary Resort
"My list of favorite restaurants would not be complete without the California Grill. This is a signature restaurant located atop Disney's Contemporary Resort. This is a wonderful place for a celebration dinner or to simply enjoy a fabulous meal with one of the best views on Disney property. I have honestly never had a bad experience at this restaurant and I am not embarrassed to say that I've eaten here many times. The menu does rotate approximately four times throughout the year, so you may not always find the same offerings on repeat visits.
"If I were to pick my favorite offering it would be starting with the spicy dragon roll sushi, moving to the scallops, and finishing off with crème brule — perfection for me!
"Some will be lucky enough to be seated at a table next to the windows from where you can capture beautiful views of the Magic Kingdom Park and some of the other resorts around the Seven Seas Lagoon. One of the hidden gems of this restaurant is a spectacular view of the Magic Kingdom Fireworks. If you dine in this restaurant at any time throughout the day, you may return with your receipt for access to the Observation Deck out the doors of the restaurant where they pipe in the music for your total enjoyment of the Magic Kingdom fireworks show. This is truly one of the best spots outside of the Magic Kingdom to catch this gorgeous fireworks display.
"Whether you are just going for the meal or you are going to take in the whole package with the fireworks too – the California Grill will delight you either way! To obtain a reservation for this fine Walt Disney World restaurant, you will certainly want to attempt to secure it at your 60-day booking window. If unsuccessful, keep watching and hopefully something will become available a few days before your vacation begins." — Sarah Armbruster
6. Sanaa
Disney's Animal Kingdom Villas – Kidani Village
"Two words: bread service. The trip to Animal Kingdom Lodge is worth it just for Sanaa's Indian-style bread service, which includes five different breads with a variety of dips and spreads. The salad sampler is a nice accompaniment to the breads, and if you enjoy curry, there is a good selection. There is a full bar menu, and the Malawi Mango Margarita is a favorite.
"Sanaa is Mouseketeer-friendly and the kids' menu offers Indian-inspired and kid-friendly items. Views of the Sunset Savanna are an added treat at this dining location. Reservations are recommended for breakfast, lunch, and dinner." — Chris Cook-Leitz
7. Yak & Yeti™ Restaurant
Disney's Animal Kingdom Theme Park
"Located in Animal Kingdom Park, Yak & Yeti is a wonderful spot for lunch or dinner. The menu features a large selection of Asian-inspired dishes, but the Kobe beef burger is a great option as well. The pork potstickers and eggrolls are two recommended starters. The Korean beef, honey chicken, and teriyaki chicken are among guest favorites – and mine as well.
"Pro Tip: Arrive early and ask to be seated upstairs next to a window. You'll have a great view overlooking a busy intersection in the park. Reservations are strongly recommended." — Chris Cook-Leitz
8. Story Book Dining At Artist Point With Snow White
Disney's Wilderness Lodge
"When it comes to character dining, this reservation should not be overlooked! Story Book Dining at Artist Point with Snow White features a whimsical-themed menu with something for everyone. The kids' appetizer plate has a special jar where they make their own honey butter. The only thing that tops this meal are the special guests involved — Snow White, Dopey, and Grumpy. The evening caps off with a special invite to visit the Evil Queen herself!" — Seana Beard
9. 'Ohana
Disney's Polynesian Village Resort
"'Ohana is a MUST with every visit for my family. This meal is served family style with the first course arriving soon after you are seated! Everything is so delicious made even better by the hospitality and service you receive when dining here. Our favorites are the honey-coriander chicken wings and the 'Ohana bread pudding. Time your reservation just right and you can watch the Magic Kingdom fireworks!" — Seana Beard
10. Topolino's Terrace – Flavors of the Riviera
Disney's Riviera Resort At EPCOT Resort Area
"A beautiful rooftop restaurant, Topolino's Terrace serves breakfast and dinner. I love the breakfast. It's a nontraditional character meal but very low-key. I like to book a later breakfast on a down day so I won't need to eat lunch. The menu is prix fixe and I love to order the wood-fired Butchers steak with a side of chantilly sour cream waffles. (They don't charge an upcharge)." — Laura Liden
11. Sebastian's Bistro
Disney's Caribbean Beach Resort at EPCOT Resort Area
"This is a new find for me and a new favorite. Sebastian's Bistro is open for dinner only and is closed on Tuesdays and Wednesdays. Served family style, the Taste of the Caribbean dinner includes buttery house-baked pull-apart rolls, Spice Necklace Salad, oven-roasted citrus chicken, Mojo pork, grilled flank steak, cilantro rice and beans, vegetable curry, and broccolini, ending with coconut-pineapple bread pudding. This is one of the best values on the property at $29 per adult." — Laura Liden
12. Biergarten Restaurant
EPCOT World Showcase
"When in EPCOT, escape the crowds and head to Germany for lunch or dinner. This buffet restaurant has fantastic German favorites like schnitzel, various sausages, and spaetzle, as well as foods for the not-so-adventurous palette. The atmosphere here is immersive, as you dine in the town square while listening to live polka and alpine horns!" — Seana Beard
Related Reading: