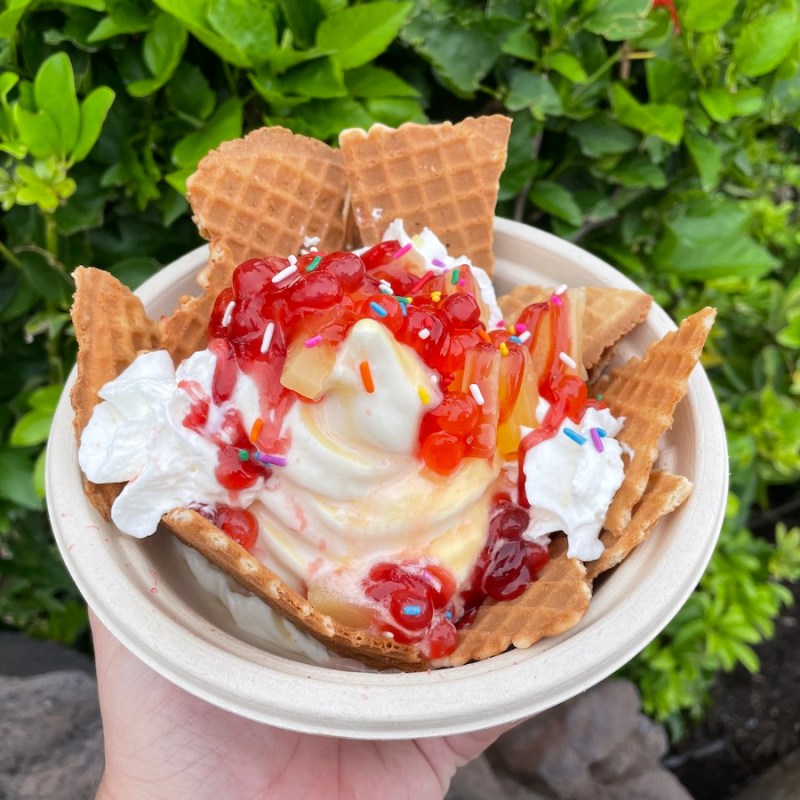 From savory spring rolls and giant pretzels to sweet treats and refreshing frozen delights, we could easily snack our way through Disney World!
We know a group of Disney experts who've devoured countless Disney World snacks — for the good of the public. Seana Beard from Wish Upon a Star with Us Travel, Laura Liden from travel agency Pixie and Pirate Destinations, Chris Cook-Leitz, owner of On The Road Travel, and Magical Vacation Planner Sarah Armbruster dish on their favorite Disney World snacks. And don't worry, they tell you where to find them.
Pro Tip: Save time at select quick-service dining locations by ordering food and beverages in advance on the My Disney Experience app.
1. Cheeseburger Spring Rolls
Spring Roll Cart, Magic Kingdom
"These tasty delights are a bit of an anomaly. Cheeseburger Spring Rolls are not always available, as the menu of this cart can change daily. … When they are available, they sell out fast. So if you see an unusually long line at a random food cart in Adventureland, it may just be for these." — Liden
"These are not your typical theme park snack. You get two egg rolls for under $10, and they offer two flavors: their staple Cheeseburger Egg Roll and the 'special.' In the past, the 'special' has been Philly cheesesteak, Buffalo chicken, and even pepperoni pizza. We try to stop here every time we are in Magic Kingdom." — Beard
2. Gideon's Bakehouse From Scratch Cookies
Gideon's Bakehouse, Disney Springs
"Gideon's Bakehouse in Disney Springs offers freshly baked cookies and cakes as well as cold brews. It is a newer addition to Disney Springs and often has hours-long waits and a virtual queue. All the cookies are a half-pound treat, and I haven't tried one I didn't like. The menu can change daily with seasonal offerings." — Liden
Can't make it to Disney? Try making this copycat recipe at home.
3. DOLE Whip
Swirls on the Water, Disney Springs
"There is no competition when it comes to DOLE Whip. The tried and true is the pineapple DOLE Whip, best eaten while exotic birds serenade you in the Enchanted Tiki Room. However, you can now indulge at Swirls on the Water in Disney Springs. Here, you can try three flavors by ordering a DOLE Whip flight, or pick a favorite flavor and make it a meal in the DOLE Whip Pineapple Vanilla Nachos (with waffle cone chips)!" — Beard
Psst…here's a copycat recipe for DOLE Whip, too!
4. Warm Cinnamon Roll
Gaston's Tavern, Magic Kingdom
"We love to hit Gaston's Tavern to refuel after our early morning Rope Drop! Gaston's is great for coffee and snacks, but you can not pass on the cinnamon roll. This huge pastry is big enough for two (or three). We pair it with LeFou's Brew (a frozen juice concoction) for a real treat!" — Beard
"A cinnamon roll from Gaston's Tavern (not that kind of tavern) in Magic Kingdom is big enough to share, but so delicious that you might not want to. These warm pillows of deliciousness are made fresh throughout the day and served warm. Some guests enjoy their cinnamon roll with a cup of coffee, while others choose LeFou's Brew, which is a frozen beverage made from apple juice. Mobile ordering is not available here, but trust me, the cinnamon roll is worth standing in line." — Cook-Leitz
5. Caramel Corn
Karamell-Küche, EPCOT
"My favorite snack at Walt Disney World can be found at Karamell-Küche at EPCOT. Sweet, buttery, and crunchy, the caramel corn here is the best. Featuring Werther's Original caramel, it's made by hand right in the shop, and, quite often, you get it while it's still warm.
"Located in the Germany pavilion, caramel covers everything here: apples, cookies, nuts, marshmallows, and more. If you're not a fan of caramel corn, try the caramel pecan cluster or the caramel square — they will not disappoint. Karamell-Küche has mobile ordering available, so you don't even have to stand in line to get this delicious caramel corn." — Cook-Leitz
6. Mr. Kamal's Seasoned Fries
Mr. Kamal's Kiosk, Animal Kingdom
"My very favorite snack right now is Mr. Kamal's fries from Mr. Kamal's snack kiosk. You can find this kiosk when traveling between Africa and Asia in Disney's Animal Kingdom Park. These seasoned fries are just a savory junkie's delight!
"I love to grab this one with an ice-cold beverage of choice on a hot afternoon and then try to snag a spot at one of the tables directly behind Mr. Kamal's right on the water…heavenly!" — Armbruster
7. Binx Pastry Tail
Cheshire Café, Magic Kingdom
"I love the 'cat tail' pastry snack! Sweet and yummy, this snack can be found at the Cheshire Café as you head left behind Cinderella's Castle and into Fantasyland. It is a chocolate chip pastry drizzled with pink and purple icing — as if to mimic its namesake. Looks like a pink and purple cat tail, tastes like chocolate chip perfection!" — Armbruster
8. Bavarian Pretzel
BaseLine Tap House, Hollywood Studios
"BaseLine Tap House is where you will find this Bavarian pretzel served with beer cheese fondue and spicy mustard. Located in Hollywood Studios, this is a great place to stop for a mid-afternoon snack. The pretzel is not your typical mass-produced pretzel — it's buttery and salty on the outside and soft and chewy on the inside. This is not a snack cart pretzel – it's 100 times better. The beer cheese has a sharp edge to it and the mustard is a little on the spicy side, so if you don't like either, the pretzel is perfectly yummy by itself.
"BaseLine has an extensive beer menu, a few ciders and wines, and a full bar. There is very little indoor seating here, but there is quite a bit of outdoor seating available." — Cook-Leitz
9. Na'vi-sized Pretzel
Pongu Pongu, Animal Kingdom
"My family and I love the Na'vi-sized Pretzel with beer cheese! This one can be found at Pongu Pongu in Pandora — the World of Avatar at Disney's Animal Kingdom. We love to grab one of these, usually with a Night Blossom drink as we head off on the Flight of Avatar ride.
"This one is a snack we usually share, but if you have the appetite for it, I am sure you could eat one all on your own. The pretzel is always done just right, and the cheese sauce is not the typical 'plastic' cheese — it is beer cheese, and it is delicious! I think I need to work on booking another trip for myself now — I am craving one of these!" — Armbruster
Bonus: Banfi Rosa Regale Sparkling Red Wine
Amorette's Patisserie, Disney Springs
"A flute of Rosa Regale sparkling wine topped with a chocolate Minnie treat is Amorette's Patisserie [signature] drink. Located in Disney Springs, this bakery is filled with sinful desserts as well as sandwiches and crêpes. You can even order signature Mickey Character Cakes for any celebration." — Liden
Related Reading: