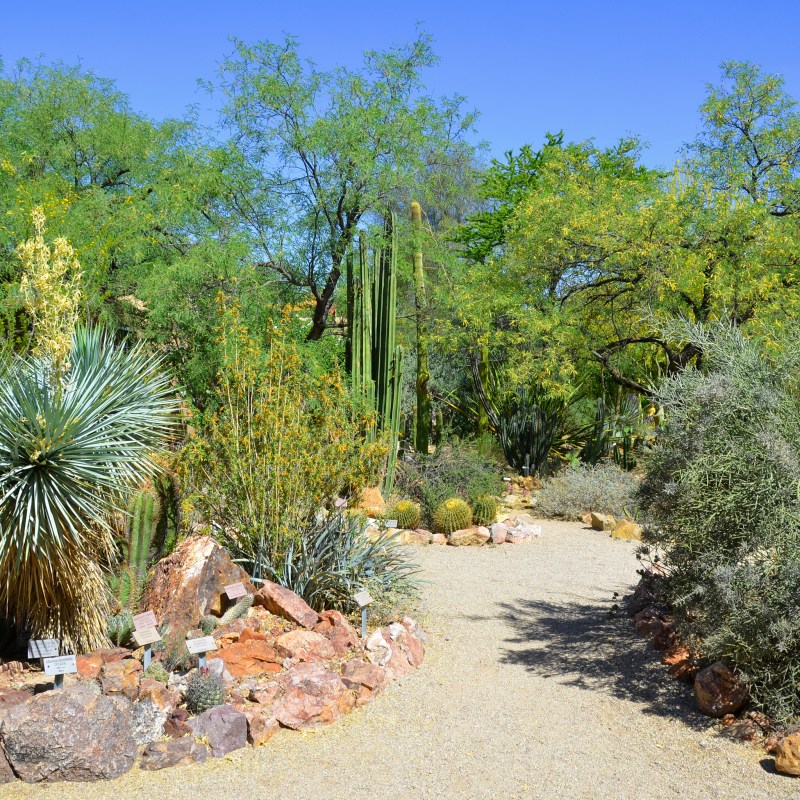 When I think about botanical gardens, I default to meandering paths lined with shade trees, expansive green spaces, calming water features, and bursts of color that evolve with the seasons. But over the years, I've learned to appreciate the unique beauty of the Sonoran Desert with its palette of sandy browns and olive greens accented with soaring saguaro, gold-tipped barrel cacti, and fuzzy chollas.
One of the best places to appreciate the dusty landscape of North America's most complex desert is at the Desert Botanical Garden in Phoenix. These 11 tips will help you get the most out of your visit and ensure you have an amazing time.
1. It's Close To The Airport
If you fly in or out of the Grand Canyon State, the Desert Botanical Garden is just 10 minutes northeast of Phoenix Sky Harbor International Airport. The garden is a fantastic place to stretch your legs after a long flight or the perfect spot to soak up that last bit of sunshine before you fly home from Phoenix.
2. How To Save On Desert Botanical Garden Admission
A one-day general admission adult ticket to the Desert Botanical Garden is currently around $30, but there are several ways to save on admission. You can visit the garden absolutely free on Community Day, the second Tuesday of every month. Another great way to stretch your budget is with a Culture Pass. Through a partnership between the Phoenix metro public libraries and a selection of area museums, the Culture Pass gives cardholders two free admissions to participating attractions when they "check out" a pass at the library.
Pro Tip: In addition to the Desert Botanical Garden, the Culture Pass will let you explore the Phoenix Art Museum, Scottsdale Museum of Contemporary Art, Deer Valley Petroglyph Preserve, and several other destinations in the Phoenix metro area.
3. Membership Has Its Privileges
If you plan on visiting the Desert Botanical Garden more than three times a year, you may want to purchase a membership. Beginning at $79, there are several levels of membership available. Still, all members receive unlimited year-round admission to the garden, early entry on Wednesdays and Sundays, reciprocal admission to more than 300 related attractions across North America, and other perks.
Pro Tip: If you're visiting Phoenix in December, don't miss Las Noches de las Luminarias when the garden paths are lined with thousands of flickering luminaria bags while overhead lights twinkle like stars in the desert night. And if you're a member, you can enjoy this holiday experience during exclusive events just for members.
4. The Best Time To Visit The Desert Botanical Garden
The garden is typically open from 8 a.m. to 8 p.m. daily. To beat the crowds, arrive right when the garden opens or later in the afternoon. Note that the Desert Botanical Garden is closed on the Fourth of July, Thanksgiving Day, and Christmas Day. The garden also occasionally closes early for special events throughout the year, like Las Noches de las Luminarias.
While the garden is a gorgeous destination throughout the year, you may want to avoid visiting from June through August when America's hottest city has high temps consistently in the triple digits. My favorite time to visit the Desert Botanical Garden is in the spring when the cacti and wildflowers are in bloom. Stroll along the Harriet K. Maxwell Desert Wildflower Loop Trail and watch for hummingbirds flitting about the bright blossoms.
Pro Tip: In addition to the Desert Botanical Garden, these are the best places to see wildflowers in Arizona, and this guide will help you identify Arizona wildflowers.
5. Stay Hydrated
Whether you visit Phoenix in December or January (when the high temperature is around 70 degrees Fahrenheit) or in the summer (when the average temperature is around 105 degrees Fahrenheit), be sure to stay hydrated. The Mayo Clinic recommends drinking 11 to 15 cups of water a day, but in Phoenix, you'll want to increase your intake to keep dehydration at bay.
Be sure to take a reusable water bottle with you to the garden and refill it often at one of several hydration stations on site. Drink water regularly throughout your visit, especially before you feel thirsty.
6. Be Sun Smart
In addition to staying hydrated, be smart about sun protection when you visit the Desert Botanical Garden. Especially in the desert, sunscreen is an absolute must to protect your skin from sunburn and skin cancer. Sunglasses are also recommended to protect your eyes. And whether it's a baseball hat supporting your favorite Spring Training team or a cute, wide-brimmed straw hat, it's surprising how much difference a little shade makes in an arid environment.
7. Sport Good Walking Shoes
Although the garden trails are all easy to walk (and fully accessible via wheelchair), be sure to wear comfy shoes that you don't mind getting dusty or dirty. I love my Keen hiking sandals. Of course, they're made for walking, but they're also washable! After exploring the garden, I can toss them in the washing machine with a touch of detergent to remove any grime. Once they air dry, they are as good as new!
When combined, the trails at the 55-acre garden total about 1.5 miles. A series of quarter-mile loops are connected to a main trail that is bisected by Quail Run Path. I recommend allowing at least 2 hours to explore the Desert Botanical Garden.
Pro Tip: Download a trail guide and map before you go.
8. Pets (And Picnics) Are Prohibited
Unless you're visiting on a designated "dog day" at the Desert Botanical Garden, you will need to leave your furry best friend at home. (However, service dogs are always welcome.)
Picnics are also prohibited at the garden, but you can enjoy a quick bite at the Patio Cafe or sit down and savor a seasonally inspired, farm-to-table meal at Gertrude's.
Pro Tip: For other great places to dine al fresco in Phoenix, check out this article.
9. Select A Keepsake
From desert-inspired art to prickly pear-flavored treats and beyond, you're sure to find the perfect souvenir at the Garden Shop. And at the Desert Botanical Garden plant sale, offered at select times throughout the year, you can also purchase cactus, succulents, trees, shrubs, and other plants that can thrive in an Arizona garden.
Fun Fact: Rising 40 feet above the desert, the saguaro cactus is the largest cactus in the United States. But before you think about plucking one from the Sonoran Desert as a DIY keepsake, beware that it is illegal to cut down or remove a saguaro cactus. Arizona is so committed to protecting its natural beauty that destroying or removing a native plant is considered a class-four felony. This crime is on par with arson, kidnapping, and credit card fraud.
10. Don't Miss The Desert Landscape At Sunset
Whether the sun sets while you're in the garden or after you've left, don't miss the opportunity to see a majestic saguaro cactus silhouette against the backdrop of a magnificent sky. Inside the garden, one of the best places to catch the sunset is on the Sonoran Desert Nature Loop Trail. But even if you wrap up your time inside the garden before the sun fades away, the roads surrounding the Desert Botanical Garden are full of saguaros and other desert plants that look amazing at sunset.
Because the state of Arizona doesn't observe Daylight Saving Time, the sun sets relatively early during most Phoenix months. Look for brilliant rays of red and orange around 5:30 p.m. on the shortest day of the year and around 7:30 on the longest day of the year.
Pro Tip: If your visit to the Desert Botanical Garden in Phoenix leaves you craving more flora, check out the Boyce Thompson Arboretum State Park. About an hour east of downtown Phoenix, it's a great day trip from Phoenix.
11. There Are Several Other Things To Do In Papago Park
Papago Park, the 1,500-acre preserve surrounding the Desert Botanical Garden, has even more to offer. If you have additional time to spend at Papago Park after visiting the garden, be sure to check out the Phoenix Zoo or take a hike. Trails range from 0.2 to 3.1 miles long, and all are rated easy, which means they are accessible, paved, or hard-packed and feature minimal elevation change. One of my favorite trails at Papago Park is Hole-in-the-Rock Trail. At just 0.2-miles long, it's hard to call it a hike, but this path leads to a large viewing hole in a red sandstone bluff that frames the desert sunset in a truly unique way.
Related articles: