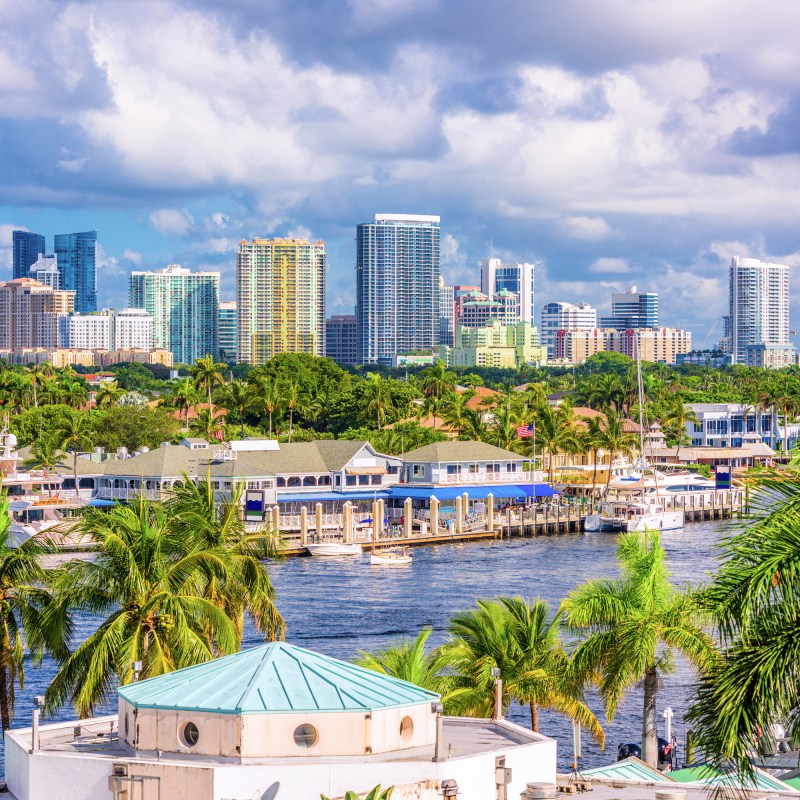 When the weather is cold up north, Florida beckons! There's no place I'd rather spend the cold winter months than in sunny South Florida. One of my favorite spots in South Florida is the city of Fort Lauderdale, located in Broward County, only 4 hours north of Key West. Founded back in the late 1800s, the rise of the city really began at the onset of World War II with the establishment of a major U.S. Navy base in nearby Port Everglades.
Today, the South Florida area — home to Miami and Fort Lauderdale, among other cities and suburbs — has a population of over 6 million people. Fort Lauderdale is very popular due to its fantastic climate and location. Located on the Atlantic coast between Miami and Palm Beach, it's known for its palm tree–dotted beaches, nightlife, watersports, arts, and shopping. It's also known as the Venice of America because of all the canals in the city. Fort Lauderdale has something for everyone, and if you're considering a visit to South Florida, it should be on your list of places to go.
Things To Do In Fort Lauderdale
Fort Lauderdale Beach Park
Of course, you have to hit the beach when you're in Fort Lauderdale! Grab a book and your sunscreen and settle into the white sandy beach at Fort Lauderdale Beach Park. There's no better way to spend an afternoon! What's great about Fort Lauderdale Beach is that it's a little more laid back and less chaotic than some of the more trendy spots like Miami Beach. You'll still get the sugar sand and the beautiful waters, but the vibe will be more zen. Another popular spot to soak up the sun is nearby Las Olas Beach.
Gulfstream Park
If you're a horse racing enthusiast, you'll definitely want to check out Gulfstream Park. And even if you're not into racing, there's plenty to see and do here. Technically located in the nearby town of Hallandale Beach, the park is only a 20 minute drive south of Fort Lauderdale. Gulfstream Park boasts not only world class horse racing but also a casino that's open 365 days a year.
There is also upscale shopping at the surrounding shopping center, Gulfstream Park Village. Live racing takes place five nights a week December through March. There's also a wide variety of dining options and even a bowling alley and karaoke rooms on site.
Las Olas Boulevard
Fort Lauderdale is known as a mecca for shoppers, and Las Olas Boulevard is ground zero for fantastic shopping in town. This major entertainment district connects downtown Fort Lauderdale with State Road A1A and the Atlantic Ocean, and is a shopper's delight! Explore the many shops, boutiques, and art galleries along the boulevard. Take in the high=end designer stores, then stop for a drink and a bite to eat at one of the many outdoor dining establishments that line the boulevard. Las Olas Boulevard is also home to the Museum of Discovery and Science, where you can catch a number of different IMAX movies on the big screen.
Sawgrass Mills
Shop 'til you drop at this humongous mall! Located about 15 miles west of Fort Lauderdale, Sawgrass Mills is the largest outlet mall in the United States. Make sure you wear your walking shoes because this place is massive. Sawgrass Mills is an enclosed, air-conditioned shopping center that houses over 350 stores. From budget basics like Target to luxury stores like Jimmy Choo, you'll find it all here at Sawgrass Mills.
Flamingo Gardens
Flamingo Gardens is a unique botanical garden and wildlife sanctuary. At over 60 acres, there's plenty to explore here. Along with the cute flamingos, you'll find peacocks, alligators, bobcats, eagles, panthers, and all sorts of tropical plants. Open every day except Christmas Day, it's the perfect place to spend the day!
Water Taxi Tour
Fort Lauderdale is known as the Venice of the Americas due to all the canals in the city. There's no better way to check out the canals than from the water. Try a Water Taxi sightseeing cruise to see the city from a brand new vantage point. It's a super fun way to spend an evening. You can choose to do the hop on, hop off tour; and can even make it into a water taxi pub crawl if you plan out your stops by the bars. Our tour went up and down the Intracoastal Waterway, and we enjoyed all the incredible homes on millionaires' row. We found the staff to be very knowledgeable about the whole area. The tour showcased all the well-known waterfront mansions and yachts and gave us the inside scoop on the rich and famous in Fort Lauderdale! Fort Lauderdale is a really ritzy area along the Intercoastal Waterway, and we thoroughly enjoyed seeing the impressive homes on the water.
You can also enjoy a water taxi tour at the New River area downtown. While you're there, make sure to stop into the historic Stranahan House Museum, the oldest suriving home in Fort Lauderdale. For a different view, stroll along the riverwalk and stop into one of the restaurants or cafes. There are many water taxi stops, so you can always jump back in the taxi for more views from the water.
Bonnet House Museum & Gardens
Tour a historic garden at Bonnet House Museum & Gardens, the 1920 home of artist Frederick Clay Bartlett. The furnished estate and gardens are listed on the National Register of Historic Places.
Outdoor Adventures Near Fort Lauderdale
If you want more outdoor adventures, take a day trip to the Florida Everglades, where you can see an entirely different ecosystem via cool airboat tours! Nothing beats a Florida airboat ride — it's something everyone should do at least once. Also, venture over to nearby Hugh Taylor Birch State Park and discover a fantastic urban oasis.
Best Restaurants In Fort Lauderdale
Casa Sensei
For a fun take on brunch, head over to Casa Sensei for their Rock N' Roll Brunch. Every Saturday and Sunday afternoon, they put on a brunch where, along with the awesome Asian fusion food, they have live music and raffle off prizes. It's a unique and fun atmosphere that will get you into a festive mood!
Another fun thing to try is a gondola tour located right outside the restaurant. Casa Sensei partners with Riverfront Gondola Tours to provide waterfront tours along the Intercoastal Waterway. You can choose a 90-minute gondola ride with or without a chef-prepared lunch or dinner. It's a fantastic way to get an up-close-and-personal view of the beautiful mansions and boats all along the waterway.
Shooters Waterfront
Located on the Intercoastal Waterway, Shooters Waterfront is a laid-back, beachy retreat with a great location. Offering live music and overlooking the water, Shooters has a happy hour Monday through Friday where you can get plates of fresh shrimp cocktail, crunchy coconut shrimp, smoked fish dip, or flatbreads, all for around $10. They also offer half-price beer and wine during happy hour. Try one of their decadent cocktails like the Chocolate Godiva Martini!
Lona Cocina And Tequileria
For a perfect lunch spot, try the beautiful, beachfront Lona Cocina And Tequileria. If you like upscale Mexican food with a twist, you'll enjoy the menu here. Try the roasted chicken quesadillas or the chef's special salmon mole. Of course, we can't eat Mexican food without chips and dip, so try their homemade salsa or guacamole. Located in the Westin Fort Lauderdale Beach Resort, Lona Cocina Tequileria has been named the number one Mexican restaurant in Fort Lauderdale.
Best Hotels In Fort Lauderdale
Marriott's BeachPlace Towers
Marriott's BeachPlace Towers is a wonderful option if you want a bigger, resort-type hotel with an awesome location. Located right across the street from the beach, the towers overlook the Atlantic Ocean. We really enjoyed the nice outdoor pool with a pool bar. We alternated hanging out at the beach and the pool every day, but you can't beat the beach at sunrise.
Marriott's BeachPlace Towers is located adjacent to a mall with lots of restaurant and bar options, so you don't have to walk far for nice dining options. We had quite a few fun nights without ever leaving the resort. And there's so much to do within walking distance that we didn't even rent a car. We walked to the beach, to nearby bars and restaurants, and to the shops. At the sparkling sand beach across the street, you can find beach volleyball and snorkeling. You can also find nearby jetski, kayak, and canoe rentals. You can also find boat charters for deep sea fishing and even scuba diving nearby.
Pelican Grand Beach Resort
If you're looking for old Florida charm, look no further than the Pelican Grand Beach Resort. Located directly on the beach, the resort offers a lot of amenities including an awesome lazy river, a zero-entry pool, a great private beach, and beachfront dining. You may even find a hammock to relax in here. They also have onsite watercraft (e.g., paddle board) rentals. If you want more adventure, you can find WaveRunners and parasailing right down the beach.
Margaritaville Hollywood Beach Resort
Who doesn't love Jimmy Buffett?! There's no better place to have fun in the Florida sun than at the Margaritaville Hollywood Beach Resort, located just down the road in Hollywood. There's always something fun going on here, morning or night. The resort is large, with over 350 rooms and plenty of space to chill. Margaritaville has two outdoor pools, a waterslide, and full service cabanas. In addition, there are more than 8 different bars and restaurants onsite, so you'll never have to go to the same place twice.
The entertainment schedule is insane. They have live bands playing a variety of rock, country, reggae, and top 40 almost nightly. And all the onsite entertainment is free! We loved the beachfront location, smack in the middle of all the bars and restaurants on the Hollywood beachfront. We also loved the fact that there was a bike rental shop right next door so we could rent bikes to ride up and down the boardwalk amid the segways. If you like a lot of action, I highly recommend staying here at Margaritaville.
Pro Tip
Don't let the fact that many places are located in different towns outside of Fort Lauderdale. South Florida is really one big city from Miami up the coast to Fort Lauderdale and beyond. So even if an attraction has an address of another city, it's probably just a suburb of one of the major cities like Fort Lauderdale.