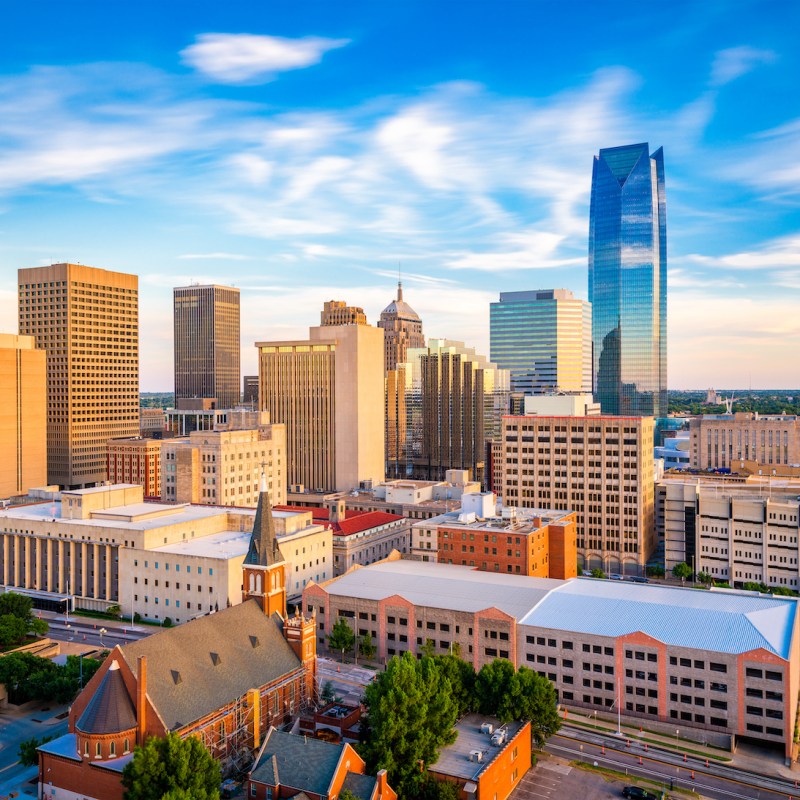 Looking for a vacation destination that won't break the bank? Staying in the U.S. is not just easier on your wallet, but it's also less hassle than international travel right now.
In order to find the most affordable destinations in the U.S., ParkSleepFly evaluated the average cost of transportation, lodging, and dining in some of the biggest cities in the country. Prices were sourced from Numbeo's Cost of Living index, except for hotel stay calculations, which were based on Kayak data. It's no surprise that many of the top 10 budget-friendly cities are in the often-overlooked flyover states.
What makes these cities so affordable? The top 10 most affordable cities in the U.S. all have the cost of a domestic beer between $3 and $5 and a bottle of mid-range wine between $10-$12.50. The cost of an inexpensive meal will run you between $11.50-$15. A one-way ticket on local transport in these cities will cost between $1.25 and $2.50. Finally, the nightly cost of a weekend stay at a hotel will run between $106 to $179.
Being flexible, planning in advance, and selecting an affordable destination are all great ways to save some cash. To help select a budget-friendly location, here are the top 10 vacation hotspots in the U.S. ranked by affordability, as well as some fun stuff to do in each.
1. Oklahoma City, OK
The capital of Oklahoma came in as the most affordable city to visit in the U.S. In Oklahoma City, a beer will only set you back a few bucks, a meal costs about $11.50, and a night in a hotel is just $106!
But OKC is more than economical — it also offers fantastic things to do. For family-friendly fun, check out the Oklahoma City Zoo, which won Best Zoo in our 2021 Best of Travel Awards. Experience cowboy culture at Stockyards City, where Wild West fans can stock up on Western wear.
It's also home to several unique districts. Bricktown is where you'll find the canal, plus restaurants, bars, and even a baseball park. Street art, galleries, stores, and restaurants dot the Paseo Arts District. The Underground is a subterranean network of tunnels that connects some of Oklahoma City's most prominent downtown buildings. In addition to offering a welcome escape from the elements, it houses amazing art galleries, shops, and cafes.
If that's not enough for you, you can always find a fall festival, go camping, or get your kicks on Route 66.
2. Indianapolis, IN
Coming in as our country's second-most affordable city to visit, Indianapolis is terribly cheap to get around. A one-way ticket on local transport costs just $1.75, while an average 1-mile taxi fare came in at $1.24.
Indianapolis is well-known for the Indy 500 race, the most attended single-day sporting event on earth. And while Indianapolis Motor Speedway Museum is one of the best car museums in the U.S., Indiana's capital and most populous city has much more to offer travelers.
This hidden Midwestern gem offers something for everyone, including a nationally renowned art museum, charming historic neighborhoods, and a lively and inventive beer, wine, and spirits scene. Kids will love the dinos at The Children's Museum of Indianapolis. Budget-conscious golfers will enjoy The Fort Golf Resort, which is home to one of Indiana's best golf courses for the money.
3. Tucson, AZ
Coming in as the third most budget-friendly locale is Tucson, Arizona. A beer is just $4, while a hotel stay runs $134 a night. "The Old Pueblo" is home to a few of the most unique spots to visit in Arizona, including Saguaro National Park. This bicycling paradise also makes for a beautiful desert road trip from Phoenix.
Try out the Mexican food and other local specialties. With over 250 dog-friendly restaurants, plenty of dog parks, and even some dog-friendly shopping centers, it's also one of America's most dog-welcoming cities.
4. Memphis, TN
Memphis also made our list of cheapest U.S. cities to visit. Between Beale Street and Graceland, the birthplace of rock n' roll makes for a fantastic weekend getaway. While visiting Elvis's mansion is decidedly not cheap, it's worth it to tour the King of Rock and Roll's 13.8-acre estate, and to shell out the extra cash to see his planes and cars.
Be sure to check out another Memphis staple — the famous Peabody Duck March at The Peabody. Nestled in the heart of downtown, the historic hotel is decorated to the nines at Christmastime. With a haunted jukebox joint and killer Dia De Los Muertos Parade and Festival, Memphis is also one of the best U.S. cities for Halloween.
Sample Southern-style cuisine and sip on locally brewed suds. Pinball players should check out the nostalgic Rec Room vintage arcade bar, while steak-on-a-stick fans should stop by Huey's.
5. San Antonio, TX
Although San Antonio, Texas is the seventh-largest city in the U.S., it's the fifth most affordable according to ParkSleepFly's analysis. Who could forget the Alamo, let alone its River Walk, delicious Tex-Mex food, and historic Spanish missions? Whether you're interested in history, art, food, or shopping, San Antonio has something for you.
Here, you can find uniquely Texas things to do, like going two-stepping and getting fitted for a cowboy hat. San Antonio's mild climate lends itself to year-round outdoor activities. The Pearl district boasts some of the city's best shopping and dining, and the River Walk has plenty of places to eat and stay. San Antonio is also a great central location to stay in if you want to day trip to Austin to catch some live music or go wine tasting in Fredericksburg.
6. Houston, TX
Houston is America's fourth-largest city and the sixth most affordable vacation city in the U.S. Widely known for its contributions to space exploration, Houston offers a plethora of things to do, many of which are free or almost free. Strolling through the Historic District or the high-rises of downtown, you'll find a diverse city that's full of energy. No matter your interests, you're bound to find something cool to do in this incredible city — some may even surprise you, like these hidden gems.
In addition to world-class dining, a thriving art scene, shopping, and active nightlife, Houston has a team for every major sport. There's always something going on — the city hosts over 400 events a year. You can also visit the beach — Galveston is just a day trip away!
7. Fort Worth, TX
Part of the greater Dallas-Fort Worth (DFW) metropolitan area, Fort Worth, Texas makes for another affordable weekend getaway. Known as Cowtown, Fort Worth is home to the National Cowgirl Museum and Hall Of Fame, and the Fort Worth Stockyards National Historic District. Every day, the Old West comes to life on East Exchange Avenue as real cowboys drive cattle through the Stockyards. The city also sports one of the best downtowns in the state. Walk around beautiful Sundance Square, the upbeat, urban area in the heart of downtown.
Fort Worth's humid subtropical climate lends itself to outdoor dining. There's no shortage of Texas barbecue, Tex-Mex, and craft beer, but you'd be remiss to miss out on the bakeries. More fun activities include glamping or taking a day trip to visit Chip and JoJo in Waco.
8. Louisville, KY
Another one that made our list of cheapest U.S. cities to visit, Louisville is known for horse racing, bourbon, and baseball bats. It does host the Kentucky Derby at Churchill Downs and is home to some of Kentucky's best distilleries as well as the Louisville Slugger Museum & Factory. However, it also boasts a burgeoning culinary scene. A barrage of eateries has cropped up on "Restaurant Row" between the coffee shops, clothing stores, and art galleries on Bardstown Road in the heart of The Highlands.
As far as entertainment goes, 4th Street Live! is the place to party, but the city has tons of live music venues. Seasonal activities include the Jack-O-Lantern Spectacular in the fall as well as several sensational winter events.
9. Orlando, FL
Known as "the theme park capital of the world," Orlando is home to Universal Studios and the happiest place on Earth. You may be astounded to learn that it is one of the most affordable vacation destinations in the U.S. It is filled with surprising, free, and cheap things to do.
This versatile Florida destination makes for an incredible weekend getaway or girl's trip. It can be a relaxing oasis, an exciting adventure, a night out, or fun with the family. It's also a great place for snowbirds and a wonderful place to celebrate Christmas and New Year's Eve.
Find deals on attraction tickets and more on Visit Orlando. If you want to stay in Disney World, consider booking several months in advance and planning your trip around the available dates at Disney value resort hotels. Here are some tips on how to budget for Disney World.
Not a theme park kind of person? Avoid the cartoon mice and soak up a slice of life in the Thornton Park District. Or, shop local at the Orlando Farmers Market on Sundays in downtown Lake Eola Park.
10. Raleigh, NC
Oozing with Southern charm, Raleigh offers big city vibes on a budget. It's full of wonderful restaurants, can't-miss activities, and neat attractions, like the North Carolina Museum of Natural Sciences. Explore nearby state parks like William B. Umstead State Park, where you can hike the Sycamore Trail gratis. Mill around the Historic Yates Mill or take a day trip to the Outer Banks.
From Tucson to Orlando, whether you spend your vacation in Texas or the Heartland, you won't spend as much money!