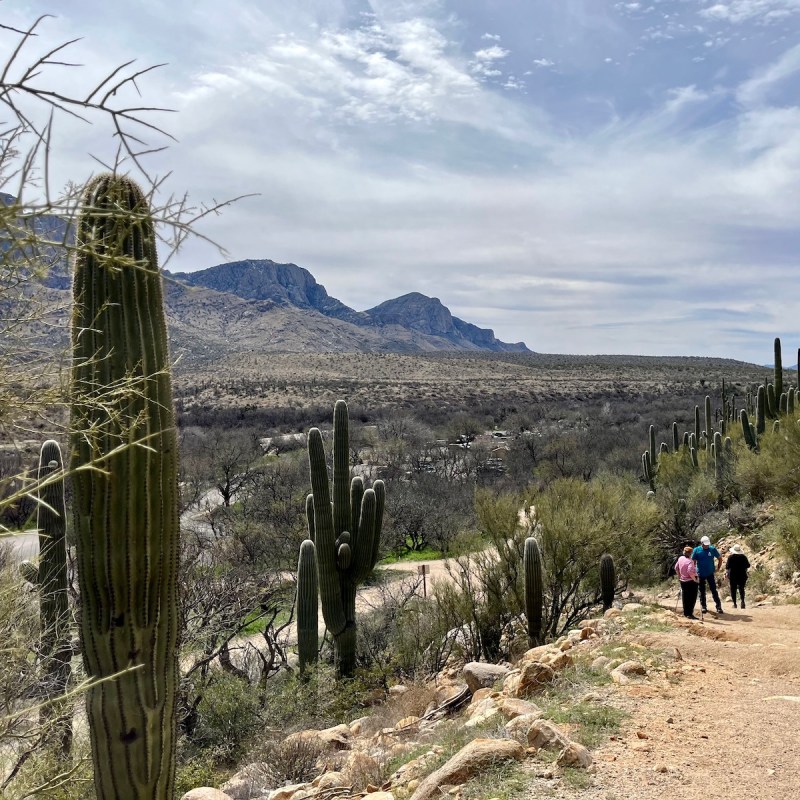 The desert landscape, dotted with towering saguaro cacti and surrounded by a ring of rugged mountain ranges, will probably be the first image you notice when visiting the southern Arizona city of Tucson. It is the stuff of postcards and what the state's second-largest city is most famous for.
But look a little closer and you will find many other wonderful Tucson attractions as well — everything from world-class art galleries and colorful murals to fiery sunsets and some of the best Mexican food in the U.S.
When it comes to fun things to do, Tucson is particularly well-situated. Not only is it the home of the lively University of Arizona campus, but it also sits in the midst of the picturesque Saguaro National Park. It's just over an hour's drive from the U.S. border with Sonora, Mexico, and about an hour and a half south of Arizona's capital city of Phoenix.
Here are nine fabulous things to do in scenic Tucson.
1. Downtown Tucson
Take In Live Music And Southwest Murals
With the A of Sentinel Peak (also known as "A" Mountain) as a backdrop, downtown Tucson offers a dynamic mixture of live music, historic buildings, trendy restaurants, and cool hotels. The Visit Tucson website notes that the downtown area is currently experiencing a renaissance, with music, art, and special events filling the streets.
Known for its singular southwestern vibe, downtown Tucson is made up of six distinct districts, including Main Gate, Fourth Avenue, Congress Street, Presidio, Convention, and Mercado. Street signs direct visitors to each of the districts and the Sun Link Streetcar conveniently connects them.
Pro Tip: Southern Arizona Heritage And Visitor Center
For visitors seeking travel guides and information on guided tours, the Southern Arizona Heritage and Visitor Center is a great first stop in downtown Tucson. Visit Tucson's destination brochures are available in several languages, including English, Spanish, German, French, Italian, and Chinese. Located in the striking Pima County Historic Courthouse building, the visitor center is also worth a stop for its 1920s architecture and fascinating Arizona history.
2. Sabino Canyon Recreation Area
Hike To Waterfalls
For a chance to take in the awe-inspiring sight of running water in the desert, the Sabino Canyon Recreation Area is the premier spot in southern Arizona.
The recreation area is located in the Coronado National Forest at the base of the Santa Catalina Mountains, and thanks to snow melt and summer monsoon rainfall, Sabino Creek flows almost year-round. The result is a number of spectacular waterfalls, including those along the famous Seven Falls Hiking Trail. The recreation area has more than 30 miles of trails. Hiking information is available at the Sabino Canyon Visitor Center.
Pro Tip: Tram Tour
For a fun sightseeing ride, or to get closer to the Bear Canyon and Seven Falls Trailhead, visitors can take a tram tour on the open-air Sabino Canyon Crawler or Bear Canyon Shuttle.
3. Saguaro National Park
Walk Among Giant Cacti
The saguaro cactus — the universal symbol of the American Southwest and one of the icons of Arizona's desert landscape — is truly a sight to see, and one of the best places to take in the multi-armed cacti in large numbers is Saguaro National Park.
The national park, which sprawls to the east and west of the city of Tucson, offers a range of amenities and features, including picnic areas, trails for hikers, Native American petroglyph rock art, and world-famous sunsets. It is a must-see destination on a visit to Tucson.
Pro Tip: Tucson Mountain Park
Great views of saguaros, along with many other varieties of cacti, are also available at Tucson Mountain Park, a 20,000-acre county park. Among the popular activities at the park are hiking, horseback riding, and mountain biking.
4. San Xavier Del Bac
Experience Historic Mission Culture
Originally founded in 1692, the San Xavier Del Bac is said to be the oldest intact European structure in Arizona. It was founded as a Catholic mission by Father Eusebio Kino, who also founded a number of other missions in the southwestern U.S. and Sonora, Mexico.
Construction of the current church dates back to the late 1700s. Today, the white walls of the mission glow against the Arizona sky, and the church's interior is filled with original features and mural paintings. The mission is located just south of Tucson on the Tohono O'odham Nation's land.
5. Arizona-Sonora Desert Museum
Revel In Desert Flora And Fauna
Known as a "fusion experience," Tucson's Arizona-Sonora Desert Museum combines zoo, botanical garden, art gallery, natural history museum, and aquarium experiences. Showcasing the Sonoran Desert, it is home to more than 2,000 species of plants.
Among the things to do and see at the museum are a live animal theater program, a raptor free flight, a stingray experience, an aviary for hummingbirds, and a Birds of the Sonoran Desert aviary.
Pro Tip: Tohono Chul Gardens, Galleries, And Bistro
Another desert garden experience is available in Tucson's Tohono Chul Gardens, Galleries, and Bistro, a space that features bloom gardens, nature trails, art in the gardens, and a garden bistro.
6. Pima Air & Space Museum
Take In The Wonder Of Flight
Historic airplanes numbering in the hundreds are in store at the Pima Air & Space Museum, one of the largest non-government-funded aviation and space museums in the world.
Along with a spectacular outdoor display of aircraft, the museum features six indoor exhibit hangars, including three dedicated to World War II. Visitors will also find hands-on displays that illustrate the history of flight. The museum is located on 80 acres in southeast Tucson.
Pro Tips: Tucson is home to a number of other museums and galleries that are worth a visit as well, including the Children's Museum of Tucson and Oro Valley, the Mini Time Machine Museum of Miniatures, the Arizona State Museum, and DeGrazia Art Gallery in the Sun Museum.
7. Reid Park Zoo
Have A Close Encounter With Giraffes
A chance to get up close to the tallest land mammal in the world is just one of the experiences available at Tucson's Reid Park Zoo. The Giraffe Encounter is among the activities at the zoo, which also features alligators, squirrel monkeys, elephants, jaguars, flamingos, and bears.
Located in Tucson's Reid Park, the zoo features more than 500 animals and consists of several zones and habitats.
8. Catalina State Park
Explore The Santa Catalina Mountains
Sitting on 5,500 acres of land at the base of the rugged Santa Catalina Mountains, Catalina State Park stands out in Arizona for its nearly 5,000 saguaros, spectacular canyons and streams, wildflowers, and more than 150 species of birds.
The park's activities range from horseback riding and birding to hiking and mountain biking. It also features RV and tent camping with 120 campsites.
Pro Tip: Mount Lemmon Scenic Byway
For a chance to climb high into the mountains north of Tucson, visitors should make a point of checking out the Mount Lemmon Scenic Byway, a twisting scenic drive that passes through desert terrain before transitioning to soaring rock hoodoos, alpine terrain, and ultimately, the charming mountain town of Summerhaven.
9. Authentic Mexican Cuisine
The Best 23 Miles Of Mexican Food
Tucson bills itself as having the "best 23 miles of Mexican food in the U.S.," and visitors will find an outstanding array of Mexican cuisine spots — "from fine to funky," according to the Visit Tucson website.
From the authentic taco and seafood café Taqueria Pico de Gallo to long-time community favorites like El Charro Café and Mi Nidito Café to downtown spots like LaCo Restaurant & Cantina, the Mexican cuisine in Tucson is authentic, spicy, and delicious.
Pro Tip: Day Trips
Owing to its great location, Tucson is a prime spot for day trips that will entertain the whole family. Just over an hour to the southeast, for instance, you will find Tombstone, the Wild West town where the O.K. Corral gunfight took place in 1881. Today, Tombstone is home to Old West saloons, restaurants, and stunt shows. Other places worth checking out in the area are the Presidio State Historic Park in Tubac, Tucson's Trail Dust Town and Old Tucson, and the historic border town of Nogales, Arizona.