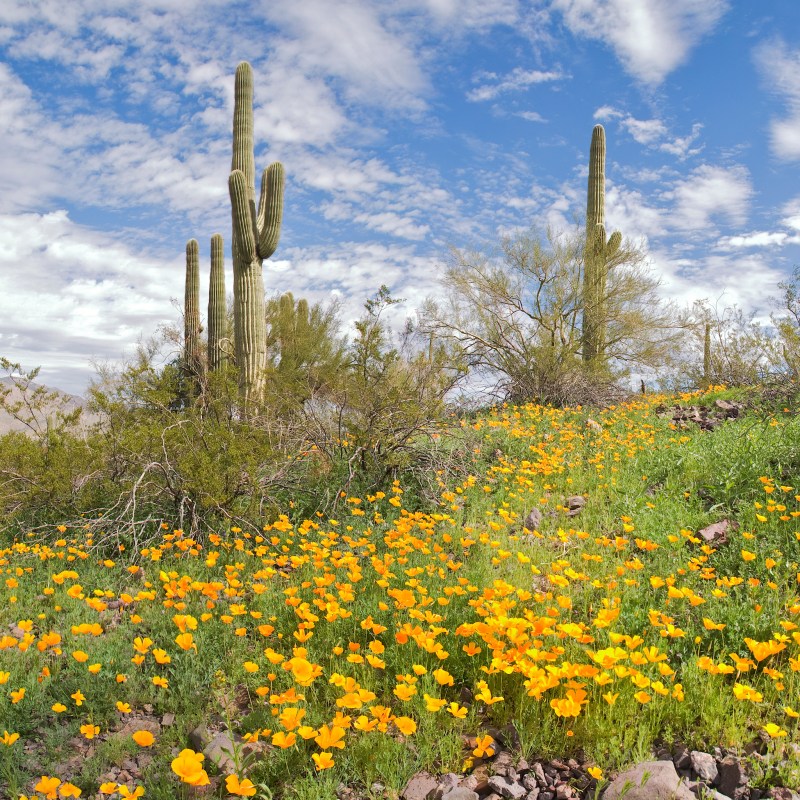 Arizona has long been a seasonal destination for people who hate spending winter in the bone-chilling cold. As the days grow shorter and the temperatures drop in New England, the Midwest, and Canada, flocks of snowbirds migrate to the Southwest, drawn to its arid warmth.
My favorite time in the Grand Canyon State is the spring, when the desert blooms. Red, yellow, orange, and purple wildflowers carpet the desert floor and accent the craggy faces of the rocky mountains. But really, the only undesirable times to head south from Phoenix on this road trip to Tucson are June, July, and August.
Phoenix
With the state capital and 60 percent of the state's population located in Maricopa County, the Phoenix metropolitan area is absolutely massive. This means you'll find no shortage of things to see and do (or delectable places to eat and drink) before you head south on this Arizona road trip.
East of downtown and just north of Arizona State University, Papago Park is one of my favorite places in Phoenix. It offers many easy-to-hike trails, including one that winds its way up to Hole in the Rock. Carved by years of wind and water erosion, this window in a red sandstone formation offers gorgeous views of the desert below.
Showing off the desert's beauty, the Desert Botanical Garden is located in the northern section of Papago Park. Explore the colors and fragrances of the trees, plants, and flowers that survive in some of the hottest, most arid conditions in the world, including the majestic saguaro cactus. With arms that bend upward to the sun, these Sonoran Desert natives can grow up to 60 feet tall.
Once you've explored Phoenix and enjoyed its unique restaurants and bars, it's time to head south on a road trip to Tucson.
Tempe
Our first stop is just a few miles away in the adjacent town of Tempe, Arizona. Near Arizona State University and Sun Devil Stadium, Mill Avenue is a vibrant area bustling with eateries, shops, and entertainment venues. Whether you're craving pasta or pizza, coffee or quesadillas, fuel up for the road with a sip, bite, or sweet treat on Mill Avenue.
Mesa
Our next two stops take us a few miles east while headed south, but on a good road trip, getting to your destination is at least half of the fun!
The Arizona Commemorative Air Force Museum (AZCAF) is a world-renowned, one-of-a-kind collection of planes at Falcon Field, the municipal airport in Mesa, Arizona. This nonprofit organization is committed to preserving and restoring authentic military aircraft. Study nearly 50 fighters and bombers from pre-World War I to the Vietnam War as exhibits and volunteers share the histories of the heroes who flew them.
For an additional fee, you can take the ride of a lifetime in an open-cockpit Stearman, a Flying Fortress, or a handful of other aircraft.
If you want to spend more time in Mesa before continuing your journey south, see this page.
Queen Creek
While there are many things to love about the greater Phoenix area, Queen Creek, Arizona, is my favorite spot. I think it's because the town of about 45,000 people has a rural feel with farms, parks, and hiking trails.
Pick garden-fresh veggies at Schnepf Farms or swing by their bakery and store for roasted pecans, a case of juicy peaches, freshly baked bread, delicious pie, and more.
Just across Rittenhouse Road, stop at the Queen Creek Olive Mill to learn how they make olive oil. Ranging from sweet to spicy, the Olive Mill has more than 15 varieties of extra-virgin olive oil available for purchase. My all-time favorite is their bacon olive oil. Believe it or not, this flavored oil is vegan, and it adds the most amazing flavor to eggs, whether they're scrambled, fried, or folded into an omelet.
Be sure to peruse the Olivespa home and beauty products and try the baked goods made with olive oil (instead of butter) before you jump back into the car. Whether chocolate or lemon, the cupcakes are my favorites!
Coolidge
About 30 minutes south along Hunt Highway is the Casa Grande Ruins National Monument in Coolidge, Arizona. Built hundreds of years ago by the Hohokam tribe, the earthen building preserved at this National Park Service site is one of the largest prehistoric structures ever built in North America.
About 100 years after its construction, the site was abandoned. But because the indigenous people who built Casa Grande didn't have a written language, the purpose of the site and why the community suddenly disappeared remain a mystery.
With stagecoaches rumbling past and the railroad chugging its way west, souvenir seekers and vandals took a toll on the ruins. Anthropologists and historians worked hard to preserve the area, and in 1892, President Benjamin Harrison protected a 1-square-mile space around Casa Grande, establishing the nation's first prehistoric and cultural reserve site.
An hour is enough time to watch the informative video and take a guided tour of the Great House.
Picacho Peak State Park
Built around an impressive 1,500-foot peak, Picacho Peak State Park is about 30 minutes south of Coolidge. Whether you explore from the comfort of your air-conditioned car or on foot, this is a beautiful place to take in the Sonoran Desert landscape and watch for wildlife.
Hiking trails range from short and easy (like the 0.2-mile Children's Cave Trail or the 0.5-mile Nature Trail) to moderate and difficult (like the 3.1-mile Sunset Vista Trail and the 2-mile Hunter Trail).
When you visit, keep an eye out for a variety of desert mammals, reptiles, birds, and amphibians, including jackrabbits, mule deer, snakes, lizards, and more.
Rooster Cogburn Ostrich Ranch
If you didn't get your critter fix at Picacho Peak State Park, head a mile down the road to the Rooster Cogburn Ostrich Ranch, where you'll have the chance to interact with (and feed) a variety of animals. You'll meet ostriches (obviously) but also goats, lorikeets, donkeys, ducks, sheep, stingrays, and more at this fun stop. (And yes, ostriches are as mean as everyone says!)
Oracle
Midlife travelers will likely remember all of the brouhaha surrounding the Biosphere, when two teams of scientists were sealed inside the massive glass enclosure in the early 1990s. (Or perhaps you'll recall Bio-Dome, a comedy that unwittingly places the goofy characters played by Pauly Shore and Stephen Baldwin in a similar structure.) This Arizona road trip is your chance to experience it all for yourself.
As you tour the Biosphere 2 facility in Oracle, Arizona, you'll see a variety of ecosystems working together in the closed environment. The guide will describe what it was like for the team living on-site to grow and harvest all of their own food. And you'll also learn about the emotional toll that being sealed off from the rest of the world took on the scientists who lived at Biosphere 2.
Fun Fact: Because this structure in the Arizona desert is known as Biosphere 2, many visitors ask about Biosphere 1. The original biosphere is planet Earth.
Tucson
As you enter the Old Pueblo of Tucson from the north, stop at Saguaro National Park for amazing views of hundreds of majestic saguaro cacti. This experience is even more magnificent at sunrise and sunset, when the desert is blooming, or shortly after it's rained and you can breathe in the unique scent created by the damp creosote bushes. On the southern edge of the park is the Arizona-Sonora Desert Museum that showcases the geology, animals, and plants native to this area.
Imagine yourself rubbing elbows with Kurt Russell and Val Kilmer in Tombstone or riding the train with Kenny Rogers in The Gambler by spending a day filled with gun smoke and gambling at Old Tucson. This movie set-turned-Wild West theme park features a variety of guided tours, shows, and experiences.
My favorite place to eat in Tucson is Mi Nidito on Fourth Avenue in Historic South Tucson. Don't let the unassuming, brightly painted adobe building with a red tile roof fool you. This Mexican joint has served Hollywood stars, musical legends, sports heroes, and heads of state. In fact, the President's Plate — featuring a bean tostada, birria taco, chile relleno, chicken enchilada, and beef tamale — was created in honor of President Bill Clinton's visit in February 1999.
This popular restaurant often has a long wait, so try visiting outside of standard meal times — or plan on enjoying several of their famous margaritas while you wait. The regular, mango, strawberry, and peach are all delicious, but try the tamarindo for a spicy twist on the citrus or sweet standards.
From the sprawling metropolis of Phoenix to the saguaro cactus-filled mountains surrounding Tucson, there's so much more to Arizona than the Grand Canyon.