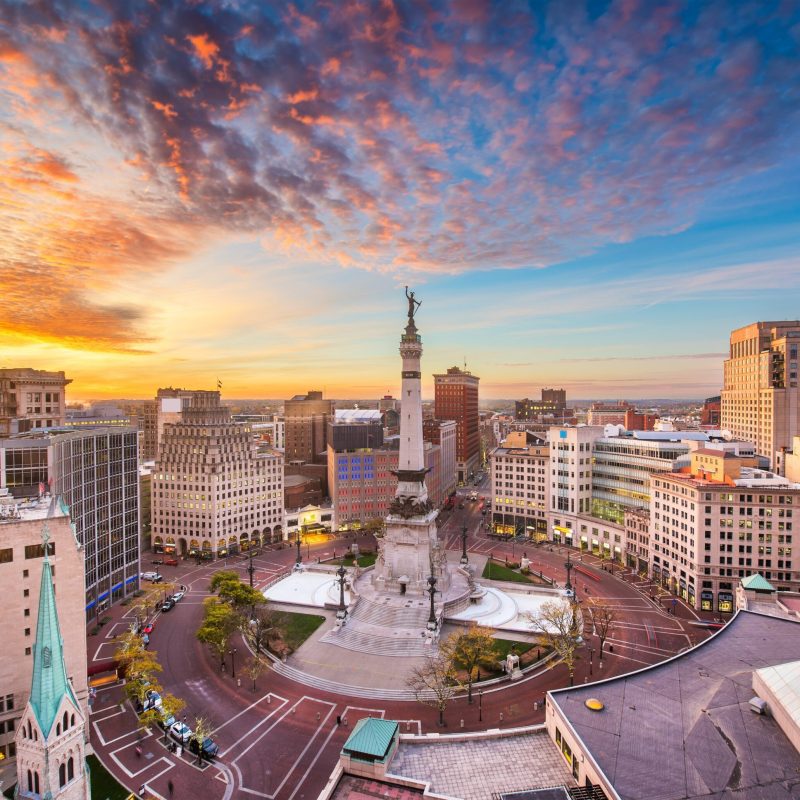 Everyone knows about Indianapolis's famous Indy 500 race. But Indiana's capital and most populous city has much more to offer travelers, including a nationally renowned art museum, charming historic neighborhoods, and a lively and inventive beer, wine, and spirits scene. The city is truly a hidden gem in the American Midwest.
Here are eight things to do during your next visit to the surprisingly hip Indianapolis, Indiana.
1. Get Your Brunch On
A great start to a weekend trip to Indy would be a killer brunch experience. Luckily, Indiana's capital delivers in spades. Those wanting a classic diner with a twist can check out Good Morning Mama's Café in SoBro. SoBro simply means "south of Broad Ripple," another trendy neighborhood. Diners can expect a hearty breakfast for less then $10, but be aware that this is a no-reservations type of spot, so there can be a wait on weekends.
Another Indianapolis favorite for the first meal of the day is Milktooth. Another no-reservations spot, Milktooth is known for its extensive brunch cocktail list, delicious carrot cake waffles, and bevy of plant-based options. Don't miss this Fletcher Place gift. It's beyond craveworthy.
There's also the enchanting Café Patachou. With six locations in the metro area, this restaurant is convenient no matter where you're staying. Expect some lighter options alongside decadent croissant French toast. At Café Patachou, you'll find a breakfast choice for every member of your group.
2. Walk It Off
After a hearty brunch, there's no better way to recharge and power through the day than to get a little exercise. Enter Indy's pretty Canal Walk. This 3-mile loop circles the downtown waterfront and gives visitors a nice view of the city's skyline. If you'd prefer not to walk, there are rentable bikes, paddleboards, and even gondolas in the area. It's a popular spot to check out on a trip to Indianapolis.
3. Check Out City Market
In operation since 1866, the Indianapolis City Market is home to the area's original farmers market. Nowadays, it functions as a food hall as well, and more than 30 local purveyors call it home. To experience the City Market, visit on a Wednesday between May and October. The anchor market merchants offer all manner of artisan goods, from fresh flowers to freshly baked pastries to locally made jewelry.
4. Imbibe In Indy
Indianapolis boasts a stellar drinking scene that's sure to please any palate. Wine lovers should make time for Buck Creek Winery on the city's south side. It uses grapes grown in the county to create a slew of wine varietals and blends. A bonus? The organized tastings are wallet-friendly at just $5 a pop. For a wine bar with selections from the rest of the United States as well as international wine regions, try Fountain Square's Wine Market. Another great option is Tastings inside the Conrad Hotel downtown. This spot offers more than 200 wines for vino enthusiasts to sample.
For the microbrew fans, there are two great spots to try. The first is the oldest craft brewery in the area, the Broad Ripple Brewpub, an English-style operation. If that's not your style of choice, never fear — the pub has "other people's beer" (OPB) on tap regularly. Another superb choice that has helped to put Indy on the craft-beer map is Sun King Brewery. This outfit is the largest microbrewery in the city and is situated on the east side of the downtown area. Brewery tours and beer tastings are available at the original location. For those closer to the north side, Sun King operates a distillery in suburban Carmel, Indiana, as well as a small-batch brewery in Fishers, Indiana.
For visitors who prefer something a little harder, there's a Fletcher Place neighborhood distillery option. This downtown spot, Hotel Tango, was the first distillery to open in Indiana since Prohibition. The distillery crafts its own vodka, gin, whiskey, limoncello, rum, and more using artisan methods. An interesting side note: This distillery was the first in the nation to be opened by a veteran who was harmed in combat.
5. Eat Your Art Out
There's a lot to cover in terms of Indy's art scene, but we'll stick to the highlights. The Indianapolis Museum of Art, now known as Newfields, is one of the 10 largest art museums in the U.S. It combines rotating exhibits inside and lots of cool outdoor space with affordable admission prices of $18 for adults and $10 for kids. Be sure to explore the museum's extensive collection of Asian art.
For more of an art-walk feel, head north to the upscale suburb of Carmel. Its Arts & Design District occupies a charming downtown area and includes galleries, shops, restaurants, showrooms, and more.
To enjoy some mural work, consider biking along the Monon Rail Trail that traverses the pretty Broad Ripple neighborhood. It is noteworthy for its street art. Downtown Indy is sprinkled with numerous other murals.
Another must-visit art destination? The oldest park in Indianapolis, Garfield Park, which is now an arts center with a conservatory and gardens.
6. Check Out Indy's Other Museums
Besides the aforementioned acclaimed art museum, Indianapolis boasts many other quirky and delightful museums. Visitors with kids will love the city's charming Children's Museum, complete with a colorful Chihuly glass sculpture. Tip: Buy your tickets at least two weeks ahead of time to receive a 25 percent discount.
Indianapolis is also home to the Indiana Medical History Museum. The oldest pathology building in the nation is located on its grounds, and the museum also features an amphitheater, laboratories, and a large collection of specimens. A guided tour costs just $10.
Another very popular museum is the Indianapolis Motor Speedway Museum. Visitors can enjoy a variety of different tours and experiences starting at $10. The museum is located inside the actual racetrack of the world's biggest one-day sporting event, the Indy 500.
7. Dine At An American Classic
Indianapolis's well-known steakhouse, St. Elmo, is a must-visit on any trip to the city. It's an old-school haunt, complete with large portion sizes, tons of sides, and a world-famous shrimp cocktail appetizer. Be sure to make reservations — it's a very popular dining spot. And who knows? Ron Swanson might even be there.
8. Enjoy Pretty Views
For a memorable sunset in an unexpected place, consider a trip to Crown Hill Cemetery. This spot atop Strawberry Hill provides some of the best views of the city. Look for the grave of Benjamin Harrison, the 23rd president of the U.S., as well as those of numerous Indiana statesmen and the famous outlaw John Dillinger. The entire cemetery, one of the largest in the country, is on the National Register of Historic Places.
For a pretty view of space, check out Holcomb Observatory. It's part of the Butler University campus in Indianapolis. The telescope there is one of the 10 biggest east of the Mississippi River, and there's a fully functioning planetarium (complete with shows) on-site as well. Public tours are available each weekend.
It's easy to see that Indianapolis has more to offer travelers than meets the eye. With its great bites and sips, wide array of museums, and well-developed arts scene, Indy should top your list of must-visit Midwestern destinations.