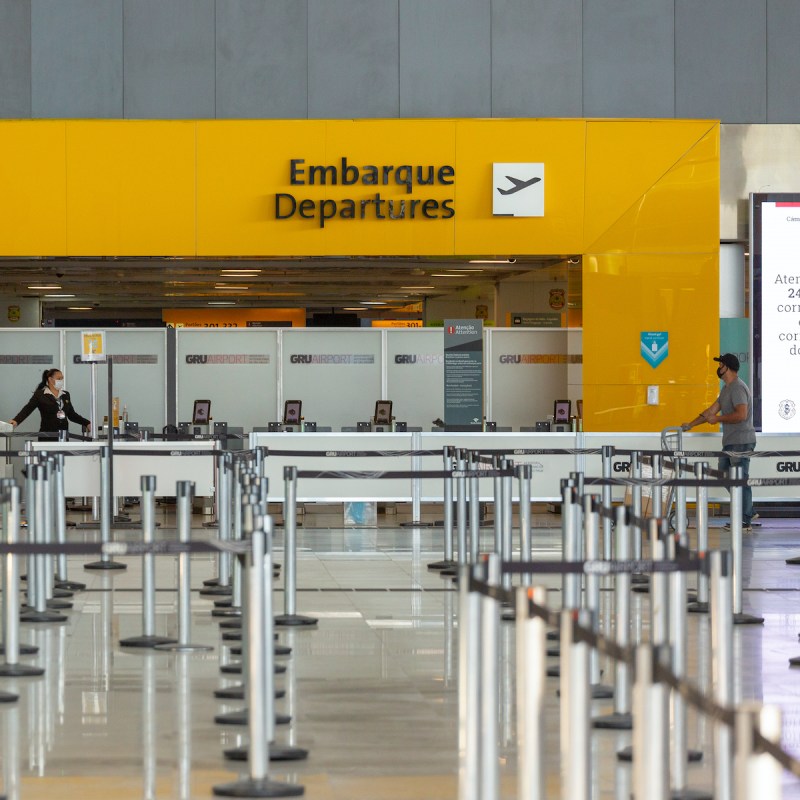 It's imperative to feel comfortable and safe while traveling.
Medjet
provides premier air medical transport, travel security, and crisis response memberships, providing peace of mind for an affordable price.
Recently, the TravelAwaits staff had a virtual "happy hour" with all of our writers from around the world. Everyone was so excited to not only get back to a hobby they're passionate about — but in many cases, get to see their families again. After hearing our writers share stories about what they've encountered since they started traveling again, we decided to share their interesting tales with our readers.
From jumping through hoops and scrambling last-minute to added travel expenses due to testing and rescheduling, here's what TravelAwaits writers have gone through since they started traveling internationally again.
Note: Travel requirements may have changed. Please consult each country's website for current restrictions.
Greece
Travel writer, photographer, and foodie Jeanine Consoli flew to Greece with her family in July, shortly after the country reopened its borders to tourists. Since the Consolis were vaccinated, they were not required to take COVID tests to enter Greece. "Prior to leaving the United States, my husband filled out a form that included our names and passport information. The form had questions and requested to know where we were staying and how long in each location," reports Consoli.
"Our first flight to Athens was seamless," she recounts. Consoli and her cohorts wore masks the entire journey. "It was long, but worth it," she comments. While in Athens, the family wore masks to museums and on the subway. They also wore masks while ferrying to Mykonos and Santorini.
From the Greek isles, they flew back to Athens, but not without having to scramble a bit. "We purchased COVID tests at home but realized they wouldn't be sufficient and contacted the concierge at our hotel in Santorini. Fortunately for $200 dollars, a doctor came to our hotel the next day to perform rapid tests. Within two hours we had the results on our iPhones. The information allowed us to fly and was viewed at our first and second layovers, but not when we arrived in the U.S.," Consoli recounts.
Panama
Writer and photographer Chris Moore discovered new health check requirements while attempting to enter immigration in Panama. Moore says travelers must scan a QR code displayed in the airport. This uploads a form, which travelers must complete with info about where they are staying, and vaccination data among other things. It's easier said than done, in Moore's experience. "We had to scramble through our travel information to get all the details and painfully enter it on our phones. It took my wife five attempts as the system kept crashing causing much frustration and us to lose over an hour," he says.
Vancouver, B.C. (And London)
Traveler, writer, leadership trainer, and coach Louisa Rogers and her husband split their time between Eureka, California, and Guanajuato, Mexico. The two planned to travel from their California home to Vancouver, B.C. in late August for a long-overdue visit with family. Next, they were to come home for a couple of weeks before traveling to London to visit Rogers' in-laws.
"To enter Canada, we needed a PCR test less than 72 hours before departure," Rogers relates. However, Rogers says it typically takes 24-48 to receive results, giving the couple a small window to get tested in time. Unfortunately, they did not receive their results in time for their flights. Rogers says the airline would not even let them board the first leg of their flight, which was to a larger California airport in hopes of receiving their results while in the air.
"We had to rebook everything: our flights, the Airbnb in Vancouver, the motel rooms where we had a weekend planned with our grandsons, and the rental car," Rogers recalls. She says not only was the experience "a pain," but it was also a huge expense. In an effort to simplify things, the couple pivoted their plans to fly from Vancouver directly to London instead of traveling back to the states in between.
Vancouver, B.C.
Speaking of Vancouver, Arizona-based newspaper reporter, freelance travel writer, and travel blogger Cindy Barks had also been patiently waiting to visit family in the Canadian province. She says of her September trip: "Pre-planning, online information entry, multiple COVID tests, and extra expenses were all part of the process."
"Along with being fully vaccinated, a U.S. resident must have a negative COVID test within the past 72 hours before traveling to Canada," Barks remarks. She ended up spending $250 for an express PCR test at Phoenix Sky Harbor Airport. "Prior to my trip, I used the ArriveCAN online app to enter the required information about my vaccination records, a quarantine plan (if needed), and my COVID testing results." She says United Airlines required a similar process.
"When I arrived at Vancouver International Airport, I was randomly selected to get another (free) COVID test before I could leave the airport. Then, before returning to the U.S., I had to be tested for COVID again. Because the U.S. accepts a number of testing types, I was able to get an antigen test, which was available on a walk-in basis at a lab at the Vancouver International Airport for $130." She says overall, COVID restrictions added $380 to her travel costs, not to mention the several hours of testing and data entry. However, Barks says, "Since I was reuniting with family for the first time since the start of the pandemic, the additional requirements were definitely worth it for me. And after the COVID restrictions were taken care of, my Canada visit turned out to be pure enjoyment."
Canada
Author, freelance writer, photographer, and filmmaker Elaine Masters also flew to Canada recently. She was attending a small family wedding that had been postponed several times due to the pandemic. "We had to have an antibody test within 72 hours of departure and show negative results. We also had to have had both vaccination shots and once in Canada identify a hotel where we would quarantine if necessary," Masters says of the travel requirements she submitted to.
"In-country, wearing a mask then showing our vaccine card and ID was required for every restaurant or bar," reports Masters. "It made me feel more secure and all went well," she says of the restrictions.
Of course, Masters had to take another test 72 hours before returning to the U.S. "The testing adds another couple hundred dollars and if I had to quarantine, I'd be happy for an insurance plan to help defray the costs." However, all the hoop-jumping seems like it was worthwhile. Masters says she'd "do it all again to see the alpine Larch Trees in full fall colors, canoe Lake Louise, and share it all with my close family for our first reunion in years."
Canada to Spain
Canadian writer Jill Browne and her spouse live in Calgary, Alberta, not far from Banff National Park. Her husband traveled to Spain at the beginning of September and just recently returned. Browne describes Spain as "safe and COVID-aware." Obviously, masks were required at the airports and on the planes.
Browne confirms that proof of full vaccination with approved vaccines or a negative PCR COVID test within 72 hours was required to leave Canada and to enter the EU in the Netherlands and Spain. She says documents were checked both upon departure at the Calgary KLM counter and upon entry at Amsterdam passport control. To enter Barcelona, passengers used a Spanish app that displayed a QR code. However, Browne remarks that "on a flight entirely within Spain, there was no COVID screening."
"People wore masks everywhere indoors and most places outdoors," describes Browne. "While walking different stretches of the Camino de Santiago, my husband and friends only unmasked when no one else was around."
"Returning to Canada required a 72-hour PCR test regardless of vaccination status. This cost $100 (Canadian) and could be booked online," says Browne. "My fully vaccinated husband, who had a negative test pre-departure, was randomly selected for another PCR test upon arrival. This was free and was done before he could leave the airport."
Canada — Driving Across The Border
Former jet-setting executive turned author, freelance writer, and experienced RVer Carol Colborn was able to cross the Canadian border before the travel ban was lifted. While visiting friends at a mountain cabin in Essex, Montana, Colborn wanted to visit nearby Glacier National Park, which is of course, on the U.S.-Canadian border. At the time, fully vaccinated parents of Canadian citizens were exempt from the travel ban with a negative PCR test within 72 hours of entry. Luckily, with a daughter in Calgary, Colborn fit that bill.
"We had to use the ArriveCan mobile app to alert the border we would be using," Colborn recalls. She says that "it took quite some time to gather and upload all the documents required." To obtain the negative PCR test, Colborn had to locate a testing center. She found one an hour and a half away, but it did not guarantee test results within a certain timeframe. Instead, she was referred to a drug testing service nearby that cost $225 per person.
"Unexpected expenses are not the only difficult things we have to do to travel internationally these days," comments Colborn. She says "the more challenging issues are delays and cancellations in international flights and the risks of public conveyances." Colborn says she and her husband prefer to use land borders. The couple looks forward to the re-opening of the southern border as they usually winter in Mexico.
Malta
International housesitter, author, and travel writer Kelly Hayes-Raitt arrived in Malta for a gig after a "harrowing" two months of trying to get her COVID certificate corrected. You see, Hayes-Raitt has been hunkered down in Scotland during the pandemic. Earlier this year, the American was able to register with the UK's National Health Service (NHS) "in order to get both my 'jabs,' as the Brits say," she quips. "However, my first inoculation was accidentally noted as my second, so it appeared on my certificate that I'd received only a second jab," says Hayes-Raitt. After eight weeks of navigating bureaucratic red tape, the housesitter was finally able to arrive in Malta on the final day of September.
UK
British travel writer and author Rebecca Hall resides in Greece. Sadly, she was unable to travel back to the UK to see her family for a year and a half. Hall says the UK had a "traffic light" system in place and Greece has been an "amber" country. This means that travelers are required to quarantine for 10 days, despite being fully vaccinated.
Here, she describes its travel restrictions from Greece to its fellow EEA country, the UK as it was when she finally got to travel home in August 2021:
A PCR test was needed no more than 72 hours before departure for the UK. This was easy to obtain in Greece and cost €60 euros. Results are emailed to you within about 8 hours.
Book a Day 2 self-swab test online to do within two days of your arrival into the UK. The cheapest available was with Randox Health in the UK and they deliver to your address/hotel, ready for your arrival.
24 hours before departure to the UK, complete a Passenger Locator Form (PLF). It asks for your address for the past 14 days, any transit places, and the booking reference for your Day 2 test.
You must show the check-in agent at Athens International Airport your:
a) Vaccine certificate — this has a universally recognised QR code on it
b) PCT test
c) Completed PLF
Hall says that "None of these documents were checked upon arrival into the UK." Hover, she did land at Bristol, which is a small regional airport, which she thinks may have had something to do with the relaxed protocol. "I have heard horror stories of landing at LHR," Hall says of Heathrow Airport, including extra-long queues at border/passport control.
Jamaica
Travel blogger Peggy Cleveland is basically a professional tourist. As international travel gradually began to open back up, Cleveland journeyed to Jamaica. (She got to stay in an Over-The-Water Bungalow!) She says Jamaica also required paperwork and a negative COVID-19 test taken within 72 hours of arrival. Cleveland called Visit Jamaica's test date calculator "very helpful" in determining when to get tested.
"I was able to get my test covered but for travel," says Cleveland, who notes that "you usually have to pay for a COVID-19 test which can be as much as $250 if taken at the airport." Interestingly, Cleveland recounts that "Jamaica was broken into two Resilient Corridors for tourists." She says visitors had to remain in their zones for the duration of their trips. She says the Sandals South Coast resort arranged for the required COVID-19 test that was required upon their return to the U.S. Cleveland says, "I would like to travel internationally now, but the requirement for COVID-19 tests even when vaccinated is challenging due to the increased amount of time it takes to get your results back."
Brazil
Oklahoma-based award-winning journalist and travel writer Heide Brandes just returned from 15 days in the Brazilian Amazon. She says the whole experience was "a little rough." First, she had taken the wrong kind of COVID test and had to rush to get not only a PCR test but results within two hours of departure. Then, she says, "Our luggage and gear got caught up in customs, so we had to do 9 days in the deep jungle without our stuff!"
As for masking up in the Amazon, Brandes says, "People were wearing masks, but so many others weren't." As far as getting a COVID test for the return flight, Brandes says they were surprisingly easy to obtain in Manaus and only cost about 20 bucks.
"Sadly, one of our travelers just died from a mysterious medical ailment," Brandes recounts. She says she's kind of freaked out about it. "From what I've read, the new Lambda variant is raging in Peru and S. America, and I didn't realize that before we went."
Related Reading: