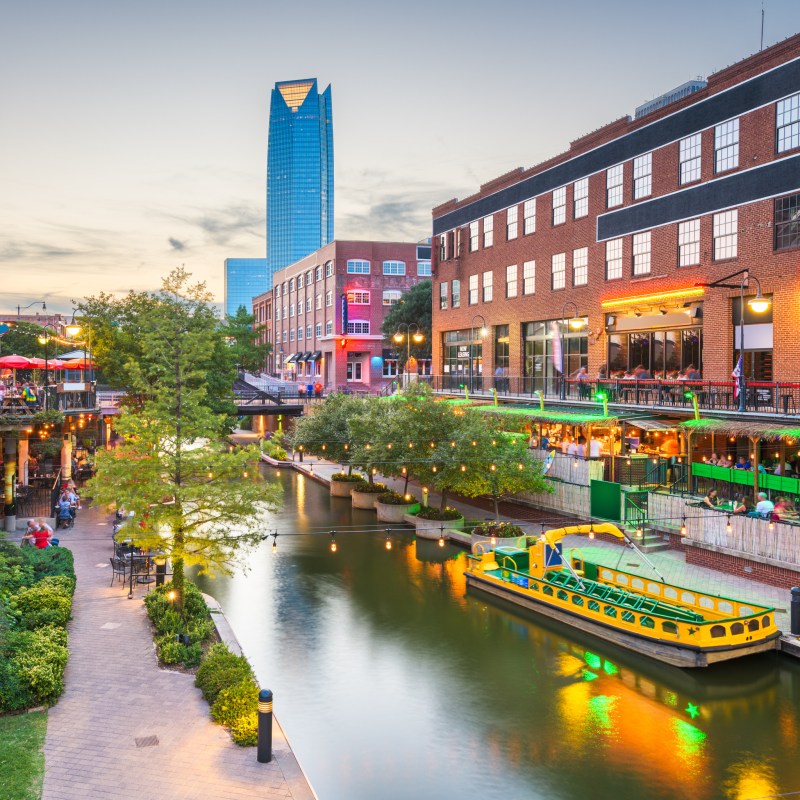 Oklahoma City is one of those towns that many overlook, and I'm not quite sure why. The history, cowboy culture, art, parks, high adventure, and unique districts make it a fantastic place to visit. OKC is often referred to as The Modern Frontier. If you allow yourself, you will be able to take a step back in time during your visit to Oklahoma City. I fell in love with this city when I spent a couple days there during a 2017 press trip. Now, I find myself stopping in Oklahoma City during my annual winter road trip from Iowa to Texas.
With four interstate highways running through town, it's easy to reach from any direction. Each time I go, I find something new to explore, and based on my time there, these are the 14 things that you need to experience when you set foot in Oklahoma City.
1. Oklahoma City National Memorial And Museum
The Oklahoma City National Memorial and Museum honors the victims, survivors, rescuers, and residents of Oklahoma City who were impacted by the Oklahoma City bombing on April 19, 1995. On my first visit, I explored the grounds at sunset. It was here that I realized how powerful the impact was. There are 168 chairs in the Field of Empty Chairs. The nine rows represent the floors of the federal building that once stood in the field. You will notice that each chair has the name of someone who was killed on that floor. This memorial really hit home for me, as our youngest son was born that same spring, and 19 children were killed on that somber day.
If you go at sunset, make it a point to go back the next day to tour the inside of the building. Here is where you may meet someone who survived the bombing and learn how the people of Oklahoma City came together after this tragedy. If you only have time to do one thing in this city, this is what you need to do. There is handicap parking and an elevator in the building.
2. Conestoga Wagons And Teepees
For an unforgettable camping experience, book a stay at the Orr Family Farm, where you can glamp in a Conestoga wagon or teepee. These unique lodging experiences are an upgraded take on First American teepees and the wagons American settlers used as they made their way west across North America. This is a truly memorable experience in the suburb of Oklahoma City. Travelers of all ages will appreciate the detail that has gone into the wagons and teepees. Summer is hot in this area of the country, and guests will be delighted to know that these units offer temperature controls and deluxe mattresses.
3. Stockyards City
Stockyards City is where visitors to Oklahoma City can experience the Wild West. In the 1900s, this area was a boomtown with a public livestock market and a meatpacking plant, which encompassed the stockyards. The 1970s arrived and this area had grown to become the largest stock/feeder cattle market in the world. Today, visitors can experience the West through the history and shops that showcase Western wear. If your visit is timed correctly, you can experience a livestock auction. You will want to pull up your cowboy boots and spend a good portion of your day strolling the streets in this area.
4. Oklahoma City Zoo
The Oklahoma City Zoo offers beauty along with memorable animal experiences. The elephant and sea lion experiences were two that I will always remember. All participants get up close with the animals, who are cared for by an animal trainer who takes the lead. You will find yourself wanting to learn more about all of the animals in the zoo after you participate in one of these experiences. Each of these activities does have a fee that is not included in the general admission. There is plenty of shade at this zoo, but be prepared to do a lot of walking.
5. Riversport Adventure
Riversport Adventure offers a variety of adventures for outdoor enthusiasts. Zip lines, sky slides, climbing, kayaking, and white-water rafting are highlights of what is offered. Do not wear your flip flops, slides, or Crocs, as you will need to wear water shoes, tennis shoes, or sport sandals. If you have eyeglasses, put on a safety strap as soon as you enter the park. When you go prepared, your outdoor adventure day in Oklahoma City will be the best it can be.
6. Oklahoma History Center
The Oklahoma History Center is where you will experience the history of the state. Oil and gas make up part of this history, and the Dust Bowl also played its part. When I hear the word Oklahoma mentioned, I do think of tornadoes. You can learn more about them at the history center, too. Oklahoma history comes to life once you step through its doors. People of all ages will appreciate the stories and the history that are showcased in the center. This facility is conveniently located near I-35 and I-40 and offers convenient drop-off and pick up. If you were not a history buff when you entered this center, you will be after your visit.
7. Science Museum Oklahoma
Science Museum Oklahoma is where guests of all ages can experience science with their hands. If you enjoy science and an opportunity to explore with people of all ages, you will enjoy this museum. The best tip I can give you is to arrive after lunch — after most of the school groups have visited for the day. Keep in mind that every museum in Oklahoma City has enough to keep you busy for one full day. Depending on the length of your visit and who you're traveling with, you might even want to return before you leave town.
8. Lake Hefner
Lake Hefner is where you can experience nature while visiting Oklahoma City. Plan a visit at sunset near the lighthouse for a memorable evening by the lake. Or pack a picnic lunch and arrive earlier in the day if you want to take a stroll around the lake. If you need to burn a few calories, lace up your tennis shoes and hike the nine-mile walking path. If golfing is your game, you can spend some time on the greens at the Lake Hefner Golf Club. Oklahoma City does not have a bad meal in town, so this may be the best opportunity to burn off those extra calories.
9. National Cowboy And Western Heritage Museum
The National Cowboy and Western Heritage Museum is where you can meet the cowboys and cowgirls of the West. As you enter, be sure to take a selfie with the magnificent and iconic End of the Trail statue that greets you when you arrive. This is your first insight into the wow factor that this museum offers. There are indoor and outdoor exhibits, so be sure to explore the grounds. I would recommend spending a minimum of four hours in this museum.
10. Bradford House
The Bradford House is a 36-room boutique hotel in the heart of Oklahoma City. This property is a rehabilitated historic residence that's been turned in to a stunning boutique hotel. When you visit Oklahoma City, it will not take you long to learn that the town is serious about saving its buildings. They turn worn down properties into magical places for people to visit. If you want a night's stay in a cozy setting surrounded by history, this is where you will want to be.
11. Bricktown
Bricktown is where you find OKC's river walk, plus restaurants, bars, and even a baseball park. This particular district is my favorite of all the districts in Oklahoma City, as I've managed to really connect with the locals here. I enjoy meeting people when I travel, and the people here are very welcoming. Take the time to stroll through this area and see why the people of this city are so proud of it. I enjoy visiting Bricktown in the evening, as outdoor dining opportunities are ample, along with the river views. For a different view, board the water taxi for a relaxing experience on the water. If you are hankering for a steak, head on over to Mickey Mantle's Steakhouse. You will have a tasty meal and find yourself planning a return visit.
12. Paseo Arts District
The Paseo Arts District is where you will find street art, galleries, shopping experiences, and multiple restaurants. The arts are alive in Oklahoma City, and this district is where you can stroll for hours, taking it all in. With more than 20 art galleries in the district, artisans and aficionados will want to spend a full day in the area. As you stroll along, you will notice the architecture that is unique to this part of Oklahoma City, which includes stucco buildings and clay-tiled roofs.
13. Chisholm Creek
Chisholm Creek is Oklahoma City's first pedestrian-friendly mixed-use neighborhood. With 190 acres, this is a bustling area of the city. TopGolf, iFly, and Cabela's can all be found here. The green spaces and miles of pedestrian trails make this a favorite area of Oklahoma City for many. Your chic shopping experience accompanied with contemporary entertainment options will make this a memorable stop on your visit to the capital city of Oklahoma.
14. Oklahoma City Streetcar
A fairly new addition to Oklahoma City is the Oklahoma City Streetcar. This project was completed in 2018 and is used by thousands of people today. It's a terrific way to explore the city and all of the downtown tourist attractions. This makes it easy to navigate Oklahoma City. Street parking is mostly free throughout the downtown area, but pay attention to how long you can park in one space. You can also check into one of the numerous parking garages throughout the city and hop on the streetcar. If you have never been to Oklahoma City, it is a great way to get a feel of the land.
Oklahoma City is a bustling metro area, so you will find it easy to stay as busy as you like. For the perfect visit, I recommend going in the spring or fall. The weather is nice and it's not too hot or too cold. Allow yourself to be immersed in the pioneer days and experience all that this town has to offer in the 21st century. Your visit will be one you want to share with friends and family, as Oklahoma City will surprise you in many good ways.
Ready to book your trip? Check out home rentals here: