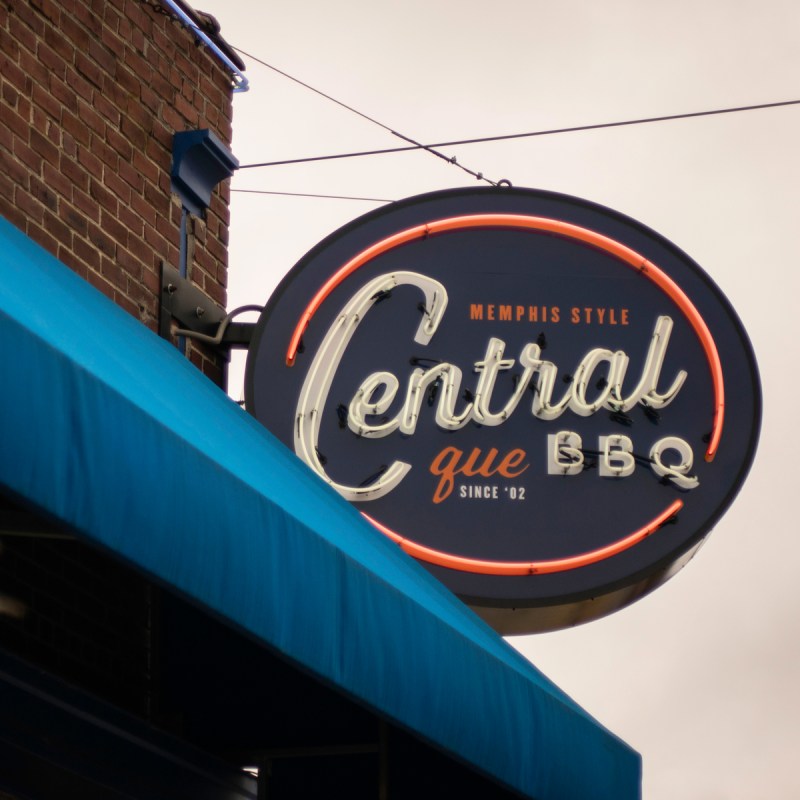 Memphis, a city of breweries, rock 'n' roll, and life along the Mississippi River welcomes visitors with open arms and some of the best live music and food you'll find in the country. The city specializes in barbecue — boasting more than 100 barbecue spots — but it's also got a host of award-winning burger joints, Italian fare, and Southern-style cuisine you won't soon forget. Here's where to eat local in Memphis.
The Beauty Shop
First up on your tour of the hometown of the King is the Beauty Shop. This sizzling Cooper-Young neighborhood restaurant has repurposed the beauty shop where Elvis's wife, Priscilla Presley, used to have her hair styled. When you walk in, you'll still see the 1950s-style washing sinks, hairdryers, mirrors, and mint-green features that were around when the King was in town.
While here, you'll get to try their tasty eclectic fare, which ranges from the daily crepe menu to grilled fish dinners. You can come together with the girls for a cosmopolitan brunch or get a plate of hot wings. Or order grilled pears, monkey bread, or the sugar and spice duck breast. Whatever you're craving, whether traditional Southern-style treats or uniquely spiced mains, you'll probably find what you're looking for here.
Elwood's Shack
Next up is Elwood's Shack, one of the quirkiest places in town. The building doesn't look like much and happens to be in a Lowe's parking lot, but the food is delicious and the picnic tables cozy. The menu offers a wide selection of Southern-style food with some twists. Fish tacos made with steelhead trout, grilled beef hotdogs smothered in barbecue sauce and bleu cheese jalapeno slaw, and 7-Up biscuits stuffed with bacon and pimento cheese are just a few of the top picks on the menu here.
If you like the more traditional barbecue fare, you'll also find barbecue ribs, brisket, and barbecue nachos.
Though you might think of a place like this for dinner, customers think this is the best breakfast joint in town, so don't be shy about heading over before you head out for a day of sightseeing. The "shack" opens at 7 a.m. Monday through Saturday and at 8 a.m. on Sunday. The homemade cinnamon rolls are awesome and Elwood's barbecue burrito invites you to kick-start your day with spice.
Maciel's Taco Shop
For those who love Latin food, Maciel's Tortas and Tacos is a fast-casual restaurant you won't want to pass up. Maciel's specializes in handheld foods that are affordable, authentic, and fresh. Maciel's has two locations, both pretty different from each other, except for their menus. One is a small casual cafe-style joint in downtown, while the other is a larger, colorful patio and bar on the Highland Strip.
Both Maciel's locations serve up favorites like nachos, quesadillas, and huaraches, plus fried tacos, Cubana Torta, and amazing horchata you've got to try. Shrimp tacos and chicken chipotle soup are some of their specialties that come most highly recommended.
Sometimes the place gets pretty crowded, so if you can, save a seat the second you get inside.
Cozy Corner
In true Southern-barbecue fashion, the Cozy Corner barbecue joint looks like another hole in the wall with a hand-painted sign and kitschy cornflower blue awning. But like all good barbecue joints, it's what's inside (or on the plate!) that counts. The second you step into the casual building, your mouth is almost guaranteed to start watering over the aroma.
Cozy Corner serves Memphis classics like pulled pork sandwiches and ribs, but their unique twist on the familiar is what makes the place so noteworthy. Their two big claims to fame are barbecue spaghetti and Cornish game hen soaked in the amazing barbecue sauce they're known for. They also offer some great Southern style sweets like banana pudding and sweet potato pie.
Flight
For a classier Memphis dining experience, grab a table at Flight, a two-level, elegant downtown dining establishment that serves their meals in flights. Each flight features unique choices conceptualized to complement each other for an enhanced dining experience.
The flights of food allow you to choose "trips" of soups, entrees, wines, desserts, and more from a carefully crafted menu. The tenderloin flight, for example, affords diners a choice of options like Boursin-stuffed filet, Kahlua-glazed elk tenderloin, or bison rib eye. You'll create your meal with small portions of the various dishes offered on any given night.
In addition to the menu offerings, there are several distinctive dining room options at Flight. The main level provides elegant dining in a setting suitable for gatherings of friends and colleagues while the bar will speak to solo diners and couples. The balcony level has small tables and booths with an overview of Main Street and provides the most intimate of the settings in the restaurant, ideal for a business meeting or romantic night out.
Gus's Fried Chicken
True Southern dining always includes fried chicken options, and Memphis establishments serve up some of the best fried chicken in the country. Gus's Fried Chicken is a go-to given its numerous locations and accolades.
Obviously, the chicken and crispy coating are delicious, but part of what sets this golden food of the South apart is the cayenne kick Gus's adds to its recipe. Everything's homemade, so it's a little different each day. Depending on when and where you try Gus's, you might enjoy a warm tingle of spice one day and a real kick the next.
The Gray Canary
Amazing cocktails and delicious seafood await at The Gray Canary on Front Street. This wonderful restaurant comes from James Beard Award finalists Andrew Ticer and Michael Hudman and offers some of the best seafood you'll ever eat.
The restaurant offers views of the Mississippi River from its location inside the Old Dominick Distillery. The expansive space includes the front room with a raw bar serving sustainable oysters and sashimi-style fish along with the traditional bar that serves curated wines and gorgeous cocktails. The restaurant also serves small plate menu items inspired by the chefs' Italian heritage.
The restaurant has a mix of Old World and industrial modern chic decor that makes for a beautifully unique dining experience. The smell of food cooking and smoke from the wood-fired oven top off the experience.
Central BBQ
With the hundred-plus barbecue restaurants in town, you can easily eat barbecue for every meal in Memphis and never have the same thing twice. So, if your heart's set on getting the most of the best Memphis barbecue during your stay, you definitely need to visit casual and cozy Central BBQ in Midtown. They may not be as fancy as some other Memphis joints, but they have an amazing menu full of fall-of-the-bone meat.
The restaurant's been around since 2002 and has often been ranked as having the best barbecue in town. The food is amazing, so it's no wonder. You'll want to try the pork barbecue nachos, built with your choice of barbecue chips or tortilla chips, cheese, and tangy sauce, along with pickled jalapenos. Or, if you'd like a more traditional dish, go with a slab of ribs, a plate of trim, sliced brisket, or a pile of pulled pork slathered in sauce.
Soi Number 9
For a less traditional, but absolutely local Memphis experience, make a stop at the Soi Number 9 food truck. The street food vendor offers Thai street food from a permanent location that caters primarily to students. You'll find the truck parked outside the University of Tennessee Health Sciences building, which may be off the tourist path, but is well worth the stop if you can manage it.
The recipes that Soi uses have been shared among family members for multiple generations, so you'll experience truly traditional, delicious dishes like rice bowls, potstickers, spring rolls, noodle bowls, crispy ginger tofu, Panang curry, and iced Thai coffee and tea. And since they do cater to students, their prices are affordable for everyone.