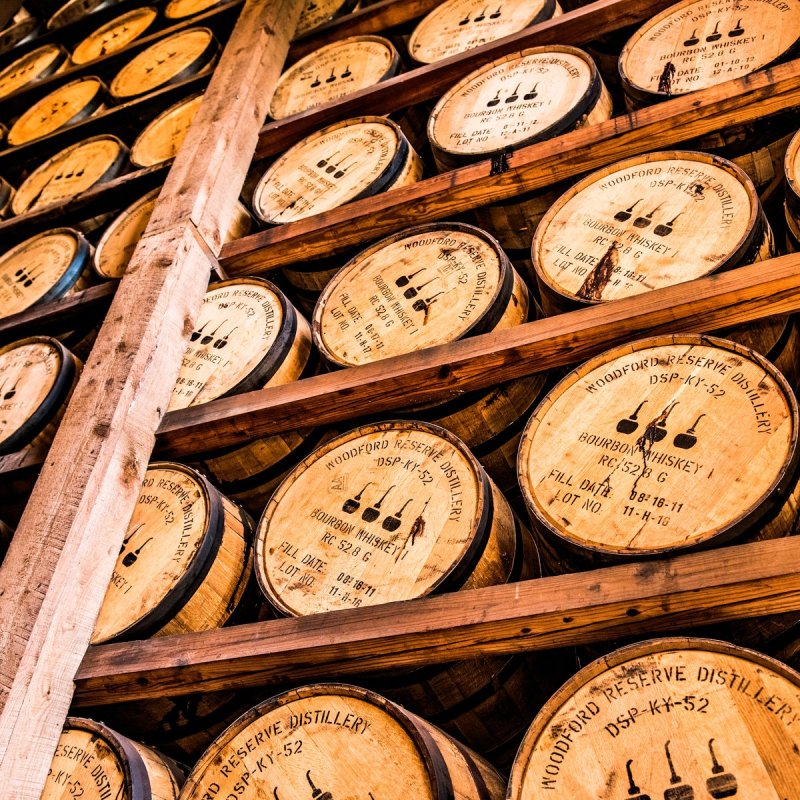 Kentucky may be known for horse racing and bluegrass, but its impressive roster of distilleries — 73 to be exact — is one of the main reasons travelers flock to the state. Its geography makes the state perfect for bourbon production as it's situated atop blue limestone deposits that naturally filter hard iron and add the sweet taste of calcium and magnesium to Kentucky water. Put simply, Kentucky tap water is good. And so is the state's bourbon.
That's why Kentucky produces and ages nearly 95 percent of the world's bourbon whiskey.
Pair mineral-rich grounds with multi-generational distilleries, and it's obvious Kentucky's the best place to go bourbon tasting. But it's hard to fit 73 distilleries into a one-day or weekend trip. So which are the best Kentucky distilleries to visit? Here are our top nine.
1. Woodford Reserve In Versailles
It's hard to think of Kentucky distilleries without thinking of arguably the granddaddy of them all, Woodford Reserve. This scenic distillery, situated in the bluegrass hills of Kentucky's Bourbon Trail, is located on the state's oldest distilling site, which dates back to 1812. The distillery includes a 500-foot-long gravity-fed barrel run along with copper pot stills and cypress wood fermenters.
Woodford Reserves offers a variety of interactive and educational tours in its Versailles distillery, which is right outside Lexington. These take place seven days a week (except Sundays in January and February). The tours vary in length and focus but include the traditional one-hour distillery tour, which dives into the history and creation of bourbon, and a two-hour bourbon legacy tour that goes deeper into the history of the site and the background of bourbon. Tours conclude with a tasting in the visitors center.
2. Maker's Mark Distillery In Loretto
Maker's Mark is another Kentucky favorite that, like many, puts the focus on family. It started in 1953 when Bill Samuels, Sr. embarked on a mission to create a bourbon his friends and family would enjoy. He experimented and experimented before finding the perfect recipe. Cofounder Margie Samuels developed the distillery's signature branding — hand dipping those first bottles using a home fryer to melt the wax.
Today, visitors can enjoy a number of traditional and unique seasonal tours at the Maker's Mark Distillery in Loretto, which is about an hour from Lexington. The one-hour general distillery tour teaches guests about Maker's Mark's history and distilling process. This tour is available year-round. Maker's Mark's seasonal experiences include a two-hour heritage tour — offered in September — that goes more in-depth on the Maker's Mark legacy with expert insight from Bill Samuels, Jr. himself. The Maker's Mark immersion tour — offered in September, November, and December — focuses more on the distilling process. You can also enjoy an on-site Cocktail 101 course in September and October. These seasonal tours (and more!) all include tastings.
3. Jim Beam In Clermont
Known as the birthplace of bourbon, Jim Beam is a can't-miss stop on a Kentucky distillery visit. The Beam family has been crafting bourbon since 1795 with an approach the family's proud of: aging the bourbon twice as long as the law requires.
Jim Beam operates two places where you can learn about its bourbon history and distilling operations. There's the original Jim Beam site, the American Stillhouse in Clermont, and the Urban Stillhouse in downtown Louisville. The American Stillhouse offers 90-minute tours throughout the year; visitors can walk in the footsteps of the Beam family while learning the history and technique behind their bourbon, sampling the beloved drink at the end. Longer tours, including a two-hour Behind the Beam tour, are available intermittently throughout the year.
Those who don't have time to visit Clermont's main facilities can stop by the Urban Distillery in Louisville, which has a small working distillery and bottling line — plus tastings and classes — onsite.
4. Angel's Envy In Louisville
Angel's Envy rose to popularity thanks to its small-distillery approach; the makers personally taste whiskey from every barrel at each step in the aging process to guarantee it meets their standards, then finish each whiskey in a barrel they've picked by hand. The distillery has 200 years of bourbon history, which guests can learn about during an immersive tour in Angel's Envy's Louisville facilities.
The one-hour tours take visitors through Angel's Envy's distilling operations; guests will see the distillation process in action before a post-tour tasting in The Finishing Room. Tours are offered throughout the year for groups of 12 people or fewer.
Angel's Envy engages guests beyond its one-hour tours with a bottle-your-own experience on select Thursdays and Fridays and a variety of cocktail classes offered intermittently.
5. Evan Williams In Louisville
Named after the founder of Kentucky's first commercial distillery, Evan Williams is another historic stop on the Kentucky Bourbon Trail. This distillery is located in the heart of Louisville and uses the company's age-old style and flavors to retain its signature bourbon taste.
Evan Williams offers a can't-miss Bourbon Experience that includes a one-hour historical tour, a viewing of the still, and a guided tasting. The Evan Williams Bourbon Experience is available throughout the year while the distillery also hosts seasonal and themed events, including a chocolate and whiskey tasting, a speakeasy tasting experience (if you can guess the secret password!), and a mixology session.
6. Buffalo Trace In Frankfort
Buffalo Trace is a family-owned distillery in Frankfort that's withstood the test of time — fires, tornadoes, Prohibition, and all. This distillery has over 200 years of history, and its famous craftsman — Colonel Edmund Haynes Taylor, Jr., known as the father of the modern bourbon industry — was a descendant of U.S. presidents James Madison and Zachary Taylor.
The one-hour Buffalo Trace Distillery Tour begins with a film that highlights the company's background and is followed by a walk among the bourbon barrels, a look at the aging warehouses, and a tour of the bottling hall where the signature bourbons are poured, sealed, labeled, and packed by hand. Tours end with a sampling of Buffalo Trace's most popular bourbons, and take place every day throughout the year.
Hot tip: Can't make it for an in-person tour? Buffalo Trace offers a virtual-reality tour of its distillery, too!
7. James E. Pepper In Lexington
James E. Pepper was founded by the Woodford Reserve family in the 1950s but was shut down for decades before reopening in 2008. Its distillery just opened to the public in 2018, and it now serves up its popular 1776-brand bourbons and a family of 1776 craft beers.
Fun fact: James E. Pepper whiskey barrels are taken almost immediately from the distillery to the brewery to guarantee the beers are infused with signature hints of rye whiskey.
The guided distillery tours at James E. Pepper include stops in the museum, explanations of the distilling process, and post-tour tastings, plus complimentary whiskey glass souvenirs. Tours are available throughout the year in their downtown Lexington facility.
8. Boundary Oak In Radcliff
If you want a side of nature with your Kentucky bourbon, Boundary Oak Distillery is the place to be. This distillery is located at the base of century-old oak tree springs that flow with that perfect limestone water Kentucky's known for. Boundary Oak uses this spring to make small-batch bourbon, amber, and moonshine in its off-the-beaten-path Radcliff distillery.
Boundary Oak's tours are self-guided and typically take around 45 minutes; they're free for those who don't want a tasting and $8 for those who do.
9. Old Forester In Louisville
Founded in 1870, Old Forester sticks to its founder's promise to produce "bourbon of the highest quality." This distillery is located in the heart of Louisville, in the same location it operated out of pre-prohibition.
Tours of the Old Forester Distillery last about 45 minutes and include a history of the distillery, background on how they make their whiskies, and a trip to their working co-op before ending with a 15-minute tasting of three Old Forester bourbons.
Special experiences like the Nothing Better in the Market tour (named after founder George Garvin Brown's quote about his bourbon: "There is nothing better on the market") go deeper into the history of this iconic bourbon. This unique tour concludes with an exclusive, guided tasting of Old Forester Single Barrel, 1910 Old Fine Whiskey, and the vintage-dated Birthday Bourbon. This experience is available intermittently throughout the year.
These nine distilleries hardly scratch the surface of Kentucky's diverse and expansive bourbon offerings, but they're a fantastic introduction for your first distillery trip to the state. For other things to do, eat, and see during your travels, make time for these 15 glamorous spots in Kentucky you don't want to miss and, if you're Kentucky bound in October or November, pencil in Louisville's Jack-o-Lantern Trail!