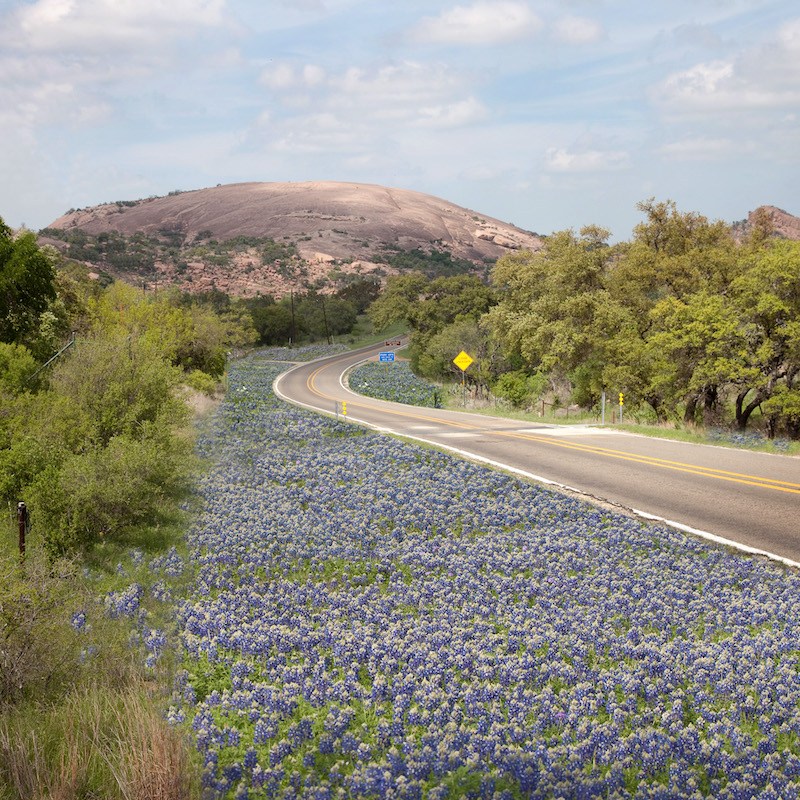 The great state of Texas is one of the top five states our readers want to travel to in 2023, according to our recent State of Travel Survey. It's no wonder — Texas has it all, from major cities to Hill Country, live music to outdoor activities, Tex-Mex to barbecue, and margaritas to wine. It is home to one of the only UNESCO Cities of Gastronomy in the U.S. and has a rich history that promotes unrivaled state pride.
Everything is bigger in the Lone Star State, which hosts festivals dedicated to peaches, dogwood trees, and Eeyore's birthday. For a Texas-sized vacation, look no further than the following suggestions submitted by TravelAwaits writers, starting with the Live Music Capital of the World.
1. Austin
"Sometimes all you need is a quicky, but I found out 36 hours in Austin is just a tease," says Sheryl Nance-Nash. The Texas state capital offers so much to see and do, you'll need to give yourself plenty of time to explore. Mild central Texas weather makes any time a great time to visit Austin.
There is always a festival going on, from popular music fests such as SXSW to the Austin City Limits (ACL) Music Festival to random-sounding ones such as Eeyore's Birthday Celebration, a gathering of hippies doing their part to "Keep Austin Weird."
Live music is as ubiquitous as chips and salsa in the Live Music Capital of the World. "I love the vibe of hotspot 6th Street," says Nance-Nash. "This is party central. It reminds me of New Orleans, with the people roaming from bar to bar like there's no tomorrow (although you can't bring your drink to-go like in NoLa)." Amazing eateries such as Canje can also be found on 6th Street. Nance-Nash recommends ordering the curry Wagyu beef, callaloo, and plantains at this upscale Caribbean restaurant.
Nance-Nash's family visit also included browsing the shops and a bit of history at the George Washington Carver Museum. "The biggest treat of all was staying at The Driskill," she says. "Around since the 1880s, it is a stately beauty. I felt like a queen."
2. Beaumont
Located near the Texas-Louisiana border, Beaumont is about 60 miles from Lake Charles. What Jill Robbins likes most about this Southeast Texas town is the number of free activities available near Interstate 10, which makes Beaumont an ideal road trip stop.
Home to the Spindletop-Gladys City Boomtown Museum as well as several other unique museums, Beaumont has been called the Museum Capital of Texas. "Spindletop is what shaped Beaumont," says Kathleen Walls. Located on the Lamar University campus, the open-air museum is a fun way to explore Beaumont's oil history. "I watched a replica of the gusher that happened when the largest oil well in Texas history spouted," recalls Walls.
Adjacent to Spindletop, Gladys City Museum is a 19th-century living history village. Discover the story of Beaumont's love affair with oil at the Texas Energy Museum. Downtown Beaumont boasts two free museums: the Art Museum of Southeast Texas and the Fire Museum of Texas, home of the world's largest working fire hydrant.
Historic house museums include the McFadden-Ward House, John Jay French House, and The Chambers House Museum. Walls recommends visiting St. Anthony Cathedral Basilica, a Renaissance revival-style church that combines religion with art and Texas oil money.
Winters are mild and summers are hot and humid, making Beaumont a year-round destination. Outdoor enthusiasts will enjoy Beaumont's Cattail Marsh and the nearby Botanical Gardens at Tyrrell Park (both free). Big Thicket National Preserve is 35 miles northwest of Beaumont and offers opportunities for hiking, paddling, and fishing. Get up close and personal with alligators at Gator Country Adventure Park.
Jill Robbins recommends visiting Beaumont for its 4-day Mardi Gras celebration on February 16–19, 2023. Beaumont's family-friendly Fat Tuesday features live music, carnival rides, delicious Cajun food, and more. Plus, kids under 12 can attend for free!
As far as food goes, Walls recommends Katharine & Company, JWilson's, and Floyd's Seafood. For dessert, head to Rao's Bakery.
3. Dallas
"As the saying goes, I'm not from Texas, but I got here as fast as I could!" exclaimed Sharon Kurtz, who has called Dallas home for nearly four decades. "Alive with possibility, the energy in Dallas is palpable," says Kurtz of her adopted hometown. 
While the Dallas skyline is jaw-dropping and instantly recognizable, the city is full of diverse neighborhoods. Dynamic Uptown is its most walkable live/work/play community. Kurtz suggests enjoying a night out in Deep Ellum or lunch in the Bishops Arts District. The latter is a walkable neighborhood filled with outdoor patios, boutique shops, and artisan pop-ups. Sing your heart out at Casanova Karaoke Lounge in the comfort of your own private room, complete with full-service cocktails and food.
A central green urban space, Klyde Warren Park connects Uptown with bustling downtown. Nestled in the heart of the city, The Dallas Arts District is a unique, 19-block neighborhood, which Kurtz describes as a "walkable hub of creativity featuring art for all the senses."
As a Houstonian, it's hard for Rebecca Deurlein to admit that she loves Dallas, but a recent girls' trip sold her on this city that has so much to offer. "My stay at the HALL Arts Hotel Dallas was nothing short of glorious," says Deurlein, "It's like living in a gallery where everywhere you turn, you're greeted with beauty. And the service was just top-notch. The hotel is centrally located in the Arts District, so you can wander for hours taking in culture.
Spa treatments at the legendary hotel The Joule are not to be missed, according to Deurlein, nor are drinks on the newly reimagined Margarita Mile. As always, Tex-Mex and barbecue dominate the Dallas dining scene, but whatever you're craving, as Deurlein says, "Dallas, it seems, is better than ever."
4. Fort Davis
Most people pass through Fort Davis on their way to Big Bend National Park, but this tiny West Texas town is a fantastic weekend destination in its own right. At 5,050 feet, it's the highest town in Texas and home to Davis Mountains State Park, Chihuahuan Desert Research Center, Fort Davis National Historic Site, and the McDonald Observatory.
Tami Brooks stayed at Indian Lodge, which is located inside the state park. "The pristine, white adobe walls, natural landscaping, and refreshing pool offer plenty of rustic charm," she says. The lodge and its Black Bear Restaurant are currently closed for renovations through January 2024, but Brooks suggests making reservations ASAP as the CCC-built historic hotel tends to stay fully booked throughout the year.
Reservations are also essential for the undisputed star of Fort Davis, the McDonald Observatory. Located north of the city on Highway 118, this must-see attraction offers daytime solar observations, educational twilight programs, and star parties. At a star party, you can take in the view through multiple telescopes that are aimed at various celestial bodies in the night sky. "I was able to see the ice on the rings of Saturn!" exclaims Brooks, who suggests dressing warmly, no matter the time of year.
Panoramic vistas, tons of hiking trails, fun dining, and friendly locals await in Fort Davis, not to mention the epic West Texas sunrises and sunsets!
5. Fredericksburg
Fredericksburg, Austin, and San Antonio are three points of a roughly equilateral 75-mile triangle, with Fredericksburg as the northwest point. Nestled in the Texas Hill Country, this small town is rich in German heritage and Texas wine. "The charming town of Fredericksburg stole my heart," says Penny Zibula, who spent a few "glorious" days there with her husband, taking in the warm autumn sunshine, fabulous German cuisine, and fascinating history.
Over 50 wineries populate Gillespie County. To find them, ride the 290 Wine Shuttle from downtown Fredericksburg on Fridays and Saturdays. Explore Fredericksburg's 10+ wineries and tasting rooms on the Urban Wine Trail and bring your drink while you shop at the boutiques that line Main Street. Zibula's favorite winery, Becker Vineyard, also grows lavender and offers lavender-scented products along with its excellent wines. If beer and live music are more your speed, head to nearby Luckenbach, Texas, for happy hour.
Fredericksburg is also Roxie Yonkey's pick for the Texas town our readers should visit this year. She suggests eating schnitzels and strudels at Der Lindenbaum, and staying at the Rarumpelpunzeldornaschenwittchen bed and breakfast. (Say that five times fast!)
Admiral of the Fleet Chester Nimitz defeated Japan in the Pacific. Tour his boyhood home and the outstanding National Museum of the Pacific War. Nimitz's grandfather emigrated from Bremen, Germany, in 1826, with many other German Texans.
Learn more about Fredericksburg's German settlers since their arrival in 1846 through historic buildings, artifacts, and displays at the Pioneer Museum downtown.
As if wineries, German food, and a rich history weren't enough, Fredericksburg also happens to be surrounded by beautiful parks. And, in 2023, Texas celebrates the centennial of its state parks. Nearby Enchanted Rock State Natural Area offers 8.4 miles of hiking trails and a chance to hike up the giant pink granite boulder it is named after. "After a short hike to the top of Enchanted Rock State Park's glistening pink granite dome, you'll be rewarded with panoramic sunset views and night skies if you linger," Teresa Otto tells us.
Old Tunnel State Park offers the opportunity to witness more than three million Mexican free-tailed bats leave the tunnel for their nightly feeding. A scenic drive through farmland and peach orchards takes you to Lost Maples State Park and nearby Garner State Park, where fishing, floating the Frio River, and dancing under the stars rule. Texas wildflowers begin blooming in April, and one of the biggest wildflower farms in the country, Wildseed Farms, can be found off of Highway 290.
6. Granbury
Founded in 1887, Granbury is brimming with historical interest, small-town charm, and… ghosts? The first Texan city to be listed on the National Register of Historic Places is home to several Texas Historic Landmarks. Historic Granbury Square is populated with welcoming shops, restaurants, and galleries. The iconic Hood County Courthouse is just one of the historic square's buildings that date back to the 1800s.
"With such a storied past comes a high probability of paranormal activity, attracting ghost hunters from across the state," says Kurtz. Offering tours on Fridays and Saturdays, Granbury Ghosts and Legends Tours is your go-to for ghastly tales, haunting stories, and ghostly encounters.
On Saturdays, Revolver Brewing, a family-owned craft brewery, offers tours, food, music, and brews on tap. 
For an authentic Texas experience, this North Texas gem offers unique culture, colorful characters, and Southern hospitality.
7. Marfa
A quirky, artsy outpost, Marfa is well worth the visit, according to Robyne Stevenson. Its claim to fame is the Marfa Lights. "Just outside of town is a Texas roadside area where people set up to look into the night sky for lights that dance along the mountains," Stevenson tells us.
Marfa is well known as an arts town. Ballroom Marfa and the Judd Foundation have large-scale, rotating exhibits. Many galleries in town feature local artists whose work captures the beauty of the desert and the surrounding mountains.
Numerous restaurants and bars cater to weekend and seasonal tourist traffic and host live music performances. Stop in to see the historic Hotel Paisano for some glimpses into Marfa's Spanish past as well as its brush with Hollywood. This town is the last major gateway to the Big Bend National and State Park area, several hours south on the Rio Grande.
8. Palestine
Tall pine trees outline both sides of the highway in beautiful East Texas. About an hour and a half outside of Dallas, Palestine is Kim Croisant's pick for where our readers should travel in Texas this year. She recommends going for the 85th Texas Dogwood Trails Celebration, which takes place from March 17 through April 2, 2023. "Every year around this time, the dogwood trees sprout their small clusters of four white petal flowers with pink to reddish centers," describes Croisant, "Even the green buds of the tree are beautiful."
Not only will you see the beauty of these popular East Texas trees in Palestine, but the city also celebrates special events such as the Texas State Railroad Dogwood Lunch Train, Dogwood Fly In Fair, Piney Woods Express Deisel train adventure, and many more. "But of course, the siting of the dogwood blooms plays a significant part," says Croisant, "so you'll want to be sure to visit the Davey Dogwood Park."
Keep an eye out for the Official Dogwood Bloom Watch for 2023. "They say the best time for the blooms to fully appear is April 1–3," Croisant informs us, "but you know Mother Nature — that could change and come even earlier."
9. Port Arthur
Located on the Texas-Louisiana border, Port Arthur is close enough to Beaumont to be considered part of its metropolitan area. About 90 miles east of Houston, it is nestled on Sabine Lake and the Gulf. Known as the home of the largest oil refinery in the country (Motiva Refinery), Port Arthur offers much more to explore.
Walls describes Port Arthur's unique culture as "a town with a Cajun accent and a musical vibe mixed with oil." Step back in time at La Maison Beausoleil. Located in Port Neches Park, the cypress house was built around 1810. Learn about local history at Nederland's Tex Ritter Park. Housed in a replica of a Dutch windmill, Dutch Windmill Museum pays tribute to Nederland's heritage as a town settled by immigrants from Holland. The adjacent La Maison Des Acadienne is a French museum.
"There is a lot to see at the Museum of the Gulf Coast," Walls tells us. "My favorite exhibits were about local musicians including Janis Joplin and The Big Bopper," she says. Sabine Pass Battleground is the site of Civil War battles. Built in 1900 by "the barbed wire King," Isaac Ellwood, Pompeiian Villa showcases how the super-rich of that day lived.
Port Arthur also offers interesting dining choices. Walls recommends checking out Reel Cajun Seafood Restaurant and Bar and Tia Juanita's Fish Camp.
10. Salado
Ann Bush describes Salado as "a vibrant town that embraced its history to secure its future." Nestled in the rolling hills of Texas, Salado's revitalization began in the 1940s following the success of the restored Stagecoach Inn's restaurant. Eighteen of the town's surviving buildings are listed on the National Register of Historic Places and are now home to unique artsy shops and restaurants.
Beautiful Salado River rambles along miles of hiking trails with intermittent scenic spots amongst limestone boulders. Bicyclists choose the area for annual races and bike-a-thons. Rent an e-bike downtown and check it out for yourself.
"My favorite place is a four-foot hot pink butterfly at the entrance of the Salado Native Plant Pocket Garden on Main Street," says Bush. "With over 200 plants to attract butterflies, the park supports the migrating Monarch Butterfly by providing much-needed food during their epic journey to and from Mexico," she explains.
11. San Angelo
In the middle of West Texas is San Angelo, which Bush describes as "a town of steamboats, pearls, and roadrunners." Set in a sage-filled prairie anchored by two lakes with the Concho River flowing through it, San Angelo is an oasis in the desert.
Concho River, which means "river of shells" in Spanish, is aptly named with at least 12 varieties of fresh-water mussel clams inhabiting the river system. The Tule Princess, a small authentic side-wheel paddle steamboat, takes visitors along the scenic Lake Nasworthy.
Historic Downtown San Angelo is home to wonderful shops, restaurants, and a fully decked-out Miss Hattie's Bordello Museum built by a young couple in the late 1800s. Stop at the famous Eggemeyer's General Store for good ol' Texas products.
Nearby is the San Angelo State Park. Bordering the O.C. Fisher Reservoir, it is "the perfect habitat for a wide diversity of rangeland wildlife, especially roadrunners and vibrant wildflowers," Bush tells us.
12. San Antonio
"If you're heading to Texas, you must visit San Antonio!" says SJ Morgensen. Home to The Alamo and the River Walk, this Texas town offers great history, culture, and incredible restaurants.
As one of only two U.S. cities recognized as a UNESCO City of Gastronomy, San Antonio is brimming with an inventive food scene and plenty of top-notch restaurants. "I especially love Clementine," says Morgensen, who recommends the "Feed Me" menu option. For authentic Mexican street food, Morgensen suggests La Gloria. Check out the rest of Morgensen's restaurant recs in her article My 8 Favorite Places For Mexican Food In San Antonio. Sample some of the best food in the city on this Uniquely Texas Mexican food tour with Food Chick Tours.
In addition to The Alamo, San Antonio is home to four other wonderful missions. "Mission San José is incredibly beautiful," Morgensen says. "We actually did an e-bike tour of the missions with Mission Adventure Tours, and it was spectacular."
13. Stonewall
Located between Austin and Fredericksburg, Stonewall features history, elephants, and wine. It was also once home to Lyndon B. Johnson. The 36th President of the United States was born on his grandfather's farm, just down the road from his eventual ranch. The LBJ Ranch became the Texas White House. The Lyndon B. Johnson State Park & Historic Site showcases his life from his birthplace and first school to the Johnson family cemetery.
Sauer-Beckmann Living History Farm in the adjacent LBJ State Park transports visitors to a time before electricity. Its trails pass sheep, longhorn cattle, bison, and log cabins.
Learn about Asian elephants and the importance of conservation at The Preserve, where you can get up close and personal with the largest land mammals on earth.
Stonewall is home to five of the wineries on the Hwy 290 Wine Trail that runs from Johnson City to Fredericksburg.
Wondering where to stay in Stonewall? Once reserved for the press corps, The Press Room at the throwback Stonewall Motor Lodge is now bookable.
Yonkey suggests visiting Stonewall during the spring "for spectacular carpets of wildflowers."
14. Tyler
Speaking of flowers, stop and smell the roses in Tyler, Texas. Since the late 1880s, when the first rose bush was sold, third-generation rose growers in east Texas continue to support a strong rose bush industry with a 4-day celebration extravaganza, the Texas Rose Festival.
Held every October since 1933, the event includes royal ceremonies with a queen chosen from many young applicants and a spectacular Queen Coronation. The festival opens with a ribbon cutting for the beautiful Tyler Rose Garden, which features 14 acres of rose bushes representing more than 600 cultivars.
"On Saturday, a popular Rose Festival Parade attracts people from miles around to watch floats satiated with roses and coronation participants dressed in sparkling bling," Bush tells us. On Sunday, the elegant Queen's Tea is a highlight of the festival.
15. Weatherford
About 30 miles west of Fort Worth on I-20, Weatherford, Texas, was established in 1855. Folks here are proud of their Western heritage dating back to the cattle drives, according to Jo Ann Holt. When Oliver Loving was mortally wounded by Native Americans in New Mexico in 1867, Charles Goodnight took his friend's body back to bury him in his Parker County hometown. Real-life cattle drivers Loving and Goodnight are said to have served as historical inspirations for Woodrow Call and Gus McCrae in Larry McMurtry's Lonesome Dove.
Weatherford was named the Cutting Horse Capital of the World by the state legislature and also the Peach Capital of Texas for its delicious peaches. Holt's favorite time to visit is the second Saturday in July for the Parker County Peach Festival. This day-long event features a Peach Pedal bike ride and a beauty pageant, with hundreds of booths surrounding the Historic Parker County Courthouse. "It's peach paradise," describes Holt, "with homemade peach ice cream, cobbler, pie, peach tea, smoothies, and even peach juleps. Plus peaches to take home!"
16. Wimberley
About 45 minutes southwest of Austin in the heart of Hill Country, Wimberley feels like a world away, according to Kirsten Maxwell. "There are only 3,000 residents in the small town, but that doesn't keep the crowds from coming," she says. With outdoor adventures, unique boutiques, and a fabulous culinary scene, Wimberley deserves a spot on any Best of Texas list.
Known locally simply as the "Blue Hole," one of the area's main attractions is Blue Hole Regional Park. Texans flock to this natural spring-fed swimming hole to escape the summer heat. In the cooler months, there are plenty of trails for hiking — some of which are handicap accessible.
Shop till you drop in Wimberley Square and the surrounding area. "Don't miss Rancho Deluxe and Shop the Treehouse for unique Texas decor and gifts," instructs Maxwell.
This area is rife with wineries, distilleries, and breweries, too. "If you want to sample the local spirits, be sure to allow time for a visit," Maxwell says.
One of the biggest events in 2023 will be the Wimberley Arts Fest at the end of April. Billed as a "fine arts festival organized by artists for artists," it's sure to be a good time!
Related Reading: