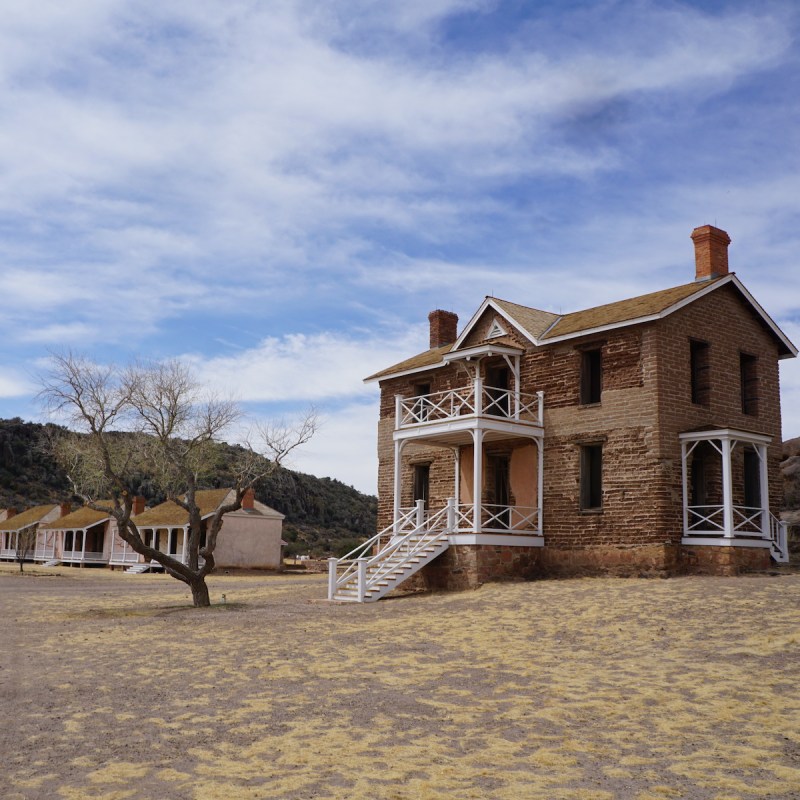 Despite a population of just over 1,000 people, Fort Davis, Texas, ticks a surprising number of travel boxes. The West Texas town has a fascinating story for history lovers, rugged sky-island terrain for enthusiasts of mountain hiking, and a robust restaurant scene for foodies.
For me, Fort Davis was a happy travel surprise. I had included it in my West Texas road trip itinerary mostly because of the proximity of the Davis Mountains State Park and its historic Indian Lodge. Until I arrived, I didn't know much about the community that shares a name with the park and the mountain range.
But when I drove into the charming little town, I immediately knew I had happened upon a travel bonus. From the early-1900s architecture of the Jeff Davis County Courthouse to the quaint shops and restaurants that line State Street to the fascinating military history at Fort Davis National Historic Site, the town of Fort Davis offered much more than I expected.
Along with its proximity to the Davis Mountains, Fort Davis is about 95 miles north of Texas's Big Bend National Park, making it a convenient stop on a trip to the spectacular park perched amidst desert, mountain, and river terrain. It is also less than a 30-minute drive from the cool and quirky town of Marfa.
So, while you might initially visit Fort Davis because of what's nearby, I believe the little town is worthy of a stop all on its own.
Here are eight reasons to add Fort Davis to your Big Bend road trip.
1. Military History At Fort Davis National Historic Site
When I stopped by the information counter at the Fort Davis National Historic Site, the first thing I learned from the friendly attendant was that I was visiting one of the best-preserved frontier military posts in the southwestern U.S.
That piqued my interest, and I soon discovered that there were many original buildings at the fort, including the Bachelor Officer Quarters, a large house that was reserved for the post commander; and the Officers Row, a neat line of adobe and stone houses that housed officers and their families. The fort also features a restored officers' kitchen, a junior officer's quarters, ruins of a chapel, and a re-created commissary where food supplies were stored.
Dating back to 1858, Fort Davis was located strategically at the crossroads of the San Antonio-El Paso Road and the Chihuahuan Trail, and it was one of the most important posts in frontier defense in the late 1800s. Early on, the fort was manned by companies of the 8th U.S. Infantry to protect settlers, freighters, and mail coaches from raids by Apache and Comanche people in the area. Then, starting in 1867, the fort was home to four companies of the 9th U.S. Cavalry, which was made up of African American soldiers who became known as Buffalo Soldiers.
Pro Tip: The fort site is somewhat spread out and has little shade. The National Park Service recommends a wide-brimmed hat, comfortable clothing, and sturdy walking shoes or boots for anyone planning to hike in the area.
2. Historic Downtown Fort Davis
With its wealth of late 1800s/early 1900s–era buildings, the town of Fort Davis has a definite frontier-town feel. A walking tour features more than 20 historic buildings worthy of a stop, including the 1913 Fort Davis State Bank, the 1904 adobe Presbyterian Church, and the 1899 Saint Joseph Catholic Church.
Fort Davis is billed as a place to take a step back in time. A tourist brochure for the town boasts, "there's not a single stoplight." Another of the beauties of Fort Davis is that the town is compact and walkable, stretching for about a mile. I loved walking the streets and finding little treasures along the way.
Pro Tip: The Fort Davis Chamber of Commerce website offers convenient lists of shopping, dining, and accommodation options.
3. Regional Architecture At Jeff Davis County Courthouse
Built in 1911 in a Classic Revival architectural style and topped with a Beaux-Art-style clock tower, the Jeff Davis County Courthouse makes a showy statement along Fort Davis's main street. The upstairs courtroom has a pressed tin ceiling and fan-shaped stained-glass window behind the judge's bench.
The building is worth a walk-by for its distinctive appearance, as well as for its place in Civil War history. A plaque on the courthouse grounds notes that Jeff Davis County was named after Jefferson Davis, who would later become president of the Confederate States during the U.S. Civil War. Years before that war, Davis visited the Fort Davis region as an Army officer in the Mexican War of 1847. Known as a "friend of Texas," Davis became the namesake for the county in 1887.
4. Historic Lodging At Hotel Limpia
The Union Trading Company built the historic Hotel Limpia in 1912, using pink limestone that was quarried near Fort Davis. The hotel was named after a nearby creek and soon became a popular gathering spot for the community.
Today, guests can enjoy the hotel's glassed-in veranda, tranquil porches, and lovely gardens. It is located right in the middle of downtown Fort Davis and offers easy access to the restaurants and shops that line the streets.
Pro Tip: Hotel Limpia is one of a series of 6 Incredible Historic Hotels In Texas Big Bend Country.
5. Hiking At Davis Mountains State Park
Rising to more than 8,300 feet of elevation, the Davis Mountains offer a refuge amid the surrounding rolling ranchland and flatlands of the Chihuahuan Desert. Occupying a beautiful chunk of the massive mountain range is Davis Mountains State Park, a magnet for lovers of solitude, rugged hiking, and clear night skies.
The park is located 4 miles north of Fort Davis and offers miles of hiking trails, scenic overlooks, and full-service campgrounds. It also is the home of the rustic pueblo-style Indian Lodge, a hotel built in the 1930s by crews of the Civilian Conservation Corps, a workforce made up of young men who were out of work during the Great Depression.
6. Desert Plants At Chihuahuan Desert Nature Center
Sitting on more than 500 acres southeast of Fort Davis, the Chihuahuan Desert Nature Center features a botanical garden with a host of native desert plants, as well as a cactus-and-succulent greenhouse filled with more than 150 additional species of plants.
The center also has hiking trails, a geologic timeline with rock samples from the region, a heritage mining exhibit, and the Powell Visitor Center with exhibits and a gift shop.
7. Davis Mountains Scenic Loop
Starting in Fort Davis on Texas Highway 118, adventurous drivers with at least an hour and 30 minutes on their hands can take the loop that is known as one of the most scenic and uncrowded drives in Texas.
At 75 miles, the Davis Mountain Scenic Loop is a relatively long drive, but luckily, it offers virtually non-stop scenery in the nearby Limpia Canyon, Mount Locke and Mount Fowlkes, and the Madera Canyon. After a left turn on Texas 166, the route passes by Mt. Livermore and Sawtooth Mountain and then takes in views of the Sierra Viejo Mountains along the Rio Grande to the south.
With a high point of 6,700 feet, the Davis Mountains Scenic Loop offers the highest public highway drive in Texas.
Pro Tip: Also located along the scenic route are Davis Mountains State Park and the stunning McDonald Observatory.
8. Authentic Mexican Cuisine
Mexican restaurants are plentiful and authentic throughout West Texas, and I found that it's hard to go wrong when you stop by one of the local favorites. When I asked for a restaurant recommendation, it seemed that I was directed to a popular Mexican spot every time.
That was the case in Fort Davis, where I took suggestions from locals to try Poco Mexico Café and Cueva De Leon — both excellent choices. At Poco Mexico, the atmosphere is casual, and customers order at a window that looks into the kitchen. I loved the deep-fried chile relleno and cheese enchilada that came with tortilla chips and spicy salsa. At Cueva De Leon, I arrived a few minutes after closing time but was invited in anyway by the friendly employees. I was happy to get a to-go order of delicious chicken tacos after most of the other restaurants in town had closed.
Pro Tip: If you're craving a decadent treat, stop by the adorable Hebert's Caboose Ice Cream Shop, where Blue Bell Ice Cream is served out of a renovated railroad caboose.
When To Visit Big Bend And Fort Davis
The best months to visit Fort Davis are March and April, when springtime temperatures average in the 70-to-80-degree Fahrenheit range, or September and October, when high temperatures range from the mid-80s in September to the high 70s in October. Summers tend to be fairly warm in Fort Davis, with highs in the 90s in June and in the 80s in July and August. Winter months are cool, with highs in the 60s from November through February.
If you do visit in July, here's a fun fact: Fort Davis is known as the home of the "Coolest 4th of July," thanks to its mountain temperatures and small-town celebration.
Cindy has been all over southwestern Texas. For more: