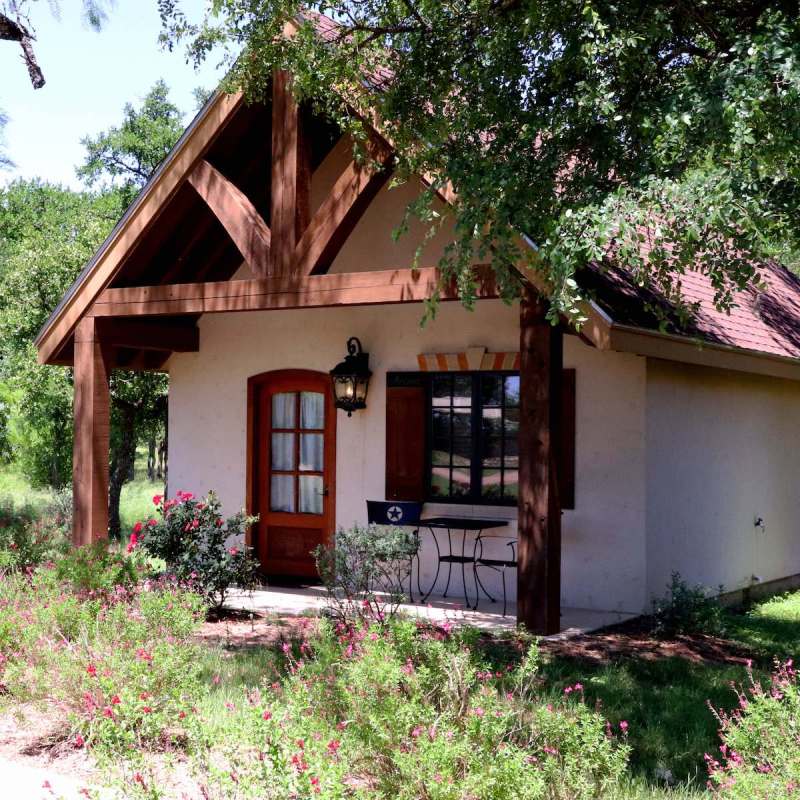 The Texas Hill Country is the second most visited wine region in the U.S., with the Napa Valley being number one. The Texas Hill Country AVA is the third-largest with 15,000 square miles, 22 counties, and 100 wineries. The blossoming Texas wine industry is thriving as the fifth largest wine producer in the United States and growing.
As you sip and swirl on a Hill Country wine excursion, keep a few things top of mind. Plan and make reservations for tastings or sign up for an organized wine tour that will take care of everything for you. Better still, select a winery where you'd like to spend some time, relax, and get to know the wine and the staff. Here are a dozen wineries where you can do just that — and spend the night.
1. Messina Hof Winery And Resort, Bryan
The Bonarrigo family, with 200 years of winemaking experience dating back to Messina, Sicily, founded Messina Hof Wine Cellars in 1977. It's the fourth winery in the state, with its primary location in Bryan. The estate includes 18 acres of vineyards, the winery production facility, the Messina Hoff tasting room, The Vintage House Restaurant, and The Villa Bed & Breakfast. Awarded the Best Romantic Getaway, The Villa boasts eleven spacious suites with historical heirlooms, stained glass, private patios, balconies with lakeside views, oversized tubs, and all-inclusive packages.
In 2011, Messina Hof Hill Country Winery opened a tasting room on ten acres of vineyards and a winery facility in Fredericksburg, adding Manor Haus B&B. You'll find four romantic individually themed stand-alone cottages with all the comforts of home. Your stay includes a continental breakfast and complimentary sparkling wine.
In 2012, son Paul M. and wife Karen took over operations as the second generation and in 2014, launched the Messina Hof Grapevine Winery and tasting room. In February 2021, they opened the Messina Hof Harvest Green Winery & Kitchen, a restaurant featuring cooking parties, food and wine pairings, a tasting room, and a production facility in Richmond, outside of Houston.
Today Messina Hof is the most awarded winery in Texas, producing more than 85 wines and 60,000 cases made with Texas-grown grapes.
2. Fall Creek Vineyards' The Wine Country Inn, Driftwood
In 1975, Fall Creek Vineyards became one of Texas Hill Country's first wineries. Ed Auler researched and matched the suitable grape variety to the correct terroir, producing excellent world-class wines from Texas-grown grapes. A new addition, Lescalo Chenin Blanc 2020, offers fewer calories and less alcohol, with clean floral notes and zippy lemon acidity. Join the wine club and wave the $20 tastings per person. Two locations are Driftwood and Tow.
To Stay the Night: Call for last-minute deals on one-night stays at the Guest House or the Chardonnay Room at Wine Country Inn, steps away from the Fall Creek Vineyard at Driftwood Winery and Tasting Room. The Guest House offers two bedrooms, one bathroom, and a full kitchen, while the Chardonnay boasts a one-bedroom, one bathroom with a refrigerator and coffee maker. The stay includes complimentary wine tastings. The Inn is across the street from the famous Salt Lick BBQ.
3. Flat Creek Estate, Marble Falls
Flat Creek Estate was voted one of the 50 Most Amazing Places to Taste Wine in America because of the specialty classes and winery events. Experience harvest celebrations, blind tastings, barrel tastings, vineyard walks, disc golf tournaments, and wine runs. Call for reservations for your wine tasting and food pairings, like the Grape Escape experience, the Chef's Three-Course experience, the Wine and Appetizer experience, and more.
Join a club and enjoy the wine and benefits. For syrah lovers, the Reserve Syrah 2016 boasts a plum and blackberry aroma and rich chocolate notes perfect for pairing with eggplant parmesan.
4. Farmhouse Vineyards Marketplace, Johnson City
Visit the Farmhouse Vineyards Marketplace in Johnson City on Main Street, where Highways 290 and 281 meet. The second tasting room located at the home vineyard base in Brownfield is at the Parker Homestead, Whitehouse Parker.
Stay at the Winery: Vagabond's on Pecan Street is a 1,800-square-foot cozy farmhouse on half an acre shaded by 200-year-old oak trees in Johnson City. The three-bedroom, two-bathroom unit with updated kitchen is near the square, which is rich in presidential history.
5. Grape Creek Vineyards, Fredericksburg
On Highway 290 to Fredericksburg, Grape Creek Vineyards is a 100-acre working vineyard and Texas winery with a patio and restaurant. Wine club members and their guests have priority access to the restaurant, lounge, and patio seating. New guests can enjoy the tasting rooms at the vineyard location and downtown on Main Street with reservations. Join the wine club before your visit and enjoy all the perks.
Stay at Vineyard Trail Cottages, just a third of a mile from Grape Creek Vineyards on 12 acres. Each cottage is custom-built and individually decorated. Wine glasses are waiting for you when you check in.
6. Barons Creek Vineyards, Fredericksburg
At Barons Creek Vineyards, look for small lots of fine wine from the specialty vineyards in Texas, Washington, California, and Spain. The primary location in Fredericksburg features a lovely winery, courtyard, tasting room, and villas.
Stay at the Vineyards: Book a villa stay at Barons Creek Vineyards in one of two villas, each with two private suites and four private guest bedrooms with king-size beds, large showers, kitchenettes, seating areas, in-room coffee and minibars, TV, cable service, comfy robes, and two complimentary wine tastings.
7. Carter Creek Winery Resort & Spa, Johnson City
Indulge in an exclusive combination of some of the finest award-winning wines in the Texas Hill Country from Carter Creek Winery. Enjoy hearty Texas cuisine at Old 290 Brewery & Restaurant, open for lunch and dinner. Enjoy the spa retreat offering organic ingredients and sustainable products for massages, facials, and more.
Carter Creek Winery Resort features 78 luxurious residential-style guest rooms in the heart of the Texas Hill Country. Book direct and receive unique benefits like tasting tickets and priority access to exclusive offers and best rates.
8. Mendelbaum Winery And Guest Cabins, Fredericksburg
Mendelbaum Cellars offers wines from the Texas Panhandle and the Texas High Plains in the heart of the Texas 290 Wine Trail. Explore an extensive list of wines from Israel, including white, rose, and premium red, plus Kosher wines from Israel, Israeli reserve wines, and Israeli flagship wines.
Six rustic guest cabins are a peaceful getaway and share an eight-seat hot tub, a large grill, and a fire pit on Grape Creek.
9. Hamilton Pool Vineyards And Farms, Dripping Springs
Sixty-five acres of oak trees, picturesque vineyards, and backdrops for a perfect wedding, Hamilton Pool Vineyards and Farms is the ideal destination just 20 minutes west of Austin. The boutique winery processes award-winning wines in the French style, unique among the Texas Hill Country wineries. Enjoy wine in the tasting room or under a shady oak tree.
Lodging: Nestled among 10 acres of lush grapevines, stay in the Estate Home that sleeps up to eight guests in two bedrooms with three beds and two baths. You'll enjoy vineyard views from the deck, hiking trails, shady oak trees, an on-site organic farm, and friendly cows and chickens.
Pro Tip: For more area inspiration, check out 12 Incredible Things To Do In Quaint Dripping Springs, Texas.
10. Pontotoc Vineyard
Founded on a farm by the German Emigration Company in 1872, Pontotoc Vineyard started with 5 acres of Tempranillo vines after Carl purchased the estate in 2003. Family and friends converted the Pontotoc town buildings into the weinhalle and winery. Shop Pontotoc Vineyard Weingarten on Main Street in Fredericksburg for award-winning Pontotoc wines.
Stay at Camp Wanderlust Cottage in Pontotoc, a fieldstone lodge tucked in 100-year-old shady oak trees along the Texas Hill Country Wine Trail in Hye, Texas. Enjoy the home that sleeps six in two bedrooms with three beds and two baths. Guests get a complimentary bottle of Pontotoc vineyard wine with each stay.
11. The Vineyard At Florence
Southwest of Salado, The Villa Firenze at the Vineyard at Florence offers a newly renovated great room and courtyard with award-winning wines by the flight, glass, or bottle. Dine at Farmers' Commons, farm-to-fork dining with seasonal menus directed by executive chef Soraya Spencer.
Stay Thursday through Sunday in the beautiful Tuscan-style Vineyard Suite or the Botticelli Suite with terraced views of the vineyard. The Winemaker's Villa sleeps 11, with five bedrooms, 3.5 bathrooms, a media room, a fully stocked kitchen, a spacious living room, and a private terrace.