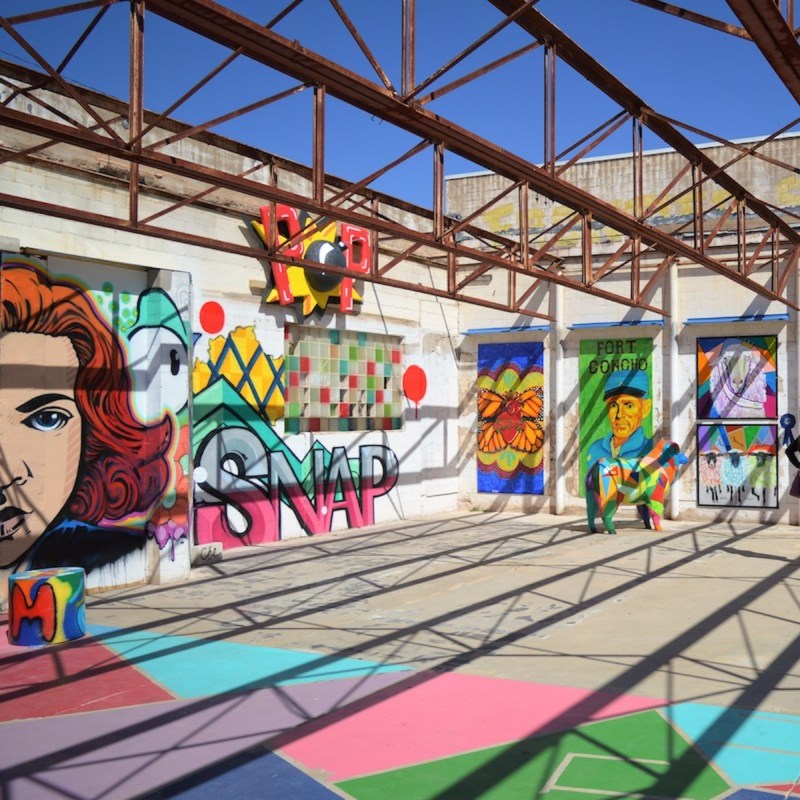 San Angelo is a pretty little town of 100,000 in the Concho Valley between the Permian Basin to the northwest, the Chihuahuan Desert to the southwest, and Osage Plains to the northeast. Drive 112 miles east from Midland on the Garden City Highway 158 or 225 miles west of Waco, via Highway 84 and US-87 South.
German immigrants settled the Concho River area in the mid-1800s. Fort Concho was established in 1867 to protect settlers and travelers bound for California. San Angelo became the county seat of Tom Green County in 1883. Here's a closer look at San Angelo, a great place to spend a weekend.
Things To Do In San Angelo
Concho River Walk
The 4-mile Concho River Walk boasts picturesque water displays, landscaped gardens, Bosque Park with picnic area and grills, and the Kids Kingdom playground. There are exercise areas for walkers and joggers and Celebration Bridge connecting the north and south banks. Bring your tackle box and pole for relaxing fishing along the Concho River. The Bill Aylor Sr. Memorial River Stage, a 3-acre outdoor amphitheater, hosts concerts and private events. The Santa Fe Park golf course is nine holes spanning over 2,400 yards with affordable weekday and weekend rates.
Railway Museum Of San Angelo
Tour the Railway Museum of San Angelo every Saturday, where you step back in time to 1910, the year the depot was constructed. Enjoy living history tours given by docents dressed in old-time costumes. Check the events schedule for Railway Days in May, Scare Station in October, and Santa's Christmas Event in November and December.
Historic Murals Of San Angelo
See the three-panel Military Mural downtown on East Concho showing Fort Concho, San Angelo Army Airfield, and Goodfellow Air Force Base. Learn about the military history of the three panels and the importance paid during World War II. I could spend an afternoon touring the Historic Murals and learning about San Angelo's history from murals displaying the Blacksmith, Santa Fe Depot, West Texas Ranching, and the Overland Stagecoach. The proud San Angelo citizens privately funded these historic murals.
Fort Concho National Historic Landmark
Learn about Fort Concho, established in 1867 along the Concho River to protect frontier settlements in West Texas from 1869–1885, where buffalo soldiers served the 24th and 25th infantry regiments and the 9th and 10th cavalry regiments. Use the site map to take a self-guided tour of the fort. See the vast collection of historical objects like clothing, weapons, tools, bowls, military buttons, horse tack, and personal objects representing the last quarter of the 19th century. I like to watch soldiers fire the fort's cannon.
Art In Uncommon Places
A group of over 50 artists dedicated to producing Art in Uncommon Places displays murals in Paintbrush Alley between the Texas Theatre and Firestone on Concho Avenue. My favorite is the Western Mural in Paintbrush Alley. The Pop Art Museum is a gift of free public art open 24 hours a day. Walk the Red Arroyo Art Trail and the River Corridor to see more public art.
San Angelo Museum Of Fine Arts
Located in downtown San Angelo overlooking the Concho River, the San Angelo Museum of Fine Arts hosts three extensive galleries, two with 40-foot ceilings and a large rooftop sculptured city-view terrace. See the permanent collection of art plus traveling exhibitions, a comprehensive gift shop, and a research library with an expanding array of early Texas art exhibits. Enjoy an active education wing with classrooms and ceramic studios.
Murphey Performance Hall
You must see the glorious Elta Joyce Murphey Performance Hall, refurbished from the old San Angelo City Hall and Auditorium and constructed in 1928 by the architect Trost & Trost from El Paso. After 3 years of resurrection work, the auditorium reopened in 2017 with a San Angelo Symphony performance. Today, the performance hall, a Texas Historic Landmark, is referred to as The Murphey. See upcoming performances like the Freedom Riders, The Simon & Garfunkel Story, Alma Mexicana Mariachi, or South Pacific.
San Angelo State Park
Just west of San Angelo, visit the San Angelo State Park, home to the Official Texas State Longhorn Herd. The 7,677-acre park connects the O.C. Fisher Reservoir and the Concho River with 50 miles of multi-use trails for hiking, mountain biking, and horseback riding. Explore the 2-mile Dinosaur Trail, where fossilized tracks of pre-dinosaur creatures from the Permian Age wandered. Hike the lakeshore on the nearly 6-mile trailhead, or fish the reservoir and the river. No fishing license is required from the shore or pier, only when you fish from a boat. Choose campsites with electricity and water or primitive hike-in sites. The group bunkhouse, with a kitchen, living area, and restroom, sleeps six or you can reserve a rustic log cabin with toilets nearby.
Twin Buttes Reservoir
West of San Angelo on the Middle and South Concho Rivers, the 9,080-acre Twin Buttes Reservoir requires a Limited Public Use permit ($12 per year) to fish, hike, camp, or picnic in the area for persons 17 years and older. Or purchase a $48 Annual Public Hunting permit to include hunting. You'll find excellent fishing for bass and catfish here.
Bart DeWitt Park
The 10-acre community, Bart DeWitt Park is a beautiful green space, an excellent place for a picnic and grilling, with walking trails, game courts, paddle boats, putt-putt golf, a sand volleyball court, bocce ball, and giant chess.
Cactus Hotel
Conrad Hilton established a fine hotel and West Texas, 14-story landmark in the late 1920s, The Hilton Hotel, with elegant interior spaces and quality accommodations. Later renamed the Cactus Hotel, the historic landmark no longer accepts overnight accommodations but offers rooms for meetings, receptions, weddings, and other special occasions.
Santa Rita Neighborhood
I love to drive the old, affluent Santa Rita neighborhood with its eclectic mix of mansions and architectural housing dating to the 1920s. The iconic Santa Rita neighborhood, named for the first oil strike in the area, boasts spectacular holiday light displays and scenic river views.
Christoval Winery And Chapel In The Vineyards
In Christoval, 20 miles south of San Angelo, visit Christoval Winery and Chapel in the Vineyards, where you can reserve a wine tour on Saturday or Sunday afternoons. The Tasting Room, open Thursday–Sunday, offers an epicurean meat & cheese platter or cheesecake sampler on the menu with a glass or bottle of wine.
Best Restaurants In San Angelo
Mr. T's Deli
Mr. T's Grocery and Deli dates to the 1920s, a local grocery store in the Santa Rita neighborhood. Order breakfasts like eggs Benedict or smashed avocado toast, or lunches like the chicken salad croissant or roast beef sandwich, with delivery arranged via San Angelo To-Go. They specialize in catering and private parties.
The Monk Art Gallery And Wine Bar
Enjoy a glass of wine or a local brew and a Mediterranean hummus plate with pita bread as you peruse the latest art on display at the Monk Art Gallery and Wine Bar. Two art lovers fell in love with the San Angelo art scene and opened the galley and bar in September 2021.
Brix Winery
San Angelo's downtown winery, Brix Winery, boasts a Granada passion pomegranate zinfandel, a strawberry blanc, or a jalapeno riesling, to name a few. Stop in for a glass or a bottle or two of your favorite wines.
Twisted Root Burger Co.
Right in historic downtown San Angelo, overlooking the peaceful Concho River, Twisted Root Burger Co. offers a fun, funky environment and the best half-pound burger in town, whether it's venison, elk, lamb, ostrich, duck, boar, or antelope. Make it a Frito Bandito with Texas chili, guacamole, cheddar, and Fritos, or the Kevin Bacon with three bacon slices and Danish blue cheese. And unless you say otherwise, it's cooked medium-well. Get your burger with a fat Elvis shake or your favorite beer or cocktail.
Miss Hattie's Restaurant And Cathouse Lounge
Since 1998, Miss Hattie's Restaurant and Cathouse Lounge has been one of San Angelo's favorites, a hospitality business back in the day. Miss Hattie's offers bacon-wrapped shrimp stuffed with pepper jack cheese or hand-dipped onion rings. I like the pecan-crusted trout or get the surf and turf, three stuffed shrimp or lobster tails with a 12-ounce aged filet or ribeye. The Cathouse Lounge serves a glass or bottle of your favorite wine or a red velvet martini or a five-card draw with rum, bourbon, coffee liqueur, and cream.
Best Hotels In San Angelo
Old Central Firehouse Bed & Brew
The Old Central Firehouse Bed & Brew, constructed in 1929, served as one of the first firehouses in San Angelo until 1976. The old firehouse offers a renovated bed and brew with comfortable king beds and private bathrooms. Adults only enjoy happy hour every afternoon in the lounge area and a light, self-serve breakfast, including yogurt, cereal, bagels, coffee, and juice.
Inn At The Art Center
On the unusual side, rooms at the Inn at the Art Center were once chicken coops at the Old Chicken Farm Art Center. Explore the Ponderosa Room, a perfect spot for a family reunion, or the Santa Fe or Country French-themed rooms in the old coop. Outside, see artists at work or relax in a shady enclave in the sculpture-laden courtyard. The Silo House Restaurant features local ingredients, exceptional Prime beef, or free-range chicken paired with Texas-grown fruit and vegetables.
Explore the rest of our Texas coverage to find even more southern charm: