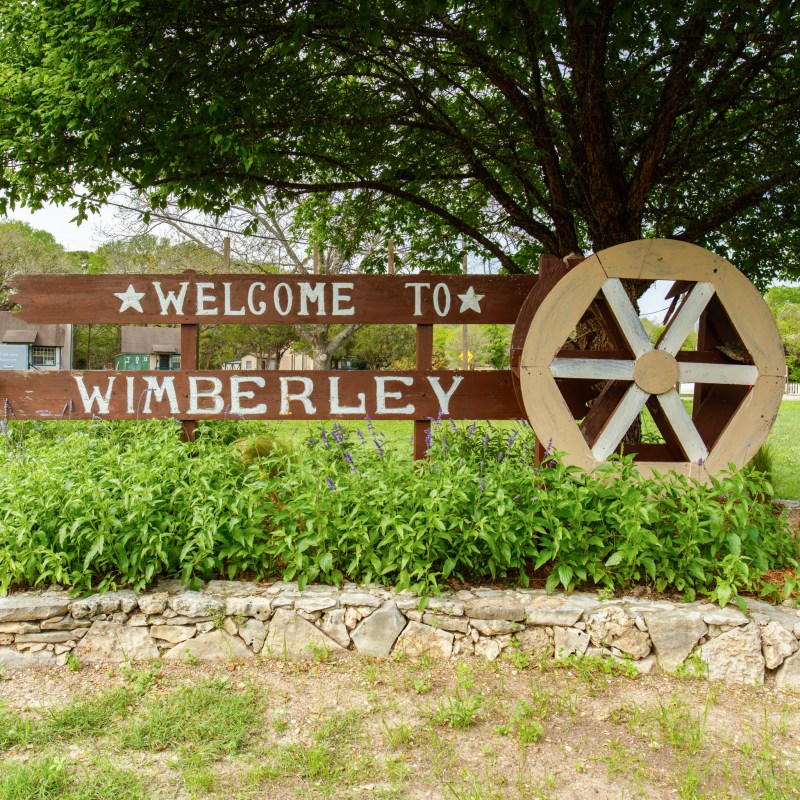 Wimberley is a great weekend or vacation retreat for swimming, camping, or staying in a cabin along the creek. It feels like your old hometown, especially when you learn about how the townspeople rallied to save areas like Jacobs Well, the Blue Hole, and Old Baldy. Here are some of my favorite places to visit in Wimberley.
1. Jacobs Well Natural Area
Years ago, I first discovered Jacobs Well as a fun swimming hole where you could jump right off the rocks into the cold, cold artesian springs. When you hit the water, it would take your breath away. The hole is 100 feet deep, so there are wooden walkways around the area to sit with your feet in the water. It's a great place to cool off in the hot Texas summer. Jacobs Well is the longest underwater cave in Texas, so this draws curiosity, and some people try to explore the depths. There is something about the allure of the unknown.
One of the outstanding perpetual artesian springs in the Texas Hill Country, Jacobs Well Natural Area is dedicated to sustainable watershed education, conservation, and land preservation. Jacobs Well is a protected swimming hole and primary source of water to Cypress Creek. The creek flows downstream through Woodcreek, Wimberley, through the Blue Hole swimming area, and into the Blanco River. Meet at 9 a.m. Saturdays for a one-hour tour with a member of the Texas Master Naturalists to learn about the Native American and pioneer history of the area, plus geology, conservation, native plants, and wildlife. Swimming is now restricted from May 1 to September 30, with a 2-hour reservation strictly enforced.
2. Blue Hole Regional Park
At Blue Hole, we used to climb the trees and jump off into the cold spring-fed water or play on the rope swings from the giant bald cypress trees. The region was one of the most refreshing swimming areas in Texas during the summer. Today Blue Hole is a great swimming destination, but climbing and jumping off the trees is prohibited. May 1 to September 30 is the designated swim season. I like to take a tube or swim noodles and float. The park includes picnic areas, four miles of hiking trails, a playscape, a basketball court, sand volleyball, an amphitheater, and a community pavilion. The 126 acres of the parkland is protected from further development and have evolved into a rare ecosystem of trees, shrubs, grasses, wildflowers, and native birds.
3. Old Baldy
It's 218 steps to the top of Old Baldy. Once you've done the climb, you will see a gorgeous 360-degree view of the Wimberley Valley and Mount Edith, which is miles away. There are handrails along the way and even encouraging phrases painted on rocks, like "The best view comes after the hardest climb," or "Push it, push it, real good." In 2014, the owner posted the 4.3-acre property for sale. The Save Old Baldy Foundation and the City of Wimberley raised enough funds to purchase the area, thus protecting Old Baldy when it became the newest city park.
4. Zipline Adventures
You will need a couple of hours to tackle the zip line course consisting of 100 separate ziplines, ranging from 150 feet to 900 feet for a mile of thrilling ziplining at more than 100 feet high and up to 30 miles per hour over canyons, treetops, and creeks. No previous experience is necessary, yet this is not for the faint-hearted. You will be fitted with state-of-the-art equipment and trained with your "flight school," where you can practice with the equipment and learn the techniques before your adventure. Some hiking and step climbing is required. Enjoy a brew at the beer garden afterward and soak in the scenery. Reservations are required. See the website for more information.
Editor's Note: For more on zip lining, read up on eight things to know before you zip-line for the first time.
5. First Saturday Market Day
The First Saturday Market Days, held each month from March through December from 7 a.m. to 4 p.m, is sponsored by the Wimberley Lion's Club. You'll find almost 450 permanent vendors, making this the second-largest flea market in Texas. You name it, and you'll likely find it here: decorative items, antiques, collectibles, crafts, birdhouses, furniture, art, photography, candles, clothing, jewelry, and much more. Pets are not allowed at this market, so visit the excellent kennel services available nearby. Enjoy food, drinks, live entertainment, or a delicious Lion's Club barbeque lunch. There is no admission fee, but proceeds from the parking lot, booth rentals, and concessions go toward the club's local charities.
6. Shopping The Square In Wimberley
You'll find shopping galore here in Wimberley on the Square. One of my favorites is Dovetails of Wimberley, where you'll discover Boutique Trunk Shows featuring jewelry, bags, clothing, alpaca apparel, and blankets. Celebrate with door prizes, in-store specials, refreshments, and a chance to win a fabulous prize. I love this store.
Kiss The Cook helps make cooking enjoyable with the best quality cookware, gadgets, tools, bakeware, and gourmet foods. Since 1996, The Cedar Chest offers apparel, jewelry, and accessories from brands like Johnny Was, Kendra Scott, Brighton, Lysse, and more. Nacho Ordinary Wood Turner Mack Peterson spent years creating unique wood furniture then graduated to segmented turning, gluing pieces of wood to create patterns in the form of bowls, vases, and other objects.
Find decorative ranch and rustic folk art gifts and accessories at Rancho Deluxe. Becky's Sunberry Patch features sterling silver jewelry, collectibles, ladies' apparel, bath and body fragrances, and other gift items.
More area shopping features Texas Specialty Cut Flowers grown locally at the Arnosky Family Farm and Market on FM 2325 near Blanco. Also see Art on 12, a 5,000-square-foot gallery of 53 local artists and eight working artists' studios.
7. Wimberley Glass Works
Since 1992, locals and visitors have been able to watch live glass blowing Thursday through Sunday, 10:30 am to 3 pm, then shop for vases, platters, glassware, gifts, lighting, and the 2020 Christmas ornament at Wimberley Glassworks. Visit the website for orders, specials, gift cards, and discounts.
8. Olive Oil-Producing Bella Vista Ranch
Enjoy a formal, guided tour of Bella Vista's small-scale, Old World-style olive oil production, including a primer on olive oil standards and a traditional tasting. Fresh olive oil is made here on the ranch from olive trees planted in 1998. The retail store opened in 2000, and the frantoio, olive pressing facility, has been pressing fresh olive oil since 2001. Visit the store to purchase the olive oil and other gourmet foods available. Italian and French grapes are grown on the ranch and processed at local vineyards. So, you can enjoy wine tasting also. Visit the online store for exclusive Texas olive oil.
9. Western Town At 7A Ranch
Explore the Western Town, open from spring break to October, swim at the pool, kayak in the Blanco River, play volleyball or basketball, or stay in one of the many creekside cabins for small or large extended families. 7A Ranch has been a family resort for over 70 years, with the R. L. Czichos family's original seven acres. Hit hard by flooding in 2015, Wimberley is rebuilding, and families are coming back to visit this remarkable place. Watch the website for more information.
10. Sky Watching In Wimberley
The dark Wimberley sky is perfect for stargazing, watching meteor showers, and picking out the Big Dipper and Little Dipper.
Editor's Note: For more on dark sky spots, see our picks for the seven most incredible stargazing sites in the U.S.
11. Wildlife In The Area
The Drift Inn Wildlife Sanctuary rehabilitates whitetail deer hit by cars, orphaned fawns, opossums, squirrels, bobcat babies, raccoons, rabbits, and more. The animals spend a few days to several months at the facility before releasing to sites that are hunting-free zones.
12. Birds Of Wimberley
The Wimberley Birding Society promotes the watching, protecting, and enjoying of birds. You will find over 110 different species of birds identified in the area.
13. Best Restaurants In Wimberley
Wimberley is full of fantastic restaurants; it has everything from homey bistros and food trucks to family-owned Mexican restaurants and counter-seat cafes. While it's hard to go wrong anywhere, here are a couple of options to get you started.
The Leaning Pear
Fresh, seasonal, and local food by Chef Mark Buchanan and his wife Rachel features lunch, brunch, desserts, and libations like the Market Lunch Bowl with an ever-changing assortment of grains, local vegetables, and seasonal goodness. Enjoy the corned beef Reuben, fried eggplant, pecan black currant tuna salad, or wood-fired pizzas. My favorite is the crab cake, plus enjoy the meatloaf with scallion mashed potatoes, blue cheese salsa cruda, or varieties of mac and cheese.
The Wimberley Cafe
This cafe features full breakfasts like huevos rancheros, migas, build a taco, and three-egg omelet specials, pancakes, and waffles all day. Get lunch staples like burgers, sandwiches, salads, and deli specials, plus plate favorites like Monterrey chicken, chicken and waffles, or the meatloaf sandwich.