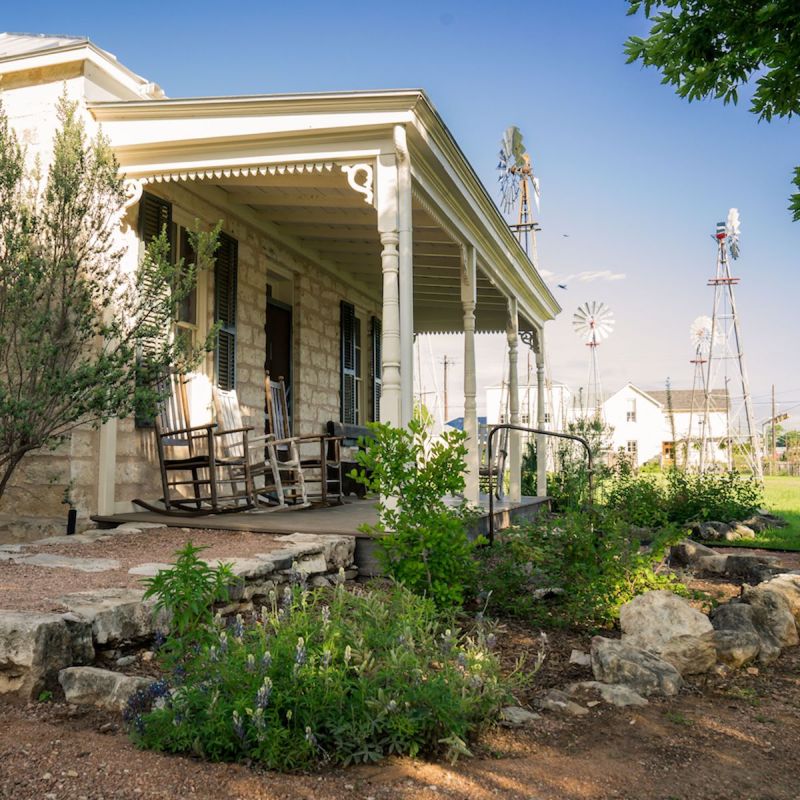 Deutschtexaner describes German immigrants who settled the Republic of Texas from the 1830s forward, clustering in ethnic farming settlements in a broad belt across the south-central area of the hill country. The establishment of Adelsverein — the Society for the Protection of German Immigrants in Texas — colonized the state. John O. Meusebach, the commissioner of the Adelsverein, negotiated the Meusebach-Comanche Treaty to settle German colonists on the land grant. After generations, descendants today speak Texasdeutsch — "Texas German," a German-language dialect.
Many examples of German heritage are still visible across the Texas landscape and apparent in its churches, schools, dance halls, and even shooting clubs. Let's look at the German-influenced towns of Texas, plus the food, art, beer, and festivals.
1. Fredericksburg
On May 8, 1846, German immigrants settled Fredericksburg — named for Prince Frederick of Prussia — under the Society for the Protection of German Immigrants in Texas. The settlers received 10-acre lots outside of town, plus a lot in the city. Farmers and ranchers who lived in remote areas maintained a second dwelling on their lot in Fredericksburg called a Sunday house. Sunday houses in Fredericksburg evolved from this original land settlement. The families made a trip into town to attend church services, see a doctor, or conduct business; and stayed at their small homes in the city. Today, many are bed and breakfasts that you can reserve through Gastehaus Schmidt Lodging Service.
For beer fans, the 40th Oktoberfest of Fredericksburg, October 1–3, is a true celebration of German heritage in the polka capital of Texas, with music, dancing, food, drinks, and fun galore.
Learn storytelling, rope-making, soap-making, sheep-shearing, and more rich German heritage at the historic Pioneer Museum. Fredericksburg is celebrating 175 years this year.
Classic artists from Dresden, Friedrich Richard Petri, and Hermann Lugkwitz were early German pioneers who settled in 1850 Fredericksburg. For art lovers, art galleries like the Gallery at Vaudeville, The Fredericksburg Art Guild, and Insight Gallery in Fredericksburg continue to draw art lovers and collectors. The First Friday Art Walk Fredericksburg is celebrated monthly with wine flowing freely from 5:00 p.m.–8:00 p.m. The Jackson Gallery leads the galleries in various events, keeping Fredericksburg as a special place in the art world.
Vereins Kirche Museum tells the story of the courage and vision of Fredericksburg founders as the first public building in town, serving as the town hall, school, fort, and church for all denominations.
Visit the Historic One-Room Schoolhouses preserved in Gillespie County near Fredericksburg.
Steeped in German history, you'll find some of the best German restaurants and brewpubs in Fredericksburg.
Altdorf Restaurant & Biergarten offers a shaded Biergarten for traditional German dishes and beers, a great selection of steaks, sandwiches, salads, and even Tex-Mex dishes to please the whole family.
Enjoy something from every taste and authentic German cuisine, plus one of the largest selections of German beers in Texas, German wines, delicious desserts, and gourmet coffee and tea at Der Lindenbaum — The Linden Tree.
Savor upscale German bistro at Otto's German Bistro, sourcing quality local meat and produce, plus the best organic and sustainable ingredients available. You'll find exceptional wines, classic cocktails, and craft beers complementing German, Austrian, Alsace, Northern Italian, and Texan cuisines.
The Auslander Restaurant & Biergarten has served authentic German food, top-quality steaks, and a vast selection of beers since 1979. Listen to live music on the weekends in the Biergarten, enjoy a traditional German atmosphere, and save room for homemade desserts like apple strudel and turtle cake. Prosit!
Established in 1975, the Old German Bakery and Restaurant serves authentic German food made from traditional family recipes. See Old World Berlin décor with a friendly family atmosphere. Enjoy authentic German bread, pastries, and daily breakfast and lunch specials.
The oldest brewpub in the state since 1994, enjoy German fare and a cold craft brew at the Fredericksburg Brewing Company. Since sidewalk consumption is allowed, take a cold one with you as you shop Main Street, fill a growler to take home, or eat and drink in the large air-conditioned Biergarten. Stay in one of 12 themed bed-and-brew guest rooms.
Visit an authentic Bavarian brewery guided by the historic German purity law of 1516. The Altstadt Brewery uses only four German ingredients: hops, barley, yeast, and artesian spring water.
2. New Braunfels
Established on March 21, 1845, Prince Carl from the Solms-Braunfels region of Germany selected a parcel of land at the intersection of two sparkling rivers, the Guadalupe and the Comal, creating one of the most historic German-American communities in the nation. For generations, families have trekked to New Braunfels to tube the rivers and splash at the first-rate Schlitterbahn Waterpark. Up the road, the oldest dance hall in Texas makes its home in Gruene (pronounced Green).
Celebrating all things German, November 5–14, Wurstfest boasts sausage, beer, music, dancing, games, and carnival rides. Sprechen sie fun? Wurstfest is the best 10 days in sausage history!
Texas's oldest continuously operating bakery, Naegelin's Bakery, has been serving pfeffernusse and streusel since 1868. The Herald-Zeitung, New Braunfels' hometown newspaper, founded by Ferdinand Lindheimer, was exclusively printed in German starting in 1852. Today, only the section titles bear German names like Stammtisch's community events, meaning "table reserved for regulars." Krause's Café recently reopened, serving authentic German food and craft beers at the Biergarten-Bierhalle.
Visit The Sophienburg Museum for a behind-the-scenes story of New Braunfels's German roots with exhibits, images, artifacts, maps, and documents. Savor the biggest German restaurant in town at Friesenhaus, who for years has been serving up bratwurst, schnitzel, leberkase, potato salad, strudel, and German beer. The New Braunfels Schuetzen Verein is a rifle club with roots back to 1849. They focus on target shooting, holding its classic Koenig matches annually since before the Civil War.
Download a Historic Walking Tour of New Braunfels brochure (PDF) to explore the Main Plaza, Fountain and Bandstand, the Faust Hotel, and the Stephen Klein House, as well as a collection of homes and buildings historic to New Braunfels.
Pro Tip: Sleep in Texas history at the Gruene Mansion Inn for easy access to fine dining and the best nightlife at Gruene Hall.
To learn more about a New Braunfels getaway, see how to spend a wonderful weekend in New Braunfels, Texas.
3. Pflugerville
A suburb of Austin, William Bohls founded Pflugerville in 1860 when he established a post office and general store in his home. He named the town in honor of Henry Pfluger, who settled the area in 1849, fleeing from his German home to escape the Prussian War.
Descendants of the original German immigrants to Pflugerville constructed the Immanuel Evangelical Lutheran Church in 1928. In the Immanuel Lutheran Church Cemetery, German settlers named Pfluger, Bohls, and Fuchs have German-language tombstones.
Celebrate the 45th Pflugerville Deutschen Pfest, October 15–17, featuring a carnival, live music, a beer garden, festival booths, a parade, and family fun with the Sunday 5k. Willkommen!
Pro Tip: Stay at the five-acre Plantation House Boutique Inn for luxurious accommodations, a quiet relaxing atmosphere, and a breakfast you won't soon forget.
4. Boerne
John James and Gustav Theissen teamed up to plan Boerne (BURN-ee) in 1852 and named the town after a German author and publicist, Karl Ludwig Borne, who wrote much about the promising new territory.
Boerne's Berges Fest (Berges meaning festival of the hills) pays homage to the city's German heritage every Father's Day. Diverse activities, like mud volleyball and the dachshund races, raise funds for scholarships and charitable giving. Boerne's Village Band is the oldest German band found outside of Germany. The Boerne Schuetzen Verein, or shooting club, is still going strong. You'll see traditional customs around Christmas that make the holidays unique.
The Dodging Duck Brewhaus offers casual dining in a renovated historic home with outdoor heated decks and a patio view of the ducks on scenic Cibolo Creek. Delicious fresh craft beer brewed on-site goes with grilled sausage plates, Akaushi beef, bison burgers, and soft Bavarian pretzels.
Cibolo Creek Brewing, owned by the Mazour and Wolosin families, features large-batch-brewed beers and small-batch brews. Savor the CCB Goat Burger, Mom's chicken salad sliders, or the Cibolo Creek BLT made with locally farm-raised sustainable meat, dairy, and produce — cuisine fit for Texans feeding Texans. See the chalkboard for seasonal dessert offerings.
The fourth annual Boerne Bierfest happens the last Saturday in September at Boerne's historic AgriCultural Museum and Arts Center, with live entertainment, games, and fun.
Pro Tip: Stay at Tapatio Springs Hill Country Resort for hundreds of acres deep in the hill country, enhanced guest rooms, farm-to-fork dishes, creative cocktails, an award-winning golf course, and plenty of George Strait-style live music, since he's an owner/partner of the resort.
5. Schulenburg
Named for Louis Schulenburg, who donated land for the site, German, Austrian, and Czech immigrants settled into Schulenburg when the railroad came to town. Halfway between Houston and San Antonio, Schulenburg is famous for painted churches, model airplane museums, homemade schnitzel, and German sausage. The Texas Polka Museum preserves the history and legacy of polka music in Texas, honoring Texas Polka bands and musicians of German, Czech, and Polish ancestry.
Pro Tip: Stay at Das Meyer Haus, a Luxe Victorian in Schulenburg with beautiful furnishings that is close to everything.
If you enjoy the painted churches of Schulenburg, here's how to explore the painted churches of Texas.
6. Muenster
Muenster — located 15 miles west of Gainesville, just south of the Oklahoma border — housed the Muenster Museum in the former home of Ben and Aggie Fette Seyler. It was founded in 1889 by families of German heritage and the Catholic faith. Enjoy a treat at the German bakery, Bayer's Kolonialwaren, housed in a Texas gas station-bakery combo. Celebrate Oktoberfest, October 1–3, at the Heritage Park Pavilion and the three-day Germanfest festival each spring.
If you wish to explore more beer-filled festivals, visit these excellent Oktoberfests across the U.S.
For those interested in Texas hill country like the places featured in this story, check out these articles: