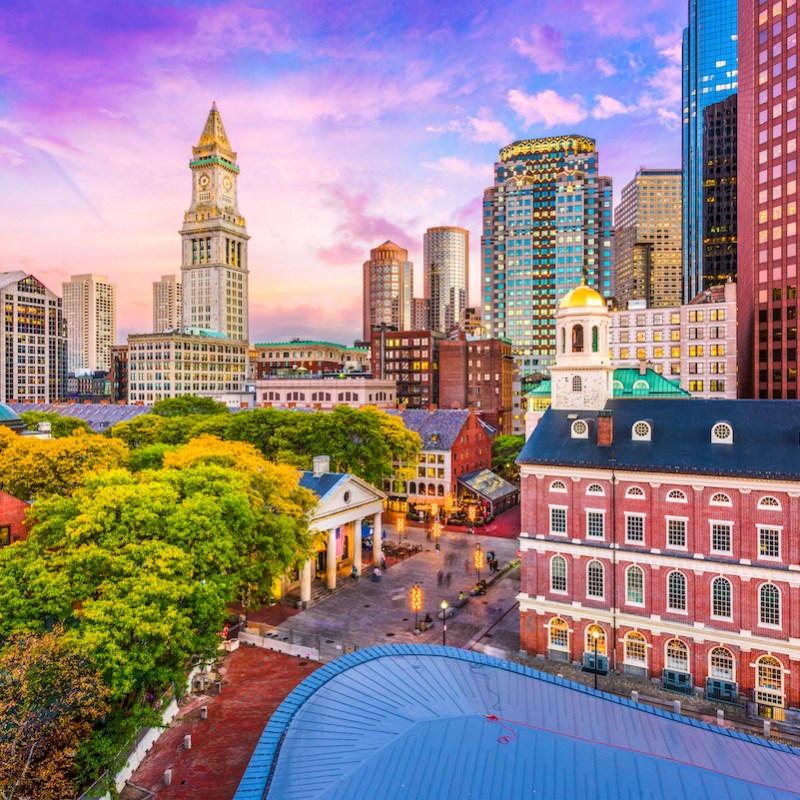 Lodging takes up about a quarter of your vacation budget, so it's worth it to compare the prices between staying at a hotel versus a vacation rental through a service like Airbnb.
Bounce, a luggage storage company, conducted a study to find the most budget-friendly way to stay in top U.S. travel destinations. It compared average hotel prices from Kayak with Airbnb data. Below, we go over the findings for the top 10 cities (and some fun things to do while you're in town). Forgo hotels — Airbnb vacation rentals are the way to go in these destinations.
1. Boston, Massachusetts
Save 131%
Between visiting historic gems and sampling all the restaurants, bars, and breweries, experiencing Boston isn't inexpensive. Might as well save some dough and choose an Airbnb over a hotel. Airbnbs average at $172 a night in this historic city, while a double hotel room runs closer to $400. Looking for more ways to save money? Check out these free things to do in Boston.
2. Zion National Park, Utah
Save 61.57%
Zion National Park in southern Utah is a spectacular collection of red sandstone canyons and peaks. There is an abundance of activities for everyone, from hiking to visiting museums. It also boasts plenty of great places to stay — but at an average of $456 per night, hotel rates are pretty high. Save over half of that by staying in an Airbnb. Or better yet, camp in an RV!
3. Maui, Hawaii
Save 47.27%
One of the best places to visit in Hawaii, Maui is full of stunning places to explore and amazing hidden gems. A night at a hotel for two adults in this tropical paradise costs around $625 per night. You'll save $200 a night by staying at an Airbnb. There probably won't be a pool, but at least you've got world-class beaches to visit!
4. Seattle, Washington
Save 15%
From tasting your way through Pike's Place Market to checking out Chihuly Garden and Glass, there are so many things to see in Seattle. Staying at an Airbnb over a hotel in the Emerald City will save you $40 a night, with average prices at $229 and $263, respectively. Save even more money by looking into these cheap things to do.
5. Kauai, Hawaii
Save 15%
Often overshadowed by Oahu and Maui, Kauai is another one of the best places to visit in Hawaii. It also happens to be the oldest Hawaiian island. Lush green valleys give it its nickname of "The Garden Isle." Its stunning landscape is filled with wildlife, natural wonders, secret beaches, and waterfalls galore. Adventure seekers come here to hike, snorkle, zipline, kayak, and tube. A hotel stay at "heaven on earth" can set you back over $500, while an Airbnb is just under that at $488.
6. Washington, D.C.
Save 11%
Walking out the door in D.C. costs $50, but it's worth it to behold so much history. Our nation's capital is home to The Smithsonian, the Martin Luther King Jr. Memorial in the National Mall, and many military museums and monuments. The price difference between an Airbnb and a hotel room in our nation's capitol is pretty minimal — $250 vs. $277, respectively.
However, I can say they have some pretty interesting Airbnbs. My husband and I once stayed on a houseboat in a marina near Buzzard Point Park. Watching the sunrise over the Anacostia River was unforgettable. If you need help deciding where to stay, check out Sharon Odegaard's article, Hotel Vs. Airbnb: Where To Stay In Washington, D.C.
7. Miami, Florida
Save 11%
Bienvenida a Miami! Home to authentic Cuban restaurants and sparkling sandy beaches, Miami makes for a wonderful weekend getaway. There's so much to do in Miami, some of which is unusual and some of which doesn't involve the beach. But with glitzy nightclubs, luxury cars, shimmering glass high-rises, and flamboyant wealth on display at every turn, Miami is not the place to be pinching pennies. At an average of $291 a night, an Airbnb is only about $30 cheaper than a hotel room, which is around $322.
8. New York City, New York
Save 8%
Welcome to New York, yet another city where you start hemmoraging money simply by walking out the door. Oh, but the Big Apple's restaurants, luxe lounges, and museums are all worth it! Plus, you can find plenty of hidden gems and free museums and galleries in the city that never sleeps. Speaking of sleeping, it costs a few hundred bucks to lay your head down for the night at an Airbnb, while a hotel is a little more expensive at $325. If you need more help deciding, check out Erika Ebsworth-Goold's article, Hotel Vs. Airbnb: Where To Stay In New York City.
9. Grand Canyon, Arizona
Save 7%
Whether going for a romantic weekend or a lovely family visit in the fall, the Grand Canyon is always a good call. You would think outdoor attraction would be relatively affordable, but anyone who's stood in line for Skywalk tickets knows otherwise. At least it doesn't cost anything to hike… once you pay to get into the park, at least. Staying near these big attractions usually costs an arm and a leg, but at the Grand Canyon, the average Airbnb costs $173, and a hotel is just $185. Whichever you choose, TravelAwaits' VP Missy Glassmaker recommends staying on the South Rim.
10. Honolulu, Hawaii
Save 6%
Traveling to Hawaii can cost a lot. And when it comes to upscale hotels and fine dining, the sky's the limit. From world-class shopping and spa resorts to spectacular excursions like helicopter tours and sunset cruises, there are plenty of ways to spend your days emptying your wallet. Lodging follows this trend in the capital of Hawaii, where the average hotel stay costs $292 a night and an Airbnb is $274.
However, Honolulu offers several free and frugal activities for budget-conscious tourists. If you do decide to stay in a hotel, look for one near Waikiki Beach, which is the top U.S. destination where a hotel stay is cheaper than an Airbnb.
Related Reading: