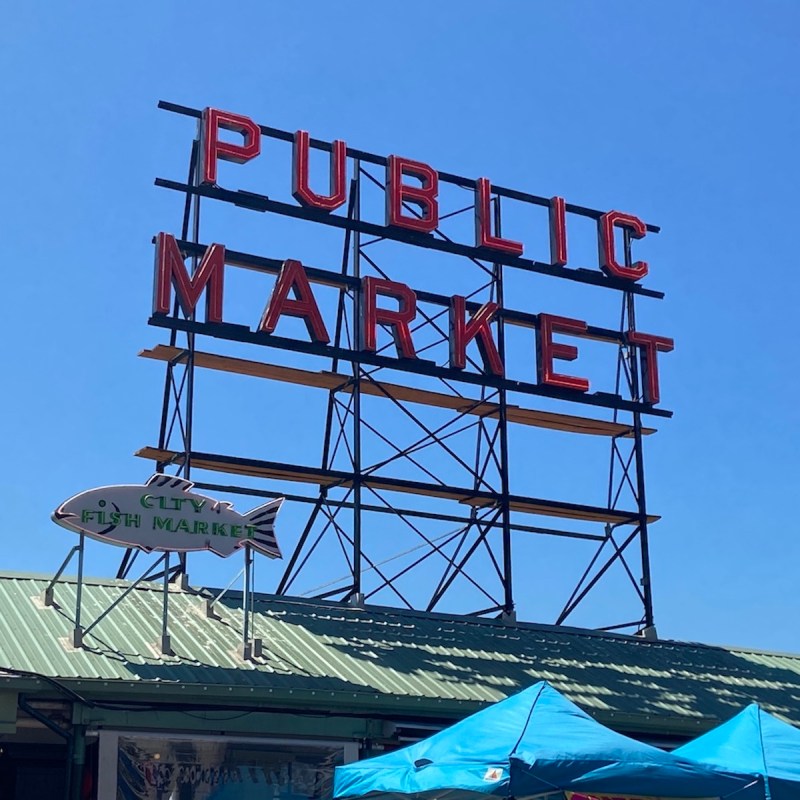 Pike Place Market is recognized as "one of Seattle's local treasures." Featuring goods from nearby farms, delicious seafood from nearby waters, quality goods, and distinctive crafts, the Market has been a staple in Seattle's history for over 114 years. Known as Seattle's neighborhood marketplace, there is something for everyone. 
This article will focus on how to do a unique food crawl in Pike Place Market. First, some basics:
Where Is Pike Place Market?
The Pike Place Market is in Seattle at Pike Street and 1st Ave., near Pier 59.
What Is The Best Way To Get There?
I prefer to walk, use public transportation, or Uber to reach the market. If you are staying downtown, the market is within walking distance.
Part of the fun of the market is just wandering through its confines. However, as you cross back and forth across the street during that stroll, it is easy to forget to watch for delivery trucks. Remember, as trucks are backing up, the driver may not be able to see you, so be extra careful and remind yourself often!
Parking At Pike Place Market
If you have your own vehicle, there are two public parking garages. Entrances are off Western Avenue and Alaskan Way. There are early bird, evening, and daytime rates.
Types Of Food Offerings
The food scene has something for everyone. Choose from sweets and bakeries, restaurants, bars, casual dining, deli/sandwich shops, fine dining, ethnic restaurants, specialty foods, fruit and vegetable stands, and wine tasting rooms.
Plan Your Visit
The hours of each business vary. Most are open from approximately 9:00 a.m–6:00 p.m. The Pike Place Market website will help you by providing hours for each business located in the market.
Begin by downloading a Pike Place Market Map and Visitor's Guide, or you can pick up a hardcopy at the market information booth located just east of the neon sign. Also, note that there are four public restrooms and two public hand-washing stations at Pike Place Market.
I have chosen some of our favorite food sites — some from The Eat Seattle Food Tour and some we discovered on our own. They are listed in no particular order.
Note: Eat Seattle Tours sponsored my tour. All thoughts and opinions are my own.
1. Pike Place Fish Market
Pike Place Fish Market is the quintessential market stop. Spend time admiring the bounty from the sea and the fishmonger's antics. It is great fun! The fish market prides itself on sustainable fishing and promoting healthy oceans.
It also ships overnight to anywhere in the U.S.
2. Beecher's
Beecher's Handmade Cheese shop features glass walls to enable you to watch the entire cheesemaking process. In operation since 2003, and sourcing milk from local farms, all cheeses are free from artificial ingredients. Beecher's claim to have the "World's Best Mac n' Cheese" and I will vouch for that!
Purchase some of the Flagship Cheese to make your own mac n' cheese. Click on the link for the recipe.
Beecher's also sponsors the Beecher's Foundation, food education programs for all ages.
3. Jack's Fish Spot
Celebrating 40 years next year, Jack's Fish Spot has as its motto, "Fresh Fish at a Fair Price." It has a seafood bar, take-out menu, and also will ship overnight. The halibut and chips are particularly delicious. Servings are large; you might want to share a portion — so that you can try some other market goodies!
Pro-Tip: For take-out dining, there are two new public seating areas on Pike Street and Pike Place. As well, there are five public seating areas of patios and balconies across from the market.
4. Indi Chocolate
I am going to add to the name and call it heavenly Indi Chocolate! Stop by to watch the chocolate factory onsite, then relax with a coffee and the Indi Chip cookie. Shop for unique gifts, including chocolate soap, lip balm, and lotion. It also offers chocolate and coffee classes and a variety of other events.
5. Lowell's Restaurant & Bar
Lowell's Restaurant & Bar is another iconic restaurant, serving the public since 1957. The restaurant has three floors that present stunning views of the waterfront, Olympic Mountains, and the busy Port of Seattle. Lowell's offers breakfast, lunch, cocktails, ales, and wines. You order on the first and third floors as you enter, then find your favorite seat view, and your food is delivered to you.
Pro Tip: If you are planning any sit-down restaurant meal, I advise you to go either early or late for lunch or supper. Otherwise, the line can get very long.
7. Uli's Famous Sausage
You will find some of the best brats and sausages outside of Germany at Uli's Famous Sausage. The Bierstube at Pike Place Market offers choices of meats and flavors in its authentic German deli and restaurant.
8. Three Girls Bakery And Daily Dozen Doughnut Company
Follow your nose to two bakeries: Serving Seattle since 1912, Three Girls Bakery offers breads, pastries, soups, and sandwiches. Do try the famous meatloaf sandwich.
You might also consider stopping at The Daily Dozen Doughnut Company for its iconic mini doughnuts. Enjoy them while they are still hot.
9. Pike Place Chowder
In 2018, Pike Place Chowder was named "America's Number 1 Chowder" by Yelp. It has also won numerous other awards.
The most popular chowder is the traditional New England chowder. Pike Place Chowder offers a variety of other chowders like smoked salmon or crab and oyster chowder. You can order pickup online and avoid the sometimes long line of waiting customers.
10. The Original Starbucks
Enjoy a coffee at the original Starbucks. This location is where the company began in 1971.
11. Truffle Queen
Are you looking for specialty condiments, spices, and wine? Stop at Truffle Queen for a great selection of "truffle-centric" finishing salts, kinds of vinegar, sauces, and even truffle almond brittle.
Enjoy tasting the bites and morsels at the sample tables while the staff gives serving ideas.
12. Northwest Tastings Wine Bar
Northwest Tastings Wine Bar features wines from White Heron Cellars, small bites, chocolate, cheese, and a fantastic view of Puget Sound and West Seattle. Enjoy sampling white varietals, pinot noir, malbec, and a rosé.
13. Numerous Fruit And Vegetable Stands
As you stroll the market, you will be awestruck by the variety and selection of fresh fruit and vegetable stands. Of course, the selection varies with the season. Some local favorites include Frank's Quality Produce and Manzo Brothers Produce. You will also find food stalls serving fresh roasted corn in season.
Plan to spend at least several hours at the market. Once you have visited, I am sure you will want to return. Two days after our food tour, we returned for another morning and a delightful lunch.
Pro Tip: Nearby attractions include the Seattle Aquarium, Argosy Boat Tours, Seattle Space Needle, Chihuly Garden, and Glass, and Seattle Great Wheel. You can easily spend an entire day in the area — and still want to return!
Best Times To Visit Pike Place Market
The best time to visit the market is during the week. Weekends can be very crowded, but that also is part of the fun!
The Eat Seattle Food Tours
Eat Seattle Tours offers 1 and 2-hour chef-led tours of Pike Place Market. We enjoyed the 2-hour tour and heartily recommend it. The tour is an excellent introduction to the market and its history. You will meet some of the vendors and hear their unique stories. Be sure to go hungry — there are lots of food tastings on the tour!
For more on Seattle, check out these articles: