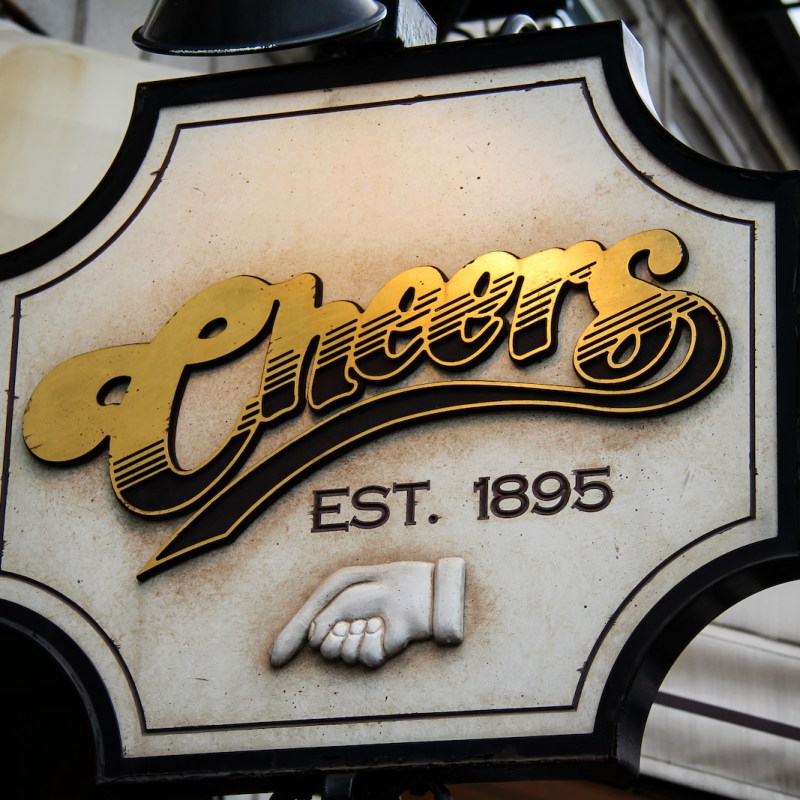 If your idea of a great cocktail is anything that comes in a glass, prepare to be amazed. The effort the establishments below put into their beer, wine, and cocktail selection pays dividends with every sip.
1. Drink
348 Congress Street, Boston
Drink is the brainchild of Barbara Lynch, an innovative force on the Boston food and drink scene for more than two decades. This establishment is dedicated to the cocktail, and they're guaranteed to have your poison. Since they don't have a drinks list, each cocktail is specially tailored to you.
No menu, you ask? Yes, seriously: No menu. Just give the bartenders some guidance, relax, and get ready to sip on something you'll wish you could replicate at home.
Do you prefer gin or vodka? Sweet or sour? A little spice? Just throw your requests at the staff — they're ready!
If spirits aren't your thing, don't worry. The staff also prides themselves on their unique wine list. They also offer a fine selection of craft beers.
Beware: Drink can be a challenge to find. It's in a basement, but the design of the bar invites conversation. Come with a group or by yourself; either way, be prepared to make new friends.
If you happen to be in Boston the second Sunday of the month, clear your schedule at 4 p.m. It's Tiki Sundays at Drink, an entire afternoon of island-inspired drinks and food.
9 Park Street, Boston
No. 9 Park is a perfect spot to dine on, but we're not talking about food right now.
No. 9 Park has a great bar area, but it also offers cocktail classes. Of course, this isn't a 'drop in on a whim' experience. It requires good timing and some prior planning. The two-hour classes take place once a month on Sunday afternoons, and each one covers a different cocktail topic.
You'll learn, sip, and snack during those two precious hours. There's a dedicated theme for each class, and when you return home, you'll have the tools to create amazing drinks for your friends.
500A Commonwealth Avenue, Boston
The Hawthorne is located in the Hotel Commonwealth in Boston. You might wonder how a hotel bar made the list of top spots for a cocktail, but their creativity and selection places them a cut above your typical hotel bar. Places like this are where the term mixologist, came to be. The extra wit added to the menu doesn't hurt either. There's a little something for everyone, but especially for rum lovers.
While The Hawthorne specializes in the cocktail, the beer and wine options are also noteworthy. The Hawthorne also has more Cider choices than you usually see on a menu, including a sparkling option.
The Hawthorne was a James Beard Award Semifinalist for Outstanding Bar Program in 2013 and 2015. It is owned by Garrett Harker, who has also been a James Beard Award Semifinalist for Outstanding Restaurateur four years in a row.
The Hawthorne's proximity to Fenway Park makes it the perfect place to grab a drink before a game, or – if your team is in town – to grab a hotel room as well.
528 Commonwealth Avenue, Boston
Just down the block from The Hawthorne is another Garrett Harker creation. Eastern Standard Kitchen and Drinks believes there is a story behind everything they serve. And, while you can't go wrong grabbing a bite to eat here, it's also the perfect place to enjoy the lively atmosphere and have a cocktail.
The cocktail list is full of exciting twists and turns. The wine and beer lists are more than extensive. If you can't find something you like to drink here, well, you're not trying. But, if you are left with wanting something more, Eastern Standard Kitchen and Drinks urges customers to ask about rare selections they may have but aren't listed on the menu.
While you can take a seat at the bar anytime, if it's busy you may need to wait until the space clears out a bit before enjoying the bar area. The lounge and hi-top areas are two additional spaces where you can savor your drink.
2 Winter Place, Boston
If you're ready to take a trip back in time, this is the place. Yvonne's feels like a 1920s speakeasy, marketing itself as a "modern interpretation of the supper club."
The space is decorated with chandeliers, mahogany, and plush chairs and sofas. It's the kind of place where you just want to sit back and smoke a cigar – or you would if it were allowed.
The fantastic atmosphere is equaled by its excellent cocktail and wine list. The beer list is good too – it's just not the star of the show.
If you're hungry, Yvonne's also has an excellent menu. Its chef, Juan Pedrosa, was a James Beard Award Rising Star Chef of the Year semifinalist in 2017. It's located near Boston Common, so it's easy to get to after spending the day in town.
10 Bosworth Street, Boston
This establishment is named for the French-American entrepreneur Henry Marliave, who first opened a restaurant on the site in 1885.
Today, Marliave's cocktails transport you back in time with names like "Jennie Churchill," "A Duel," "W.C. Fields," "1875," and "Bourbon Democrat." If you don't see a cocktail that you like on the menu, just tell the bartender your preferences and they'll experiment. The wine and beer offerings are also good.
Marliave is downtown near the Granary Burying Ground. It's a great spot to have Happy Hour once you've walked the Freedom Trail or toured the Massachusetts State House. It can be easy to miss because it's tucked in at the very end of Bosworth Street. (If you happen to stumble upon the entrance on Province Street, it's for Marliave's Espresso Bar.)
38 Congress Street, Boston
This is another Garrett Harker site. You're probably picking up on the trend now: this guy knows how to mix a drink. Row 34 also happens to be a fantastic place for food as well.
When you drop in at Row 34, grab some oysters to go with your highball. It can be loud here, so if you're looking for a quiet, intimate evening, this probably isn't the place.
The beer and wine lists are also substantial. The bar is first come first serve, as is the norm. Just know that if the bar's full, you could be put on a wait list.
4228 Washington Street, Boston
It feels like a requirement to put a craft brewery on a best drinks list. They're fun, innovative and you're really tasting the fruits of someone's labor. If beer isn't your thing, this isn't the place for you. But if it's in your wheelhouse: jackpot!
Since opening in 2013, Trillium has become one of the best craft brewers in New England. They don't just produce some of Boston's top brews; they're always near the top of the list in the six-state area.
They're farm to glass, using local ingredients whenever possible. Try what you know you like, but Trillium has been recognized for their pale ales and IPAs in particular.
Trillium has three locations in the Boston area. Right now, they don't serve beer by the glass or sample beer at their original location in Fox Point, so only go there if you plan to carry a case out. Their Canton location has the largest selection, but it's also the farthest from the city center. The Roslindale location is in between the two, has a selection of eight to ten beers, and is the place to be to just grab a pint.
In the summer of 2017, Trillium began serving beer in their Greenway Beer Garden, located on the Rose Fitzgerald Kennedy Greenway, at High Street and Atlantic Avenue in downtown Boston. The site is open during the warmer months and looks out onto Boston Harbor. It also serves wine from Westport Rivers Winery.
84 Beacon Street, Boston
Cheers, originally known as the Bull & Finch Pub, is just a fun choice. If you didn't watch the T.V. show, coming here probably won't do much for you. But if you've always wanted to walk into a bar and have someone yell "Norm!", or you're looking for a guy at the bar spouting needless facts, well this is a must stop. (Neither of those things happen, by the way, but they're still fun to imagine.)
The bar area doesn't exactly look like the television version and that's what makes the experience unique. You get to compare what you remember from television to what the actual bar that inspired the sitcom looks like. Also, if you remember the final episode and the afterparty where the cast was hanging out of the windows above the pub, well, you'll be able to picture that too.
This is a tourist hotspot, even though a new episode hasn't been produced in 25 years, so be prepared to wait. You may not get that coveted seat at the bar that you really, really want unless you get there early or are good with a wait.