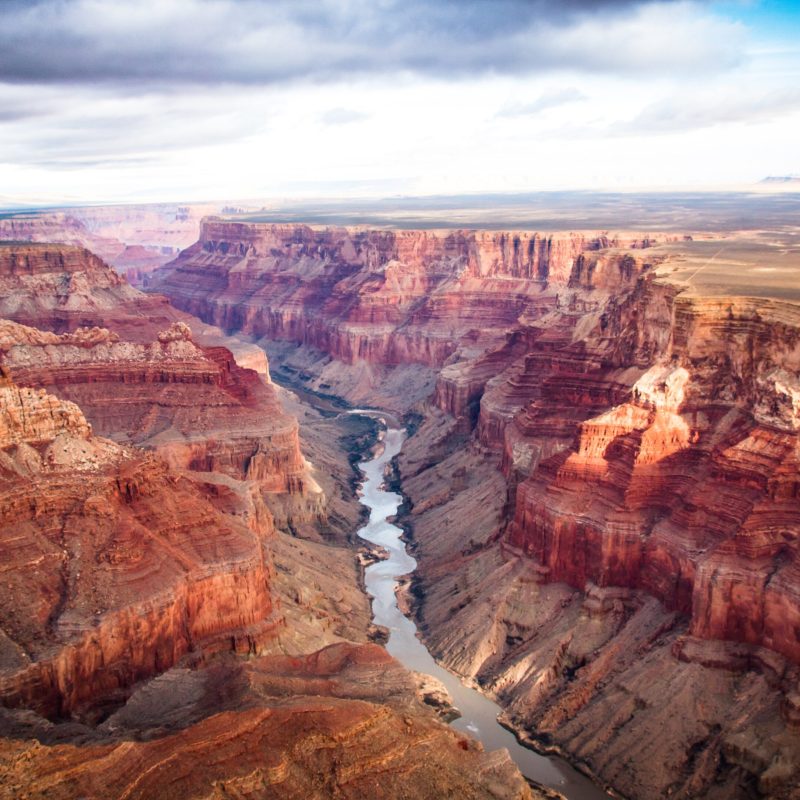 There are times when staying off-property saves you money and doesn't cost you a whole lot when it comes to experiencing the main event. But when you're planning a trip to the Grand Canyon, location is everything.
Whether you fly into Phoenix or Las Vegas, it will take you between 4-4.5 hours to get to Grand Canyon Village on the South Rim. You can save time if you're driving from Vegas and just hit the Skywalk, but if you want to spend time in the National Park, you need to be in The Village. Unlike the North Rim, the South Rim is open to visitors all year long.
The area does get crowded during the day, especially during the spring, summer, and fall, but if you stay in one of the lodges, you'll enjoy peaceful mornings and evenings. Just imagine getting up, strolling out of your room – and there it is. It's just you, maybe a few other early risers, and the immeasurable beauty of the Grand Canyon. Or, before you're ready to turn in after a day of hiking and exploring, you take a seat on the rock wall and watch the colors of the canyon change during sunset. Then it's just a short walk to bed or to one of the lounges for a cocktail instead of jumping in the car for another hours-long drive.
13% Off with code SMRFUN for 13 weeks of Summer on 1 & 2 day Whitewater Rafting
Lodging
There are several lodging options in Grand Canyon Village, but all are owned by Xanterra. It's easy to use their website to see which rooms are available, compare prices, and check if they're offering any deals. When we went in February, we received two free breakfasts and two bus tour tickets with our room. It was an excellent value – one of the perks of traveling during the off-season!
The main thing to remember when planning a trip is: 13 months. That's how far out you can book any of the rooms on the South Rim. El Tovar Hotel is the pricier and more sought after choice. It was built in 1905, patterned after a Norwegian villa and a Swiss chalet. The lobby is flanked by a rustic stone fireplace which complements the taxidermy on the walls. There are 78 rooms, and no two are alike.
Right next door, you'll find the Kachina, Thunderbird, and Bright Angel Lodges. The rooms are nice and if you can get one with a view of the canyon, even better. (Bright Angel also offers stand-alone cabins.) Maswik Lodge is another option, but it's not directly on the rim. It's a few blocks away, but still a better option than staying outside of the park.
Phantom Ranch is a unique experience. It's the only lodging on the floor of the Grand Canyon. You'll need to either hike (7.5-10 miles), ride a mule, or raft the Colorado River to get there. And you'll need to enter the lottery 15 months before you plan to travel to try and win a room. There are dormitory style accommodations, but if you're going to do it, try to get a cabin. Just be aware: the cabins have sinks and toilets, but no showers. Those are in a central location. Also, don't forget to eat! You'll need to reserve your breakfast and/or dinner in advance too. There are specific seating times at the Phantom Ranch Canteen. You can't just come and go as you please.
One neat thing to do if you stay at Phantom Ranch is to mail yourself, and friends or family, a post card. Spoiler alert: when it arrives it will say, "Delivered by Mule," since that's how everything gets to and from Phantom Ranch. How cool is that?!
It's important to be prepared if you plan to hike the 7.5-10 miles to Phantom Ranch, so check out this Things to Know guide before booking your trip.
Food & Drink
You might assume the dining choices on the South Rim would be an afterthought since everyone's really here for the view. But there are several excellent options. The menus have been updated, but they still feature dishes that were originally offered more than 70 years ago.
The El Tovar Dining Room offers the most diverse and upscale menu. It's also the most difficult reservation to get. If you can't snag a spot for dinner, try breakfast or lunch. To top it off, the windows of the dining room give you a beautiful view of the canyon while daylight lasts. The restaurant has been recognized for its wine list, earning the Award of Excellence four years in a row from Wine Spectator Magazine. More than 70% of the winemakers on the list use organic and sustainable farming practices. El Tovar has hosted some people you may have heard of, like Teddy Roosevelt and Sir Paul McCartney.
If you want to grab a quick bite or cocktail, the El Tovar Lounge, next to the dining room, is your play. Plus there's an outdoor seating area with fantastic views.
Two restaurants located in Bright Angel Lodge are more casual, but still quality. You can grab breakfast, lunch, or dinner at Harvey House Café. While you can order traditional items like eggs and bacon and burgers, there's also a nice selection of southwest options. The Arizona Room serves a dinner menu dedicated to and inspired by the flavors of the state. It's still casual, but includes items like filet mignon and salmon.
Activities
Other than the view, the park is most famous for its mule rides. If you talk to someone who's ridden a mule before, odds are they'll either have loved it or hated it. They're bred on a farm in Tennessee specifically for use at the canyon.
You may wonder why mules are used rather than horses; it's because mules can actually see each of their four hooves at all times because of the placement of their eyes. They're also not as excitable as horses, which is handy in rugged terrain. Don't worry: once the mules arrive in Arizona, they are thoroughly trained before any visitor can ride them. If you don't have time for an overnight mule ride into the canyon, there are three-hour long mule trips offered daily along the South Rim.
If you want to hike into the canyon, you can access the Bright Angel Trailhead from the village. The rule of thumb is to give yourself twice as much time to get out as it takes to go in. Also, make sure you are dressed appropriately for the weather and have plenty of water. Everyone at the Grand Canyon takes the safety of visitors very seriously. At the transportation desk at Bright Angel Lodge, a sign warns about dehydration by using the death of a Boston Marathon runner in the canyon as an example. And, as the National Park Service warns, easy hikes don't exist at the Grand Canyon.
There are smooth water day trips on the Colorado River that leave from the South Rim. They're pricey and will take a full day. If you need more of an adrenaline rush, check out the whitewater options. You can spend up to 18 days with a guide on the river if you'd like.
There are plenty of spectacular views to be discovered simply by exploring the South Rim. The drive east to Desert View offers several excellent lookout points along the way. Definitely stop at Lipan Point. Locals will tell you it offers some of the best views and I would agree.
Also make sure to stop at the Tusayan Museum and Ruin, where you can walk through the remains of an 800-year-old Puebloan village. The museum is just one small room, but it also has some interesting artifacts. It will only take you about half an hour to see everything – and that's if you take your time.
At Desert View, there's a market, a gift shop, a snack bar, and the main event: the Watchtower. It was designed by architect Mary Colter and built in 1932. She studied the architecture of ancestral Puebloans in the Southwest to inspire her work. Inside, you can study the wall murals created by Hopi Indian artists as you climb the 85 stairs to the observation area. This is also where you'll have some of the best views of the Colorado River.
Mary Colter is a name you'll hear quite often while at the South Rim. In addition to the Desert View Watchtower, she's responsible for designing Phantom Ranch, Bright Angel Lodge, Hermits Rest, Hopi House, and the Lookout Studio. It's pretty impressive to think that a woman in the early 1900's had such an impact on the area.
Hopi House is located across from El Tovar, and is filled with wonderful handmade Native American items including jewelry, pottery, and rugs. It's the perfect place to glean a piece of the Southwest.
If you want to head west along the South Rim from the village to Hermits Rest, you'll have to hike, bike or take a bus if you visit between March 1st and November 30th. The road is closed to car traffic during that time. Hermits Rest is about nine miles from the village. It's another beautiful building with a large stone fireplace and other antiques.
There are several bus tours available on the South Rim, including Sunrise, Sunset, Desert View, and Hermits Rest. We got in late, so the Sunrise tour was out of the question. Instead, we opted for the Sunset tour, since we knew we wanted to explore Desert View and the sites along the way at our own pace. Our tour took us west towards Hermits Rest. Our driver, Bob, offered interesting tidbits you wouldn't have otherwise learned if you were just on your own, and he took pictures of the guests at different stops. He also told a scary story about some of the things he's seen visitors do, like hang from the CANYON SIDE of the metal rail at an observation point while trying to take a selfie. He says they lived to tell the tale. As I mentioned, our tickets were included in our room, but I spoke with others who thought the bus tour was worth the cost in itself.
There are two transportation desks, one at Bright Angel Lodge and the other at Maswik Lodge. It's where you'll find information about and check-in for many of these activities, including mule trips, bus tours, float trips, and bicycle tours.
Now, there is something to be said for just taking time to soak it all in, and you can do that by sitting in one of the rocking chairs on El Tovar's porch. It's a terrific way to start or end your day.
Pets
Your fur-baby is allowed on the trails along the South Rim. However, pets are not allowed below the rim or on buses unless they are service animals. They are also not allowed in any of the guest rooms offered by Xanterra. There is a kennel which boards dogs and cats during the day and overnight. The rates vary, and reservations are recommended.
The South Rim of the Grand Canyon is 7,000 feet above sea level, so if you're not used to that kind of elevation, you'll want to ease into physical activity. The elevation also raised the chance of snow in the winter and on cooler nights in the summer. However, the temperature on the canyon floor is on average 20 degrees warmer than the rim. It's not unusual for the temperature to top 100 degrees on the canyon floor in the summer.
Parking
You will most likely be driving to Grand Canyon Village. Just know that parking near the lodges can be difficult, if not impossible, during the spring, summer, and early fall if you are just going for the day. Free shuttles do run from the Visitor's Center and there is plenty of parking there.
If you've never been to the Grand Canyon, put it on your list and plan to stay overnight. Once you're there, you'll wish you had more time to take in the indescribable beauty and experience all the little things folks who just come up for the day often miss.