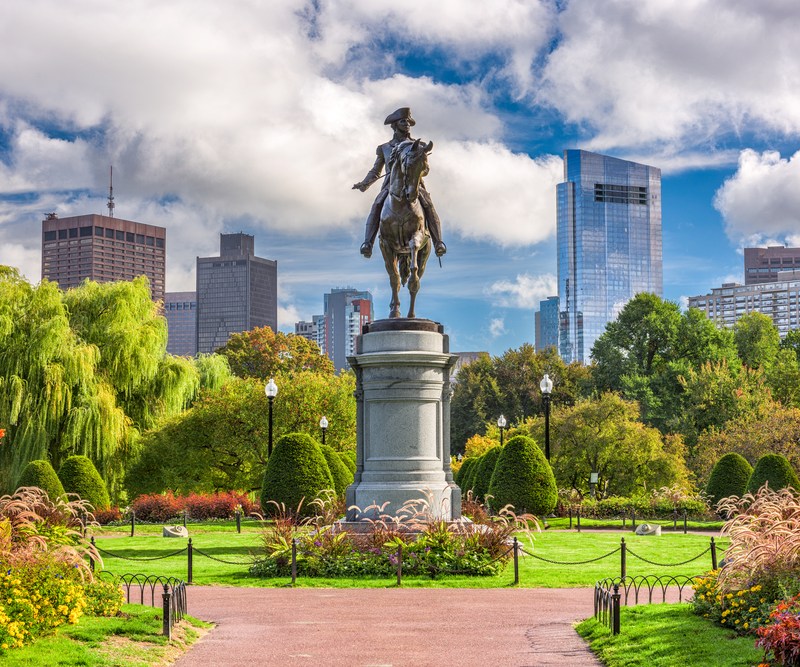 When in Boston, foodies, theater aficionados, and sports fans alike are spoiled for choice, but history buffs have it the best of all. Boston is one of the oldest cities in North America, so you could reasonably argue that just about everything you see in the city is a historic site. But if you have limited time, be sure to visit these eight unique spots where you can experience the city's history and have enough money left over to cover a lobster dinner or two!
1. John F. Kennedy Presidential Library And Museum
Few museums have surprised me as much as the John F. Kennedy Presidential Library And Museum. I was afraid that it would be a sad, solemn building, but instead, I found beautiful architecture, wonderfully friendly staff, and creative displays. A small display on Kennedy's childhood is followed by a film detailing his early political career. Together, they do a great job of explaining who the late president was and the social and economic conditions of his time. The main part of the museum, which showcases Kennedy's presidency, pays homage to the style and media of the early 1960s. Kennedy's untimely death is addressed in just one small exhibit — the focus is squarely on his life and presidency. Before you leave, be sure to consult your map so that you don't miss the large section of the Berlin Wall that is permanently on display.
2. Boston Common
The Boston Common is the oldest city park in the United States and dates to 1634. To say that it's seen a lot of action over the years is an understatement. Battleground, graveyard, skating rink, execution square, sculpture park, pasture, and baseball diamond: The Common has been all of these and more. It's a fun place to go for people-watching, festivals, and a serving of fried dough (think of a cross between churros and beignets). But it really comes alive at night — when you can hang out with the dead! Haunted Boston offers excellent nighttime walking tours of the city that focus primarily on the Common. Those who are easily frightened needn't worry about these ghost tours. The focus is on history and folklore, and while I did glance over my shoulder once or twice, there are no actors or fanciful dramatics designed to make you jump — only good old-fashioned storytelling and a passion for Boston's history.
3. Boston Duck Tours
These fun, family-friendly tours on refurbished World War II-era amphibious vehicles include a 60-minute trip on land followed by a 20-minute ride on the Charles River. The Boston Duck Tours provide a good overview of central Boston with a focus on historic sites like Faneuil Hall, Union Oyster House, and the George Washington statue. The atmosphere is a bit on the silly side (there's mandatory quacking), but the staff members are very knowledgeable and love questions.
To get the best value from these rather pricey tickets ($43 per adult), pay online and book a tour before 10 a.m. to save an extra $9.50. The company's complimentary coupon booklet has extra deals as well. I'm really glad I took the Duck Tour on the first day of my visit. I got a good sense of where things were in the city, as well as some coupons for the rest of my trip — including a lucrative free voucher for a very special tour …
4. MIT And Harvard
At $12 per tour, the Trademark Tours of MIT and Harvard are a good deal. They're even better when they're free! The cost is waived for anyone with Duck Tour tickets — you'll just need to show your tickets or your e-ticket receipt. You don't have to use them the same day you go on your Duck Tour, so there's no need to cram it all into one day. Both tours are well suited for the general public and emphasize campus history, legends, and architecture. The tour guides, actual university students, are personable and happy to share the latest gossip, like what celebrities have lived in different houses and who's donated money in return for honorary doctorates.
5. Abigail's Tea Room And Terrace
Enough time has passed that tea is no longer a touchy subject in Boston, and, at Abigail's Tea Room & Terrace, you can sample the five blends that were dumped into the harbor in protest all those years ago. It's also a fine place for sandwiches, scones, and cookies. Early settlers may not have had the triple chocolate chip, but it's a lovely accompaniment to the old-fashioned tea blends!
Abigail's is part of the Boston Tea Party Ships & Museum. The guided, immersive tours include a visit to a restored 18th-century sailing vessel, where you can pretend to dump the tea!
6. Paul Revere House
Paul Revere was a talented silversmith, and his home, a National Historic Landmark, is one of the oldest surviving dwellings in the United States. But that's not why you know his name: He is best known for his midnight ride in April of 1775 to alert the colonial militia of the approach of the British forces before the Battles of Lexington and Concord. For just $5, you can enjoy a self-guided tour of his home and learn about his life and work. Note that the house is still a cash-only facility.
7. Freedom Trail
Here's a secret I don't always share: When I walk along Boston's fabled Freedom Trail, I usually save the north section for another day. Personally, I like visiting the North End and beyond separately. For instance, Paul Revere's house is on the Freedom Trail, and it doesn't take that long to visit, but I don't like squishing it in with all the other sites. And there are so many fantastic spots to explore between Faneuil Hall and the Boston Common that I want to give them my full attention. Frommer's Boston Day by Day is my go-to for self-guided tours of the Freedom Trail — though I'm easily seduced by their inclusion of nearby cafés and pastry shops! If you'd prefer an in-depth tour on a particular theme, you can take one of the many guided tours led by costumed guides.
8. Boston Public Library
With five to 10 events a day, a popular café, an open on-air radio station, free tours, and an entire gallery of John Singer Sargent's paintings, the Boston Public Library is about so much more than just books. The building's inner courtyard is designed to resemble a Renaissance cloister and is home to a beautiful fountain. Built in 1895, the library is a beloved public institution — and it also serves as the finish line of the Boston Marathon. Joining a tour to learn more about the building's art and architecture is a good way to soak everything up; so is a relaxing visit to the on-site Newsfeed Café. Nearby Trinity Church, famous for its stained glass and distinct Richardsonian Romanesque style, also offers free tours, making this part of Boston ideal for frugal travelers.
Planning a trip to Boston? Be sure to check out some of the best restaurants in the city.
Photo Credit: Songquan Deng / Shutterstock
Photo Credit: Sean Pavone / Shutterstock