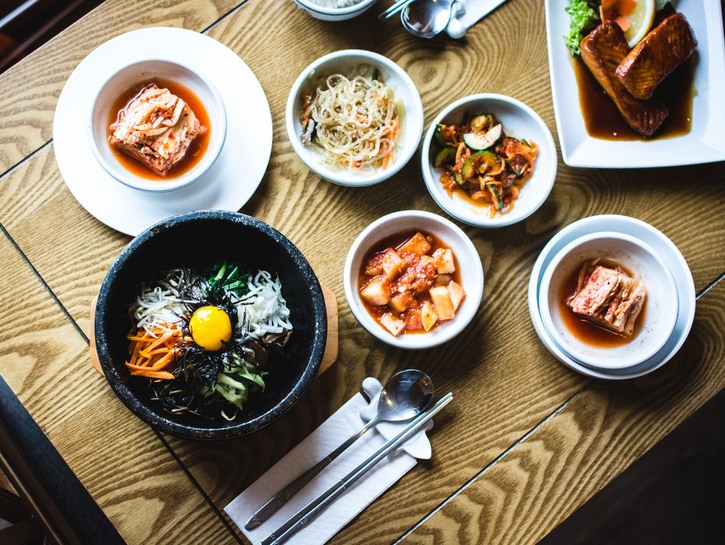 If you're going to New York, you're gonna want to sample some of the best food in the world, since the city has so much of it on offer. Here's a handy guide to some of our favourite eateries in the Big Apple — though, of course, it's just the tip of the iceberg!
1. Bubby's, Tribeca/Highline
This farm-to-table restaurant boasts two iconic locations (one in Tribeca and one in Highline). Both have fresh homestyle food with creative culinary twists at every turn, and both are mobbed daily for breakfast and lunch. House-cured bacon adorns egg dishes, sandwiches and salads, while the fresh buttermilk biscuits are good enough to shock a southerner. Dinner takes off into the stratosphere with left-field options like Tokyo-style Okonomiyaki — a crepe filled with squid, veggies, more of that Bubby's bacon, and a unique Japanese BBQ sauce. Try their famous Peruvian roast chicken, fried chicken and pancakes, or whole fried roman style artichoke with Meyer lemon sauce. If you choose the Highline location, you can walk off the meal in one of the city's best parks; the Highline is a 1.45 mile rail trail maintained by the city of New York.
2. Santina, 820 Washington Street
Before you walk up and away on the Highline, take a look at the glass-encased tropical time vortex that is Santina — it's just across the street from Bubby's. One of the newer restaurants from the Major Food Group, the partnership behind the city's iconic Parm empire, Santina perennially surrounds its guests with the charm of the 1960's Italian Riviera. And it's not one bit kitschy. Devour the signature cecina, which are chickpea crepes that seem vaguely North African but are filled with the flavors of Europe. Seafood is a strong point here, with a grilled branzino and a zippy grapefruit giardiniera that takes the marinated vegetable relish on a tour of your dream beach vacation.
3. Balthazar, 80 Spring Street
Located in the heart of SoHo, Balthazar has made some of the best meals in the city for the past 20 years. The French brassiere serves classic dishes such as french onion soup, steak frites, and selections from a massive raw bar. Although the food is fantastic and comforting, much of the restaurant's enduring popularity comes from its atmosphere and its notoriety as a celebrity mecca. Balthazar is open for breakfast, lunch, dinner and late night drinks and snacks. Next door, a retail outlet sells the restaurants delicious baked goods too, so even if you don't have the time for a meal, grab some of their morning buns.
4. Prune, 54 E 1st Street
Sometimes the best meals are found in small, unassuming spots, such as in chef Gabrielle Hamilton's Prune in the East Village. Hamilton's tiny kitchen cranks out sublime dishes using simple ingredients. Lines wrap around the block each weekend for brunch — and with good reason, as Hamilton serves top-notch Eggs Benedict and Bloody Marys. But avoid that morning chaos and grab a dinner reservation. Prune's famed fried sweetbreads come blanketed in a lemon, bacon, butter, and caper sauce that is the food of gods. Turkish "Disco" Pistachios get the tableside flambee treatment with anise-flavored brandy as an inventive bar snack, while a recent menu featured succulent duck breast poached in a smoked tomato broth. Hamilton is also the best-selling author of "Blood, Bones and Butter: The Inadvertent Education of a Reluctant Chef" and the subject of season 4 of PBS's "Mind of a Chef." Check out the menu and the chef's bio for more information!
5. Cote Korean Steakhouse, 16 West 22nd Street
Not far from the Flatiron Building and Madison Square Park, this new restaurant has gourmands all over the city clamoring for tables. Meat is the star here, but Cote is not your typical New York City steakhouse. Instead of a strip steak with creamed spinach and hash browns, expect a variety of Prime and American Wagyu beef, served with Korean Banchan — or traditional side components such as pickled vegetables, Kimchi, and scallion salad. The Butcher's Feast brings a multi-course concept, which is unheard of at a steakhouse: sliced grilled meats come interspersed with different side dishes, and the meal concludes with some soft serve ice cream. Tables are hard to come by, but try for an earlier seating or check for cancellations as your visiting dates draw near.
6. Cosme, 35 East 21st Street
Just a block away at Cosme, you can enjoy some of the world's most exceptional Mexican food and cocktails. Here, you will not find fajitas or burritos, although Executive Chef Enrique Olvera firmly embraces tortillas and tacos. At Cosme, these dishes are elevated through precise kitchen techniques and fresh flavors. The duck carnitas is a standout dish — and a must-try for anyone visiting the Big Apple. Slow cooked for three days in a sauce that includes Mexican Coca-Cola and Condensed Milk, the resulting perfumed meat melts alongside a funky peanut salsa and fresh chilis. For dessert, the corn husk merengues are the epitome of deriving maximum flavor from a seemingly throwaway ingredient. The earthy essence of farm-fresh corn pervades this dessert, which has made the list of top dishes in the world.
A list of great New York restaurants would be never-ending. These are some of the hidden and not-so-hidden gems in the city's food-capital crown. Check out some of these on your next trip.