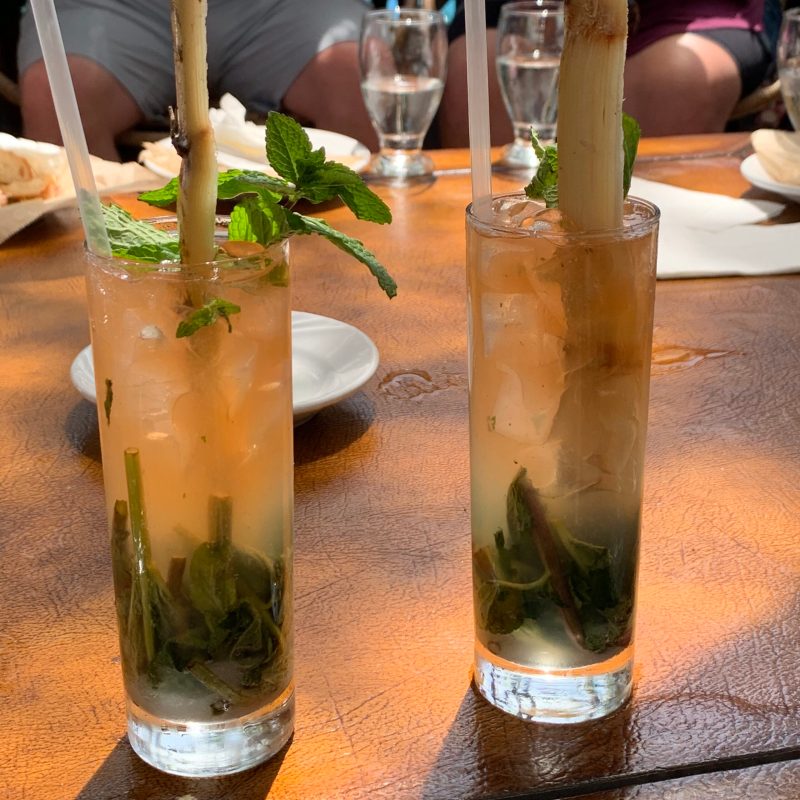 Calle Ocho runs through the heart of Little Havana and is home to generationally run Cuban establishments that offer classic recipes, lively music, and ambience that will take you back to 1950s Cuba. Settled by Cuban transplants who believed they would soon return home, Little Havana was a community of hope and family bonding. As time passed, it became apparent that these exiled families would never return to their beloved homeland. So they turned their attention to preserving Cuban music, food, and culture in their new home.
Throughout the Miami area, you will find authentic Cuban cuisine, updated classics, and inspired renditions. Finding delicious Cuban dishes is easy, since Cuban restaurants can be found in many of Miami's neighborhoods. From window service to elegant dinners, you will be delighted with the options available.
Just keep in mind that the more rustic establishments will have a rooster or two running around the outdoor spaces. They keep their distance and are very entertaining!
Some information in this piece was obtained during a sponsored press trip, but all recommendations are my own.
1. Old's Havana Cuban Bar & Cocina
Seeking out the best Cuban cuisine in the Little Havana neighborhood of Miami is easy. Everything is authentic and delicious. Old's Havana Cuban Bar & Cocina serves up a classic Cubano made with ham, roasted pork, Swiss cheese, and pickles on warm, pressed Cuban bread. The lush tropical setting, perfectly prepared dining options, and 1950s Cuban decor set the stage for an immersive dining experience. 
Pro Tip: This is the place to order a classic mojito, served with gently muddled mint and a slice of sugarcane.
2. Havana 1957
The five Miami-area Havana 1957 restaurants have slightly different vibes, but the same fabulous homeland-inspired cuisine. The Lincoln Road location offers outdoor dining in the middle of an electric shopping neighborhood. During the day, Lincoln Road is abuzz with shoppers looking for name-brand goods. At night, the area is popular with locals and visitors looking for a cocktail, a great dining experience, and a place to strut their latest fashion acquisitions. 
Order the house signature dish, Pollo Havana 1957: perfectly roasted chicken topped with Cuban gravy and accompanied by white rice, black beans, roasted potatoes, and sweet plantains. It's a hearty dish that's simply divine.
Pro Tip: Head over to the Lincoln Road Havana 1957 early in the evening to enjoy a great al fresco meal while watching the parade of revelers out for an evening stroll.
3. Marabú
Taking the Cuban-inspired cuisine out of Little Havana and dropping it in Miami's Brickell City Centre, Marabú offers traditional dishes in a contemporary setting. Order up a selection of small plates to share. Options like octopus escabeche, corn tamales, ember-roasted plantains, and tuna toston bring island flavors to the heart of Miami's downtown district. 
Pro Tip: Ask for a seat on the patio, and let the tropical decor whisk you away to the elegance of old Cuba. 
4. Cafe La Trova
The dynamic Michelle Bernstein and Julio Cabrera have teamed up to deliver contemporary Cuban-style cuisine in a retro hangout. Cafe La Trova serves up a number of delectable tapas offerings, including tuna carpaccio, seafood ceviche, vaca frita sliders, and queso frito. Stop in for happy hour, and stay for dinner. 
Pro Tip: Sipping a specialty cocktail is a must at Cafe La Trova. Try the Hotel Nacional, made with Plantation pineapple rum, apricot liqueur, pineapple juice, and lime juice. It will transport you to a tropical sugarcane plantation on a steamy, lazy afternoon. 
5. El Rey De Las Fritas
Crispy shoestring fries adorn the tops of Cuban sandwiches throughout Little Havana. But no one serves a better frita Cubana than El Rey de las Fritas. A giant, succulent burger swimming in sauce, topped with crispy fries, and sandwiched in a soft roll is the epitome of deliciousness.
Pro Tip: El Rey de Las Fritas has several locations in the Miami area. As you are eating your way down Calle Ocho, stop by the Little Havana location and share a frita Cubana with your traveling companion. 
6. Sala'o Cuban Restaurant & Bar
Sala'o Cuban Restaurant & Bar pays homage to Ernest Hemingway with its fantastic seafood options, a nod to the writer's The Old Man and the Sea.
Beginning with a classic libation is a must to honor Hemingway. And the dining selections will keep you pondering: Start with the ceviche Cubano made with corvina, red peppers, onions, and coconut leche de tigre. Follow up with the arroz negro de calamar, a soup with calamari squid ink rice. The enchilado de langosta Caribeña is a lobster tail prepared in butter with paprika, lobster reduction, and sofrito. The vieiras selladas are scallops with corn, bacon, and a mango chutney sauce. Standout sides include tostones, or fried green plantains, and maduros, or fried sweet plantains. 
7. Los Pinareños Fruteria
Los Pinareños Fruteria is one of the last open-air markets. A true throwback, the fruit market offers a fresh selection of tropical delights. Ask for a coconut, and have the top split to drink your coconut water fresh from the source. A glass of fresh guarapo juice — a refreshing juice made from sugarcane — will please your sweet tooth.
Pro Tip: Fresh coconut juice is perfect for combating a hangover.
8. Azucar
Azucar serves up ice cream flavors that will tickle your taste buds. Classic flavors join Cuban-inspired standouts like dulce de leche, cafe con leche, guarapina, mango, and more.
Whether you make this your first or last stop, you must stop at Azucar. You can't possibly visit Little Havana without stopping for a small cup of sweet ice cream. 
9. Churromania
Who can resist the satisfying crunch of fresh churros sprinkled with cinnamon sugar? It's impossible not to go back for seconds at Churromania. These delectable treats can be found throughout the Miami area, but if you are in Little Havana, grab your favorites and enjoy them while exploring the alleys loaded with artwork, photos, and newspaper articles chronicling the history of the area.
Pro Tip: Try several different kinds of churros and share with your friends. That way you don't have to commit to just one.
10. Versailles Restaurant
The Versailles Restaurant has an extensive menu of Cuban classics. Be sure to check out the daily specials to see how the chef is showcasing Miami's seasonal bounty. The Cuban samplers are a great place to start if you can't decide what to order. 
Pro Tip: Order the guava and cream cheese pie to share for a tasty end to your dinner.
11. La Ventanita
La Ventanita is the Versailles Restaurant's takeaway coffee window. If you are exploring with friends, order a colada — a super-sweet coffee staple that is made to share. When you drink coffee with your friends and family, you share a bond of kinship and joy.
Pro Tip: You might encounter the peanut vendor as you wait for your coffee. A small sleeve of peanuts fits perfectly into your backpack and makes a great snack when you need a little pick-me-up.
12. Sanguich
Sanguich is all about Grandma's family recipes, and the staff members serve up a delicious classic Cubano. Other amazing options include the pan con lechon — a sandwich made with Cuban bread, filled with shredded pork and pickled mojo onions, and dressed with a garlic cilantro aioli — and the Elena Ruthless, with turkey, bacon, cream cheese, and guava marmalade on sweet Cuban bread. 
Pro Tip: Order the colada and share with your friends. It's the perfect sweet ending to a great meal.
The Cuban food scene is exploding in Miami, with new venues crafting upscale cuisine inspired by the classics. For a more traditional sampling of Cuban delights, head over to Little Havana. Miami Culinary Tours offers a Little Havana Food & Cultural Tour that will introduce you to the iconic neighborhood's history and tasty treats. 
More on Miami: