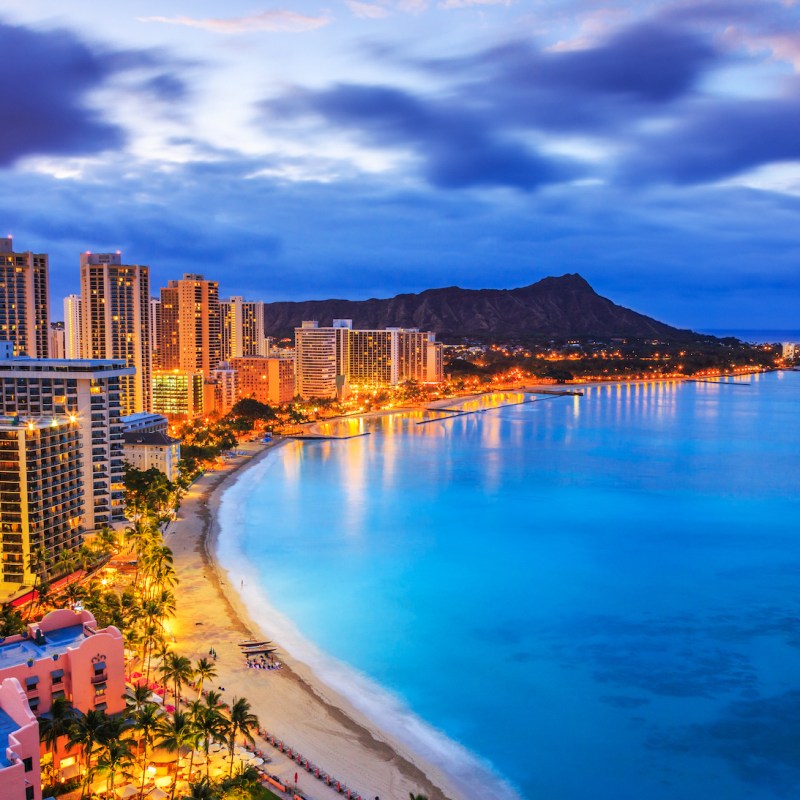 Lodging takes up about a quarter of domestic travel expenditures. Most often, staying in a hotel is more affordable than an Airbnb vacation rental. One is a room or suite, while the other tends to be a house or apartment.
Bounce luggage storage conducted a study to find the most budget-friendly way to stay. It analyzed the prices of Airbnb listings and hotels in top U.S. travel destinations, from Asheville and Nashville to Waikiki and Wyoming.
Data collected from Kayak looked at booking costs over two weeks in October to determine the average price for a one-night stay in a double room. For Airbnb data, Bounce looked at the average nightly cost of a room for two adults for a weekend in October 2021. Then, the company compared these average prices and came up with the percentage saved by choosing a hotel over an Airbnb.
Below, we go over the findings for the top 10 cities and some fun things to do while you're in town. Forgo Airbnb vacation rentals — hotels are the way to go in these destinations.
1. Waikiki Beach, Hawaii
Save 72.86 Percent
Known for its stunning white-sand beaches and deep blue waters, this Hawaiian paradise is located in Honolulu on the island of Oahu. Thousands of tourists flock to Waikiki annually. Downtown in the capital city, you can find one of the most recognized landmarks in Hawaii, Diamond Head.
Hotels and resorts line the coastline, but the area is also home to hundreds of Airbnbs. Lodging prices vary widely depending on amenities such as a pool, but Bounce's findings were surprising. A double hotel room near Waikiki Beach averages $74 a night, while an Airbnb stay costs more than triple that at $271!
2. Grand Teton National Park, Wyoming
Save 72.79 Percent
From its eponymous majestic mountain range to its pristine blue lakes, Grand Teton National Park's photogenic scenery attracts tons of adventurous tourists to Wyoming. Wildlife such as bison, moose, and elk dot the gorgeous landscape. Airbnbs near the park cost nearly 73 percent more than a hotel at $847 and $231, respectively.
3. Yosemite, California
Save 68.14 Percent
Giant rock formations, towering waterfalls, deep valleys, pristine lakes, rushing rivers, gorgeous meadows, and giant sequoias make Yosemite National Park one of the most visited national parks in the U.S. It's especially popular with outdoorsy folks who love hiking.
At an average of $206 a night, hotels in the area aren't cheap. However, a hotel stay is much more affordable than an Airbnb, which runs about $646 a night. Our advice? Skip them both and go glamping!
4. Nashville, Tennessee
Save 67 Percent
Nashville makes for a fabulous weekend getaway. Music City is full of cool murals and other hidden gems. Iconic Nashville restaurants serve what the region is known for, hot chicken and live music. At $202, a hotel in this Tennessee city is much more affordable than a $612 Airbnb — 67 percent more affordable, to be exact.
5. Savannah, Georgia
Percentage Saving: 54
Oak-lined squares dripping in Spanish moss decorate this unique vacation spot. This charming Georgia city offers incredible things to do. Visit historic places, explore its hidden gems, and sample its impressive food scene.
At an average of $199, "The Hostess City of the South," is a little more hospitable when it comes to hotel prices. However, an Airbnb will run about $435, so it's still twice as cheap to stay in a hotel.
6. Las Vegas, Nevada
Save 50 Percent
Known as "America's Playground," Las Vegas offers tons of fun things to do! Some of them don't even involve gambling, like going to a spa. Believe it or not, you can even find free (or at least cheap) ways to enjoy Vegas. A Sin City hotel stay comes in at an average of $281, but an Airbnb is at least double that at $567.
7. Yellowstone, Montana 
Save 50 Percent
Geysers, trails, and postcard-perfect scenery draw more than four million people to our country's first national park annually. While most tourists visit Yellowstone National Park in the summer, it's also lovely in the fall and winter. If you've never been to this recreation area perched atop a volcanic hot spot, slap this baby on your bucket list and check out all these cool things to do. Fun fact: Its 3,500 square miles of wilderness are home to the largest concentration of mammals in the contiguous United States.
The park's 1,221,773 acres of public land straddle the states of Wyoming, Montana, and Idaho. Bounce looked at the Montana section of Yellowstone, where a hotel room costs half as much as an Airbnb at an average of $229 and $456, respectively.
8. Houston, Texas
Save 48 Percent
America's fourth-largest city also happens to be the sixth most affordable vacation city in the U.S. Houston offers a plethora of fantastic things to do, many of which are free or almost free. Some may even surprise you, like these hidden gems.
A hotel stay in Beyonce's hometown is only $143, while an H-town Airbnb costs almost twice as much, at $277.
9. Asheville, North Carolina
Percentage Saving: 41
This scenic Blue Ridge Parkway stop makes for a wonderful weekend getaway. There's so much to do — from touring the historic Biltmore Estate to checking out the city's quirky museums. In addition to a bevy of breweries, Asheville also boasts several fantastic restaurants. Explore outdoor experiences, including nearby waterfalls. Blue Ridge Mountains hiking trails are just a short drive from downtown.
Asheville Airbnbs costs an average of $346, while a hotel room is 41 percent more affordable at $205.
10. Jackson Hole, Wyoming 
Save 35 Percent
Often lumped in with the nearby town of Jackson, the valley of Jackson Hole is formed by the Teton Mountains to the west and the Gros Ventre Mountains to the east. The area is famous for its skiing, Western atmosphere, and outstanding views. Whether visiting in summer or winter, the small town makes for an excellent base for exploring Grand Teton National Park's 200-plus miles of trails, pristine lakes, and ample wildlife. Yellowstone is just a couple of hours away, too!
Lodging can be pretty pricey no matter where you stay. A hotel room costs around $336, while an Airbnb costs 35 percent more at an average of $513 per night.
Of course, something else to consider when weighing your lodging options is that staying at an Airbnb can save money in other ways. Unlike most hotel rooms, Airbnbs usually have a kitchen, allowing guests to cook meals and save on the cost of dining out.
Another thing to consider is that Airbnbs often have more than one bedroom, so you can save money by traveling with others and splitting the cost. However, many Airbnbs come with exorbitant cleaning fees, service fees, and occupancy taxes and fees that hike up the total.