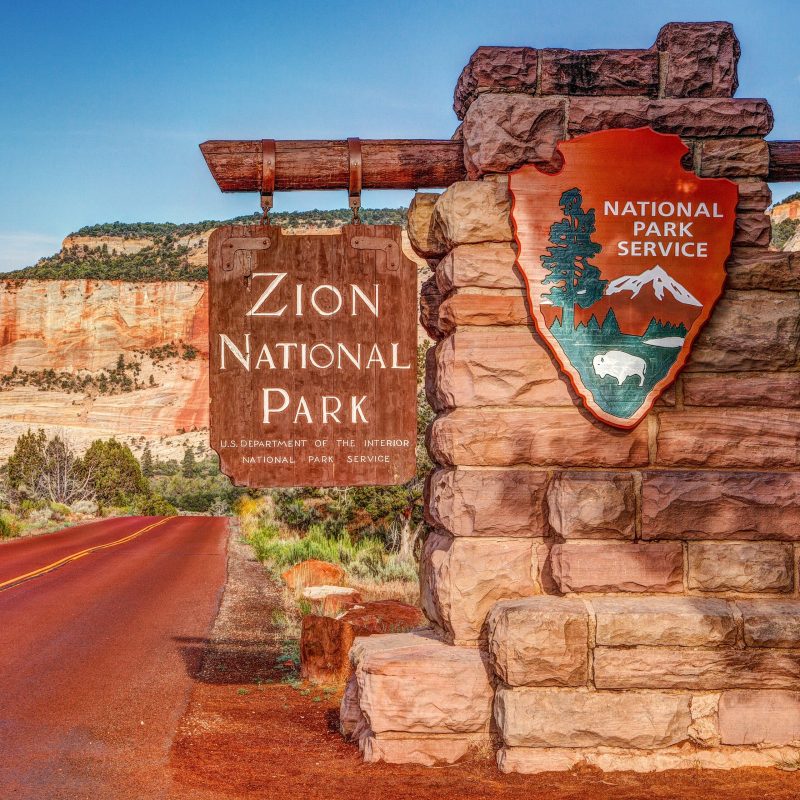 Zion National Park in Utah is a beautiful destination, filled with stunning scenery everywhere you look. Zion means "peace and refuge," and many travelers feel it is a mystical place, perfect for self-reflection.
Others experience Zion as an outdoor enthusiast's paradise because the hiking and climbing opportunities are unparalleled in their variety. Make your way to Zion in any season, though I prefer the shoulder seasons for temperate and fair weather. Fall is by far the most popular time to visit due to cooler temperatures.
There are many options for lodging during your visit. There are places in the park as well as a host of hotels, vacation homes, bed and breakfasts, and RV sites outside the park. There are even some free sites for the intrepid to use. Come along and consider where you can stay.
Have A Tranquil Insider Experience
The ultimate insider experience is a stay at Zion Lodge in Zion National Park. It was rated Guest Favorite for 2019 by Hotels.com and has 4.5 stars on TripAdvisor. Location is everything for this hotel since you are in the park, on the shuttle route, and have access to everything in the park 24/7, including the night sky. There is an onsite restaurant serving three meals a day. The park shuttle does not run in the winter, but there is free parking and the park drive is open to cars.
National park lodges are a coveted reservation and Zion is no exception. Make your plans early. You have your choice of a nicely appointed hotel room or your own cabin! There is one small inconvenience of staying at Zion Lodge — no high-speed Wi-Fi (despite what the hotel room description says) and spotty cell service. Cameras work, and as soon as you get to town you can upload and download. I'll trade Wi-Fi for the spectacular 360-degree views that will make you forget about the rest of the world.
Stay In Town Where The Action Is
There is no shortage of accommodations just outside the main South Entrance of the park in the town of Springdale. It is an artists' community that also caters to tourists. There are shops, galleries, and a wide variety of local restaurants. Utah Highway 9 is the main drag, and most of the hotels, from the Holiday Inn to upscale local motels, are situated on it. Every hotel has access to a stop for the Springdale free shuttle, which will deposit you at the pedestrian entrance to Zion. Most of the hotels have free parking. Public parking in Springdale will cost about $20 a day. The park has very limited parking for visitors that fills up early in the morning. Let's look at some interesting options of where to make your base camp.
Surround Yourself With Views
Canyon Vista Lodge is a little-known gem (with 5 stars on TripAdvisor) that's located at the far end of the Springdale strip. It is a bed and breakfast that is an extension of Zion National Park, but isn't technically inside its perimeter. The lodge is on the Springdale shuttle route but seems secluded. The Virgin River runs behind the sprawling property and back patio. Needless to say, this place has views of the park that never end. There are four different suites to book with rustic four-poster and sleigh beds along with modern amenities. Breakfast is served with a unique opportunity: You order from one of the town restaurants and the Lodge delivers it to you exactly when you want it — and this is included in the price of your room. Room service with a view!
Watch The Watchman
One of the most picturesque hotels in the Zion area is the Bumbleberry Inn. Rooms on one side have balconies and patios with an unobstructed view of The Watchman, a spectacular peak inside the park. You'll get to see it in all its different light permutations. Don't have a room with a view? That's no problem. The hotel property is very large and has outdoor seating areas where you can enjoy views like a boss. This hotel has Wi-Fi, an outdoor pool, a restaurant serving fresh, homemade bumbleberry pie, and a theater for live entertainment. The hotel is family friendly and convenient to everything in the middle of the Springdale strip. Though it is not directly on the strip, there is easy access to the Springdale shuttle.
Indulge Your Inner Author
The Novel House Inn is a quaint, 10-room inn that situates itself in the "European tradition." It has a 5-star rating on TripAdvisor and 4.8 on Google Maps. It's off the main drag, but you can access the Springdale shuttle nearby. Each of its rooms is decorated with antique furniture and a theme based on a particular novelist. Very novel. Of course there is a library on site and plenty of chairs inside and out for reading. Reading may not be easy given the stunning views of Zion Canyon from anywhere on the two-acre property, though. The inn has vouchers for breakfast at nearby restaurants.
Explore Zion From Your RV
You can stay inside the park at the South Campground (117 sites, no hook ups) or the Watchman Campground (190 sites, water and electric). Both these campgrounds fill up during the summer and fall and reservations are a must. Like staying in the Zion Lodge, you are in the middle of everything the park has to offer 24/7, including Night Sky programs hosted by the Park Rangers.
Live Luxuriously In Your House On Wheels
The Zion River RV Resort is a very nice place to stay. It is the most upscale RV campground I've been to, and I loved every inch of this place, from its riverfront campsites and the luxurious laundry/shower building to the fabulous camp store/office/TV room where Sunday football is treated as a celebration. The sites are concrete pads, and there is beautiful landscaping throughout as well as a pool. This spot is located 12 miles from Springdale. If you want restaurants and shopping, you go to Springdale. Given it is one of only two commercial campgrounds near the park, it fills up very quickly. Get a reservation early; it is worth it.
Rough It On Red Rock Land
There are many locations near the town of Virgin (14 miles from Springdale) that are designated Bureau of Land Management (BLM) camping sites. You can stay for 14 days maximum for free. This is true boondocking and no reservations are taken. Find a spot and set up your campsite. I stayed for a week and met van campers, tent campers, and of course fellow RVers. A BLM ranger came through at least once a day to take attendance. Highway 9 was a half-mile away and the Virgin River runs nearby, though below ground level. The ground is red rock clay and the mesas are some of the best views you'll ever see, especially at sunset. The roads to get to the camping spots are a little rough, but take it slow and you'll arrive to a magical experience.
Staying Farther Out Is A Tradeoff
You can find more accommodations in Hurricane and on toward St. George that might be cheaper, but the farther you go from the park, the longer it takes to get there. Keep in mind that parking is not easy to find in the park or cheap in Springdale. Hurricane is 24 miles to the park entrance, so add gas and time to your travel plans as well. I highly recommend staying no farther than Virgin (14 miles a way) to keep commuting to a minimum. There is a Fairfield Inn in Virgin.
If you do decide to stay between Hurricane and St. George, you will find plenty of chain hotels like LaQuinta, Best Western, and Quality Inn. Some of these chain hotels are also located in Springdale.
Once you've decided where to stay, review our guide to getting the most out of a visit to Zion National Park.