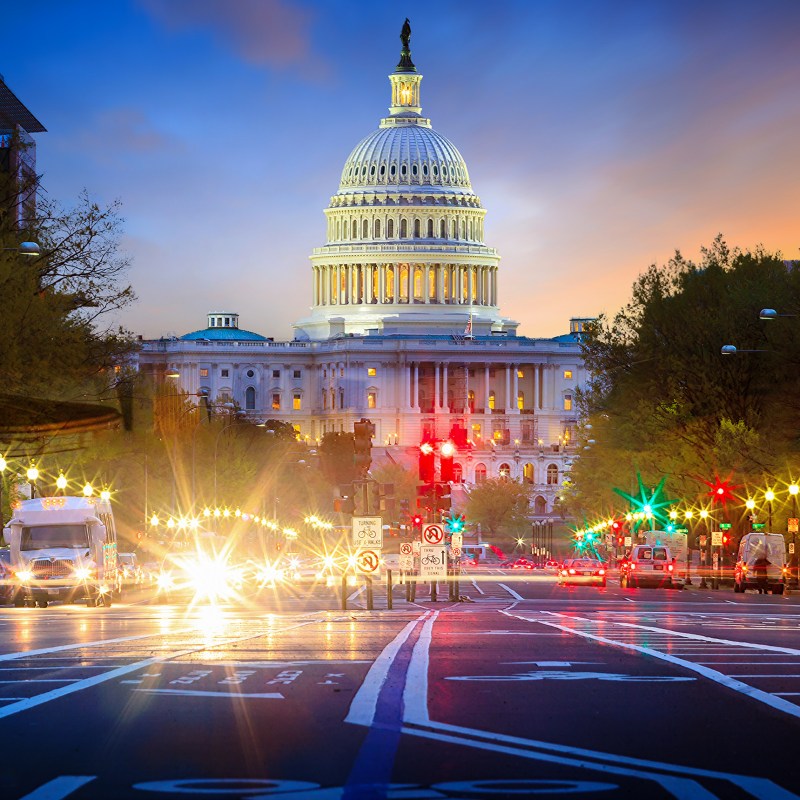 You are heading to Washington, D.C., a place with beauty and history and a delightful array of sightseeing and dining choices. Should you book a hotel or an Airbnb in this metropolis? Here are some considerations from someone who's in the know to help you make your decision.
Reasons To Stay In A Washington, D.C., Hotel
One of the main reasons to opt for a hotel rather than an Airbnb for me is that a friendly front desk person or concierge is available. I like to ask for restaurant recommendations or the best way to get to the Metro station. Even if you can find something easily on Google maps, it's good to know from a local which are the safest and most convenient routes.
Daily cleaning and linen service is another perk of a hotel that I haven't found available in an Airbnb. You can pick up the room phone and ask for extra towels or soap or a toothbrush (yes, I've forgotten mine more than once).
If you are traveling solo or simply thrive on a lively atmosphere, a large hotel with a bustling lobby allows you to be surrounded by people. Smile and nod at those rushing by and you won't be feeling lonely for long.
When choosing a hotel in the Washington, D.C., area, your foremost consideration will be location. The Washington Mall is where you will be heading to see the memorials and Smithsonian museums. This is where you'll find the Capitol, the Library of Congress, and the Supreme Court. The Mall is also home to the Lincoln and Washington memorials, so staying either close to the Mall or near a Metro station is ideal. The Hyatt Place Washington Mall, for example, is just four blocks from all of Washington, D.C.'s, main sights.
If you prefer an updated, trendy locale, the Navy Yard is a short Metro ride from the Mall and features a Riverwalk and the Nationals' ballpark. The Courtyard Washington Capitol Hill/Navy Yard is a popular hotel in this area.
Reasons To Stay In A Washington, D.C., Airbnb
A stay in an Airbnb allows you to be part of a neighborhood. This I've found is the most compelling reason to choose an Airbnb instead of a hotel. Look for a condo or apartment in a residential area, and you will get a feel for what it's like to live there. I stayed in an Airbnb in the Dupont Circle area of Washington, D.C., and by my second day there, I felt a part of the community. I was among people walking their children to school, taking their dogs out for a morning run, and rushing off to work.
Before booking an Airbnb, study a map of D.C.'s public transportation to make sure you can easily walk to a station. The Metro system in Washington, D.C., is efficient and fast, but the stations are farther apart than they are in some other cities I've visited. Seeing I would be able to get to two Metro stations in Dupont Circle within 15 minutes, I happily booked my apartment of choice.
An Airbnb also allows you to stay in a place with more character than a modern hotel. You can typically tell from photos whether this appeals to you. The owner of the apartment I chose decorated with antiques such as an old wooden chest, fitting for a place that's more than 100 years old. While somewhat updated, it was full of quirks. It was fun to read the many little notes taped to shelves and cabinets about how to take care of and work different things. For example, in the bathroom, a note instructed people to be careful with the water pipes because "they are older than you are."
To get the most out of an Airbnb stay, find a nearby coffee house and hang out there every morning to blend in with the neighborhood. In Washington, D.C., I found one a block from my apartment. The proprietor, Sammy, became a fast friend. He gave me recommendations for dinner in the area, plus touring tips.
A caveat about staying in an Airbnb is that owners are not responsible for making the units accessible. The 1880s walk-up I stayed in has no elevator, so getting to the top floor (with luggage) was good exercise, but if you or someone you're traveling with needs more accessible lodging, this may not work out.
With the hundreds of hotels and Airbnbs available in Washington, D.C., you will find options in a wide price range. In this city that caters to visitors, price will likely not be a deciding factor between these types of lodging, and you'll be able to tailor your lodging costs to your budget.
Whether you opt for a hotel or an Airbnb in Washington, D.C., check out listings carefully for the amenities that are important to you. Make sure you stay near a Metro station. And enjoy your visit to this vibrant city!
Don't miss these great things to do in Washington, D.C., that have nothing to do with politics — perfect for when you need a break!