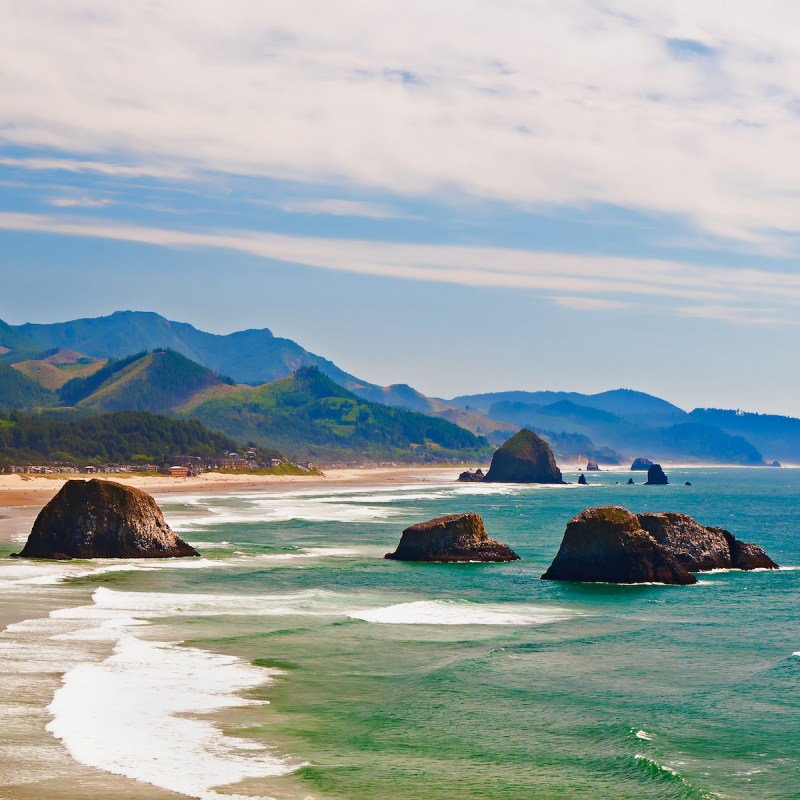 TravelAwaits' 2023 Best Of Travel Awards, presented by
AllTrails
and with the support of
Luggage Free
, the premier luggage shipping service, showcases our readers' favorite destinations and businesses. Nominations and voting took place earlier this year, and we hope the final selections inspire your future adventures; congrats to all of the winners!
Discover the natural wonders of the United States with our list of 15 beautiful beaches, as nominated and voted on by the readers of TravelAwaits in our annual Best Of Travel Awards. These stunning coastal destinations, scattered across the country, offer pristine shores, crystal-clear waters, and breathtaking vistas that are sure to captivate beach lovers of all kinds.
1. Ogunquit Beach (Winner)
Ogunquit, Maine
Located in Ogunquit, Maine, Ogunquit Beach is the winner of TravelAwaits' 2023 Best Of Travel Award for Best Beach in the U.S. This gorgeous New England beach boasts soft white sand, gentle surf, and stunning cliffside views. Stretching 3 miles along the Atlantic Ocean, the beach is actually made up of three beaches: Main Beach, Footbridge Beach, and North Beach.
Popular amongst visitors seeking a tranquil seaside escape, this quaint coastal Maine town makes for a beautiful stop on a coastal Maine road trip. Home to a lively art scene, the adorable New England town features galleries, theaters, and great dining spots. TravelAwaits contributor Melissa Curtain recommends the steamed lobster at Barnacle Billy's. Have a slice of the state dessert, blueberry pie made with Maine's tiny wild berries, or sample ice cream in regional flavors such as butter pecan, rum raisin, peppermint stick, and black raspberry — and be sure to ask for jimmies on top!
2. Chatham Lighthouse Beach
Chatham, Massachusetts
Speaking of adorable New England towns, Lighthouse Beach, our runner up this year for best beach in the U.S., can be found in charming Chatham. This Cape Cod beach makes for a lovely stop on a Boston road trip. In addition to its eponymous lighthouse, this pristine beach boasts picturesque dunes and calm waters, making it perfect for a relaxing day by the ocean — especially if you're into lighthouses!
3. Wingaersheek Beach
Gloucester, Massachusetts
Another gem in Massachusetts, Wingaersheek Beach is one of several beautiful beaches in gorgeous Gloucester. Located on the North Shore, this wide sandy beach is punctuated by enormous boulders at low tide. An expansive shoreline, warm tidal pools, and soft sand make Wingaersheek Beach a favorite for sunbathing and exploring. Offering natural beauty and family-friendly amenities, it's a wonderful spot to spend the entire day out of the flow of downtown Gloucester Harbor.
4. Cannon Beach
Cannon Beach, Oregon
Situated along the Oregon Coast, Cannon Beach captivates visitors with its rugged beauty and iconic Haystack Rock. Adorned with dramatic sea stacks and surrounded by lush forests, this beach offers a mesmerizing backdrop for beachcombing and breathtaking sunsets.
One of the most recognized landmarks in all of Oregon, Haystack Rock is the star of the shore, rising over 200 feet out of the ocean. At low tide, you can walk right up to the dramatic lava formation to see just how mysterious and mesmerizing it really is. Speaking of tides, this beach is also a great spot to observe King Tides. The area is one of Oregon's designated Marine Gardens and is an Oregon Islands National Wildlife Refuge.
5. Huntington State/City Beach
Huntington State/City Beach, California
Some surfers must've been voting in our Best Of Travel Awards. Otherwise, how would Huntington State Beach in sunny southern California make this list? In addition to excellent surfing conditions, this vibrant beach offers a lively atmosphere and a beautiful pier that stretches out into the Pacific Ocean.
Long known as Surf City USA, this is where legends come to ride the waves. But there's plenty more to do, like riding rental bikes along The Strand — a paved path that follows the beach for miles — popping into bars and restaurants along the way. Bring your own yoga mat to practice on the beach!
6. Siesta Key Beach
Siesta Key, Florida
Renowned for its powdery white sands, Siesta Beach consistently ranks among the best beaches in the United States, winning our Best Of Travel Award for best beach in the U.S. in 2021, then falling to second in 2022, and now coming in at sixth place. Situated in Siesta Key on Florida's Gulf Coast, Siesta Beach offers warm turquoise waters, shallow swimming areas, and ample recreational opportunities, making it a tantalizing tropical paradise for beach enthusiasts.
Warm gulf waters allow for year-round water activities, including snorkeling, jet skiing, and parasailing. Rent a canoe, kayak, or stand-up paddleboard, or just spend a relaxing beach day on the stunning quartz sand.
7. Clearwater Beach
Clearwater, Florida
Speaking of popular Florida beach towns, Clearwater is just a couple hours up the road on the other side of St. Pete. Just a short drive from Tampa, this family-friendly destination offers a range of activities, from dolphin watching to water sports, ensuring a memorable beach experience. Thanks to its soft sand, warm Gulf of Mexico waters, and a lively beachfront scene, Clearwater Beach is widely regarded as one of the best beaches in Florida.
As TravelAwaits contributor Tom Wuckovich — who lives in the Tampa Bay Area — attests, "The waves are gentle, the water an Alice blue, and there are amenities to entertain every member of the family. The magnificent Pier 60 is over 1,000 feet long and features a bait house and a telescope for viewing the glorious sunsets. Recreational options nearby include a playground for the little ones, craft shows, musicians, and jugglers."
Pro Tip: "Don't bring alcohol in your cooler," warns another TravelAwaits contributor and former Tampa Bay resident Fred Mays. "The beach is patrolled and they will make you dump your beers in the trash."
8. Ka'anapali Beach
Lahaina, Hawaii
On the beautiful Island of Maui, Ka'anapali Beach showcases the best of Hawaii's natural beauty. With its golden sand, palm-fringed shoreline, and crystal-clear waters, it's a paradise for sun worshippers and water enthusiasts alike. If you are staying at a classic West Maui resort, just take the Ka'anapali Beach Walk Trail to the beach.
Once owned by Hawaiian sugar barons, the miles of soft white sand and turquoise water are punctuated by world class resorts, private cabanas, and all of the water toys you can imagine. The quintessential Hawaiian beachside vacation getaway, Ka'anapali Beach is perfect for swimming, snorkeling, sunning, paddle boarding, boogie boarding, and more. It's also one of the best places to watch the sunset on Maui and lies along the migration path of majestic humpback whales from the northern Pacific. During winter and spring, you can try to spot a whale from the shore or book a whale-watching tour.
9. Waikīkī Beach
Honolulu, Hawaii
No list of beautiful beaches in the U.S. would be complete without mentioning Waikīkī Beach in Honolulu, Hawaii. In fact, this bustling beach was last year's winner. Known for its legendary surf breaks, iconic Diamond Head backdrop, and vibrant atmosphere, this beloved destination combines natural beauty with urban charm. Everyone from fun-loving sun-seekers to families and the beautiful yet bougie see-and-be-seen crowd can be found along this long stretch of sandy beach.
10. Trunk Bay
St. John, U.S. Virgin Islands
Escape to the U.S. Virgin Islands and discover the pristine beauty of Trunk Bay in St. John, which also made our list in 2021 and 2022. Nestled within Virgin Islands National Park, this secluded paradise boasts crystal-clear turquoise waters, powdery white sand, and lush tropical foliage. Dreamy, breathtaking views make it one of the most photographed beaches on the U.S. Virgin Islands.
Snorkelers are drawn to Trunk Bay's self-guided Underwater Snorkeling Trail, but even if you're not into exploring the coral reefs offshore, this tropical paradise makes for a wonderful weekend getaway — no passport required!
11. Coronado Beach
Coronado, California
With its wide sandy shores, gentle waves, and stunning views of the iconic Hotel del Coronado, Coronado Beach can be found on southern California's Coronado Island. Perfect for sunbathing, picnicking, and strolling along the picturesque shoreline, this idyllic beach is consistently ranked by Dr. Beach as one of the Top 10 U.S. Beaches.
Pro Tip: "Be on the lookout for fabulous sandcastles at the Hotel Del beach," says TravelAwaits contributor Sharon Odegaard.
12. Glen Haven Beach
Sleeping Bear Dunes, Glen Haven, Michigan
Tucked away on the edge of Sleeping Bear Bay in Michigan's Sleeping Bear Dunes National Lakeshore, Glen Haven Beach offers a serene escape surrounded by natural beauty. Visitors can enjoy sunbathing on the pebbly shore, exploring the nearby historic village, and marveling at the towering dunes that provide a stunning backdrop.
13. Punalu'u Black Sand Beach
Punalu'u, Hawaii
Venture to the Big Island of Hawaii and discover the unique beauty of Punalu'u Black Sand Beach. With its jet-black sands created by volcanic activity, this beach is a striking contrast to traditional sandy shores. Visitors can spot sea turtles basking in the sun and explore the captivating coastal landscape.
14. Kiawah Beachwalker Park
Kiawah Island, South Carolina
Located on Kiawah Island in South Carolina, Kiawah Beachwalker Park is a pristine coastal oasis. This expansive beach boasts unspoiled sand dunes, thriving wildlife, and a peaceful atmosphere. Nature lovers can spot a variety of bird species and enjoy miles of undisturbed shoreline.
15. Mid Beach
Tybee Island, Georgia
Off the coast of Savannah, Georgia, lies the charming Mid Beach on Tybee Island. Known for its laid-back ambiance and beautiful stretches of sand, this beach offers a tranquil retreat for those seeking relaxation. Visitors can soak up the sun, take leisurely walks, and savor the coastal charm.
Read more from our 2023 Best Of Travel Awards as well as our favorite beach content, including: