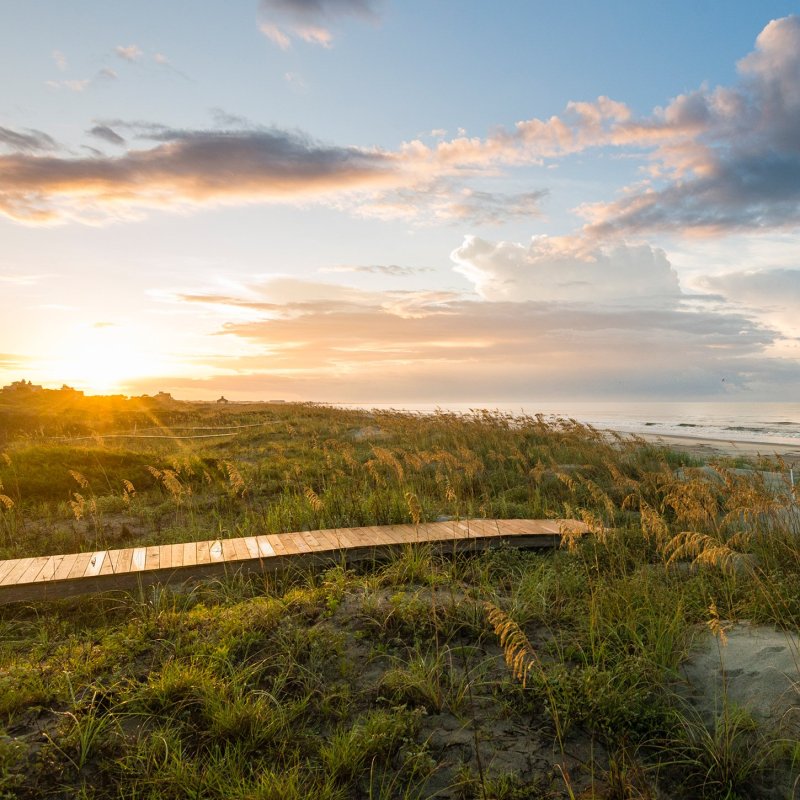 Kiawah Island is stunning. It is an unspoiled barrier island with an incredible ecosystem that includes 10 miles of pristine Atlantic coast beach, a maritime forest, and a labyrinth of saltwater marshes. The forests, marshlands, brackish waterways, and Atlantic Ocean are home to 300 species of birds, 18 species of mammals, and 30 species of reptiles. With so many incredible features and natural beauty, it's hard to accurately describe this unique place located around 25 miles south of Charleston, South Carolina.
It was named for the Kiawah Native Americans. They lived off the land and fished from the ocean long before the colonists arrived in the Carolinas. The history continued with tales of pirates, plantation owners, enslaved people, lumbermen, and investors. Each inhabitant made Kiawah what it is today: a beautifully preserved nature sanctuary that is also a vacation paradise. Fortunately (since 1997), the land is overseen by the Kiawah Conservancy, a group whose mission steers them to balance nature with development so that visitors and residents can enjoy what is truly unique about the setting.
Kiawah Island is a 45-minute drive from Charleston airport, has an average temperature that varies from 43 to 88 degrees from winter to summer, and has been my resort of choice for the past 20 years. Here are 10 reasons to fall in love with Kiawah Island in no particular order. Once you visit, you will return, like I do, again and again.
1. 10 Miles Of Top-Rated Beach
Kiawah's shoreline is pristine and consistently ranks amongst the best in the world. One of the top beaches in Charleston, it was also voted the second-best island in the U.S. by Condé Nast Traveler in 2020. Its east-west orientation offers a prime spot for viewing sunrises and sunsets. The packed sand allows for recreation, including beach games of all kinds, building sandcastles, and biking along the water's edge.
On the west end of Kiawah Island, Kiawah Beachwalker Park offers the only public beach access on the island. Since the rest of the beach is private, a vacation there requires renting a villa or home through Kiawah Island Golf Resort or booking a stay in The Sanctuary beachfront hotel. The Sanctuary is the island's Forbes 5-star oceanfront accommodation that resembles a seaside mansion. Once you have secured your rental or reservation, you can arrange a setup of beach chairs and toys for maximum enjoyment.
2. World-Class Public Golf Courses
Kiawah has a global reputation for incredible golf. The site of three previous PGA Championships, Kiawah Island Resort most recently hosted the tournament in 2021 on the Ocean Course. Regarded as one of the finest golf courses in the world, this championship course provides views of the Atlantic from every hole.
In addition to the Ocean Course designed by Pete Dye, you can choose to play five different courses when you stay at the resort: Osprey Point designed by Tom Fazio, Oak Point designed by Clyde Johnston, Cougar point designed by Gary Player, and Turtle Point designed by Jack Nicklaus.
The island's setting and the architect's challenging designs incorporating the rolling sand dunes, marshes, and forests make for exciting play. Private instruction and group lessons are available if you want to up your game.
3. Roy Barth Tennis Center
Since the late '70s, the tennis program at Kiawah was built to be one of the best. First under Roy Barth, and now under his son Jonathan, Kiawah Island's tennis program is consistently ranked as one of the top tennis resorts in the U.S. The facility features 22 tennis courts, including 10 new Har-Tru clay courts.
There are various vacation packages for tennis enthusiasts. But if you are on vacation and just want to play a few times, you can reserve a court, rent or buy equipment, take individual or group lessons, and experience why Kiawah is considered one of the top tennis resorts in the world.
4. Biking On Kiawah
It's easy to rent a bicycle on Kiawah. If you stay at The Sanctuary, the bike pavilion is open for walk-up rentals daily for half-day and full-day options. If you stay at a villa or home, you can reserve bicycles for 2 days or longer by making reservations with the resort. The bikes are dropped off and picked up directly from your accommodations.
You can take Kiawah bikes on the beach to ride on the hard-packed sand, which is a ton of fun. You can also steer them along 30 miles of paved bike trails. If there is no trail, you may have to ride on a road (helmets are available with rentals free of charge by request). Along the way, there are towers that allow you to look over the marshes and view birds and wildlife in their natural habitat.
5. Nature Programs
One thing that sets Kiawah apart from other resorts is its nature programs. There is something for everyone, from youngest to oldest and in between. If you are active, there are kayaking, paddling, and fishing excursions. Some seasons even offer 5Ks, polar plunges, or triathlons. If you are artistic, there are painting, photography, and other creative classes. Yoga on the beach? Surf camp? Shelling? Yes, all that and more. And there is a daily newsletter you can read to discover what to see (nature-wise) while staying at the resort.
6. The Spa At The Sanctuary
The Spa at The Sanctuary offers even more relaxation, if that is possible. There are single or full-day services available at their luxurious facility. There are combination sessions where you start the day with a personal training meeting and then get a relaxing massage or other treatments. There are couples therapies and salon experiences, including manicures and pedicures available at the spa. When you book a service, you are welcome to relax in the whirlpool, sauna, and steam room on the day of your treatment for as long as you want to linger.
7. Dining On Kiawah
Dining on Kiawah offers vacationers a variety of choices. If you rent your own villa or home, you might want to make some meals, especially if you enjoy cooking. The resort program will have groceries delivered to your resort accommodation before your arrival if you prefer. The Market at Town Center at East Beach Village serves casual meals and has provisions for sale. If you need eggs, milk, bread, snacks, or sandwich fixings, you can find them here. For prepared meals, dine-in, pick-up, or delivery for breakfast, lunch, or dinner selections is available. There are also bottles of wine or beer and Kiawah Island logo merchandise for sale.
Other dining options include a dozen eateries, including elegant and casual restaurants as well as poolside and outdoor cafes. Resort guests enjoy charging privileges and door-to-door ride service to any of the restaurants on the resort. The fare ranges from Lowcountry cuisine, Italian, steaks, and BBQ to the freshest seafood imaginable. The dining choices at Freshfields Village, just outside Kiawah Island Resort's gates, offer additional restaurants to choose from and a full supermarket.
8. Shopping
The lobby-level promenade in The Sanctuary hotel offers exciting shopping in a relaxed setting, but there are various shops throughout the resort. The Sanctuary shops include The Golf Shop and different boutique stores that sell signature clothing for every family member. If you don't have time to relax at the spa, the spa shop has lovely items to bring the relaxation home with you.
The Wells Gallery represents a variety of artists from around the area and the globe in various mediums. The gallery specializes in works of art that celebrate Kiawah Island. The Heron Park Nature Center Island Outpost offers apparel by Patagonia, field guides, children's toys, locally made or environmentally responsible gift items, and more. Just outside the gates of Kiawah Island Resort, Freshfields Village has terrific shopping from sporting goods to home decor and clothing.
9. Special Events
During the summer, there are daily special events with themes and entertainment. On the Fourth of July, the all-day celebration of food, games, and fun concludes with a breathtaking fireworks show. One favorite summer event that occurs every Monday evening from Memorial Day to Labor Day is the Mingo Point Oyster Roast and BBQ. Fresh roasted oysters, a full Lowcountry boil, and southern BBQ, plus a sunset over the Kiawah River and dancing under the moonlight to live music make for a popular event. There is nothing better.
Holidays are also special celebrations at the resort. Check the Kiawah Island Resort website for more information about how to book and what to look forward to for Thanksgiving, Christmas, and New Year's Eve.
10. Nearby Charleston
Charleston, South Carolina, has been voted the number one city in the United States by Travel + Leisure for the past decade. It is one of the oldest, most inviting, and romantic places to visit. Take a horse-drawn carriage ride or stroll down the cobblestone streets to explore the antebellum architecture south of Broad Street and the pastel homes along Rainbow Row.
The history, the food, the harbor, and the vibe all make Charleston a great stop while visiting Kiawah Island. You can book tours right from the concierge. Or make a plan to visit before or after your stay on the island. One thing is sure: You must make a visit to the Holy City when you stay on Kiawah.
Pro Tip: The Charleston Tea Garden makes for a fun day trip. You can spend a few hours learning how tea is processed and produced at this location. Another popular attraction is the Angel Oak, a local treasure that must not be missed.
Best Time To Visit Kiawah, SC
The best time to explore Kiawah and Charleston is in the fall. Tourists love to flock to these areas from April to October because of the weather and the beaches. I always stayed on Kiawah in July or August due to school schedules, but it's sweltering and can be buggy. The spring is also a beautiful time, and the blooms are glorious.
Related Reading: