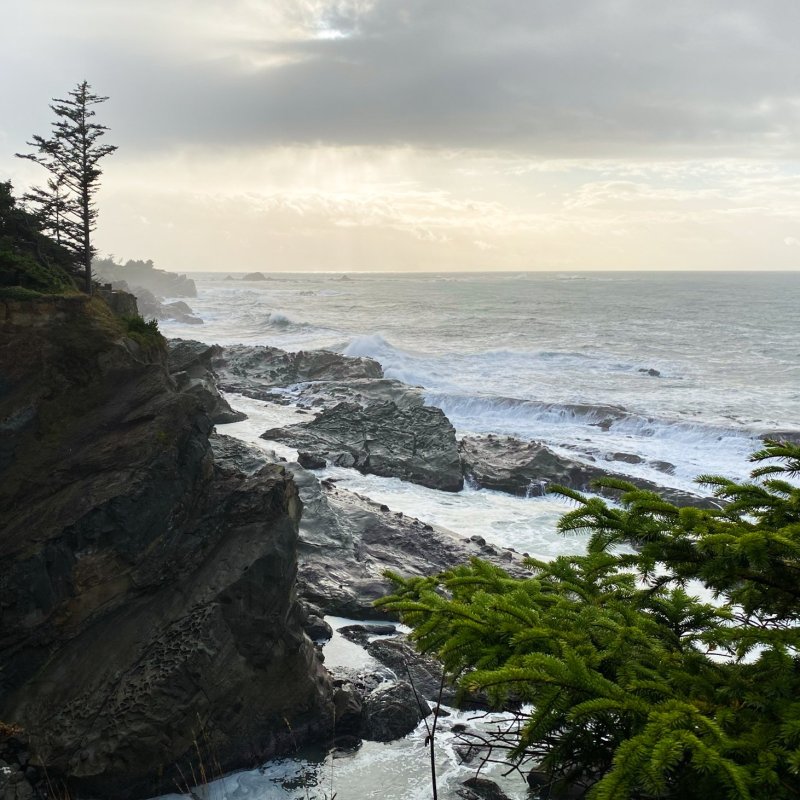 I love the Oregon Coast and the drive along Highway 101. The beaches vary between long stretches of packed sand you can drive on to epic, rocky cliffs with crashing waves. You will also see plenty of sea stacks, which are large stacks of rocks that were once part of the coastline. The most iconic is Haystack Rock, located on Cannon Beach. As you work your way south along Highway 101, you won't find crowded, large, resort beach towns. Instead, you will pass through charming small towns that make this such a unique beach experience. The five towns I have profiled all have a special place in my heart, whether it is for a small local business or a geological feature that stands out.
One of the things I like about this trip is that even if you have limited mobility, you can still enjoy it. Cars can drive right on some beaches, and there are many overlooks to enjoy views of the rocky coastline. It is also a very active outdoor area with lots of fun things to do, from hiking, zip-lining, and ATV adventures to deep-sea fishing and whale-watching excursions.
This trip begins in northern Oregon where Highway 101 begins in the state. We will follow it south. There are many more small towns along the way, but these are my favorites.
1. Astoria
If you are a fan of the movie The Goonies, then you've seen Astoria, where it was filmed. This is such a cute, eclectic town with so much history. It is located on the banks of the Columbia River at the base of the Astoria-Megler Bridge, which, at 4.1 miles, is the longest continuous truss bridge in the U.S. and an attraction in itself.
Begin your visit with a drive up to the Astoria Column. This iconic column sits atop a hill and provides views of the Columbia River basin, Astoria, and the Pacific Ocean. You can climb to the top of the tower or just enjoy the view from the park. Make sure to check out the artwork on the column, which shows the history of the area. Head back into the town, which is nicknamed "Little San Francisco" and is known for its Victorian architecture.
Along the waterfront, make sure to visit the Columbia River Maritime Museum. It is so well done and gives you a great insight into the maritime history of the area. To continue that theme, head out to Fort Stevens State Park to view the Peter Iredale shipwreck on the beach. For lovers of history, visit Fort Clatsop to learn about Lewis and Clark's winter quarters.
Pro Tip: Make sure to stop at Bowpicker Fish and Chips. It's easy to miss, as it is in a boat in the middle of a park. This cash-only gem is renowned in the area for its beer-battered albacore tuna and steak fries served with malt vinegar. I had my doubts about fried tuna, but oh, it is so good. Plan to arrive early and get in line. Once the local, fresh fish are sold out, they close for the day. The pieces are small, so order the larger size so you don't have to get back in line.
2. Cannon Beach
Locals from Washington and Oregon head to Cannon Beach for weekend getaways, and you can see why. National Geographic named it one of the world's 100 most beautiful places. The beach is known for the iconic Haystack Rock. A popular pastime is to walk the beach and explore the tidal pools around the rocks at low tide. The town is very walkable and has local shops and restaurants. Make sure to visit Ecola Seafood Restaurant and Market. They specialize in wild-caught Pacific seafood from their own fishing boats. A quirky local place is Cannon Beach Hardware and Public House, where you can sip a beer while shopping. There are hotels to stay at, but I prefer a beach cottage rented from one of the local companies.
Pro Tip:Visit Hug Point State Recreation Site. Located just outside of Cannon Beach, this lovely cove has a seasonal waterfall and sea caves. The green seaweed growing on the rocks at low tide provides pops of color. Visitors tend to gravitate to Haystack Rock, so this park isn't as well known and often isn't as crowded.
3. Tillamook
Tillamook is all about the cheese and ice cream for me. This is a great stop along the way to take a break for some ice cream at the Tillamook Creamery. Over 100 years ago, farmers in Tillamook County formed a cooperative that is famed for its cheese and other dairy products. The creamery has a new, state-of-the-art visitors building with a self-guided tour, a gift shop, ice cream, and dining. Well worth a stop.
To keep with the cheese theme and a more upscale experience, make sure to stop at the Blue Heron French Cheese Company. Their brie is yummy, and they have all the fixings for a professional-looking charcuterie board or beach picnic. For all you foodies out there, check out the North Coast Food Trail for some great suggestions along the Oregon Coast.
4. Lincoln City
Lincoln City makes my list because of all the things to do in the area. Their Finders Keepers program continues the local tradition of beachcombing to find Japanese fishing floats on the beach. This program has an army of anonymous float fairies who hide hand-blown decorative glass balls made by local artists above the high tide line. Learn more about glass floats at the North Lincoln County Historical Museum.
Pacific Northwest tribal casinos can be a great place to stay when located on the coast. Check out the Chinook Winds Casino Resort. The oceanfront rooms were renovated in 2020 and are separate from the casino. You can often snag a good weekday rate.
Pro Tips: Head down to Depoe Bay to whale watch. The boat from the marina goes under a bridge and out to the bay in just an hour-long trip. The whales come in so close that you can sometimes see them from the shore. This is the best area on the coast to see whales, with low-cost excursions that take much less time.
While we're on the subject, here are some helpful tips for whale watching in Oregon.
5. Oregon Adventure Coast: Coos Bay, North Bend, And Charleston
The Oregon Adventure Coast truly is an adventure. The must see in the area is the Oregon Dunes National Recreation Area. Explore one of the largest areas of temperate coastal sand dunes in the world, with views of forests, dunes, and the ocean. So unique. A popular way to explore is by ATV. Another adventure activity is to storm watch — and, yes, this is a thing. Loud, crashing waves slam into coastal cliffs and tower over the area. Epic. Make your base in Coos Bay or North Bend and explore the area with day trips. There are some great scenic drives, and you definitely want to take the Charleston-to-Bandon portion along the Pacific Coast Scenic Byway. There are six state parks, two wildlife refuges, and the National Estuarine Research Reserve. Both Coos Bay and North Bend have good restaurants and walkable downtown areas with local shops.
These are some of my favorite towns along the Oregon Coast, but you really can't go wrong with any stop as you traverse Highway 101. The seaside towns are quaint, local, and it is rare to find chain hotels. So pack up the car and head out on this road trip adventure. Every stop is Instagram worthy.
Pro Tips
Interstate 5 parallels Highway 101, and they are about a two-hour drive apart. There are multiple places along Highway 101 where you can cross over to link up with Interstate 5. So you can leisurely travel along the coast and then head over to Interstate 5 when you need to head back. Portland International Airport has convenient connections and is about a two-hour drive to Astoria the start of this trip.
The Pacific Ocean is cold all year round, and every time I go it seems like the wind is so strong. It is rare you will see anyone swimming along the coast, even during the summer, due to the cold water and extreme currents. At a minimum, pack a windbreaker for walks along the beach.