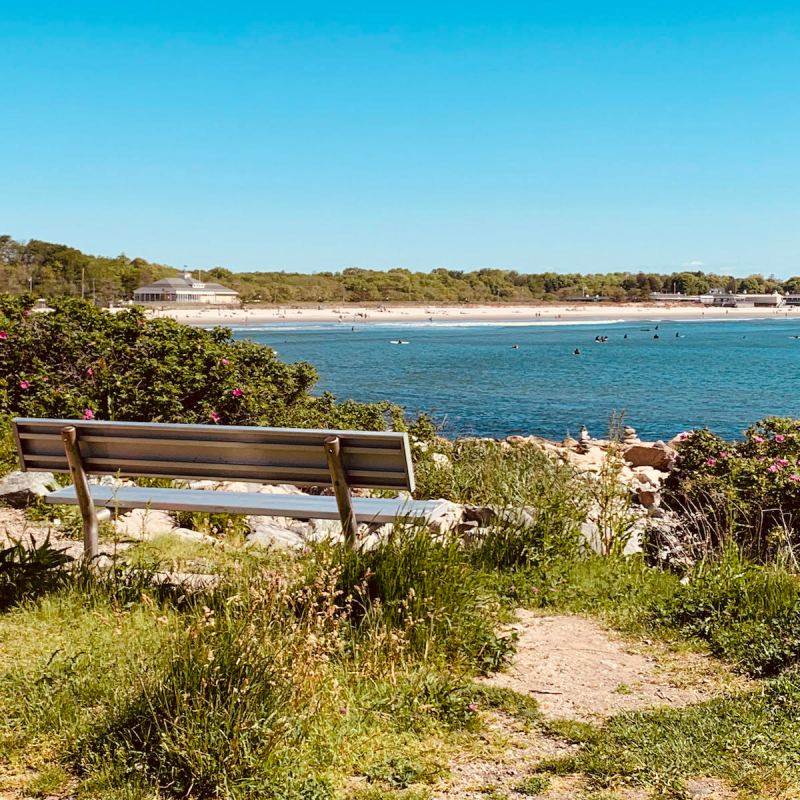 Squishing your toes into sparkling white, sugar-fine sand while waves caress the shoreline is the ultimate summertime getaway. In New England, we relish the lazy days of our short summer and schedule multiple beach-centric days into our busy schedules. With miles and miles of coastline, there are seemingly endless strings of gorgeous beaches. From the rugged coast of Maine to shapeshifting dunes of Cape Cod's National Seashore, New England has a beach to suit every sun-worshiping beach bum.
Listed below are my favorite beaches across New England — each one is special in its own best beach way. They are listed in no particular order.
1. Sand Beach
Bar Harbor, Maine
The diminutive Sand Beach is a cove-style beach in Acadia National Park. After a day exploring Cadillac Mountain, enjoy a quiet respite at this pretty little beach. The ocean water in Maine is very cold, rarely reaching 55 degrees Fahrenheit in the summer months. As you can guess, swimming is more like jumping in and out of the waves and not full water immersion.
Pro Tip: Acadia National Park is adjacent to Bar Harbor, where many park visitors anchor their getaway stay.
2. Old Orchard Beach
Old Orchard, Maine
A beautiful, 7-mile stretch of sand, Old Orchard Beach is one of Maine's most popular beaches. Perfect for shaking off the winter blues and soaking up the glorious summer sun, Old Orchard Beach is a wonderful spot for swimming (yes, it's cold), beach volleyball, building sand castles, or simply walking along the tideline.
Pro Tip: Old Orchard Beach is a favorite New England beach town of our neighbors to the north. You will often encounter French Canadian conversations on the beach towel next to yours.
3. Ogunquit Beaches
Ogunquit, Maine
Three beaches combine to make up the Ogunquit Beaches. Main Beach, Footbridge Beach, and North Beach come together to make up 3 miles of white sandy goodness. The charming town of Ogunquit enjoys a lively art scene. Filled with galleries, theaters, and great dining spots, you will have lots of choices for your evening entertainment.
Pro Tip: Take a stroll along the Marginal Way, a picturesque walkway where you can sit back and enjoy the stunning views on one of the 39 benches along the 1.25-mile-long pathway.
4. Coast Guard Beach
Eastham, Massachusetts
The most popular beach on the Cape Cod National Seashore is definitely Coast Guard Beach. This beloved beach gets crowded early and stays crowded all day long — for good reason. The beach is gorgeous. It is the beginning of an uninterrupted 20-mile sandy coastline hemmed in by dunes covered in windblown seagrass.
Pro Tip: Your National Park Pass will allow you to park for free at Coast Guard Beach. Non-resident parking is at Little Creek where you can then take a shuttle to the beach.
5. Wingaersheek Beach
Gloucester, Massachusetts
Beautiful Wingaersheek Beach is perched on Massachusetts's north shore in the charming city of Gloucester. The white sand beach is perfect for a long walk along the shore or a scramble up the interesting rock formations. As you are enjoying your beach day, it is fun to dream of owning one of the stunning summer vacation homes perched high above the shoreline.
Pro Tip: Prepaid reserved parking is required at Wingaersheek Beach. Reservations are required for non-residents and can be made up to 10 days in advance.
6. Good Harbor Beach
Gloucester, Massachusetts
Good Harbor Beach, the other Gloucester beach, is long and wide at low tide with inviting soft sand where you will want to spend the entire day; perhaps the entire summer.
Pro Tip: Good Harbor Beach has a fairly large parking lot and can accommodate several vehicles. Pre-paid parking reservations are required.
7. Singing Beach
Manchester-By-The-Sea, Massachusetts
Singing Beach is so named because it "sings" as you scuffle across the sand. When the conditions are right, the friction of your feet across the sand creates a squeak; a unique phenomenon. This small beach is worth a visit just to see if you can make it sing.
Pro Tip: The parking lot is small. It is best to visit Singing Beach during the shoulder season when you can park and enjoy the uncrowded shoreline. In the off-season, the local four-legged fur babies love chasing the waves.
8. Mayflower Beach
Dennis, Massachusetts
When you find yourself on the north side of Cape Cod, Mayflower Beach is the spot to see and be seen. Deep soft sand and playful waves come together to make this beach a popular spot for sunbathing and water play along Cape Cod Bay. You will want to spend the entire day here, pack up your wagon with beach toys, lunch, blankets, and your favorite read.
Pro Tip: The large parking lot fills up early on a beautiful beach day.
9. Oak Bluffs Town Beach
Oak Bluffs, Massachusetts
Flying Horses Carousel and charming gingerbread cottages are the hallmarks of Martha's Vineyard's Oak Bluffs. Oak Bluffs Town Beach is a pretty 1-mile-long beach perfect for spending the day and enjoying the ocean waves. When you are visiting Martha's Vineyard, enjoying the beach is just one piece of the getaway.
Pro Tip: If you stay in Oak Bluffs, you can avoid beach parking and walk to the beach.
10. Ballard's Beach
New Shoreham, Rhode Island
On the shores of Block Island is Ballard's Beach, a soft white sandy beach filled with happy vacationers enjoying their work break. Rent a cabana, grab a fruity drink from the tiki bar, have lunch at the restaurant, and dance the day away to live music. Ballard's Beach has a hip, happening vibe.
Pro Tip: The beach is a short walk from Old Harbor. You can take the ferry over and enjoy a Block Island day trip.
11. Narragansett Town Beach
Narragansett, Rhode Island
Narragansett Town Beach is located in the heart of Narragansett. Walking along the soft sand is the best way to get in your steps. There is plenty of room for blanket space to enjoy the waves and build sandcastles. There is also a designated surf area to try your hand at riding the waves or you can watch the entertaining show of others trying to stay on their board.
Pro Tip: Our Narragansett guide will give you lots of ideas on how to spend your day in this lovely coastal town.
12. Easton's Beach
Newport, Rhode Island
Located at the start of Newport's iconic Cliff Walk is Easton's Beach, also known as First Beach to local residents. The beautiful sandy beach stretches for 0.75 miles along the Atlantic shoreline.
Pro Tip: Mansions, dining, and history — there is so much to do and see in Newport you will want to spend several days exploring.
13. Hampton Beach
Hampton, New Hampshire
Hampton Beach sits along New Hampshire's tiny strip of coastline. It is a bustling beach filled with happy beachgoers. From concerts to festivals, fireworks to competitions, there is always something happening at Hampton Beach.
Pro Tip: The Hampton Beach Master Sand Sculpting Competition takes place in June each year. It is an amazing display of artistic talent.
14. Hammonasset Beach State Park
Madison, Connecticut
The pink sands of Hammonasset Beach State Park and the 2-mile stretch of shoreline attract sunbathers from across New England. The sand on the west end of the beach has a high concentration of garnet which gives the beach a pink hue — unusual for a northeastern beach.
Pro Tip: Typically in August, the water at Hammonasset Beach is filled with jellyfish making swimming a little challenging.
Beautiful New England Beaches
The beautiful beaches in New England bring out the best of the summer season. From Maine's rugged and sandy coastline to Connecticut's sugar sand beaches, you will love exploring these picturesque toes-in-the-sand getaways.