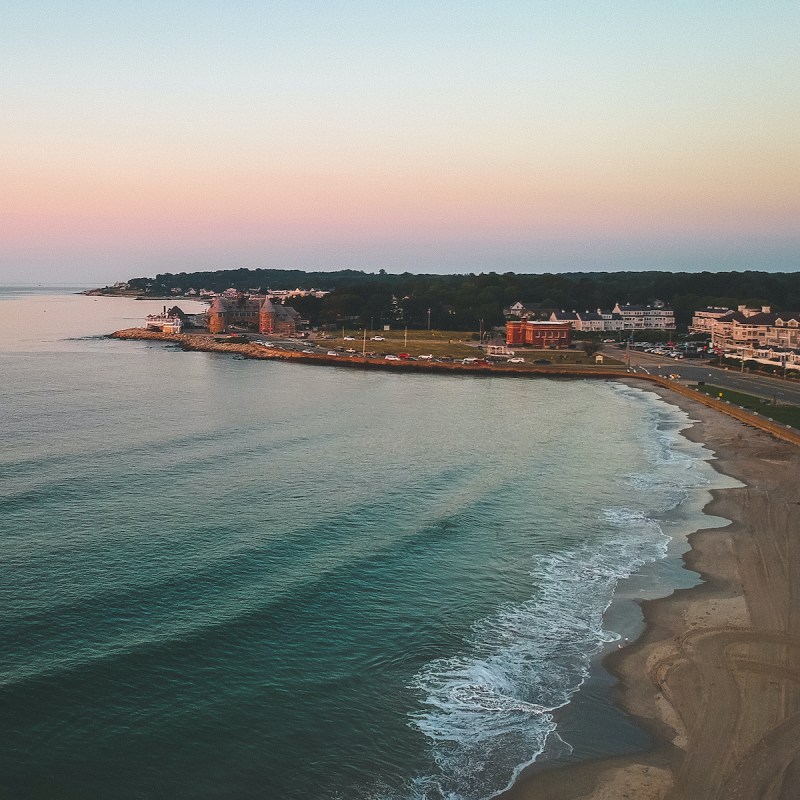 The beach is always a good idea, right? Dipping your toes in the sand, feeling the Sun on your skin, the sound of crashing waves — what's not to love? Of course, not all beaches are created equal, and some are far better suited for certain types of vacations than others. 
With that in mind, we've rounded up some of our favorite beaches in the U.S. Whether you want to lay back, relax, and enjoy a cold drink, or want a taste of something a little wilder, you'll find it here. Surf's up!
1. Kapalua, Hawaii
It's hard to top Kapalua, on Hawaii's Maui island. The sunsets here are so beautiful, they're practically a social event. Tourists (and locals) all seem to stop what they're doing and gaze at the horizon for some of the most jaw-dropping sunsets we've ever seen. Kapalua is one favorite stop on Maui's West Coast — you'll find some of the very best resorts in Hawaii can be found on this slice of Maui. There's great dining and shopping, too, but golfers will be especially happy here. Kapalua is home to the Plantation Course, where the PGA Tour's Tournament of Champions is hosted every year.
2. Two Harbors, California
What if we told you there's a gorgeous and cozy California beach that still feels under the radar and a bit undiscovered? You can find exactly that in Two Harbors, on Catalina Island — about an hour off the southern California coast. Most people who visit Catalina only spend time in Avalon, the island's biggest town and an interesting destination itself. But make the trek to Two Harbors, on the opposite end of the island, and you'll really be in for a treat. Here, you'll find the rugged and untouched beauty of a town that has yet to be developed for masses of tourists. There are no paved roads and just one restaurant and one bar. Cell service is spotty. But what you lack in connection to the outside world is more than made up for by the natural beauty that surrounds you. Discover why this quaint island town in California is perfect for a romantic weekend.
3. Fort Bragg, California
For something completely different, head north up the California coast to Fort Bragg. Here you'll find history, art, fine dining, and great accommodations with a distinctly northern California vibe. You'll definitely need a car here — there's so much to see if you go off the beaten path a bit, such as Navarro River Redwoods State Park. In Fort Bragg, Glass Beach is a must. It was once a trash dump, but now it's a beloved beach named for the unique sea glass that washes ashore. Find out more about Fort Bragg and why it is an amazing beach destination.
4. Bandon, Oregon
Nestled in southern Oregon, you'll find Bandon, a piece of paradise. It's a small town with just about 3,000 residents and it sits about 100 miles north of the California state line. Bandon is famous for its cranberry crop, but we happen to love the fresh seafood, incredible golf courses, ocean views, and dog-friendly beaches. At low tide, you can even walk through beach caves and explore monolithic rock formations. If you've ever daydreamed of riding a horse on the beach, be sure to check out Bandon Beach Horse Stables. They can make it happen. How cool is that? Here are our favorite ways to spend a perfect weekend in Bandon, Oregon.
5. Vashon Island, Washington
Just a quick ferry ride from Seattle, you'll find a quaint beach community that feels like it could be a world away. Vashon is a bit of a well-kept secret for Seattle locals, who often visit for a day trip. But we think you could easily fill a weekend with things to see and do here. Vashon Island has a darling downtown area and a vibrant weekly farmers market. The beaches and greenspaces are worth the trip alone — Vashon Island is a great place to disconnect for a bit and enjoy the wild beauty of the Pacific Northwest, all without having to travel far from the city. We suggest renting a kayak or a bicycle to experience its breathtaking nooks and crannies. Learn how to spend a perfect day on Washington's Vashon Island.
6. Saugatuck, Michigan
Yes, the Midwest has beaches, too. Saugatuck is located on Michigan's west coast, along the shores of Lake Michigan. The community is part of what has come to be known as Michigan's "Art Coast," full of art studios, galleries, and classes. We suggest visiting in the summer when you'll often hear live music in the streets and enjoy local, fresh produce in the town's restaurants. Amy Piper shares her picks for the best things to do and eat in Saugatuck, Michigan.
7. South Padre Island, Texas
South Padre always had a bit of a reputation for being a spring break destination — full of college students looking for cheap beer and wild parties. But not anymore. This is as far south and as close to a tropical paradise as you can find in Texas, with beautiful sandy beaches and clear Gulf of Mexico water. South Padre Island is especially great if you're feeling outdoorsy: check out dolphin-spotting tours, do a little deep-sea fishing, or try your hand at snorkeling. On South Padre Island, there really is something for everyone.
8. Gulfport, Mississippi
For decades, Gulfport has been something of a summer playground for nearby New Orleans locals. But these days, more and more people are in on the secret. Nestled on Mississippi's Gulf Coast, this destination gives a cut-off shirt and flip-flops kind of vibe — think seafood shacks, fishing trips, no plans, and no worries. Gulfport Beach is the community's crown jewel. This man-made beach is quite long and the perfect spot to relax with a good book and a cold drink. If you want a little more action, rent a jetski or a paddle board. Fishing charters are also available. Enjoy our picks for the best things to do in vibrant Gulfport, Mississippi.
9. Port St. Joe, Florida
If you love Gulf Coast beaches, make sure this one is on your list. It's located just 35 miles southeast of Panama City, but has a totally different vibe: Imagine small-town, classic, old Florida. The iconic Cape San Blas Lighthouse is a must-see. You can even climb 130 steps to the top. If you can, you should — the views are incredible. Back on terra firma, the beaches are stunning. If you're really feeling adventurous, consider contacting Rockin' M Ranch for a horseback ride on the sand. It doesn't get much better than that. Discover all the beauty of Port St. Joe and the surrounding region.
10. St. Simons Island, Georgia
If you want relaxing, idyllic beaches, look no further. St. Simons Island is a beloved destination on the Georgia coast, about halfway between Savannah and Jacksonville, Florida. This isn't just a place for tourists — St. Simons Island is a tight-knit community that people call home year-round. And who could blame them? The island is full of fantastic restaurants, rich history, and friendly people. And as for those beaches? They're stunning, of course.
11. Daufuskie Island, South Carolina
This destination is all about low-country vibes and makes a perfect day trip from Hilton Head or Savannah. The first thing you should know: Daufuskie Island is isolated and not accessible by car. You'll need to rent something a little more rustic, like a bike. The extra effort is worth it, though, as you'll be rewarded with beautiful beaches and delicious seafood. Don't miss the deviled crab at Old Daufuskie Crab Company. It's also a great spot to gaze at the boats and do a little people-watching. Sandi Barrett shares 13 amazing experiences on Daufuskie Island for you to consider during your next visit.
12. Oak Island, North Carolina
Oak Island is on the southern shores of North Carolina, between Myrtle Beach and Wilmington. While some of North Carolina's beach destinations have a party vibe, Oak Island does not — this is a place for quiet relaxation. The beaches here are inviting, and perfect for a big blanket and a good book. Don't miss the historic Oak Island Lighthouse, where you can climb to the top for breathtaking views. Just be sure to book in advance as spots fill up quickly. Here are 13 reasons to visit beautiful Oak Island, North Carolina, to inspire your next adventure.
13. Rehoboth Beach, Delaware
Rehoboth Beach has been a local favorite for a long time. But now, the word is getting out and the area is becoming increasingly popular. It's easy to see why: It has perfect, unobscured views of the Atlantic Ocean, a delightful (and happening) boardwalk, and great shopping for all ages. For something totally different, check out the nearby Delaware Seashore State Park. The 2,825-acre park is practically a boater and fisherman's paradise. If you need help planning a weekend getaway to Rehoboth Beach, our writers have got you covered.
14. Narragansett, Rhode Island
For something a little more eclectic, look no further than Narragansett, or 'Gansett, as the locals call it. The town has a colorful history as a summer destination for gambling and beach parties. These days, it's a bit quieter, but no less inviting. Check out Narragansett Town Beach for 19 acres of soft sand. You'll have plenty of room to stretch out and get some sun. Don't miss a scoop from Nana's Ice Cream — it's a must. Here are 10 great things to do in charming Narragansett, Rhode Island, that will be sure to make your trip memorable.
15. Manchester-By-The-Sea, Massachusetts
This quaint beach town had humble beginnings as a small fishing village. These days, it's sprinkled with luxurious seaside resorts and beautiful summer homes. Basically, it looks just like a postcard. There are two gorgeous beaches that you shouldn't miss: White Beach, with views of the Boston skyline, and Singing Beach, named for the sand that "sings" or squeaks when you walk on it. If you're feeling extra adventurous, get out on the water and learn how to sail. Learn more about the best things to do in adorable Manchester-by-the-Sea.
16. Camden, Maine
Maine is known as "vacationland," and after visiting, we can understand why. Nestled on Penobscot Bay, Camden has pretty much everything you need for a good getaway — hiking trails, sailing, fishing, beaches, and local restaurants you'll love. For an extra-special experience, book a trip on the Schooner Surprise to sail Penobscot Bay. Feel the wind in your hair and breathe in the ocean air: Now this is vacation. If you are looking to spend a beautiful weekend in Camden, we have the itinerary for you.