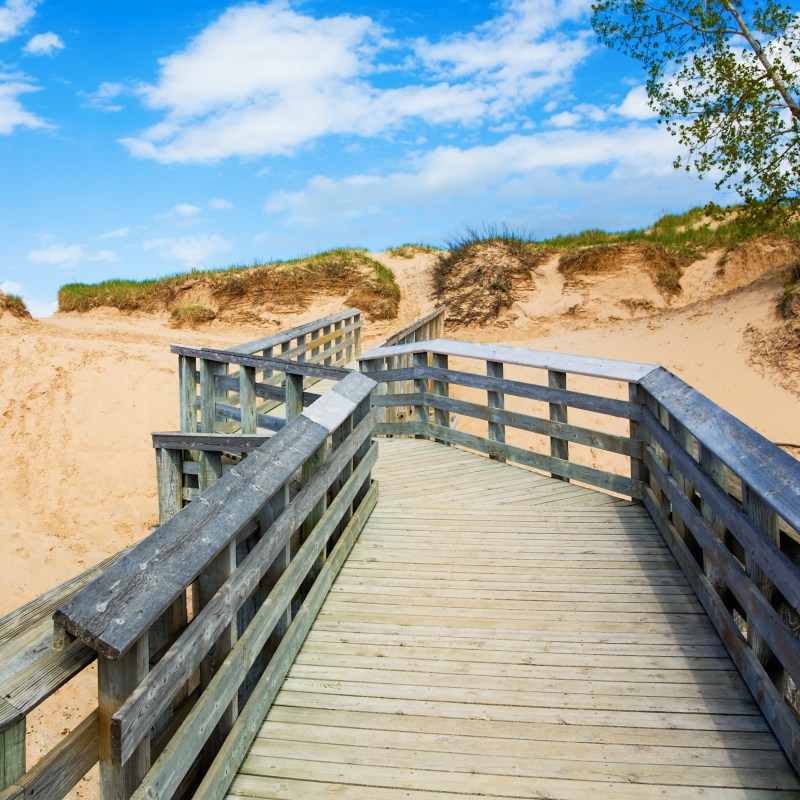 With towering windswept dunes and sparkling lakes, you will find Mother Nature's gifts on grand display at Sleeping Bear Dunes National Lakeshore in Leelanau County, Michigan. From the historic village of Fishtown to the panoramic vistas, your weekend dance card will be filled with adventure.
Experience The Spectacular Vistas
One thing is certain: Sleeping Bear Dunes National Lakeshore is gorgeous. Everywhere you turn, you encounter breathtaking views. Whether you love to hike or boat, or prefer a relaxing drive, you will be surrounded by nature.
The 7.4-mile Pierce Stocking Scenic Drive loops through the National Lakeshore with overlooks of the Glen Lakes (there are two), Sleeping Bear Dunes, and Lake Michigan. Stop at Picnic Mountain to enjoy a picnic snack and invigorating fresh air. Be sure to stop at Dune Overlook for a one-of-a-kind of panoramic view, too.
Next, dive into the dense, verdant forest. The National Park Service provides a comprehensive virtual tour of the scenic drive highlighting the overlooks, trails, and history of the area.
A must-do for those who are able is the Dune Climb. Who doesn't want to climb a mountain of sand? The good news is you can climb to the top — yes, it's exhausting — or climb just five feet, which is much less taxing. The best news is coming down is easy. You just roll! Of course, you will most likely have sand everywhere! If you do reach the top, you will be rewarded with a picture-worthy view of the Glen Lakes.
Hiking in the national park offers something for everyone. For the very experienced hiker looking for something unique, try the Dune Climb Trail. This 3.6-mile loop trail is all sand, making it difficult going. AllTrails highlights the top 19 trails at Sleeping Bear Dunes National Lakeshore, ranking them for difficulty (easy, moderate, and hard), detailing trail length, and providing elevation, maps, and insightful tips. Their list is your one-stop hike shop.
Enjoy The Sleeping Bear Dunes Lakes
The Sleeping Bear Dunes National Lakeshore boasts 21 lakes. With a mix of remote nature trails, great fishing spots, and sandy beaches, you will certainly find lake life fun for every adventurer on your journey.
No motorized boats are allowed (with the exception of Loon Lake), and some docks require you to carry your kayak or canoe from the parking lot. You can rent all your beach and boating gear at Sleeping Bear Rentals in Empire. Plenty of fishing, swimming, hiking, birdwatching, and communing with nature awaits you.
The Northern Area Lakes include Bass Lake, School Lake, Narada Lake, Shell Lake, and Hidden Lake. No motorized boats are allowed here, but some of the lakes have launches for kayaks and canoes. Swimming and hiking in these wilderness-surrounded lakes is allowed, but they have minimal beach facilities.
The Glen Arbor and Empire Lakes include Tucker Lake, Mill Pond, and Taylor Lakes. These lakes are marshy and best for viewing. North Bar Lake, however, is a great swimming spot with a sandy beach. There is some boating accessibility, but no motorized boats are allowed.
The Platte Plains Area includes three lakes: Otter Lake, Bass Lake, and Deer Lake. Otter and Bass are quiet fishing lakes.
The Southern Boundary Area Lakes include Mud Lake, Loon Lake, Round Lake, and Bow Lakes. Loon Lake is the only lake where motorboats are allowed. The dock is ADA-compliant and allows easy access for boaters. There is a picnic area but no beach — this is an anglers' lake.
Manitou Island includes Lake Manitou, Tamarack Lake, and Florence Lake. These nature lovers' lakes have remote hiking trails and campsites (more on that below).
Play In Sleeping Bear Dunes And Leelanau County
No matter the season, there are fun, recreational activities in the Sleeping Bear Dunes Area to entertain and enchant every visitor.
Whether you'll be cross country skiing or summer hiking, you will find great updates on what's happening on the Friends of Sleeping Bear Dunes website. It is full of information about the beaches, hiking, and winter fun and includes maps and useful tidbits about the Leelanau County area.
If you are craving dedicated lake fun, visit Leelanau Watersports. With lake access in Sleeping Bear Dunes and many other Leelanau County lakes, watersports are the name of the game. Try stand-up paddleboards (SUP). The beginner boards are wide and easy to balance. For more adventurous fun, rent a jet ski or ski boat. If you are looking to entertain a large gang, try a pontoon boat; they are easy to drive, fit a fairly large group, and offer a relaxing way to experience lake life.
Biking is a great way to see the Leelanau Peninsula, and Crystal River Outfitters offers a wide selection of bike rentals, including hybrid bikes (traditional and all terrain), tandem bikes, and fat bikes (for snow trails). The offer appropriate bikes to tour Sleeping Bear Heritage Trail and the Leelanau Peninsula while enjoying a workout at your own pace and surrounded by Mother Nature.
Sip Away The Day
With over 20 wineries in the Leelanau Peninsula area, the Leelanau Peninsula Wine Trail highlights each winery's location and wines. Plan a tour with a designated driver; Blue Lakes By the Bay offers private, door-to-door tours where you can plan your own winery itinerary. The Wine Trail runs from Sleeping Bear Dunes in Glen Arbor to the tip of Leelanau Peninsula in Northport, an hour drive north. No matter where you are, there is sure to be a winery just a short distance away to round out any picnic plans.
Eating In Sleeping Bear Dunes And Leelanau County
With abundant natural resources, you will find the freshest local ingredients used in the lakes region menus. From sweet, rustic cafes to fine dining restaurants, Leelanau County offers a diverse selection of eateries. If you love freshwater fish, this is the place to sample some of the best in the country.
Bluebird Restaurant And Tavern
Located on the Leland River in Leland, just 30 minutes from Sleeping Bear Dunes, the Bluebird Restaurant and Tavern offers both pub grub and find dining. Sporting porch views of the Leland River, the restaurant offers a selection of fresh, local seafood, including Great Lakes Walleye, Trout, and Perch. The Tavern offers lighter fare including pizza, sandwiches, and some great local fish dishes.
Village Cheese Shanty
Located in Fishtown, the historic district of Leland, is the Village Cheese Shanty. Don't let the appearance fool you. The weathered shack facade looks ready to fall over, but fear not. Their fresh-baked breads and assorted cheese offerings join together for sumptuous picnic lunch sandwiches. They offer fabulous local wines by the bottle to accompany your finely crafted sandwich.
Trattoria Funistrada
The traditional Italian menu at Trattoria Funistrada in Maple City boasts dishes like penne puttanesca and bistecca balsamico (a New York strip steak). This casual dining establishment will satisfy your pasta craving with locally sourced, expertly crafted Italian cuisine.
Shopping In Sleeping Bear Dunes And Leelanau County
The Leelanau area is filled with one-of-a-kind, family-owned shops. Visit the main streets to discover wonderful galleries, antique shops, and general stores.
Antiquing is the perfect way to spend a lazy afternoon. Several wonderful antique shops dot Leelanau County. The Lakeshore Antiques Guide lists dozens of antique purveyors in the lakes region, making it easy to plot your treasure hunting afternoon.
Perusing art galleries in Leelanau will offer you many choices for a souvenir of your visit. The Leelanau County Art Galleries will keep you busy for days! Start at the Main Street Gallery in Leland and plan your adventure from there.
Staying In Sleeping Bear Dunes And Leelanau County
Upscale Stays
For a unique stay in Leelanau County, try Black Star Farms. In addition to a beautiful, old-style bed and breakfast, Black Star Farms is a winery and distillery with a tasting room, cafe, horse stables, and hiking trails. Guests enjoy a gourmet breakfast, a VIP tasting, and an evening hospitality wine-and-snack hour. It is a luxury vacation destination with first-class amenities.
Camping In Sleeping Bear Dunes
If you are seeking something a little more rugged and outdoorsy, camp on the Manitou Islands in Sleeping Bear Dunes National Lakeshore. With 15,000 acres of mostly wilderness, Manitou Islands bring campers close up with Mother Nature. Camping on North Manitou Island is secluded and limited to eight campsites.
Camping on South Manitou Island offers three different campgrounds, still rugged, but with a few more amenities. Bay Campground is the closest to the beach. Weather Station Campground provides a more secluded feel. Popple Campground is a three-and-a-half-mile hike from the dock and is close to the beach on the northern tip of the island.
Family Accommodations
Chimney Corners Resort on the shores of Crystal Lake is the perfect summer beach resort for the entire family with private cottages on the beach or bluff that sleep from 2 to 18 guests. This is the resort where you bring generations of family to make amazing family vacation memories. Raucous barbecues, quiet moments on a chair swing, peaceful hikes, and lake life fun are perfect for the family reunion you have been planning.
If you love nature and all her spectacular beauty, Sleeping Bear Dunes National Lakeshore needs to be on your bucket list. Visit in luxurious style or rough it in the wild; either way, you will have a weekend getaway to remember.
Have more time to spend in the area? Consider these eight things to do on Michigan's Leelanau Peninsula (yes, visiting Sleeping Bear Dunes is number one!).