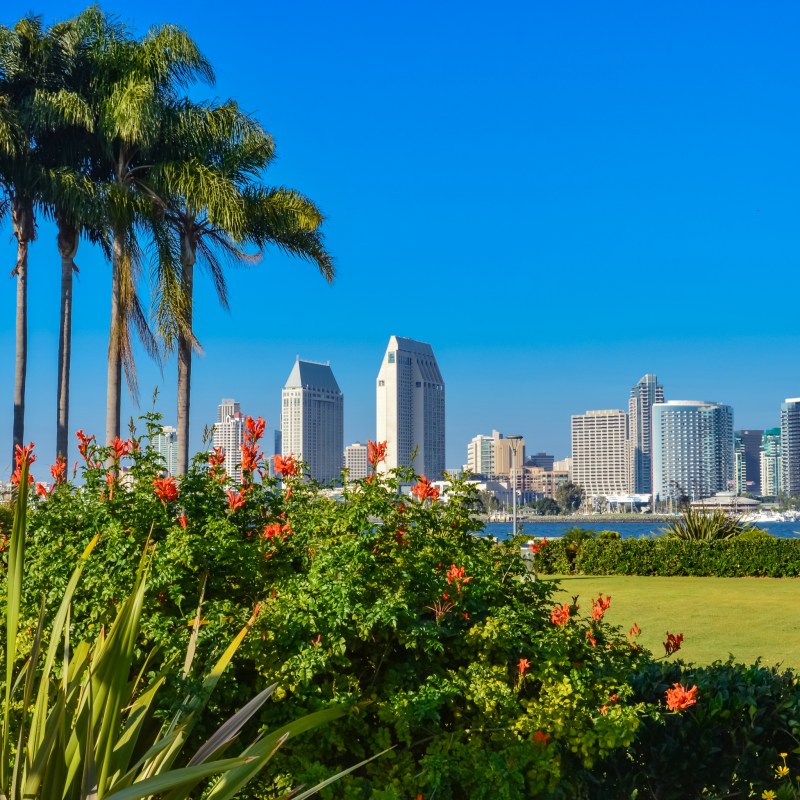 Coronado Island graces the bay in San Diego, greeting visitors from all over the world. A curving bridge spans the water between downtown and Coronado, or you can take a ferry over for a fun, slower arrival. This resort getaway has hosted presidents, kings, Hollywood stars (Marilyn Monroe!), and other famous folks such as L. Frank Baum, who lived in Coronado and wrote The Wonderful Wizard of Oz here. With white-sand beaches, the iconic, red-roofed Hotel del Coronado, a walkable main street, and many restaurants, Coronado is a perfect place for a weekend getaway. And the year-round balmy weather makes it ideal to visit in any season. You can comfortably frolic in the ocean in January as well as July.
While hotels and some restaurants are upscale and pricey, it's also possible to enjoy many of the activities that Coronado has to offer for little or no cost. The genteel, shady streets and the beach are open for all to enjoy. Breathe in that ocean air, walk or ride a bike, or window shop on Orange Avenue to your heart's content.
Here are a few things to do in Coronado that would easily fill a memorable weekend. Choose what most appeals to you, and plan a trip you'll treasure.
Things To Do On Coronado Island
Walk Along The Ocean And Meander Through Neighborhoods
Coronado is a perfect place to take a leisurely walk. You can wind around the residential streets, where you'll discover architectural styles ranging from Mediterranean to Craftsman to Modern to Coastal Chic. "Shop" for your dream home without spending one cent. Neighborhoods anywhere on the island will intrigue you with their white wooden gates, winding paths to front doors, and cultivated gardens. Something in the sea air seems to make the flowers always healthy.
And, of course, you can take the sidewalk on Ocean Avenue right along the beach. As you walk, you'll be mesmerized by the ocean waves, but remember to glance to the other side of the street, too. Stately mansions line the path. Notice the styles of balconies and windows on the second stories, all designed to make the most of the view.
Pro Tip: You can park on any of the residential streets. Be sure to note the cross streets, though. Some of the streets wind or start and stop, so write down two streets to help you locate your car at the end of your walk.
Relax At The Spacious Beaches
The beaches of Coronado boast wide, sandy stretches that are rarely crowded. Head to the shoreline behind the Hotel del Coronado, or choose a spot at Central or North beaches to spread out your towel. At the end of this public section of sand is Dog Beach, a popular place to take your own pooch or enjoy watching all the dogs run and play.
The Silver Strand also has public beaches. This area, which we discuss more below, is great for collecting sand dollars.
Marvel At The Historic Hotel Del Coronado
The Hotel del Coronado is a distinctive part of both the history and the present-day charm of Coronado. This sprawling white, wooden hotel, with its cheery red roofs, opened in 1888. Ever since, the Hotel Del has hosted dignitaries and other notable people. Presidents Taft, FDR, Nixon, Ford, and Carter have been here. Charlie Chaplin and Charles Lindbergh are on the visitors list. Marilyn Monroe filmed "Some Like It Hot" here in 1958.
Author L. Frank Baum, who lived at the hotel for months at a time, commented on the Hotel Del in 1905: "And every day her loveliness shines pure, without a flaw, new charms entrance our every glance, and fill our souls with awe!"
You are welcome to saunter around the grounds of this national historic landmark even if you are not a hotel guest. The "front" yard features a towering Norfolk Island Pine that was the first electronically lit tree in the U.S. A lovely garden courtyard opens just off the lobby. And out the back of the hotel, you'll find a large lawn area bordering the beach. In winter, the hotel builds an ice skating rink on the lawn.
Inside, the lobby is a vision in gleaming dark woods. Shops line the hallways, and downstairs is an underground, upscale shopping area. If you are at the hotel at mealtime, try the Sheerwater restaurant. Sit on the patio, enjoy gourmet food, and get your fill of the ocean view.
Pro Tip: Be on the lookout for fabulous sandcastles at the Hotel Del beach. I see one almost every time I visit.
Stroll Through The Quaint Downtown
Orange Avenue, the heart of downtown Coronado, is filled with shops and cafes. From vintage stores to Scottish treasures to Bay Books, downtown will find a way to fascinate you. Plan to include a visit to MooTime Creamery for hand-crafted ice cream served in a nostalgic atmosphere.
Swing by the Coronado Chamber of Commerce at 1125 Tenth Street for a brochure listing all Orange Avenue attractions — or download your copy (PDF) before you arrive.
Pro Tip: A fun souvenir is a signature Orange Avenue beach towel. You can pick one up during your visit or order ahead and it will be waiting for you!
Bike About The Island
Because Coronado is basically all flat land, it's a relaxing place to ride a bike. Rent a bicycle or a surrey and pedal around the island, through quaint neighborhoods and along bays and beaches. For a long, straight ride with water on both sides of you, take the nine-mile bicycle path on the Silver Strand.
Holland's Bikes and Beyond is in two locations in Coronado and rents cruisers, hybrid bikes, surreys, tandems, and electric bikes.
Venture Down The Silver Strand
The Silver Strand, or simply the Strand, is a low, narrow, sandy spit of land seven miles long. It's at one end of the island just past the Hotel del Coronado, and it reaches Imperial Beach.
Beaches include the Silver Strand State Beach and the bayside beach and picnic area by the Loews Coronado Bay Resort. The state beach provides fire rings, lifeguards, restrooms, and showers.
The Silver Strand also offers a bike and pedestrian trail that is flat and is nine miles out and back.
Play At Spreckels Park
Spreckels Park is likely the most well-known park in Coronado, claiming a central location at 601 Orange Avenue, right in the middle of the island. This beautiful park features a gazebo that comes to life every Sunday in the summer during "Concerts in the Park." Musical groups fill the air with popular songs while people picnic with friends and family.
The park offers a great jungle gym, so this is a good choice if you have young ones in your group.
Explore The Coronado Ferry Landing
Yes, this is where the ferry from downtown lands. And the Coronado Ferry Landing is also a place to shop, peruse art galleries, dine, laze on the small beach, or settle on the lawn and gaze across the water to the downtown San Diego skyline. It's at the First Street end of Orange Avenue.
Centennial Park at the Ferry Landing offers wide-open spaces and an unbeatable San Diego skyline view. Bring a beach chair and spend as long as you like here. Watch the kayaks glide by and feel your cares drift away.
Pro Tip: If you want to take a break while wandering around the Ferry Landing, you can grab breakfast all day at Tartine across from Centennial Park on First Street. You'll have views of the bay and scrumptious food to fortify yourself for more sightseeing.
Best Hotels On Coronado Island
Hotel Del Coronado
Coronado is almost synonymous with the Hotel del Coronado. If you are up for a splurge, book a stay in this iconic beachside hotel. You can choose from rooms in the Victorian Building or the contemporary cabanas. Its Beach Villas, which are cottages, are ideal for a large family gathering. Wherever you stay at the hotel, you will be just steps from the beach. And the Hotel del Coronado welcomes your pooch and your kitty.
Loew's on the Silver Strand
Located on the uncrowded Silver Strand in Coronado, Loew's Coronado Bay Resort is a full-service resort. Beach cabanas include lounge chairs and a small fridge stocked with waters, soda, and fruit. Loew's provides three heated pools and a spa for your relaxation. You can eat at one of the four onsite restaurants or take a shuttle a few miles to downtown Coronado to find more options.
Glorietta Bay Inn
The Glorietta Bay Inn offers an affordable and historic option for your stay in Coronado. This boutique hotel began as a mansion, built in 1908 for sugar baron John D. Spreckels. Hotel accommodations include 11 rooms in the mansion and 89 contemporary rooms and suites. The marina and calm waters of Glorietta Bay are next door. And all you have to do is cross the street to get to the beach behind the Hotel Del.
Best Restaurants On Coronado Island
Miguel's Cocina
Miguel's Cocina, across Orange Avenue from the Hotel Del, is unsurpassed for scrumptious Mexican food. Fall in love with the jalapeno cheese dip and sip on a pomegranate margarita while waiting for your enchiladas or tacos. For birthday dinners, Miguel's serves mud pies.
Peohe's
With its prime location on the water's edge at the Coronado Ferry Landing, Peohe's offers views as well as gourmet food. Take in the downtown skyline and San Diego Bay while you dine. Peohe's specializes in fresh tropical seafood dishes and also features a sushi bar.
The Crown Room
This premier restaurant, located in the Hotel del Coronado, opened in 1888 and quickly gained a reputation for elegance and fine dining. The massive, crown-shaped chandeliers give the restaurant its name. The Crown Room is famous for its Sunday brunch, during which you can sip on bloody marys and mimosas, pile your plate with a variety of delicious dishes, and top off your meal with a visit to the gelato and dessert bar.
Pro Tips
Plan a mix of hanging out at the beach and active things to do, such as walking and biking. Add time for having mouthwatering meals and taking a coffee break as you shop. You're sure to craft a picturesque weekend full of fun and pleasure on Coronado Island.
Related Reading: