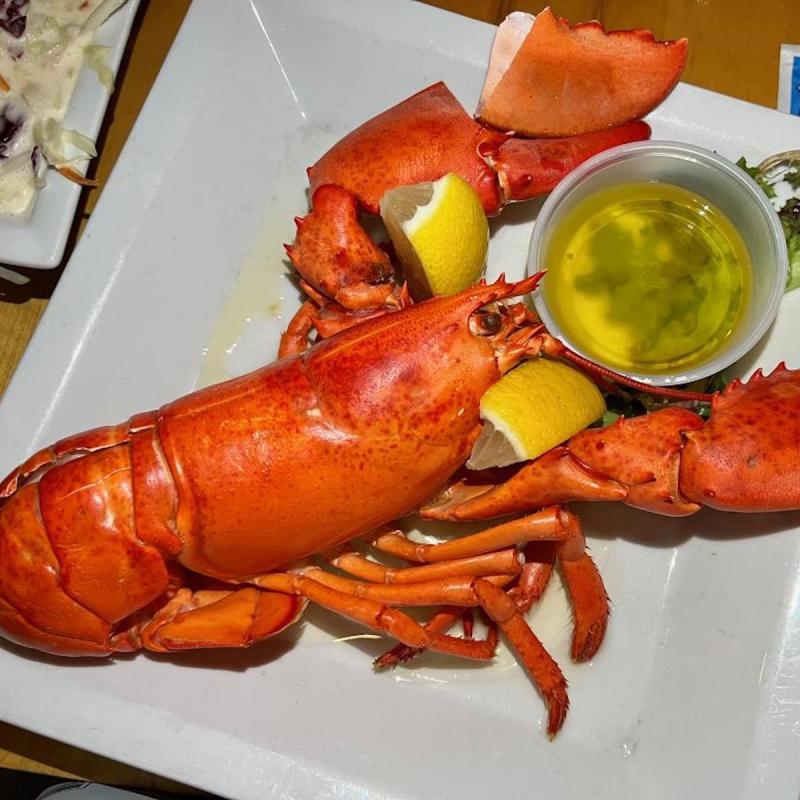 "Lobster, lighthouses, leaves" was a recurring theme as we drove from one quaint seaside town to the next in mid-October. Maine had always been a distant memory as my Connecticut sailor parents brought me to this premier summer destination around the age of six. To my parents' surprise, one steamed lobster was not enough. Maine is where my love affair with the briny bottom feeders began and where I came to rediscover the place where I first fell in love with food.
While Maine is known for its cold lobster rolls tossed with light mayo on a toasted hotdog bun, this Connecticut Yankee loves lobster rolls either way — hot or cold. As the largest producer of lobsters in the nation, "now" always seems like the best time to get crackin'. In Maine's coastal villages, it is impossible not to tie up a lobster bib, slide out the plump meat, and dip it in warm butter. These days, restaurants make it easier to devour the luscious lobsters as they arrive with cracked claws and tails.
Create your culinary tour with some of our favorite sips and bites along the Maine coast. 
1. Fox's Lobster House 
York 
After viewing the Nubble Lighthouse located just offshore on a rocky island, make your way next door to this casual lobster restaurant in operation since 1966. Don't miss the cold heaping lobster roll with a light amount of mayo on a toasted bun. Next to the crashing waves, devour Maine's finest on a picnic table or inside with views of the lighthouse. Wash it down with Marie's Wild Blueberry Lemonade or add homemade blueberry pie or ice cream to your order. An intriguing menu item is the golden fried lobster tails with dipping sauces. As the saying here goes, "One Nibble on the Nubble and You're Hooked!" The summer season at Fox's Lobster House has extended to mid-October. 
2. Barnacle Billy's
Ogunquit
After an exciting narrated boat ride from Ogunquit with Finest Kind Cruises either to peruse the lighthouses or watch a lobster captain haul his traps, mosey on over next door for thick and chunky clam "chowdah" and lobster lunch at 60-year-old Barnacle Billy's. Order a whole steamed lobster at the counter and try not to scream as they sometimes bring out a 4-pounder for guests to admire. While there is sundeck seating to enjoy the harbor, we didn't mind dining indoors on a cold gray day. Share the steamed clams in a butter broth and take home a whoopie or blueberry pie slice if your waist can't handle it all in one sitting.
Afterward, walk off your lunch across the street with a one-mile paved coastal path (Marginal Way) with panoramic views and meander through the buoy-laden boathouses and the local shops in the cove. The famed Lobster Shack nearby was closed in mid-October but the Footbridge Lobster Shack was selling buy one get one free 1-pound lobsters for $22.95. 
3. Alisson's Restaurant And Pub
Kennebunkport
While my husband and I may have been the youngest people dining in this fourth-generation establishment, we were drawn to the thick Maine lobster bisque loaded with lobster meat. Maine is the kind of place where ordering a second lobster of the day is standard practice, especially if you don't know when you'll be back. After a mug of the rich broth, a 1.25 pound of lobster was all too satisfying. So was their cold lobster roll served with French fries, coleslaw, or incredible deviled egg potato salad. 
To amp your roll, order with lobster bisque drizzled over. The indulgent seafood risotto is a must at dinnertime because the medley of caramelized shallot and asiago risotto is mixed with mega chunks of lobster, shrimp, and scallops then topped with a lobster tail. While they don't take reservations, you can join the waitlist online. Eating early or later at Alisson's Restaurant seemed the best bet to get into this popular classic Kennebunkport restaurant and pub.
4. Batson River Brewing And Distilling
Kennebunk
Just over the bridge from Dock Square, sit outside at this dog-friendly spot in Kennebunk's charming town on a crisp fall day surrounded by pumpkins and fall leaves. Sample craft beer from southern Maine like a guava IPA, a New England double hazy IPA with mango, passionfruit, and orange notes, or a bourbon barrel-aged hygge stout with a roasted chocolatey profile. Duckfat cornbread and Bavarian pretzels will help soak up your imbibing. You may even wish to sip a cocktail with one of their small batch craft spirits, like Batson River Amado 33 Agave spirit with 100% blue agave and Maine tourmaline spring water barrel aged in the Maine woods. Find other Batson River locations in Portland, Biddeford, and Wells.
5. H.B. Provisions
Kennebunk
This general store has everything you need with groceries, a deli, a bakery, wine, beer, and ice cream. Grab a specialty coffee with a slice of warm homemade blueberry pie. While the tiny wild Maine berry is smaller than its cultivated cousin, this sweet and tart superfood can be doused with vanilla or blueberry soft-serve ice cream here at H.B. Provisions. Take home a packaged moist whoopie pie next to the counter. Maine's other signature treat is similar to a cookie but made with chocolate cake and stuffed with creamy fluffy vanilla icing. 
6. The Boathouse Restaurant
Kennebunkport
While seafood shacks abound, America's great seafood dive, The Clam Shack, was closed in mid-October. However, there are so many dining options in this walkable, friendly town. The on-site waterfront restaurant located at The Boathouse's boutique hotel is a prime location just off Dock Square on the channel where visitors can dine on a wraparound deck and watch the boats dock over fresh seafood with a sprinkling of Asian influences. Pricier than most options, a full lobster bar serves Maine oysters, little neck clams, and scallop crudo. Check for happy hour times at the popular bar. 
7. Portland Lobster Company
Portland
While we heard Luke's Lobster is another stellar option, we took a lobster roll to-go from the counter at this Portland Lobster Company shack. Voted one of the best spots for live music on the waterfront deck patio, we wish we ordered another after biting into the cold one-pound lobster roll on a toasted buttered bun with lemon and warm butter on the side. Choose from lobster dinners, steamers, Prince Edward Island mussels, whole belly fried clams, various seafood rolls, chowder, and more. 
8. Flatbread Company
Portland
Watch your pizza being made in the wood-fired clay oven a stone's throw from the water. The thin, crisp, and organic wheat pies come with exciting options like "harvest" made with local butternut squash, maple fennel sausage, fresh sage, McIntosh apples, red onions, Cabot sharp cheddar, herbs, garlic oil, Parmesan, and whole milk mozzarella. Wash it down with one of their local craft beers at Flatbread Company. Six East Coast locations exist and one in Hawaii.
9. La Bella Vita 
Rockport
Sitting above a sprawling green peninsula on the bay, the Samoset Resort boasts a five-room spa, an 18-hole golf course, and modern newly renovated nautical-inspired rooms with decks to immerse oneself in the moody misty mornings and ethereal light over the expansive Penobscot Bay and distant islands. The indoor and outdoor pools, hot tubs, and firepits that overlook the breakwater make it hard to even want to leave. The on-site fine-dining Italian restaurant La Bella Vita is open to anyone and boasts an extensive wine list and menu with local ingredients, seafood, and a few lobster dishes. A brick oven pizza makes it great for the kids to tag along.
Dine with views of the Rockland Breakwater Lighthouse, far in the distance off a jetty constructed of massive granite blocks, built to shield the bay from ravaging storms in the late 1800s. Before dining, meander down this long stretch skimming over the water nearly a mile where sometimes the fog rolls in and causes the entire stony reef to vanish.
10. Long Grain
Camden
To our surprise, the locals told us their favorite restaurant in Camden was Thai/Asian comfort fare. This unassuming intimate eatery has received a lot of press and churns out everything from Vietnamese salads, Chiangmai curry noodle soup with chicken, Massaman curry with Maine farm beef and Amish potatoes, Bangkok street pork skewers, pomelo salad with wild shrimp, and garlic fried rice cakes. Share the spicy green papaya salad, pad Thai with chicken or tofu, the pad kee mao (spicy stir-fried rice noodles with pork belly), and steamed Maine mussels in spicy coconut lemongrass broth. Call ahead to reserve a table at Long Grain.
11. The Waterfront 
Camden
In Camden's quaint downtown, find 18th-century architecture, boutique shopping galore, and a pretty waterfall cascading into the harbor. Dine harborside at this 40-year-old local restaurant with a bowl of lobster stew, local crab and artichoke fondue, and Maine blue mussels in white wine, butter, and garlic. To change up your lobster eating, order The Waterfront's lobster avocado salad with blue cheese or the lobster, bacon, and avocado melt. 
12. Freya's Ice Cream
Rockport
We stumbled upon this friendly place around the corner from the main road. Buckwheat dessert crepes are made to order and stuffed with options like wild blueberry, lemon, or chocolate doused with whipped cream and cinnamon. We were super impressed by the coffee from Rock City and the dairy-free sorbets (basil and blueberry) and creamy homemade gelato in waffle cones with flavors like cold brew, blueberry cream, "cake by the ocean," and salted caramel. Take your treats to Freya's glorious little deck overlooking the harbor.
For more information on traveling to Maine, check out these articles: