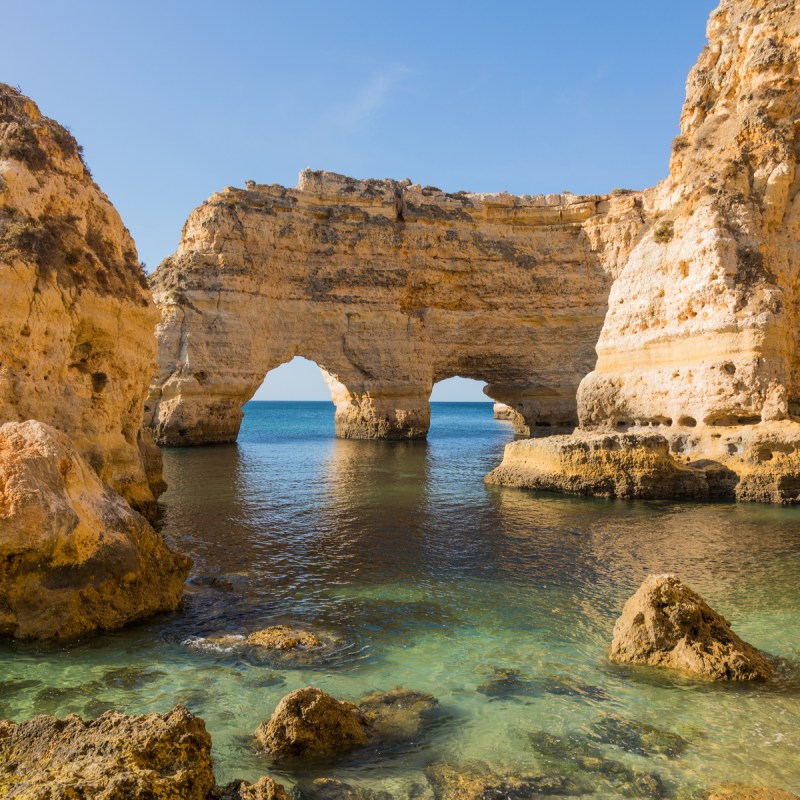 Growing up in Australia, my family had a holiday shack at the beach which we visited most weekends, consequently, a vast amount of my childhood was spent at the beach, swimming, surfing, sunbathing (or "sunburning"), building sandcastles, collecting shells, peering into rock pools, and walking the family dogs. Whilst that didn't make me an expert on the world's best beaches, it certainly gave me a taste for beach life. And, although I moved to a landlocked country in the middle of Africa 35 years ago, I still crave the beach and grab every opportunity I can to make my way to a beach — any beach — to bury my toes in the sand and swim to my heart's content.
Is it possible to rank the world's best beaches? Of course not. I'm not even going to try. What I am going to do is tell you about my favorite beaches and perhaps you will be inspired to visit them and see for yourself why they have earned a spot on my list of favorite beaches.
1. Whitehaven Beach, Whitsundays Island, Australia
Located off the northeastern coast of Australia, the 74 Whitsunday Islands lie between the coast of Queensland and the Great Barrier Reef. Some of the best beaches in this part of the world include Betty's Beach, Chalkies Beach, and (my favorite) Whitehaven. Whitsunday Island's Whitehaven Beach is a 4-mile stretch of some of the smoothest and whitest sand in the world, and breathtakingly beautiful turquoise and aquamarine water.
This stretch of paradise is only accessible by boat, helicopter, or seaplane from Hamilton Island (the most popular inhabited island in the Whitsundays) or Airlie Beach on the mainland. It's a 35-minute trip by high-speed catamaran from Hamilton Island, or you can sail to Whitehaven Beach with one of the numerous yacht excursions in the area. This remote location does mean it's rarely ever crowded.
2. Camps Bay Beach, Cape Town, South Africa
Cape Town is one of the top contenders on my personal list of "World's Most Beautiful Cities," and one of the reasons it's earned this spot is because of its magnificent beaches. Most really beautiful beaches tend to be on remote islands, far from civilization. Camps Bay is an exception. Being right in vibrant Cape Town, and as such, it's the only urban beach to make it onto my list.
With soft white sand and a majestic backdrop of Table Mountain and the Twelve Apostles Mountain Range, Camps Bay is renowned for its amazing scenery and fantastic sunsets. A word of warning though, the water is cold, and I mean really, really cold due to Atlantic Ocean currents. I have swum a few times with the Camps Bay "Hot Chocolate Swim Group" who meet here every Sunday morning, and I must say, diving into the icy water at the start of the swim will quite literally take your breath away, and it will take more than one hot chocolate post-swim to thaw you out!
Being so close to a major city, it can get pretty busy, but there's plenty of sand for everyone to find a patch of their own. Directly opposite the beach, you will find an array of fashionable bars and restaurants.
3. Kendwa Beach, Zanzibar, Tanzania
Kendwa beach, named after the local fishing village, is in the far north of the Tanzanian island of Unguja (Zanzibar). I've been visiting the beaches of Zanzibar for over 20 years, starting when my children were small, and we've returned time and again to this part of the island.
Kendwa Beach is a quiet beach with a laid back vibe. This is a uniquely wide beach for Zanzibar and is one of the few beaches on the island where the tide doesn't really change, meaning the clear waters are always perfect for swimming, snorkeling, and diving. (The island's eastern beaches are almost all tide dependent.) The sunsets at Kendwa Beach are legendary.
Although relatively quiet most of the time, Kendwa does pump up the volume once a month with a lively full moon beach party that draws visitors from around the island.
4. Le Morne, Mauritius
This scenic African island sits to the east of Madagascar and offers a multitude of beaches worth visiting. Go to just about any beach in Mauritius and you'll find a reef-protected beach with calm, clear water ideal for swimming, kayaking, and snorkeling. Those who enjoy beaches near amenities may prefer Grand Baie on the North Coast, while those seeking a more remote beach experience will enjoy visiting the eastern and southern beaches of Île aux Cerfs and Blue Bay. But for me, the island's West Coast is where you'll find the best beaches, including Le Morne — a particular favorite of mine — with its 2.5 miles of sugar-soft sand (many other beaches in Mauritius have rough sand, filled with broken bits of coral) lined with palm trees. The sheltered waters of the lagoon stretch to the horizon and the kitesurfing conditions are some of the best in the world. The nearby Le Morne Mountain looms large over the beach. Being on the West Coast, the sunsets here are spectacular.
5. Anse Source D'Argent, La Digue Island, Seychelles
On a remote island, about as far away from the U.S. as possible, massive other-worldly looking granite boulders make Anse Source D'Argent feel like some kind of prehistoric paradise. This is probably the most photographed beach in the world, with sand that sparkles against the backdrop of boulders and swaying palm trees, and an offshore reef that provides protection from ocean waves, making the shallow turquoise waters an ideal spot for those who prefer to float rather than swim. Adventurers can snorkel amongst the patches of coral reef that dot the lagoon. Do keep an eye out for endangered birds and giant tortoises.
Aim to arrive during low tide when the water is below your knees and more sand is exposed. Accommodation is limited on La Digue, so consider taking the ferry from the larger island of Mahé.
6. Anakena, Easter Island
For an incredibly unique backdrop to your sunbathing and swimming, visit Anakena on the remote Easter Island. You won't only find white coral sand and swaying palm trees here, you will also find eight mo'ai, meaning statues (some broken and some intact), carved by the Rapa Nui people between 1250 and 1500 AD. These archeological treasures sit on two ahu (stone altars) that face the Pacific Ocean. Contemplate the mysteries of the statues from up close, and then head down to the beach and relax on the beautiful sand and in the calm turquoise water. Once you've worked up an appetite, you can order a tuna empanada or a bowl of poe (a sweet pumpkin pudding) which you can enjoy picnic-style before exploring more of Rapa Nui National Park (which occupies roughly 40 percent of the island).
7. Matira Beach, Bora Bora, French Polynesia
Measuring only 6 miles long and less than 3 miles wide, every inch of Bora Bora is packed with stunning beaches, green jungles, ritzy resorts, and overwater bungalows. Of all the beaches, Matira gets my recommendation for its size, cleanliness, easy access, and incredible beauty. Imagine a mile-long stretch of glistening, powder-white sand, calm emerald water as far as the eye can see, and lush volcanic hills in the distance. Matira is Bora Bora's biggest public beach, yet its scene is mellow and subdued. As an added bonus, as one of the only public-access beaches on Bora Bora, you don't need to pay five-star resort prices to enjoy its beauty.
8. Railay Beach, Krabi, Thailand
If you're looking for incredible scenery and plenty of amenities, then travel to Railay Beach in southern Thailand. Railay is actually on a large peninsula jutting out into the Andaman Sea, but cut off from the rest of the mainland by soaring limestone hills and dense jungle. Railay Beach is only accessible by boat, making it one of Thailand's most peaceful and beautiful beaches, with crystal-clear water and clean white sand.
Head to Railay Beach's northern stretch of sand (Ton Sai Bay) where the staggering limestone formations have made Railay a world-class destination for experienced rock climbers, and the emerald lagoon is a paradise for kayaking or stand up paddleboarding. Venture to Railay East for a quiet spot to catch a colorful sunrise (though at night this is a popular spot for bar hopping). Neighboring Phra Nang Beach has shallow, calm water ideal for swimming and snorkeling and is home to numerous caves, including a fertility shrine. Should you be craving a little bit of everything, then visit Railay West, where there are countless spots for sunbathing, swimming, and rock climbing, plus it's close to restaurants, shops, bars, and accommodations.
9. Praia De Marinha, The Algarve, Lagoa, Portugal
Praia da Marinha is one of the most special beaches in the Algarve with its golden sea-battered cliffs and limestone outcrops. For me, a big part of the appeal is its lack of commercial development and its remote, hard-to-reach location — all of which help prevent overcrowding. Getting to the beach requires traversing a long staircase down to the shore, which does mean Marinha Beach isn't suitable for travelers with mobility limitations.
If you are looking for a challenge, you might want to try swimming through the beach's twin limestone arches. Not-so-strong swimmers can take a boat out and drop anchor near the caves and grottos that dot the area.
10. Navagio Beach, Zakynthos, Greece
Navagio Beach is an isolated yet strikingly beautiful, sandy cove on Zakynthos, one of Greece's Ionian Islands. Navagio is often referred to as "Shipwreck Beach," because it's home to the wreck of the Panagiotis, believed to have been a smuggler's ship that ran aground in the 1980s. What's left of the boat sits in the middle of the beach, surrounded by vertical limestone cliffs. This strip of beach is accessible only by boat from Porto Vromi. Beach activities are limited to swimming and sunbathing, but given its isolated location, you are more than likely to see other memorable sights on your boat trip to and from the beach, like the mesmerizing Blue Caves and historic Bohali Castle.
11. Reynisfjara, Iceland
While Iceland might not exactly conjure up images of a beach vacation, its abundance of volcanoes set the stage for an otherworldly beach experience. The country is home to several black sand beaches (made from volcanic ash) and the most striking of these is Reynisfjara in southern Iceland. A desolate beach, with jet-black sand, an enormous cave, giant offshore rock formations, and a series of stacked basalt columns are all guaranteed to take your breath away. As a bonus, Reynisfjara is close to Vik, a seaside town known for its "Lava Show" (the only place in the world to safely observe molten lava), as well as glacier hikes and ice cave treks.
For me, there's something tantalizing about a beach, something special and soothing, something wild and wonderful, something no other location or landscape can provide. I hope I've piqued your interest with some of my favorite beaches around the world and inspired you to add one or more of them to your travel wish list.
For more U.S. and international beaches that our writers love, explore these stories: